Phat Joe (Real name: Majota Mandlakayise Isaac Khambule, born 1974)  is a South African television/radio personality and comedian who is best known for being the host of the late night show, The Phat Joe Show. 
Joe has established his marks in the South African entertainment circle as an interesting and sometimes, controversial media person. Asides from The Phat Joe Show, the media star has equally hosted other shows including Take Me Out: South Africa and Take Me Out: Mzansi. Below is everything you need to know about the TV star.
Summary of Phat Joe's Biography
Full name: Majota Mandlakayise Isaac Khambule
Nickname: Phat Joe
Gender: Male
Date of birth: December 4, 1974
Place of Birth: Pretoria
Phat Joe's Age: 48 years old
Ethnicity: Black
Nationality: South African
Zodiac Sign:  Aquarius
Sexual Orientation: Straight
Marital Status: Married
Phat Joe's Wife: Palesa Morgan ​​
Phat Joe's Children: 2
Phat Joe's Net worth: $5 million (estimated)
Famous for: Being the host of the late night show, The Phat Joe Show
Phat Joe's Instagram: therealphatjoe
Twitter: @TheRealPhatJoe
Who is Phat Joe and How Old Is He?
Phat Joe was born in the Gauteng province of South Africa in 1974 and his birth name was Majota Mandlakayise Isaac Khambule. As a child, Joe spent his early years in Mafikeng, North West and in Polokwane in Limpopo, where his dad worked as a lecturer. However, in a bid to flee the oppressive apartheid regime, he left South Africa for the US, along with his parents and siblings at the age of eight. There, he completed his basic and higher education.
After spending 12 years in the United States, his family returned back to South Africa in 1994. According to him, he completed his education at the University of Cape Town, University of South Africa, and the University of North Carolina. He also got a bachelor's degree in electrical engineering.
Career Achievements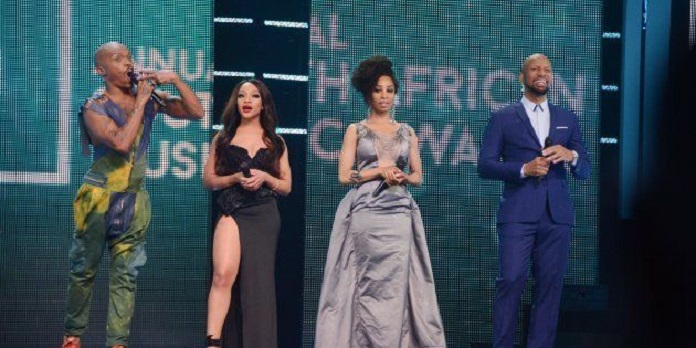 He started his professional life as a radio DJ with Radio Bop in 1995. He stayed with the station till 1997, when he moved to Johannesburg's YFM radio station. At YFM, he worked as a sales executive and as a DJ as well as the host of a weekend breakfast show. Two years later, in 1999, he picked up a weekday breakfast show with the station and later in the same year, he started his own show called Phat Joe comedy show on e.tv.
Metro FM became his destination after leaving YMF in 2001. He as well moved his show to SABC 1. A year into his stay at the station, he left. His show, however, continued till 2005. In 2008, he joined Kaya FM where he hosted The Phat Joe Morning Show. Following strings of controversy at the station, Joe left the station the next year.  From there, he moved on to Heart FM, Cape Town and stayed with the station till 2012.
The Real Gaboza, would be his next show when he joined in as a presenter of the SABC 1 celebrity gossip show in 2010. He joined SABC 3's new show, Presenter Search on 3, in 2013, where he featured alongside Bonang Matheba, Jeannie D, Jonathan Boynton-Lee and Leigh-Anne. Phat Joe also began hosting a breakfast show, Weekend Edition, on SABC 1 in 2016.
Joe also hosted various events including the South African Music Video Awards, The Metro FM awards, The South African version of the UK format Take Me Out; and Take me out South Africa, on SABC1. He was a contestant in I Love South Africa in 2014 and currently, he runs a company called Phat Joe Holdings (Pty) Ltd, which he founded since 2001.
Does He Have a Girlfriend or Wife?
The controversial radio personality has been in so many relationships in the past. He was allegedly married to the mother of his son, Brooklyn model Farai Rook but for a short time. Since their separation, Phat Joe has dealt with other women. One time, an ex-girlfriend of his reportedly committed suicide after their breakup which happened following a movie night together. In 2016, the TV star proposed to his girlfriend Palesa Morgan in a romantic scene that saw him do it through his son Brooklyn (born in 2002).
The lovebirds who appear to be into each other revealed that they will get married in 2018. The duo also hinted that the big event will take place on an unnamed Island with few very close friends and family as they don't need people to gate-crash their event. However, in 2019, Joe confirmed that he and Morgan have already tied the knot and are expecting their first child. Their baby girl was born sometime in June 2019.
Other Interesting Facts About Phat Joe
Phat Joe has been caught in the web of controversies on various occasions mostly for his programme on radio. His mastery in courting controversy can hardly be matched by many in South Africa. Here are some interesting facts about him, you probably didn't know.
1. He was Once on Zulu  Nation Radar
The comedian once cracked a joke about King Goodwill Zwelithini KaBhekuzulu, whom he advised to use the bride price of two of his daughters to buy a second hand Uno with the 150 lobola cattle. The joke was criticized as an insult and disrespectful to the entire Zulu nation. Sequel to the criticisms, the radio DJ had to apologize.
2. He Sued His Former Employer
Following his dismissal from KAYA FM, he attracted some attention to himself when he took the station to the Commission for Conciliation, Mediation, and Arbitration (CCMA) and the Labour Court to contest his dismissal. However, he lost the case. Reasons given for his dismissal include partisan politicking and using sexual innuendo. Others are breaching broadcasting legislation and making a joke about Jacob Zuma being raped.
3. He Has Been Accused of Making Disparaging Jokes and Remarks 
In his first week with East Coast Radio, the radio presenter had people call his manager for his sack. The petition which was started by a woman with a 13-year-old child said the DJ must leave the station as he brings in sexual content into his show, makes racist comments on air, and makes jokes about serial rape and joke rape, among other things. The petition has over 5300 signatures on South Africa's change.org petitions site. #phatjoemustgo #bringbackdamonbeard was used to promote the petition.
Other remarks that drew criticism to him include his working experience at e.tv which he described as Afghanistan being run by the Taliban. He also made continuous comments on Caster Semenya, who was alleged to be a man after winning a gold medal during the 2009 world championships in Berlin and many others.