Tshepo Motsepe (born 17 June 1953, Age: 69 Years Old) is a South African physician and businesswoman who is best known as the nation's First Lady, as she is the wife of Cyril Ramaphosa, the President of South Africa.
The South African first lady has been married to Ramaphosa for more than two decades now, and together, they have been blessed with three kids.
Before Tshepo, the sister of South African billionaire businessman Patrice Motsepe and Ramaphosa got married, the president was previously married twice, but all the marriages ended in divorce. Their marriage has also not been without its issues, but somehow, they have been able to hold things together, and more than 25 years since they walked down the aisle, they are still together and strong. More than just being the first lady of South Africa, there are many other sides to the life of Tshepo.
Summary of Tshepo Motsepe's Biography and Profile
Full name: Tshepo Motsepe
Gender: Female
Date of birth: 17 June 1953
Place of birth: Soweto, South Africa
Tshepo Motsepe's Age: 69 Years Old
Ethnicity: Black
Nationality: South African
Zodiac Sign: Gemini
Sexual Orientation: Straight
Marital Status: Married
Tshepo Motsepe's Husband: Cyril Ramaphosa (m. 1996)
Tshepo Motsepe's Children: Tumelo Ramaphosa, Keneilwe, and Mashudu
Tshepo Motsepe's Parents: Augustine Motsepe
Education: University of KwaZulu-Natal, Harvard T.H. Chan School of Public Health, GIBS Business School
Career: Medical doctor and businesswoman
Famous for: Being the First Lady of South Africa, as she is the wife of Cyril Ramaphosa, the President of South Africa
Tshepo Motsepe Is Not The First Woman To Be Married To Ramaphosa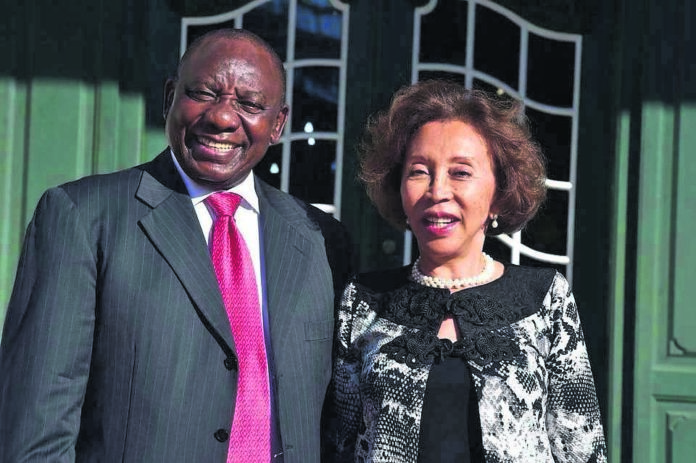 Many South Africans must have forgotten, but as stated, before Tshepo got into the life of Cyril Ramaphosa, he has had two failed marriages in the past, making her the third woman to get married to him. The president's first marriage was as far back as 1978 when he got married to Hope Ramaphosa. The marriage lasted for a little over 10 years before it came to an end in 1989 after being blessed by a son, Andile Ramaphosa.
Cyril got married for a second time two years after the demise of his first marriage, this time around to Nomazizi Mtshotshisa in 1991. This marriage did not last for up to three years before it ended in divorce in 1993 but not before it produced yet another child for Ramaphosa, Tulisa Ramaphosa.
Three years after his second marriage, Ramaphosa walked down the aisle with the woman who would be his wife for more than 25 years and still counting, Tshepo Motsepe. Although how they met is something that has not been revealed, it is known that they got married in 1996, and since then, they have continued to live happily ever after.
Their Marriage Has Survived The Cheating Ways Of Ramaphosa
Even though Tshepo Motsepe and Cyril's marriage has survived many years, it has not been without its ups and downs. One of the lowest downs of the marriage came when the president was accused of being a blesser. The then deputy-president was accused in an article published in 2017, saying he provides financial favors to young girls in exchange for sexual favors.
The article, which Sunday Independent published, detailed some private information about the president, linking him to 8 women with whom he was having an extramarital affair. The explosive report claimed that one of the three women had a miscarriage. Among the women contacted by the paper, one claimed the relationship had since ended; another claimed it was false, while another did not reply to the email sent to her.
While reacting to the report, Ramaphosa insisted that while he was not a saint and cheated on his wife in the past, he was not a blesser. He said the report that he offered help in exchange for sex was alarming because, together with his wife, he offered financial assistance to more than 50 students. He said it was the bank transfers of this financial assistance he rendered with his wife that was used against him in the report.
More so, he claimed that he had already told his wife about his past affairs, and they had sorted things out. On her part, Tshepo Motsepe noted that it was disheartening that people went as far as they did to discredit her husband. She made clear her support for her husband and the fact that she still loved him, having been together for many years. The couple believed it was nothing short of political antagonism and a smear campaign aimed at discrediting him as he was seeking the president's office.
Since then, there has been no major scandal for the family. Many continue to believe that she is the major force holding the family mainly because of her understanding and how she has remained resolute behind her husband.
Tshepo Motsepe is The Mother of Ramaphosa's Three Children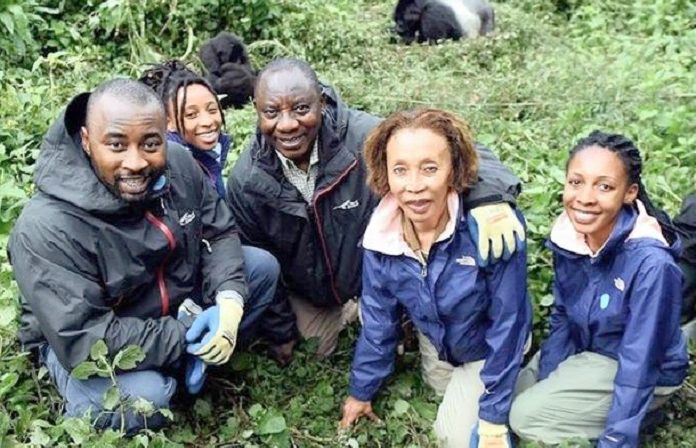 In total, Cyril Ramaphosa is blessed with five children from his three marriages. His first two kids, Andile and Tulisa, were birthed to him from his first and second marriage, respectively, while the last three were born to him by his current wife.
Their first child together is Tumelo Ramaphosa, whose date of birth is still not certain. He is a businessman who remains one of the president's most vocal children. He has a giant presence on social media. The couple's other children are Keneilwe, who is better known as Kiki and Mashudu. There are not many details about them.
She Has Minor Roles As The First Lady
Dr Tshepo Motsepe together with the People's Republic of China's First Lady, Madam Peng Liyuan, on a guided tour of the College of Pre-School Education at the Capital Normal University in Haidian, Beijing in the People's Republic of China #SAinChina pic.twitter.com/dY7iYApPH4

— Presidency | South Africa 🇿🇦 (@PresidencyZA) September 2, 2018
Being the first lady of South Africa has not come to Tsepo with many roles, mainly because she has not abandoned her life as a professional medical practitioner. Considering that she is not very much politically inclined even though she has been married to a politician for many years, she is not so much active in the political scene.
Nonetheless, Tshepo Motsepe Ramaphosa has been involved in some activities relating to women and children in the country. She has been involved in activities such as the South African Child Gauge and the empowerment of women and children in the ways she can. She has campaigned for an end to child hunger in the country, supported sending kits to school children, and much more.
The first lady has been able to escape any form of controversies over the years in her role as the country's first woman. Her performance is mostly believed to be satisfactory for someone who has no interest in politics.
Tshepo Motsepe Is More Than Just South Africa's First Lady
Even before she became the first lady of South Africa, Tshepo Motsepe has had a life as a medical practitioner, a doctor, to be precise, as stated. Born on 17 June 1953 and a sister to South African billionaire Patrice Motsepe, Tshepo Ramaphosa attended the University of KwaZulu-Natal and then Harvard School of Public Health, from where she completed her training as a medical doctor and then masters in public health, respectively.
A former Deputy Director of The Reproductive Health Research Institute, Tshepo has practiced her profession both in the private and public sectors in different parts of the country, including Johannesburg, Pretoria, and neighboring Zimbabwe. Currently, he works with African Self Help Trust (ASHA Trust) as its chairperson.
Even as she seems to be a very busy woman, the First Lady has always had time for her family and children. More importantly, she is believed to place these above everything else, including her cherished and enviable career.