Although Pallance Dladla keeps details of his love life very private, it's known that he is not and has never been married. We cannot say for sure if he is currently dating anyone but he has been rumored to be romantically involved with Mbali Nkosi and Candice Modiselle in the past.
Pallance Dladla is an award-winning South African actor, who became famous for coming second place on 'Class Act' in 2011. Since his contact with fame, he has been featured in a good number of popular South African movies and TV series like iNumber Number, IsiBaya, Tempy Pushas, Intersexions, and the first South African movie on Netflix, Shadow.
Aside from his acting talent, which has brought him closer to the hearts of movie lovers, his good looks and well-built body have earned Pallance Dladla the title of 'Hottie Actor' and many South African ladies would want to be with him. But being someone who is private and would not say if and when he is in love or in a relationship, it's difficult to tell whether his heart has been taken or not.
The IsiBaya Actor Is Said To Be Single
Saying for certain that Pallance Dladla is single or in a relationship may not be correct, because he is well known for keeping his relationships private. Even in previous years, whenever he is rumored to be in a relationship with anyone, Pallance Dladla does not come out to confirm or debunk the rumor.
For this reason, it is possible that he may be in a relationship but is keeping it private, or he may actually be single. He is not the kind of person that gets involved in any form of public show of affection.
Well, you cannot blame him for trying to keep his life as private as possible. He is fully aware of the fact that being a celebrity makes him a target of public discussion, and allowing the public to gain access to every aspect of his life may come with some consequences which he wants to avoid.
He Was Last Rumored To Be Dating Candice Modiselle In 2019
According to reports, Pallance Dladla and Candice Modiselle were in a relationship as of 2019. Although neither of them confirmed this, they had been spotted at events and places together and their close family and friends also confirmed it.
Candice Modiselle is also in the entertainment industry. She is an actress who came to the limelight by playing the role of Lerato Matema in Generations: The Legacy. Just like Pallance Dladla, she also falls into the category of those celebrities who do all they can to keep their personal lives private.
But from the looks of things, if they were ever in a relationship, it must have come to an end, judging from the fact that she announced her breakup with an anonymous person in January 2021.
Pallance Dladla Was Rumored To Have Been In A Relationship With Mbali Nkosi
Despite Pallance Dladla's efforts to always keep his relationships private, he does not seem to be very good at it, as he is always spotted with the ladies in question, and sometimes they are even seen in positions that just sell them off to the public. Just like in the case of his dalliance with Mbali Nkosi, the famous South African dancer, and socialite.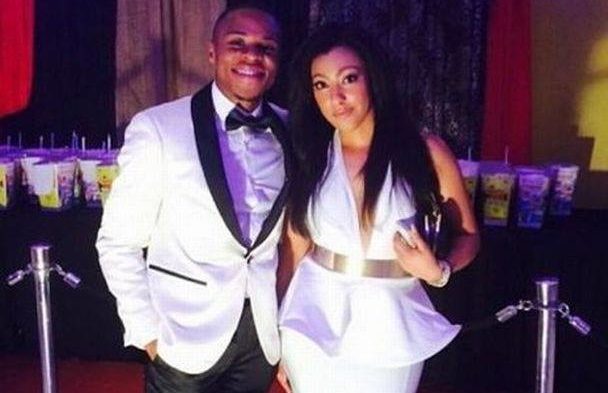 In 2014, Pallance Dladla and Mbali Nkosi were rumored to have been in a relationship. Sources have it that they were spotted at events looking all loved up. They had been seen kissing, cuddling, and whispering into each other's ears.
As you would expect, neither of them came out to openly talk about their relationship, and efforts to reach them to confirm the rumors proved abortive, leaving their fans no option than to either believe the trending rumors or wait for them to confirm it. But from the look of things that relationship has long ended, and as a result of their high level of privacy, it is hard to tell when they started dating and when the relationship ended.
Fans Wished That Pallance Dladla And Asavela Mngqithi Were In A Relationship
On the popular South African soap opera, IsiBaya, which brought South African actress Asavela Mngqithi to the limelight, she played the role of Ntwenhle, the love interest of Jabu Zungu, the character played by Pallance Dladla. Their on-screen romance was so passionate that it felt like they were real-life lovers. In June 2020, she uploaded a picture of herself with an onscreen baby bump, and her onscreen boo, Dladla. She captioned it 'Mfihlos Parents' and they looked so perfect together.
Fans could not help but flood the comment section with remarks on how they wished they were actually together in real life. Some fans even went on to show their love for the on-screen couple on Twitter.
But to the disappointment of their fans, their real-life relationship remained cordial and work-related. Despite how good it was, the romantic chemistry they shared onscreen didn't make it to real life.
Besides His Perceived Single Status, Pallance Dladla Earned The 'Gay Tag' From A Movie Role
Ever since Pallance Dladla came to the limelight after the 'Class Act' talent competition, it has always been rumored that he is gay. What has further fueled the gay rumors, is the role Dladla played in the HIV awareness TV series Intersexions, alongside the winner of the 'Class Act' talent competition, Abdul Khoza.
Sometimes, being so good at playing your role can actually come with consequences. After Pallance Dladla played the gay role in Intersexions, it attracted gay advances towards him in real life. According to him, some men were actually bold enough to approach him for a relationship thinking he is gay in reality. He thus finds it difficult to explain to them that he is not gay without sounding rude.
One thing that would have helped him do away with the gay label he got from that role in Intersexions, would be making it obvious to everyone that he was interested in women by showing off his beau. But unfortunately, he does just the opposite. Despite being linked to some women in the past, Pallance has never come out in the open to call any of these women the "love of his life," as a result of this, so many South Africans do not know his true sexuality.
Being rumored to be in a relationship with a woman is not enough to convince anyone that he is truly not gay, because these days we have seen celebrities who were once married to the opposite gender – and even have children with them – come out to say they are attracted to the same sex.
The fact that he has never made his love life public has further fueled rumors about him being gay, but if the Hottie Actor says he is not gay, nobody has the right to label him as such until his sexuality is actually confirmed. Hopefully, as time goes on, Pallance Dladla will be more open about his relationship and sexuality when he finds the woman he wants to walk down the aisle with.