Oscar is a South African former professional sprinter who is known for his super-successful athletic career despite being a double amputee from the knee down. He is currently serving jail term for the murder of his then-girlfriend, Reeva Steenkamp. This brought his career to an abrupt end, leading to the fall of his net worth from millions of dollars to a mere $150 thousand.
Oscar Leonard Carl Pistorius is one of the most phenomenal human beings on this planet. He is mostly known for his athletic track record where he has competed and won many races despite being an amputee. He is a living example of the fact that disabilities don't always limit us, rather they help us discover our inner strength and put it to excellent use.
At the height of his successes, Oscar found himself lower than he has ever been after he was jailed for killing his then-girlfriend, Reeva Steenkamp in a manner the world is still yet to fully understand.
Oscar Pistorius Had A Tragic Start To Life
Oscar Pistorius was born on 22nd November 1986 in Sandton, Johannesburg, Transvaal Province, South Africa. His tiny legs were amputated at a tender age of 11 months due to a defect he was born with where his legs were missing some bones and to make matters worse, they were also bent. Doctors warned his parents, Henke and Sheila Pistorius that their son could never walk but they tried their best in attempting to save his legs by putting them in plaster to help straighten them.
However, when he was 11 months old, his doctors amputated his legs from the knee. Pistorius was lucky for he had good doctors that tried to save most of his leg because any amputation above his knee would have resulted in him not having a running career. His doctors fitted him with prosthetic legs which aided him to walk.
He always loved speed and the adrenaline rush since he was young. He did almost all adrenaline rush activities that kids did like roller skating, bike riding even climbing trees. He used to run everywhere as a kid, leaving his mother chasing after him. He often cracked his prosthetic legs due to his countless activities and used to constantly hurt himself as a kid by getting bruised and battered. To date, he has neither perception of fear nor danger.
Oscar Pistorius's parents divorced when he was only six years old, this led to him having a strained relationship with his father who was and still is a businessman. Unfortunately, his mother, who he loved dearly, passed away when he was just fifteen years old due to drug-related complications.
He was brought up alongside two siblings; an older brother Carl, and a younger sister Aimee.
His Amputated Legs Did Not Hold or Slow Him Down
Since he was very active even in his teen years, he used to participate in other sports while he was at Pretoria Boys High School. He competed in water polo Olympic wrestling and even rugby. It was while playing a rugby match in his school back in 2003 that he sustained a terrible knee injury. As part of his leg rehabilitation, he started running and by the end of 2004, he had started competing in international running events.
Since he had prosthetic legs, he previously could not race against able-bodied athletes for it was previously seen that able-bodied athletes have a higher advantage of winning running races over amputees. However, in an ironic twist of events, he was forbidden to take part in able-bodied races by the International Association of Athletics Federation (IAAF), as the blades of his prosthetic legs gave him an added advantage over the other able-bodied runners given that his blades gave him an extra boost when running. However, the Court of Arbitration of Sports (CAS) wavered IAAF's ruling giving him a chance to take part in the Olympics. This made him the first-ever amputee to take part in able-bodied races.
Although given a mechanical advantage when running in a straight line which boosts him more than normal legs, his prosthetic legs were, however, a big disadvantage to Oscar during corners and when starting races as runners use the flexibility of their calf muscles to help them turn and boost them when running. This was a big disadvantage for Pistorius as his blades did not give him the flexibility he needed when he approached a corner thus forcing him to reduce his speed to turn a corner.
Pistorius's Love Life Became Tragic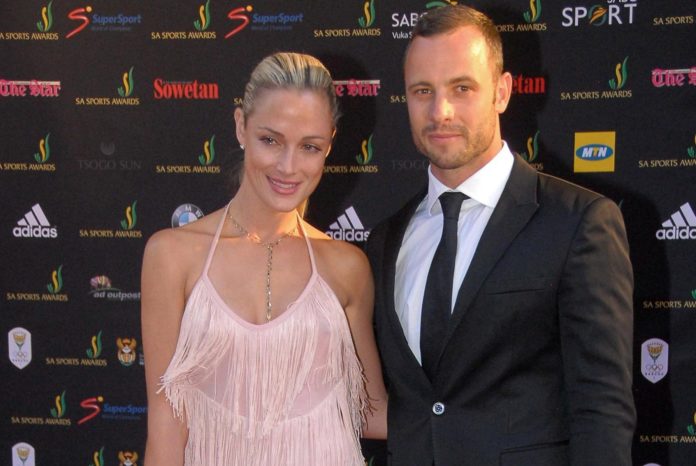 In everything he ever did, Oscar always went for the best; so also was it with his love life. Although he was not married, he got into a relationship with the top South African model, Reeva Steenkamp. The two first met in 2012 through a mutual friend and according to him, he fell for her immediately.
Steenkamp was not just a famous model who has worked with big brands including Avon cosmetics and Toyota and modeled for FHM magazine, she was also a TV personality and reality TV star. She was a rather adventurous person who was keen on riding horses and was said to have broken her back when she was in her early 20s and had to learn to walk again. This side of her seemed to be attracted to Oscar who was also an adventurous individual and so shortly after they met, they became an item and started dating in November 2012.
See Also: 10 Things You Thought You Knew About The Lively Reeva Steenkamp
Unfortunately, what seemed to be a perfect relationship in the eyes of the world outside came to a rather shocking end on Valentine's day of 2013 when the blade runner shot his girlfriend four times in the bathroom of their home.
A Murder Trial That Shocked The World
Reeva Steenkamp was found with bullet wounds to the head as well as Oscar's 9mm pistol in the scene. Before police made it to the scene, paramedics were already trying to revive her but she died on the scene. The Paralympian was arrested and charged for the murder of the model, although he insisted it was all but an accident. Oscar who was 26 at the time, claimed that his 29-years-old girlfriend decided to surprise him but he mistook it for an intruder and that was why he fired the shots that cost her life.
Contrary to this, there were allegations by neighbors that they heard screaming coming from the building earlier in the day. More so, police had previously visited the couple's home a number of times because of what was described as domestic issues, bringing to question whether Pistorius was violent towards Reeva.
The model was said to have previously sent messages to Oscar telling him she was always scared at the way he snapped at her and that she was scared for her life. It was also realized that she also revealed that she felt she was attacked by the person who was supposed to protect her.
In his defense, Oscar Pistorius claimed it was as a result of his vulnerability that he shot and killed his girlfriend as he was always scared of being harmed. He revealed he always slept with his gun for fear.
His trail was well followed all over the world as no one could understand what really happened. Subsequently, on August 19, 2013, the South African police charged him with premeditated murder and possession of unlicensed ammunition. He was eventually found not guilty of murder but was convicted of "culpable homicide" and sentenced to five years imprisonment in October 2014, in addition to a three-year suspended sentence for illegal possession of firearms.
However, prosecutors refused to accept the verdict and therefore filed an appeal, demanding a murder charge, which is punishable by a minimum of a 15-year sentence.
Just after one year of being in prison, the South African double-amputee sprinter was set free in October 2015, with an order to finish up the remaining part of his sentence under house arrest at the Pretoria home of his uncle Arnold. Two months later, the case took a different turn as the Supreme Court found Pistorius guilty of murder, overturning his initial manslaughter conviction. Consequently, he was sentenced to a 6-year jail term first at the hospital wing of the Kgosi Mampuru II prison in Pretoria and then to cushy Atteridgeville prison in October 2016.
The following year, unsatisfied South African prosecutors launched an appeal to increase the sentence of the former athlete. The National Prosecuting Authority described his six-year term as "shockingly low" and "very lenient". Finally, Oscar Pistorius had his sentence increased to 13 years and five months on November 24, 2017.
He filed for an appeal to have the sentenced reverted to the earlier six years but this was dismissed. Based on this, he will not be eligible for parole until 2023 which, coincidentally, will make it 10 years after the tragic murder. He is currently serving his time at the Kgosi Mampuru II prison which is also known as the Pretoria Central prison.
Oscar Pistorius Left Millions As He Started His Life Behind Bars
Happy birthday to my dear brother <3 pic.twitter.com/11DUne23Wd

— Aimee Joy Pistorius (@AimeePistorius) November 22, 2014
By all means, the athlete was a man well loved by fans and family and he had a very comfortable life as far as his finances were concerned. According to reports, Oscar's net worth was said to be as high as $5 million (£3.75 million). This was from both his sports career and sponsorship deals. He had a contract with fashion designer Thierry Mugler, Oakley sunglasses, Nike, and BT.
Before the beginning of his court case in 2014, the Paralympic athlete told the court that his annual earning was 5.6 million rands (£313,000). But there were speculations by some local sports agents that the value is actually four times that amount.
However, as a result of the unfortunate tragedy that has left him behind bars, his net worth as of 2020 was said to have fallen to a mere $50,000.
His earnings were brought low following his messy court case, the legal fees, which costs 100,000 rands (£5,600) per day, as well as the termination of his sponsorship deals which had earlier brought him over $2 million each year.
Oscar Pistorius' Beautiful Mansion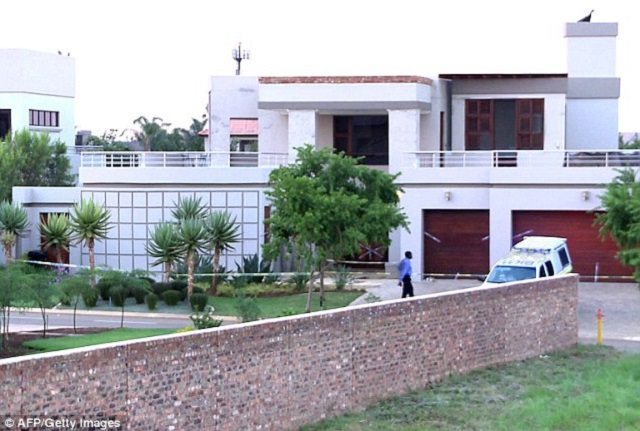 The athlete reportedly has three houses- two townhouses that he bought in 2006 for R674,900 and 2008 for R800,000, and his Pretoria home located in the gated, high-security Silver Country Woods Estate, where he murdered his girlfriend.
His residential house in Pretoria was a four-bedroom luxury home with five entertainment areas, three garages, and a sparkling pool.
Oscar Pistorius decided to put up his Pretoria home for sale in 2011 for R6.5m but later took it off the market because it did not sell. However, as the legal costs for his trial escalated, the house, described by Oscar Pistorius' attorney as his 'single ­biggest asset' was put up for sale again and was eventually sold at 4.5-million rand (£249,000).
Read Also: 100 World's Highest-Paid Celebrities: The Complete List
Other Facts You've Never Heard About Oscar Pistorius
He Almost Got Drowned as a Child
Due to his love of excitement, he once dived into a swimming pool but sadly his prosthetic legs were pulling him down to the floor of the swimming pool for they were heavy underwater. Luckily, his mother was around and when she saw that her son had dived, she too dived into the water and rescued him before it was too late.
He Nearly Failed to Make the Cut to Compete in the London Olympics
To qualify for the Olympics he needed to run 400 meters in 45.30 seconds or less twice in international competition so as to qualify for the Olympics. Unfortunately, he took 45.52 to complete the race missing the mark. Despite this loss, The Olympic Committee together with the South African Sports Federation wavered this mark and he was put into the 4 by 400 meters relay team, the team which won a silver medal in the Daegu Olympics.
The Ex-girlfriend of Oscar Pistorius Claimed She Was Scared for Her Life
After the sad end of his relationship with Reeva, the previous girlfriend of the once-celebrated South African athlete, Samantha Taylor, revealed that she was scared for her life when she was with him. She thought he was going to kill her because of his violent outburst. According to her, he was violent and possessive so much that she once hid his gun fearing he might use it on her.
In the relationship that lasted 18 months, Taylor alleged she was bitten, punched, and tortured mentally by Oscar. There were times that he locked her up in the house and went for hours and sometimes all day and all night, leaving her without food before she finally decided to end the relationship.
He Was One of the Most Influential People in the World
Back in 2012, Time magazine named him one of the most influential people in the world for he was seen as a role model by many amputees. Many firms such as Nike and A*men who realized this used him in their marketing advertisements to help boost their sales by swaying many of his fans to buy their products.
Pistorius Believes Steenkamp Wouldn't Want Him To Spend The Rest Of His Life Locked
In the first interview that he would grant after the entire incident, Oscar Pistorius made a remark that many considered rather shocking after he claimed Reeva would not want him to spend the remaining part of his life behind bars due to the unfortunate event that ended her life.