Internet banking has simplified a lot of things today and unlike before, one can carry out almost any kind of transaction, including seeking and obtaining loans, transferring cash, and most importantly, opening a bank account without having to go to the bank. While most banks have simplified all these processes, opening a Capitec Bank account online is probably the simplest and most convenient.
The reason for this assertion is because the bank has always emerged as one of the most digital-friendly financial institutions in South Africa. More so, it has come up with different ways to eliminate queuing up to open accounts and all the unnecessary delays and discomfort that may get in the way. If you want to open a Capitec Bank account online, here is the easiest way to do it without going to the bank.
Things You May Need Before Starting The Process
Even though you do not need to go to the bank to have your account opened, there are important items you need to make the process easy. You will need to have the following before you can start:
A valid South African identity card or a passport.
An active email address.
A South African cellphone number.
You also need to have a smartphone because you will capture your face and scan your ID card or passport.
NOTE:
When you are opening a Capitec Bank account online, you do not need to make any deposit in the initial stage but you would be expected to do this when you go to the bank.
Another thing you will not need to worry about is your signature; a clear picture of your face which you will instantly snap and send with your smartphone will serve as an electronic signature. It will be used to sign the necessary agreements.
After your account has been opened, you can fund it through a check or make a transfer. Another way to fund the account is through a credit or debit card.
Steps To Take In Opening a Capitec Bank Account Online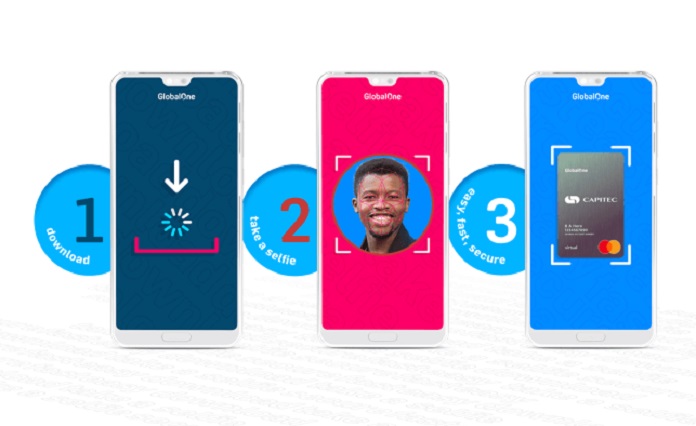 Capitec has made the process of opening a bank account with the bank online very easy and convenient. All you need to do is follow the steps shown below and you will have your account ready through the Capitec Bank app. Here are the steps to follow:
The first thing you need to do is download the bank's Global One application for your device either on Google Play Store for Android users or App Store for iOS.
After installing the app, the next step is for you to scan your valid South African ID or passport using your smartphone.
Next, you will be prompted to take a selfie to continue with the process. Ensure that your face appears clearly. You must permit the app to access your phone camera to complete this process.
The bank app will make use of facial recognition technology to create a biometric signature. Using the technology, your identity will be verified using the database of the Department of Home Affairs for authentication purposes.
The final step is to enter your personal details where necessary and your account will be created.
When you are done with the entire process and your account is now set, all you need to do is visit any branch of the bank at your convenience to get your debit card. Apart from this, every step can be handled in the comfort of your home with all the ease in the world.
Your Account Will Be Created Immediately
If you are wondering how long it will take before your bank account can be ready for transactions, it is almost instant. Once you follow the steps correctly and you have been verified, your account will be ready to use.
There is no minimum amount that you can use to open this account as it is free, but you will need to fund it to make purchases online, pay bills, make transfers, or other transactions.
If you are unsuccessful in opening your account, it could be because your selfie is not well captured. You can take off glasses if you are wearing any or a headgear. You also want to ensure that the room is well-lighted and your camera is clean to capture a good and clear picture.
Not Everyone Can Open A Capitec Bank Account Online
Even though opening a Capitec bank account online is easy and straightforward, there are some limitations when it comes to who can open it. You are eligible to open the account except if you are one of the following:
Foreigners.
If you are a South African citizen but reside in another country.
Those under the age of 18; minors.
If you fall under any of the categories, you will need to visit any branch of the bank with relevant documents to open an account with the bank.
Other Reasons Why You Are Unable To Open Your Account Online
Apart from the foregoing, there are a few other reasons why you will not be able to open your bank account online.
The first reason could be that the app you downloaded is the bank's old app which does not come with the feature for online opening of account. To fix this, kindly delete the app and search your app store to ensure that you get the right and recent app. Download it and try again after installing.
The second and probably most frequent reason why some people are unable to open their accounts on the app is because of the type of smartphone they are using. If you are using Android and iOS devices, you should not have any issues with opening your account.
However, if you are using a Huawei device running EMUI 10, you may experience some challenges. This is because not all the functionalities of the Capitec app have been put into the smartphone.
Capitec Bank Customer Care
It's not a guarantee that your process of a Capitec Bank account online will go through without any issues. Hence, the bank's customer care unit is available to always handle any challenges or inquiries you may have. Here are ways to contact them:
Phone number: 021 941 1377.
Whatsapp: 067 418 9565.
Email: [email protected].
You may also wish to visit the nearest branch of the bank if the problem persists.