Nonku Williams is best known for being a reality TV star who was featured in the Real Housewives of Durban (RHOD) reality TV show. She is also a businesswoman and the owner of Ashes to Beauty Winery, a construction company that focuses on low-cost housing and also a logistics business. But despite how unrelated her business interests are, she has been able to manage them well and is living an affluent lifestyle which you can obviously see on her Instagram account – South Africans also saw a bit of it during her time on the RHOD reality TV show.
Her life may be looking so beautiful and perfect to fans and onlookers but Nonku Williams has been through so much in her attempt to find love and live happily. She has three children, two of whom are products of her previous marriage and her only daughter was born out of a relationship with Sfiso Ncwane, the late husband of Ayanda Ncwane, who was one of her co-stars on RHOD.
Nonku Williams Is Divorced And Currently Single
The beautiful reality TV star who came to the limelight when she was featured on the first season of RHOD is currently single and is not known to be in a relationship with any man at the time of this writing. On her social media handles, she refers to her two sons as the "men in her life."
Nonku Williams may be single now, but she has been involved in relationships in the past of which one is known to have led to marriage but sadly after two children, the union came to an end. She was also in a relationship with the late gospel artist, Sifso Ncwane, at some point, but it never led to marriage. Note that Sifso Ncwane is the late husband of her fellow RHOD reality TV show star, Ayanda Ncwane.
Even as a divorcee and a mother of three beautiful children, Nonku seems to still be living her best life. She sees herself as someone who life has thrown a lot of challenges at but she has been able to overcome. In an IG video she posted in February 2021 (before her account was hacked and deleted), the businesswoman took time to talk to fans about the hard times she has been through and how she has cried in silence but is grateful for being able to survive everything through God's love.
Her Previous Marriage Lasted For Five Years
Though a major part of Nonku Williams' previous life before coming to fame is not known, she has revealed that she was married to the father of her sons for five years. She has not revealed the identity of the man, neither has she given details as regards how they met, when they got married and finally separated.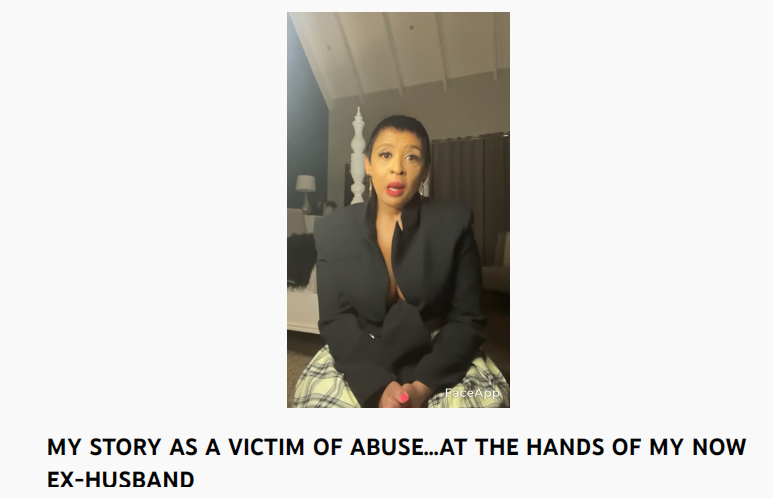 However, she has let us in on what caused the separation of what had been a happy relationship and marriage at some point. According to Nonku Williams in a tell-all video posted on her YouTube channel, she went through physical, mental, and emotional abuse at the hands of her ex-husband. In her own words, her marriage was a horrible experience.
After five years of enduring the marriage, she finally found the courage to walk out of the unhealthy union. According to her, a lot of people see her looking so beautiful and think she is strong, but in the actual sense, she is not and on several occasions, she has had to ask God why she was going through so many hard times.
Nonku Williams Has Two Handsome Sons From The Marriage
Nonku's marriage to her unidentified ex-husband may have left her with a lot of sad memories, but it also blessed her with two sons who she is very proud of and does not fail to show off on social media. Her first child with him, who also happens to be her first son goes by the name Wakhe Williams and was born on the 12th of July 2012.
Nonku refers to him as the most charming of all her kids and as she always does, she hosted a birthday party for him on the 12th of July 2021 when he turned 9 years old.
Williams Had Her Last Baby After Two Failed IVF Procedures
One of Nonku Williams' major struggles that remains evergreen in her heart was to get pregnant for her second child with her ex-husband. Fortunately for her, on the 26th of July 2017, she held her bundle of joy in her hands.
On his 4th birthday celebration on the 26th of July 2021, she took to Instagram to narrate how hard it was for her to get pregnant for another child after having Wahke. She revealed that she even resorted to IVF and after two failed IVFs, she finally took in for her last child who she named 'Phendulile' because God heard her prayers and answered her. Nonku refers to him as a miracle baby.
Nonku Williams Is Also The Late Gospel Singer, Sfiso Ncwane's Baby Mama
On the first episode of the Real Housewives Of Durban (RHOD) that featured Nonku Williams, Ayanda Ncwane, and other affluent ladies who reside in the city of Durban, the former dropped a bombshell when she told everyone that she had a child with late Sfiso Ncwane and that Ayanda, the widowed wife of the late gospel singer, who was also on the show, knows about it. Late Ncwane's mother also confirmed that her son had a child with Nonku who used to visit her until the child turned two years old.
What ensued – both on and off the show – was capable of turning that revelation into a scandal of some sort but Ayanda, who is known for handling delicate situations tactfully, was able to do her magic. To the surprise of many, both women were able to agree on the fact that it was good for the child – a daughter – whose name is Nothile to visit Sfiso's grave and pay tribute to him. Nonku was filled with so much joy the day her daughter visited Sifso's grave that she took to Instagram to share her joy with fans.
But to the surprise of everyone, Nonku and her mother were at the RHOD reunion demanding that Ayanda pay her family damages for the child she shares with Ayanda's husband out of wedlock. This move stunned Ayanda, who was surprised that they decided to bring that up in public. The streets of social media were also abuzz with Nonku's action, slamming her for it. Fans reminded her that Ayanda Ncwane did not owe her anything and was not responsible for paying for the sins of her late husband.
Nothile Takes After Her Father
Nothile, Nonku Williams' child with the late Sifso Ncwane, was born on the 14th of April 2007. However, contrary to the notion that Ncwane probably cheated on Ayanda, Ayanda's brother has revealed that Ayanda and Ncwane were still dating when she gave her life to Christ and as such could not commit fornication which caused tension between herself and Ncwane, leading to the end of their relationship. During this split, Ncwane met and dated Nonku who got pregnant with Nothile. However, Ncwane later gave his life to Christ as well and broke up with Nonku to get married to Ayanda.
Though Nothile did not grow up with her father, she seems to have taken after him in so many ways. Hearing her sing brings back the memory of her father who was known for his singing ministry which blessed so many in South Africa and beyond.