Nicky Oppenheimer and Johann Rupert have been named among the top richest men in South Africa by Forbes for a couple of years now. Aside from being South Africa's richest, these billionaires seem to have many things in common. Their individual success in the business world has sparked up an interest in the minds of fans who try to compare them to know who is richer, older, or who has more investments. Aside from their age and net worth, the things they share in common and their differences will also interest you.
Nicky Oppenheimer and Johann Rupert are not just South Africa's richest but also among the first five richest men in Africa. Everything about these men is absolutely worth knowing, so keep reading as we explore their ages, net worth, differences, and what they have in common as well.
Nicky Oppenheimer Is The Richest Man In South Africa
In any list of the wealthiest men, there are always those wealthier than others, and in this case, Nicky Oppenheimer is the richer of the two South African billionaires. Oppenheimer was named the richest man in South Africa in 2019 with a net worth of $7.3 billion, and his worth has since grown to $8 billion (as of April 2021). He is richer than Johann Rupert, who has a net worth of $7.1 billion and is South Africa's second richest.
The net worth of both billionaires has fluctuated between 2012 to 2019, but Nicky Oppenheimer seems to have enjoyed a more stable fortune in that regard than Johann Rupert has.
Nicky Oppenheimer since 2012
2012: $6.8 billion
2013: $6.5 billion
2014: $6.7 billion
2015: $6.7 billion
2016: $6.6 billion
2017: $7 billion
2018: $7.7 billion
2019: $7.3 billion
2020: $7.4 billion
2021: $8 billion
Johann Rupert Net Worth since 2012
2012: $5.1 billion
2013: $6.6B billion
2014: $7.6 billion
2015: $7.4 billion
2016: $5.3 billion
2017: $6.1 billion
2018: $7 billion
2019: $5.5 billion
2020: $4.6 billion
2021: $7.1 billion
Neither Nicky Oppenheimer Nor Johann Rupert Is A Self Made Billionaire
Unlike the richest man in Africa, Aliko Dangote, who built his empire from scratch and was not opportune to inherit anything from his father, South Africa's richest men Nicky Oppenheimer and Johann Rupert are sons of business tycoons.
Nicky Oppenheimer's grandfather Ernest Oppenheimer gets the credit for bringing the Oppenheimer family to where they are today. He started working as early as 17 years old and was so dedicated to his work that his employer saw the potential in him and sent him to South Africa to represent his company at the time. He founded Anglo American with financial assistance from American bankers, J. P. Morgan.
Nicky Oppenheimer's father, Harry Oppenheimer, took over the family's business from his father and was known as one of the richest men in South Africa. He continued to develop their mining business until it was handed over to his son, Nicky Oppenheimer.
While Nicky Oppenheimer is the third generation of his family to keep the family's wealth, Johann Rupert is the second. His father, Anton Rupert, a business tycoon, started the family business – a dry cleaning business and later a tobacco company called Rembrandt – in 1941 at their garage. Hopefully, Johann Rupert will pass on the empire to his son Anton Rupert Jr – or daughters if they are interested in running the business.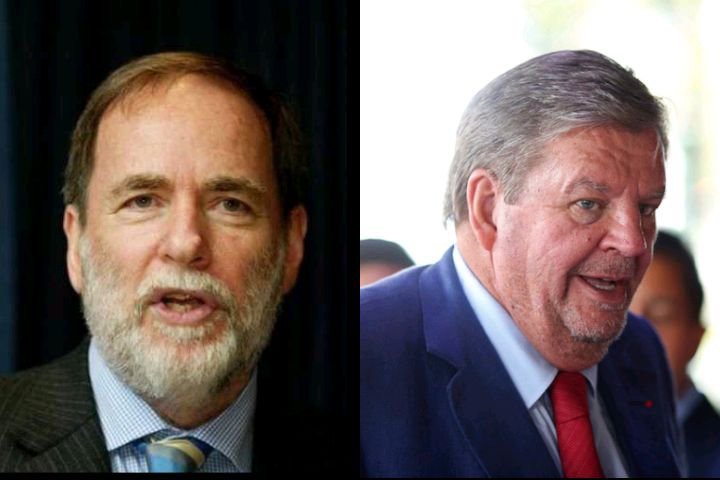 Although they are not self-made billionaires, it is undeniable that their good business acumen has made them the billions they enjoy today. They have also worked hard to earn the position of South Africa's richest.
Nicky Oppenheimer Was Born In 1945
The 78-year-old billionaire Nicky Oppenheimer was born on June 8, 1945, into the family of Bridget McCall and Harry Oppenheimer. He is the grandson of Ernest Oppenheimer, the founder of the Anglo-American Corporation of South Africa. He attended Harrow School and studied Philosophy, Politics, and Economics at Christ Church, Oxford.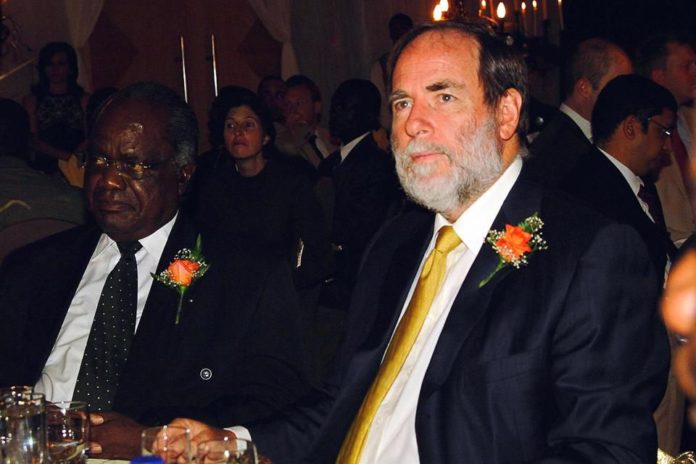 Nicky Oppenheimer joined the company Anglo American Corporation in 1968, and six years later, in 1974, he was appointed as director. A year after his father resigned from being the chairman of Anglo American Corp., Nicky Oppenheimer became the deputy chairman. However, he resigned in 2001, retaining the position of Non-Executive Director till 2011.
In 1984, he was appointed deputy chairman of Diamond Trading Company, formerly known as the Central Selling Organization. In 1985, he became the chairman of  Diamond Trading Company and was appointed deputy chairman of De Beers Consolidated Mines. Nicky Oppenheimer was the chairman of De Beers Consolidated Mines from 1998 to 2012. He retired after selling the family's stake to Anglo American in 2012.
Johann Rupert Is Five Years Older Than Nicky Oppenheimer
Johann Rupert was born on the 1st of June 1950 – five years after the birth of Nicky Oppenheimer – into the family of Anton and Huberte Rupert, and he is currently 73 years old. Johann, born in Stellenbosch, was also raised there and schooled at Paul Roos Gymnasium before studying Economics and Company Law at the University of Stellenbosch. However, he dropped out to pursue a career in business. In 2004, the University of Stellenbosch awarded him an Honorary Doctorate in Economics.
Johann worked at Chase Manhattan in New York City, where he served his business apprenticeship for two years. He later moved to Lazard Freres, where he worked for another three years. After spending some years in New York, he returned to South Africa and formed the Rand Merchant Bank (RMB). After the RMB and Rand Consolidated Investments' collaboration, he left to join his father's company Rembrandt Group.
In 1988, he founded the Compagnie Financiere Richemont and was appointed a Non-Executive Director of Rothmans International. A year later, he became the Vice-Chairman of Rembrandt Group. Three years after becoming Non-Executive Chairman of Gold Fields South Africa Ltd in 1997,  he reorganized Rembrandt Group to form Remgro Limited and VenFin Limited.
He is currently the chairman of Remgro Limited and VenFin Limited, but he is best known for being the CEO of Compagnie Financiere Richemont.
Both Men Are Private Family Men Who Are Interested In Nature Conservation
Both Nicky Oppenheimer and Johann Rupert are good family men as they have only been married once and are still with their wives. Nicky Oppenheimer is married to Orcillia Lasch, and their union is blessed with one child, Jonathan M. E. Oppenheimer, who is also married with three children. He is also a billionaire.
Johann Rupert is married to Gaynor Rupert. His wife is a racehorse rearer and manages the Drakenstein farm. They have three children Anton Rupert Jr, Caroline Rupert, and Hanneli Rupert. Nothing much is known about Johann Rupert's children.
Keeping a family and managing billion-dollar businesses are not the only things these billionaires are good at; they are also conservationists. While Nicky Oppenheimer owns 720 square miles of conservation land across South Africa, Botswana, and Zimbabwe, Johann Rupert owns 25 hectares of Conservation land in South Africa.
Quick Comparison Between Nicky Oppenheimer and Johann Rupert
| | | |
| --- | --- | --- |
| | Nicky Oppenheimer | Johann Rupert |
| Net Worth | $8 billion | $7.1 billion |
| SA Billionaire Rankings | 1 | 2 |
| World Billionaire Rankings | 308 | 358 |
| Date of Birth | 8th June 1945 | 1st June 1950 |
| Occupation | Businessman | Businessman |
| Source of Wealth | Diamond Mining | Luxury Goods |
| Relationship Status | Married | Married |
| Spouse | Orcillia Lasch | Gaynor Rupert |
| Children | 1 | 3 |