Naledi Pandor (7th December, 1953) is a South African politician, academic and educator who has been the nation's Minister of International Relations and Cooperation since 2019. She is best known as one of the few women that have been active in high level South African politics ever since the country elected its first democratic president in 1994.
Beginning her career as a teacher in the 1980s, the Durban native's first political post was as a Member of Parliament for the African National Congress. In 1995, she would become the ANC caucus' Deputy Chief Whip, maintaining the position until 1998 when she was elected as the Deputy Chairperson of the National Council of Provinces. Pandor later rose to become Chairperson in 1999, a position she held until 2004 when she was named Minister of Education.
As different governments came and went, Naledi Pandor always seemed to remain one of the few names that each leader looked to have in their cabinet. After having served under President Thabo Mbeki, the educationist and lecturer served as Minister of Science and Technology and Minister of Home Affairs under President Jacob Zuma. She would later also go on to head the ministry of Higher Education and Training in the first cabinet of President Cyril Ramaphosa before later taking charge of the foreign ministry of South Africa.
Summary of Naledi Pandor's Biography
Full name: Grace Naledi Mandisa Matthews
Gender: Female
Date of birth: 7th December, 1953
Place of Birth: Durban, South Africa
Naledi Pandor's Age: 70 years old
Ethnicity: Black
Nationality: South African
Zodiac Sign: Sagittarius
Sexual Orientation: Straight
Marital Status: Married
Naledi Pandor's Husband: Sharif Joseph Pandor
Naledi Pandor's Children:

Aisha Pandor, Haroon Pandor, and Fazlur Pandor

Naledi Pandor's Parents: Regina Thelma and Joe Matthews
Siblings:

Zolani Mathews

Education: University of Botswana, University of Swaziland, University of London, Kennedy School of Government, Stellenbosch University, University of Pretoria
Occupation: Politician, Educator, Academic
Famous for: Being one of the few women that have been active in high level South African politics since 1994
Naledi Pandor's Instagram: naledinaledi1983
Naledi Pandor's Early Life and Education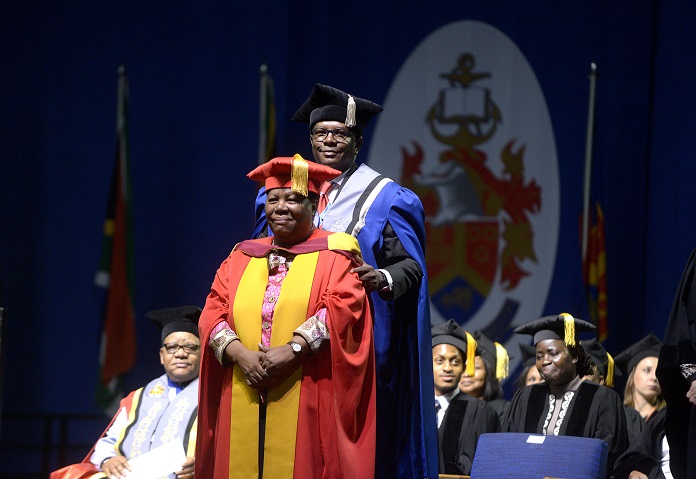 On the 7th of December, 1953, in Durban, South Africa, Naledi Pandor was born Grace Naledi Mandisa Matthews to Regina Thelma and Joe Matthews. Due to her father's anti-apartheid activism and subsequent exile from the country, there are not many available details about her early life.
It is however known that the young girl received both her primary and secondary school education in Botswana, matriculating from Gaborone Secondary School. She would later go on to attend the University of Swaziland and the University of Botswana where she received a Certificate for Continuing Education and a bachelor's degree.
In pursuit of higher academic qualifications, Pandor moved to the United Kingodm where she enrolled in the University of London, fulfilling a Diploma in Education and a Master's degree. Other qualifications that she went on to acquire include a Diploma in Higher Education, Administration and Leadership from Bryn Mawr Summer Programme, a Diploma in Leadership in Development from Harvard University's Kennedy School of Government, an MA degree in Linguistics from University of Stellenbosch, and most recently a PhD in Education at the University of Pretoria.
Other Facts You Probably Did Not Know About Her Life
1. She Converted to Islam When She Got Married
Naledi Pandor is married to Sharif Joseph Pandor whom she met in Botswana while she was still in school. She converted to Islam during the course of their relationship and her parents were supportive of her choice.
According to Naledi, her parents said; "God is God. As long as you worship Him we will support you." Her Islamic name is Nadia, which was given to her by her in-laws. Together, Naledi and her husband have four children; Aisha, Fazlur, Haroon and Suraya.
See Also: Ramaphosa's Victory: Dlamini Reveals Why ANCWL Is Not Proud Of The Outcome
2. She Comes From a Long Line of Educationists and Political Activists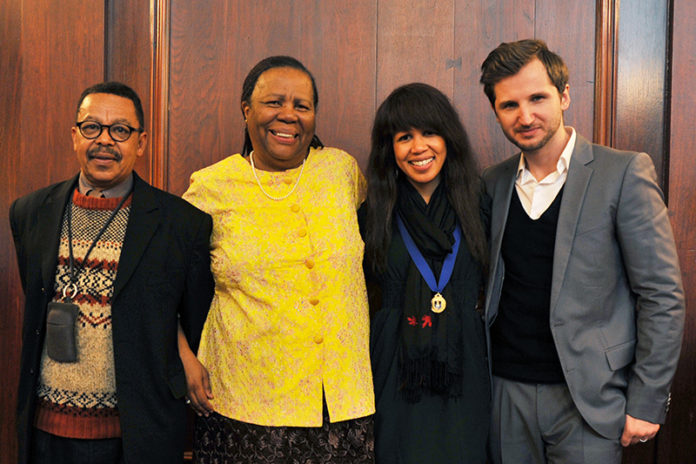 Both Pandor's father and grandfather played a key role in the fight against the apartheid government of South Africa. As mentioned above, her father was a political activist whose involvement in politics led to him being exiled from the country. He would later go-ahead to serve as a Member of Parliament for the Inkatha Freedom Party from 1994 until 2004 when he chose not to stand for elections.
Her grandfather, on the other hand, was a respected teacher, lawyer, social anthropologist, a reformist and anti-apartheid activist named Z.K. Matthews. Some of his most notable students include Nelson Mandela, the first President of South Africa, and Seretse Khama, the first President of Botswana.
3. Naledi Pandor Has Taught Both in South Africa and Overseas
Naledi Pandor began her teaching career in 1980 when she began teaching at the Ernest Bevin School in London. She later taught in Gaberone, Botswana from 1981 to 1984 when she started lecturing at the Taung College of Education. Her next job was as a senior lecturer in English at the University of Bophuthatswana (now the North-West University) from 1986 to 1989.
From 1989 to 1994, she held the position of senior lecturer at the University of Cape Town before leaving to focus on life as a politician.