Musa Mseleku is regarded as one of the wealthiest polygamist men in South Africa. He has four wives named Busisiwe 'MaCele' Mseleku, Nokukhanya 'MaYeni' Mseleku, Thobile 'MaKhumalo' Mseleku, and Mbali 'MaNgwabe' Mseleku. Although he plans to marry a fifth wife, he hasn't yet. 
Decades ago, polygamy was not something that turned heads in South Africa as it wasn't an anomaly. It certainly won't make you the talk of the town because it was totally normal, and most men then were married to more than one wife. Fast forward to this day; the scenario is totally different. A married man now has totally lost the right to look at another woman as 'just looking' could get you some cold dinner from your significant other. In the same vein, thinking about (and then talking about) marrying a second wife as a married man is almost considered a sacrilege. Albeit, not for someone like Musa Mseleku.
That is why if you can be married to four women at the same time and live with them under the same roof – in this time – then no one should complain about you being the number one trending topic on social media. This is exactly the story of Musa Mseleku, a TV personality, author, and most importantly, husband to four happy wives. Musa Mseleku has made up his mind to be polygamous in this 21st century. He is married to these four women and makes it seem like polygamy is so easy.
Meet Musa Mseleku's Four Beautiful Wives
Musa Mseleku was born in 1975 in Mzumbe, Kwa-Madlala. He attended primary school at Denver Zoar Mission School in Umzumbe and had his high school education at Prince Ngamizizwe School and Sister Joan's High School. After matriculating from Sister Joan's High School in 1993, he attended the University of Kwazulu Natal and graduated in 1997.
Musa Mseleku is married to four women and has shown that he has eyes for beautiful things as all of his wives are gorgeous women. He doesn't fail to show them off on his Instagram account, even though he has different opinions about all of them.
1. Busisiwe 'MaCele' Mseleku
Age: 45
Year of Birth: 1977
Children: 3
Occupation: Businesswoman (Restaurateur) and TV personality
Busisiwe MaCele Mseleku is the first wife of Musa Mseleku. They met in a supermarket in the year 2000. Musa has described his first wife as a woman of few words, who still does not fail to express her dislike for anything. He also sees her as his friend and someone who knows his heart. Musa is convinced that MaCele will never leave him. Talking about her marriage to a polygamist, MaCele believed it was the will of God for her. Being a Christian, the mother of three reveals that polygamy is against her beliefs, but God knows why He allowed her to be married to a polygamist.
Although she is his first wife, he was already dating his second wife, Nokukhanya Mayeni, when he met her. He wanted to marry Mayeni first; however, while waiting for her parent's approval, he started seeing MaCele and eventually married her. Musa and Busisiwe MaCele had their white wedding in 2002. Still, in 2019, their traditional wedding took place, and MaCele was excited about the traditional wedding because she believes a traditional wedding is what seals a couple's union.
The couple had a beautiful traditional wedding at KwaMadlala, with Musa dressed in the traditional Zulu Attire and MaCele beautifully dressed in Isidwaba (a traditional black skirt), with Ubuhlalu (beads) draped over her shoulders and Isicholo (a flared hat) with a white veil that covered her face. About 300 guests graced the occasion.
Busisiwe MaCele has 3 children for her husband, Musa Mseleku – Lwandle (b. 2003), Abongwe (b. 2005), and Owami (b. 2012). She is also raising his daughter from a failed relationship he was involved in before his marriage. His daughter's name is Snenhlanhla (b. 1996). Busisiwe's love for Musa's daughter has earned her the love and respect of their TV show, Uthando Nes'thembu's fans.
2. Nokukhanya 'MaYeni' Mseleku
Age: 41
Year of Birth: 1982
Children: 3
Occupation: Businesswoman (Fashion) and TV personality
Musa Mseleku's marriage to Nokukhanya MaYeni would never have happened if the circumstances surrounding it was to be considered. He met MaYeni in 1997, but her parents refused to allow their daughter to marry a polygamist – even though she was going to be the first wife as he was not yet married to anyone at the time. While waiting for her parent's approval, Musa cheated on MaYeni with Busisiwe MaCele. As though that wasn't bad enough, he went ahead to remarry her without the knowledge of MaYeni. It was only when the latter got congratulatory messages, with some asking her why she was not at the wedding, she realized her man was getting married to another woman.
The funny side of things was that on both instances (the cheating and the marriage episode), she confronted Musa Mseleku, and even though he never denied the occurrences, he still managed to assure her that he never loved her any less regardless of what was happening – and she ended up forgiving him.
In 2008, he got married to MaYeni at the South Africa Department of Home Affairs (DHA), and then in 2019 – five days after he traditionally married his first wife – they had their white and traditional wedding. 150 guests attended their wedding, and the ceremony was held at the banks of the Umtamvuna River. Nokukhanya MaYeni arrived at the venue in a boat, looking so beautiful.
Nokukhanya MaYeni has always threatened to divorce Musa Mseleku because of his polygamous nature, even though she already knows who he is. She raised dust when he brought his last two wives, Thobile and Mbali, home. However, Musa found a way to calm her down. She still insists that she will make good her threats of divorcing him and starting a new life with her children – Mpumelelo (b. 2002), Mnini (b. 2014), and Obanzi (b. 2017) – if he brings in a fifth wife. We have to watch how all this unfolds as Musa Mseleku is adamant he will marry a fifth wife.
3. Thobile 'MaKhumalo' Mseleku
Age: 33
Year of Birth: 1989
Children: nil
Occupation: Radio and TV personality
Thobile MaKhumalo Mseleku is the most stylish wife of Musa Mseleku, and she also happens to be the youngest. Born in 1989, Musa describes his third wife as an open book but admitted that she initially kept her feelings and opinion to herself but started opening up with time.
He got married to Thobile in 2009 at the DHA and informed his other wives about his decision before he did. When his second wife, Nokukhanya Mayeni Mseleku, got wind of the information, she threatened to seek a divorce, a plan she later shelved. Sadly MaKhamalo has not been able to conceive a child for Musa, even after over 10 years of marriage. Musa, on his part, has refused to help her get pregnant by any external means. He claims is patient and will not succumb to 'Western methods' because he is a typical African man. Musa says he loves his third wife, Thobile, with or without a child.
The radio presenter takes care of Mpiloenhle (b. 2003), Musa's second daughter from an extra-marital relationship. On an episode of their reality TV series, when he raised the topic of having a proper marriage ceremony for her as he has done with his first two wives, nobody seemed interested in the discussion. According to MaKhumalo, she was fully aware of what she was getting into when she decided to marry Musa, as her grandparents also had a polygamous family.
4. Mbali 'MaNgwabe' Mseleku 
Age: 40
Date of Birth: 1983
Children: 2
Occupation: Nurse and TV personality
Mbali MaNgwabe Mseleku is the fourth wife of Musa Mseleku, but she is a few years older than Thobile MaKhumalo. She also got married to Musa in 2009 at the DHA. Before they became co-wives, Thobile and Mbali were introduced to each other by their husband, Musa, who was dating both of them at the time. They developed chemistry with each other and became good friends. Describing his fourth wife, Musa Mseleku, says she is good at holding onto offenses – long after the offender (mostly himself) has forgotten that there was an offense.
Considering her position as the fourth wife, it is obvious that she knew what she was getting into before accepting to be one of Musa's wives. She has two children for her husband – Mawande (b. 2012) and Zenande (2017).
Musa Mseleku Is A Media Personality And Author
The question in the mind of so many people is how Musa Mseleku makes his money – so much that he can take care of his wives and children. The husband of four has a background in the media industry, which accounts for why he has successfully hosted a reality show. He also worked for Durban Youth Radio and SBC News as a journalist. He works for Ugu District Municipality and is in charge of rural areas. He also has a foundation called Phiwe Ukufunda, which is solely focused on helping the needy.
Beyond that, Musa Mseleku is also an author. He has a couple of books to his credit, and they include Life and Polygamy (2013) and How I Made My First Million: And How You Can Also Do It (2020). The former dissects the subject of polygamy: its meaning, practice, different dynamics, and misunderstandings. The book serves as insight – from a man who is a successful polygamist – to young men who may want to follow his path in their marital life. The book also gave birth to his reality TV series, Uthando Nes'thembu.
He Launched The Mselekus' Reality TV Show in 2017
In 2017, Musa Mseleku launched a reality TV show called Uthando Nes'thembu, which means 'Love and Polygamy.' The show, which is aired on Mzansi Magic, is filmed at Musa Mseleku's rural homestead near Durban, in KwaZulu-Natal's South Coast, where each wife has a house on the same huge expanse of land. After its launch. The TV show was the talk of the town and had viewers waiting for each episode every Thursday.
Mseleku told BBC trending radio that his aim for launching the reality show was to show people another side of polygamy contrary to what they already believe. In an episode of Uthando Nes'thembu, Musa Mseleku placed all his wives on a curfew that starts at 17:00. They were not allowed to drink alcohol or hang out with friends without his consent. However, this didn't go down so well with many viewers of the show.
According to Thobile, Musa's third wife, she said in Africa, husbands are like gods, so you can't just do anything without their blessings. She also told the BBC radio that she and her co-wives are like sisters and rely on each other for support and advice.
Contrary to what she said, fans believe that the family's unity is just an act and that deep down, the wives did not really love each other. After the episode where Musa Mseleku spoke about having a wedding ceremony with Thobile, and nobody seemed to be interested, MaYeni, in her diary session, gave an excuse for being quiet, saying she was hungry.
Musa Mseleku's Wives Disapprove Of His Plan To  Marry A Fifth Wife
Musa Mseleku's goal of having 20 children or more has fueled his push for a fifth wife, especially because his third wife, Thobile Khumalo, is yet to conceive. He made his intentions known to his wives in an episode of the show, and all of them registered their disapproval. However, despite their refusal, Musa is bent on getting married to a fifth wife. According to him, he is already a polygamous man, so his choice to marry another wife should not surprise anyone. He believes that his wives will come around and will finally accept his decision.
Musa also says that he won't go against his wives' will, but if they insist that he doesn't marry a fifth wife, he may settle for a girlfriend outside marriage. The businessman-turned-reality-TV-star also sees himself as a nobleman, and as such, will not keep any woman in mind with the intent of marriage without the approval of his wives.
Musa Mseleku Has a Dream Of Having 20 Children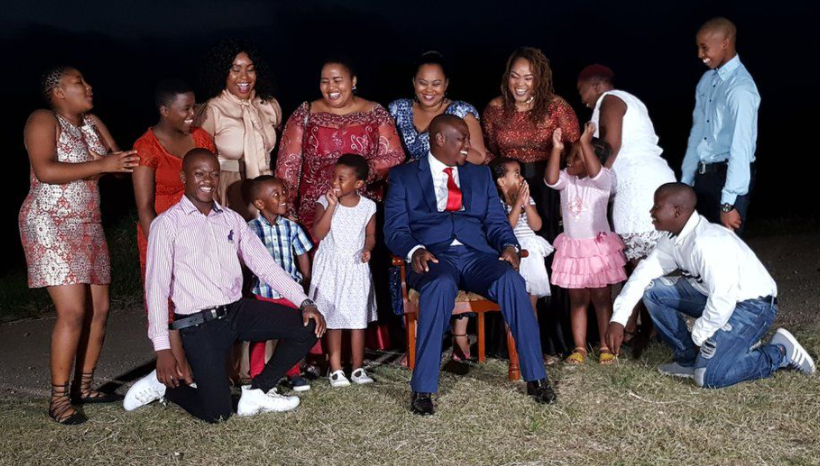 Musa Mseleku is already the father of 10 children and husband to four women. Considering how expensive it is to take care of one wife and whatever the number of children she can bear, one would wonder why Musa Mseleku has decided to be polygamous.
Surprisingly, Musa has proven to be financially capable of taking care of all his wives and children as they live comfortable lives. He has four different beautiful houses, and each wife lives with their children in their own house. They also have at least two cars each for their movements. The family has a family mechanic and a driver who is responsible for taking the children to school.