King Mswati III is the king of Eswatini and head of the Swazi royal family. He may not be a very popular ruler all over the world, but he is one of the powerful, being one of the last kings that have absolute power in the world.
He has been the ruler of Swaziland for more than 30 years, having taken over from his father who was king for more than 8 decades.
Swaziland is a small country located on the south-east side of Africa and situated west of Mozambique stretching over 6,000 square miles with over 1,230,000 population. Rich in culture and breath-taking sights, this beautiful country is made up mostly of mountainous regions. The official languages of this country are SiSwati and English.
The kingdom has been under the rulership of the House of Dlamini since 1745 when Ngwane III became king; he is regarded as the first king of modern Eswatini. Before him, the kingdom has seen other rulers including Dlamini I who the dynasty is traced to. With power passed by blood, different kings have come with their different styles. King Mswati III also came with his own style which seems to follow that of his father who was described as an eccentric leader.
Interesting Things You Probably Didn't Know About King Mswati III
1. He was named King of Nations at Birth
King Mswati's birth name is Makhosetive Dlamini, which means "King of Nations". He was born on 19 April 1968 to King Sobhuza II and one of his wives, Ntfombi Tfwala.
2. Mwatsi did not become king immediately after the death of his father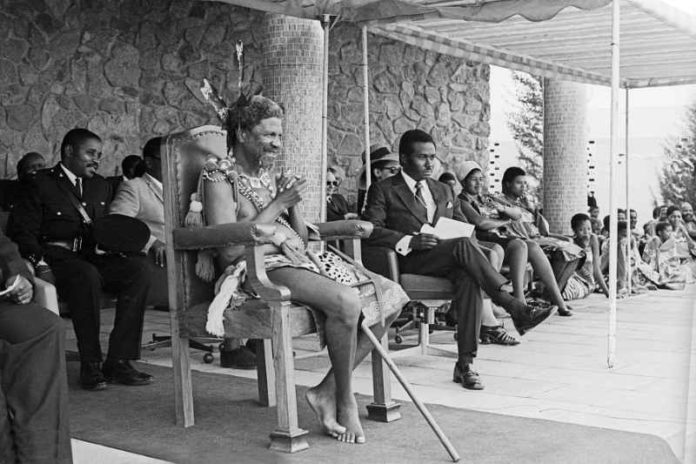 When Mswati's father, King Sobhuza II died, Mswati was only 14 years old. After ruling for 82 years and 254 days, his son was supposed to ascend the throne. However, because Mswati was still attending school at this time, two of his father's queens (Queen Dzeliwe Shongwe, and Queen Ntombi Tfwala) stepped in as regent until Mswati could have the position of the throne.
3. Mswati III was the youngest monarch in the world 
When King Mswati III was crowned at an occasion known as "Incwala", or "First Fruits Ceremony" he was the youngest ruling monarch at the time in the world, on April 25, 1986, at the age of 18. This ritual is normally held in December or January on a day chosen by astrologers in conjunction with the moon and the sun. This ceremony lasts several days.
Swaziland became independent from Great Britain only four years before the King took office.
4. He is one of the richest kings in Africa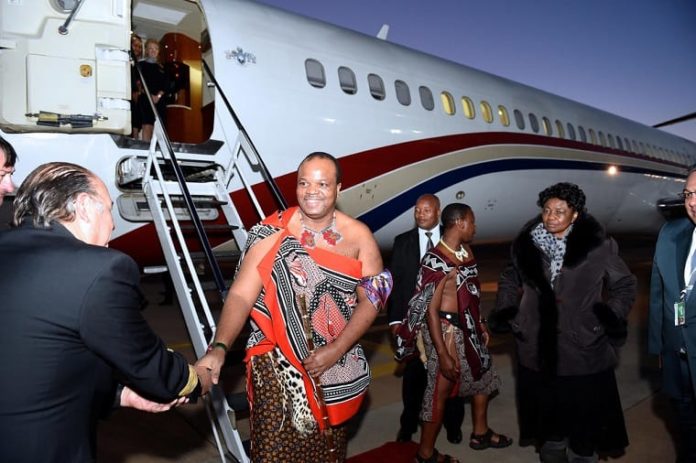 According to "Forbes 2009 List of World's 15 Richest Royals" Mswati is on this list and was estimated to be worth $200 million. The King is estimated to be worth $100 million in 2020 by Celebritynetworth. This is a significant fall from the $200 million he was worth only a few years earlier. More so,  Business Insider crowned him as the third richest king in Africa in 2017. He indulges in luxury cars, a habit which he has been roundly criticized for.
He also gifted himself a twin-engine McDonnell Douglas DC-9 Private Jet on his 44th birthday. He dolled out a massive R2.7 Billion for the private bird and its parking space. That was not his first jet as in 2012, he got himself a McDonnell Douglas DC-9 which he used for short-distance flight while the new piece was for long-distance flight as it could fly the king and his entourage from the kingdom to London without making a stop.
5. His people have always protested his lavish lifestyle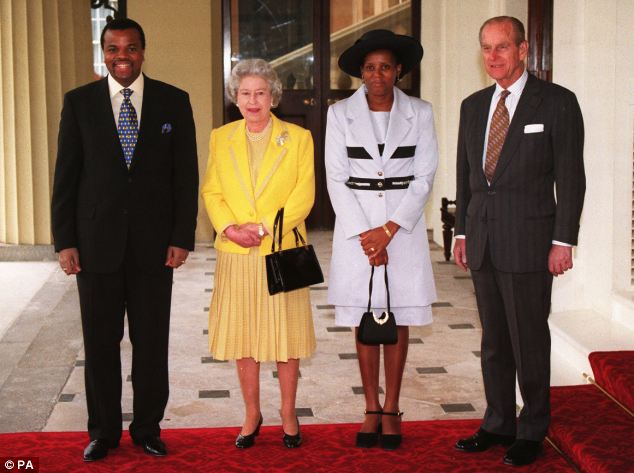 Swazis have not failed in protesting against what they describe as the lavish lifestyle of their king. In May 2012, Mswati visited Windsor Castle to join Queen Elizabeth II of England to celebrate her Majesty's Diamond Jubilee, along with 45 royal guests from around the world. Reports state that during this visit, human rights campaigners were holding a protest outside his hotel complaining of the King's "lavish lifestyle" while his own people "suffer from starvation."
6. 15 wives and 24 children
https://www.instagram.com/p/BpxpB7pgsCo/
King Mswati usually picks his brides from an annual dance. The "Umhlanga" meaning "ceremony" is performed every year by young eligible maidens. This is a well known Swaziland traditional dance for these young ladies to display their love for the King and their country. Women travel from all over the country to participate in this 8-day event.
Currently, Mswati III has a whopping total of 15 wives and 24 children among whom are Princess Sikhanyiso Dlamini who is the minister of information, Princess Temaswati Dlamini, Prince Mcwasho Dlamini, and Prince Lindaninkosi Dlamini. Under Swaziland law, his first two wives were chosen for him by his national councilors. He can, however, only marry his brides once they become pregnant to prove they can produce heirs. Although he seems to have many wives, he is still far from the 70 wives his father married before his death, and between 1920 and 1970, he had had 210 children with his wives. At the time of his death, Mswati's father had already had over 1000 grandchildren.
7. There have been a number of marriage controversies
As part of Swazi custom, Mswati is permitted to choose a new bride every year. But not everyone is inclined to take on this role. In May of 2013, Tintswalo Ngobeni, who is now living in England, said she fled to avoid the advances of the King. She revealed that when she was 15, she got to know that the king had his eyes on her. He started calling her at boarding school. He would ask if she wanted to be part of the royal family. Knowing that she might not be left with any choice, she decided to leave the kingdom.
Another case that is also popular is concerning the king and a then-18-year-old Zena Mahlangu in 2002. Zena was a high school girl, who according to her mother, was adopted by the Swazi ruler without her knowledge. She was abducted by royal aides for "royal duties". At first, her mother was not worried that the king would want to marry her daughter even after it was rumoured because her daughter was a twin; twins were considered bad luck in the kingdom as such the king doesn't marry them. A legal case was filed against the king both in the kingdom and internationally, involving the UN and Amnesty international. In the end, however, King Mswati III got married to Zena Soraya Mahlangu.
8. He is known as The Lion
King Mswati is known as "Ngweyama" meaning "The Lion". This also symbolizes the government and "Coat of Arms". The "Indlovukazi" meaning "Elephant" depicts The Queen Mother, as a part of this national symbol.
9. He was a guest at Prince William and Kate Middleton's wedding
Mswati attended the Royal Wedding of Britain's Prince William and Kate Middleton, which of course brought on more controversy about his majesty's wealth, while his country suffers poverty.
10. One of the last remaining absolute monarchs in the world
World over, there are less than 10 absolute monarchs remaining, and King Mswati III is one. More so, it is the last remaining in Africa. This is because the kingdom of Swaziland is one of the world's last remaining absolute monarch. Culture and heritage are deeply ingrained in all aspects of life, hence, it might take a while before the kingdom might get to abolish it if it hopes to.