Mpumi Ranaka is a member of the famous Ranaka family from the reality TV show, The Ranakas. The 42-year-old is a businesswoman, fitness enthusiast, reality TV star, and motivational speaker best known for being a member of the reserved Ranaka family.
Mpumi has been in and out of a marriage and has had her fair share of challenges in life, but she is stopping at nothing to find happiness and love for herself. She is also a proud mother of three children.
Summary of Mpumi Ranaka's Biography 
Full Name: Nompumelelo Ranaka
Nickname: Mpumi
Gender: Female
Date of Birth: April 6, 1981
Mpumi Ranaka's Age: 42 years old
Ethnicity: Black African
Nationality: South African
Zodiac Sign: Aries
Sexual Orientation: Straight
Religion: Christian
Marital Status: Divorced
Mpumi Ranaka's Husband: Unknown
Mpumi Ranaka's Children: Lwazi, Thando & Lerato
Mpumi Ranaka's Parents: Kgotlaesele Ranaka and Nonceba Ranaka
Siblings: Manaka, Dineo, Mzingisi, and Ranaka Ranaka
Mpumi Ranaka's Height in Inches: 5 feet 8 inches
Mpumi Ranaka's Net Worth: $50,000
Famous for: Being a reality TV star
Mpumi Ranaka's Instagram: @pumirm
Twitter: @pumi1ranaka
How Old Is Mpumi Ranaka?
Nompumelelo Ranaka simply known as Mpumi Ranaka is currently 42 years of age. She was born on the 6th of April, 1981, and was raised in Soweto, Johannesburg. She is the third of a trio of sisters in the famous Ranaka family.
Mpumi Ranaka is the daughter of Kgotlaesele Ranaka and Nonceba Ranaka. Her sisters, Manaka Ranaka and Dineo Ranaka are celebrity figures in South Africa. She also has two brothers Ranaka Ranaka and Mzingisi Ranaka, also known as Ziggy.
Meet Her Siblings
Her sister, Manaka Ranaka, is best known for playing a starring role in one of the longest South African soap operas, Generations: The Legacy. Dineo Ranaka is versatile and has made a career out of radio broadcasting and TV hosting, along with being an actress and producer.
Her brother, Ranaka Ranaka, is the youngest child in the family and is an actor, DJ, and event organizer. Conversely, Mzingisi "Ziggy" Ranaka is the eldest son of the Ranaka family and works as a programmer.
Mpumi Ranaka Is Doing Well For Herself In Business 
Mpumi Ranaka is also a success story as far as the Ranaka family clan is concerned. She is the co-executive of the Lala La Intimate, a brand that creates beautiful loungewear and bedspreads, which she runs with her daughter, Thando Ranaka.
During the 1990s, Ranaka filled in as a backup vocalist. She further got an opportunity to go on tour with performers like Brenda Fassie and King Rap, currently known as Joe Nina. Now, she is a radio personality and a host on the online radio station WOMan Radio.
She also owns a blog – Pumi's Blog – where she writes on several topics, from her relationship and marriage experiences to motherhood. Mpumi Ranaka is referred to as the 'third wheel' of her family based on the fact that she lurks in their shadow and isn't as popular as her siblings. She prefers to stay out of the drama.
She Has Been Married Before 
Although Mpumi Ranaka appears to be single these days, the beautiful mother of three was once married. Reports have it that she met her husband in Abu Dhabi in 2005, where she worked as a cabin manager in an airline company, and after six months of dating, they tied the knot.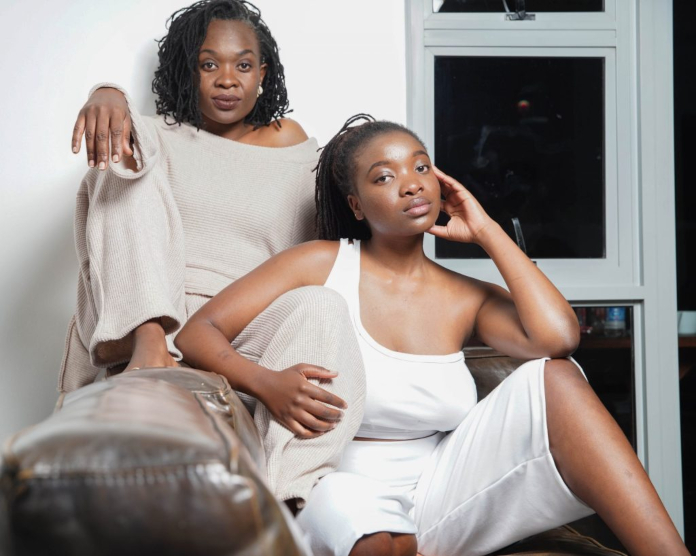 As a couple, Mpumi attests that they were good business partners and knew how to make money together. However, they came into the marriage seeking solace and not necessarily because of love. She had a bad past experience, and he was coming out of a divorce, and as such, they could not bring happiness to each other. However, they were able to stay together for 13 years.
Who is Mpumi Ranaka's Husband?
Mpumi Ranaka's husband is a man known as Michael. Every other thing about him is still a mystery to everyone who is an outsider to the Ranaka family. Together, Mpumi and Michael are parents to Lwazi, Thando, and Lerato.
They would have been parents of five kids instead of three had Mpumi not lost her six months old pregnancy at one time. The twins – Laila and Lucah – would have completed the picture. She claimed her husband was a wonderful person and has a kind heart.
She went further to say that because both of them work in synergy, creating wealth together doesn't automatically guarantee a successful marriage. But she also contradicted herself when she said she had been subjected to forced silence and loneliness by the same person.
In 2019, Mpumi Got Divorced From Her Husband
Seeing how their relationship went, Mpumi Ranaka formally signed the divorce papers in June 2019. Her parents were heartbroken and in tears that her daughter and husband could not resolve their issues.
Mpumi announced the divorce on her family reality TV series, The Ranakas, where she detailed all the uncertainty, loneliness, and forced silence that had plagued her marriage. And that she has made up her mind to take back the very vows she made to her husband more than a decade ago.
Mpumi left her fans emotional when she exposed that she had been sexually assaulted and raped when she was younger. She blamed the horrible experience as part of why her marriage ended. She said the assault has changed her and also affected her life, marriage, the way she saw relationships, and the world in general.
It was too much for fans of the show' who took to Twitter to offer their support and prayers for Mpumi.
Meet Mpumi Ranaka's Children
Lwazi Ranaka
The first child of Mpumi Ranaka is Lwazi Ranaka but not so much is known about her. She is also part of the family's reality TV show, The Ranakas, which has introduced her to South Africans.
Thandokuhle Ranaka
Thando Ranaka is one of the most loved young South Africans, if not the most loved, because of her appearance on the family show. Thando is very close to her cousin, Katlego, and they also have a slot on a radio show where they share a lot of wisdom and knowledge on many things.
Thando is still in her early 20s, and she is already married. Once in a while, she shares pictures of her man and gushes about him.
Lerato Ranaka
Even before becoming a teenager, Lerato has already started piling up experience in filming and acting. Featuring in The Ranakas had given her the experience she needs in acting, and not many kids her age can boast of being cast and featured on a Showmax original. Lerato on the show is always cool-headed and fun to be around.