The revelation that Mama Jackie was a fraud came as a huge surprise to everyone after she had contributed so much to society, gaining international fame and recognition. Her story is a good illustration of how good and bad cannot co-exist. After all her good works, taking children off the streets, helping the traumatized ones have a better life, and providing education for those who had no one to take care of them, which earned her the name 'Angel of Soweto', her evil mechanizations were exposed and all the charitable efforts have been forgotten.
Being selfless and charitable was able to earn her fame and accolades, but was not enough to make her immune to the wrath of the law when the time came for her to be held accountable for her actions.
Mama Jackie Founded Ithuteng Trust in 1997
The philanthropist founded her school Ithuteng Trust in 1997 in Soweto. The goal of the school was to help and encourage, as well as cater to the educational needs of the destitute and victims of crime. While the school existed, it served as a place of comfort for children who had been raped or abused. The school which she claimed had a 100% graduation rate was a source of inspiration to over 6,000 students. This made the South African hero, Nelson Mandela, call Mama Jackie "The Angel of Soweto."
When Charlie Ebersol, a television and film producer visited the school in his junior year, he was so touched by Mama Jackie's benevolence and charity work that he promised he would come back and do a documentary film about Ithuteng Trust school. He did return in 2005, but this time with a team made up of his wife, Susan Saint James, his friend Kip Kroeger, and brother Willie Ebersol, and together, they produced the documentary dubbed Ithuteng – Never Stop Learning which premiered in 2006.
The documentary made Mama Jackie's work even more popular to the extent that it was featured on The Oprah Winfrey Show in February 2006. It also won a few awards, including a Crystal Heart Award at the 2006 Heartland Film Festival in Indianapolis. In 2001, about 45 students from Ithuteng Trust School appeared before the United Nations in New York to make a plea to the world for help which caught the attention of former US president, Bill Clinton.
Oprah Winfrey Was A Major Donor
After Charlie Ebersol made the raw tape for the Ithuteng documentary in 2005, he sent it to Gayle King for his input and somehow, the work found its way to the American talk show host, Oprah Winfrey who was King's best friend. Once it got to Oprah, she knew she had to see things for herself and was looking forward to meeting Jacqueline Maarohanye the next time she visited Africa.
Be that as it may, the opportunity presented itself when the US talk show queen came to South Africa on a different business and found time to visit the Ithuteng Trust School. On getting there, she was treated to the gory accounts of the societal ills the students had suffered. Seeing and hearing all their stories made Oprah wonder how children could go through that and still seek to thrive in life. She encouraged the kids to turn their pain into power and would later donate over $1 million to support Mama Jackie's school and charity project.
Several individuals and corporate bodies also followed Oprah's lead in her show of support, especially as the Ithuteng Trust began to gain the much-needed publicity. Hollywood stars, political figures, sports celebrities, and global business brands, including top hotel chains all sought to identify with the "Mother Theresa of Diepkloof" and her school project. Individuals and organizations who reached out to the Ithuteng Trust school in donations, scholarships, and sponsorships include:
US TV Show host, Oprah Winfrey
Former South African president, Nelson Mandela
Former US president, Bill Clinton
Hollywood actor, Brad Pitt
US comedian, Chris Tucker
NBA star, Dikembe Mutombo
Sun International
The US National Basketball Association
U.S. taxpayers
She Was Exposed As A Fraud By Her Own Students
In the same year that Oprah Winfrey donated $1.14 million, some former students from Ithuteng Trust who were interviewed on M-Net's Carte Blanche program narrated how Mama Jackie asked them to lie about their circumstances to the media and to sponsors in order to gain more sponsorship. These students decided to tell-all when they realized that the promise of a good education made to them was a farce as their school fees were not being paid by Ithuteng Trust. The students revealed in the 30-minute Carte Blanche program that everything they had said about the death of their parents, poverty, and hunger was scripted by their principal, Ms. Maarohanye.
The show's investigation also covered the fact that Mama Jackie failed to meet up with the tuition fees of her students despite the huge sums of monies she receives on their behalf. It revealed that Parktown College had at one time sued the school over its failure to pay tuition. The University of the Western Cape was also reported to also have unsettled financial business with the Ithuteng Trust school principal regarding unpaid fees.
Furthermore, the show went on to reveal that the students who appeared before the UN in 2001 were sternly urged to 'cry hard' while they narrated their fabricated story so as to attract more sympathy from donors. This information came as a big surprise to everyone, as a result, Mama Jackie cleverly started avoiding the media and the police.
Mama Jackie was Fined for Kidnapping
At that time, Raisibe Ramohlola (Mama Jackie) was also facing two different court cases for theft, assault, and kidnapping. It was reported that she, with the help of Ronnie Nyakale, had kidnapped Simphiwe Ncoguthu from his home and taken him to the school where he was assaulted and made to walk naked around. Sadly for Ncoguthu, Mama Jackie was sentenced to four years imprisonment or an option of R8,000 fine which she easily paid.
She soon stopped granting press interviews and even became hostile to men of the press. Mama Jackie allegedly assaulted Vusi Ndlovu, a Sowetan newspaper journalist and his driver, who tried to have an interview with her.
'The Angel of Soweto' Was Finally Jailed For Child Trafficking
As Mama Jackie's pack of cards came crumbling, it left her no respite. The exposition on her maneuvers to dupe the international community in the guise of helping children was just the beginning of the fall of her empire. Her public denials and the goodwill she had generated in the past seemed to be foiling every attempt to nab her and hold her accountable for her actions. Certainly, Mama Jackie may have hoped that the 'attacks' would eventually go away and life will return to normal, however, that was not going to be the case as her problems had only just started – and the theft, kidnap and assault case was only the tip of the iceberg.
In December 2015, she was convicted for child trafficking after she was accused of selling a six-year-old boy and a girl who was barely one month old to a childless couple for R15,000 each in 2012. The couple who thought it was a legitimate adoption, paid her the money but were unable to get legal documents for the adoption from her, so they had to go to the magistrate court to seek help.
In her defense, Mama Jackie claimed that the money she collected from them was not for selling the children, but rather donations to her school, and because she didn't know how to read and write, she signed the adoption confirmation document with the mindset that it was a 'Thank You' letter for the donations, however, the judge didn't buy her story.
She was also convicted for running an unregistered orphanage. In 2010, the social service department had noticed that she was running an unregistered orphanage and had to take orphans and children who were abandoned away from her center, after which she was advised to register her orphanage. In 2014, the social service department discovered that mam Jackie did not heed their advice and that she still had orphans and abandoned children in her center even after being warned in 2010.
In a bid to defend herself, she claimed that the workers at the social service department did not allow her to register because they were envious of her popularity. Once again, the judge did not buy her story because it was established that she had been warned previously.
She Was Sentenced to 12 Years Imprisonment
Unfortunately for Mama Jackie, this time around, she had to face the wrath of the law. In January 2016, Mama Jackie who was 61 years at that time was sentenced to 12 years imprisonment of which five years were suspended. This means that she would only be in prison for seven years. The erstwhile 'Angel of Soweto' was also banned from having anything to do with children for five years after her release date – including taking care of the neighbors' children, according to Judge Mahomed Ismail of the high court in Pretoria.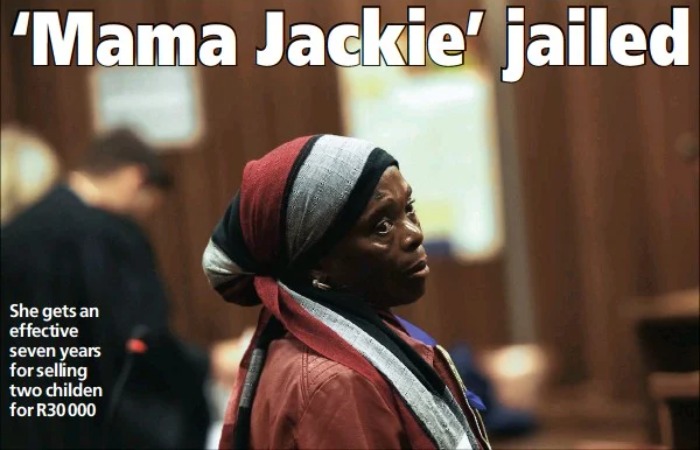 In explaining his judgment to Ms. Maarohanye, Judge Ismail said that the sentence was a lenient one for the crime she committed because he took into account the good work she had done for her community by giving less privileged children hope for a better future. He also said that he knew she was not a criminal character but he had to send a message to other people that may want to go beyond themselves to act against the law in the same regard.
Mama Jackie is currently in prison serving her jail term and hopefully, going by a state pardon or amnesty, she would be released in a couple of years to a legacy of failed dreams, greed, and humiliation. What may have started out as a genuine act of charity has become a tale of deceit, lies, and deep-rooted regret.
Mama Jackie Raised Four Children, Including Hip-Hop Star, Jub Jub
Jacqueline 'Jackie' Maarohanye is popularly and affectionately known as 'Mama Jackie' by the public and especially her children. She also goes by the moniker the 'Angel of Soweto' as she was called by late former South African president, Nelson Mandela. Not so much is known about the upbringing of the -1-year-old. However, she and her husband were blessed with four children including Molemo Maarohanye, a South African hip-hop artist popularly known as Jub Jub. They raised their kids in Orlando East, Soweto, before the family eventually moved to the southern suburbs.
Jub Jub Was Jailed For Murder
The hip-hop singer, Jub Jub, was born on June 29, 1980, and from a very young age, he already had an interest in music and dreamed of becoming one of the best gospel music artists. At the age of 10, he was already popular for his performance in an Inkomazi (sour milk) advert. His childhood fame brought a lot of popularity to his family and his talents for the performing arts only became more obvious as he grew up.
When Jub Jub picked up interest in hip-hop, his luck was already written in the stars and he was destined for big things. He released The Breed (2006), My Shine (2007), and Fresh Air (2009) to much acclaim, however, it was his collaboration with the Jaziel Brothers for the song Ndikhokhele that skyrocketed his fame.
Despite his swift rise to fame, his music career was brought to a temporary pause in 2010 when he was arrested with his friend, Themba Tshabalala, and charged with murder. It was reported that the former child star and his friend were drag racing under the influence of hard drugs which led to an accident that resulted in the death of four schoolchildren and caused brain damage to two others. In 2012, he was sentenced to 25 years in prison which was reduced to 10 years after rigorous appeals. However, he was released after serving four years, one month and one day, of the ten years he was sentenced for.
Before his imprisonment in 2012, he was dating South African singer and celebrity, Kelly Khumalo and they had a son – Lerato Tshipe. But, he revealed after he got out of prison that he was married. There have been many speculations as to who the lady is but he has kept her identity away from the public. On the other hand, around the same time when Jub Jub was facing trial, the marriage of his mother and father hit the rocks and they got divorced.