Apart from investing so much effort and time in finding a comfortable event space for your big day, your decor is another task you must not neglect at all if you really want to have a colorful occasion. A typical traditional wedding in any part of South Africa shows the tribe the bride comes from. If it is a Zulu, Xhosa, or even Tsonga traditional wedding, the decor of the day naturally shows it all in every aspect. A lot has changed in recent times when it comes to weddings in South Africa. Most couples prefer modernized wedding decor for their traditional weddings to a typical traditional decor design.
There are so many items that make up a wedding decor, including wine glasses, centerpieces, tables, chairs, flowers, lighting, as well as minor details such as plates, and forks. Therefore, the more the guests, the more you will have to spend on decor. If you are from any of the tribes in the country and looking for wonderful and modern-classy decor ideas and pictures for your big day, you will find the information below helpful.
Modern Traditional Wedding Décor Ideas
In the sections below, we will extensively look at incredible modern class traditional wedding decor ideas and pictures that you might find helpful. If you want to find out how a typical decor of the various tribes in South Africa looks like, you will get to discover them all as well.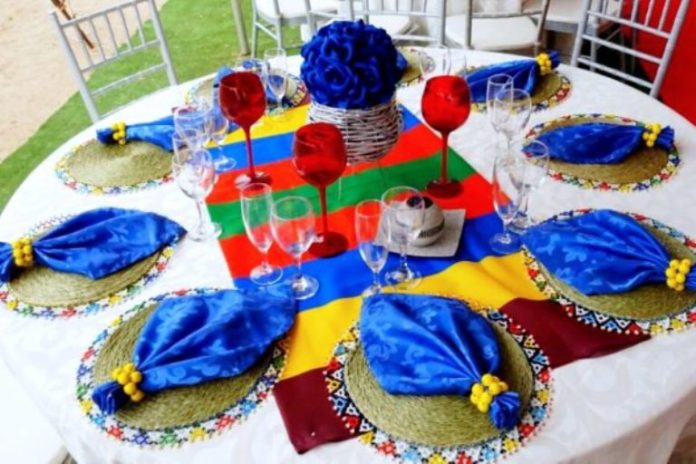 This piece will cover the decor ideas of the following tribes and also look at if any of them can be manipulated to fit a white wedding.
Tswana
Xhosa
Zulu
Venda
Swati
Sepedi
Sotho
Tsonga
Ndebele
If you are still wondering if you will choose an outdoor space or indoor event centre, these decor ideas will help put that to rest.
Tswana Traditional Wedding Décor
1.
Tswana traditional weddings are usually beautiful to behold. They are generally unique, colorful, and enjoyable. Talking about the decor, it all depends on the couple and how they really want their big day to look. There are so many Tswana traditional wedding decor to choose from. These Tswana-inspired decorations vary as well – they could be moderate, classy, or even sophisticated.
The image above is a sample of a Tswana traditional wedding decor. Though it is meant for a traditional occasion, the floral touch on the tables gives it some sort of classy and modernized background, which can be further manipulated to fit a white wedding.
Also, on the table, you could see Tswana print-inspired circle placemats with writeups and matching glass cups. These items are so beautifully placed in such a way that the beauty of the decor is highlighted. This particular decor idea is most suitable for indoor events – be it traditional weddings or not.
2.
Yet another Tswana traditional decor with a floral touch, this particular one 'screams' Tswana. The long table can contain about 19 people or more comfortably. This decor will be more appropriate for outdoor traditional weddings with enough space for people to feel comfortable.
A good decorator can easily manipulate it to fit a white wedding. What it will take is extra touches here and there and then the addition of some contemporary wedding decor items. If you are a Tswana bride, depending on whether you want an indoor or outdoor event, any of the decors above will give your big day a colorful look.
Venda Traditional Wedding Décor
3.
A typical Venda traditional wedding ceremony showcases the tribe's traditional dances and also promotes their cultural food. Besides the dance and food, the decoration of the event venue is another aspect of the occasion people usually look forward to.
Good decor lightens up an occasion and with the Venda decor image above, you can win people's hearts on your big day and probably more clients for your decorator. As clearly seen, it is a Venda attire-inspired decor – the material is placed across the table to demarcate the table into two parts so as to contain more people on both sides.
The center of the table features a beaded floral pot and other decoration items. For each plate, there are two tall cups placed by the side while the spoon and fork are wrapped with a Venda attire and white beads.
This decor is suitable for both indoor and outdoor events. A good decorator can carefully manipulate it for other occasions such as white weddings and it will still come out nice.
4.
This particular decor features more traditional items. The Minwenda-inspired pillows, keg, traditional flower vases, mat, and plates are so beautiful and well-positioned, highlighting the beauty of the background.
However, the couple opted for modernized seats and a glass center table, which is not entirely a bad idea. This type of decor requires enough space so it will be ideal for outdoor occasions and might require a lot of energy to adjust it for a white wedding.
Swati Traditional Wedding Decor
5.
A traditional Swazi wedding ceremony is called Umtsimba. Apart from the bride who usually puts on vibrant Swati attire, the beauty and design of a wedding center go a long way to show how much value she places on her traditional wedding.
If you want something simple yet classy, the decor above will serve comfortably. It clearly expresses the Swazi vibrant colors while also bringing some amazing touches like the floral pot and designs to a beautiful exhibition.
If recreated by a professional decorator, couples can use the decor for a white wedding. However, taking into consideration the beauty of the decor and the background generally, it would be right to point out that this particular decor can be appropriate for both indoor and outdoor events.
6.
Who doesn't like yellow? The decor above could be perfectly placed all around the corners of the tables at your traditional wedding center if you love every bit of the Swati decor above.
I particularly love how the colors are aligned and the colorful beads attached to the placemats. This will be ideal for outdoor weddings. However, I don't think couples who want a classy white wedding will find it befitting unless a good decorator manages to add extra touches to it.
Xhosa Traditional Wedding Décor
7.
This is not your regular Xhosa decor, it is a modern wedding decoration that is suitable for both white and traditional weddings. Also, even if you want an indoor event, it will still not be out of place.
The Xhosas' Umbhaco fabric is naturally appealing to the eyes. The white with black stripes, embroidery, bead attire, when used for decor at a wedding ceremony, makes the background more beautiful and elegant.
The decorator in the image above included the white and black touch into the decor, which helped in highlighting the gold items around. There is also an introductory note placed on the table, which makes it all classy.
8.
A wedding tent beautifully decorated with flowers by the corners and then a glass center table with additional flowers on top are the highlights of this decor. There is also a board behind with the inscription "Mr" and "Mrs", which is apparently the same color as that of the couple's attire.
This decor is more appropriate for outdoor weddings and if manipulated very well by a professional decorator, it can be suitable for a white wedding.
Tsonga Traditional Wedding Decor
9.
This Tsonga traditional wedding decor is all shades of beauty. I love everything about it, starting from the floral-inspired fabric on the table to the matching flower designs and then the chairs and beautiful plate wraps.
The colored glasses also brought in some sort of sparkles around the table and it's absolutely beautiful. With this decor, you won't have a problem hosting your guests for both your traditional and white weddings.
Again, this decor will give an incredible fitting to an indoor event.
10.
Decorating with bright colors gives an event a vibrant look and that's one thing I love about Tsonga weddings. Apart from the Tsonga-inspired floral fabric on the table, the flower pots and other designs the decorator used are all beautifully placed.
This setting won't be a bad choice for both indoor and outdoor events and even traditional and white weddings except the couple involved want something more sophisticated and stylish.
Zulu Traditional Wedding Décor
11.
Zulu traditional weddings are common in South Africa and I love everything about their culture. The above decor is clearly a reflection of a typical Zulu traditional wedding. The inclusion of the animal skin prints makes it even more beautiful and I know the couple must be pleased with the work.
If you want a Zulu-inspired wedding, the decor above won't be totally bad. In other words, it can be suitable for it and if you want more items added, you can always tell your decorator.
Both outdoor and indoor events would look absolutely gorgeous with this same Zulu traditional wedding décor.
12.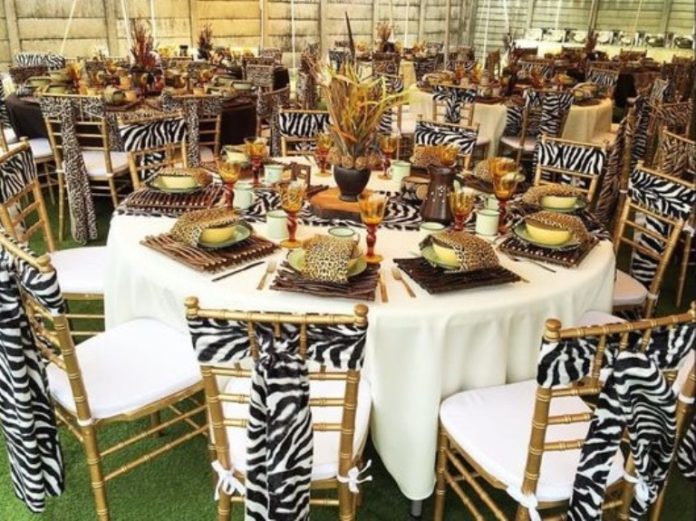 I love this gorgeous Zulu traditional wedding décor. The animal skin fabrics are just so beautiful and the way they are incorporated in the furnishing is so unique and amazing. As you can see, it's a round-table affair which means this Zulu traditional wedding décor will be most suitable in an outdoor space or a very spacious indoor hall.
The decor can be manipulated to create a Zulu-themed white wedding.
Sepedi Traditional Wedding Decor
13.
Colour has a powerful impact on event designs and most Sepedi decorators really know how to put these colors to good use. The above decor will be more suitable for a traditional wedding and for both indoor and outdoor events.
It can also be manipulated to suit a white wedding in the case where the decorator is creative and has other wedding decor equipment. Sepedi vibrant colors naturally invoke engagement, interest, and attention at any event.
14.
Yet another beautiful decor by a creative decorator, this particular touch will perfectly fit an outdoor event as can be clearly seen in the picture. It might not be really ideal for a white wedding unless the couple basically wants a Sepedi-themed white wedding.
Generally, the decor is simple and beautiful with amazing colors to match.
Sotho Traditional Wedding Decor
15.
I love Sotho weddings a lot because I naturally love Shweshwe fabric and how their brides always look pretty in it. For a Sotho traditional wedding decor like the one above, you would need a creative decorator who can carefully make your day colorful.
I love how pretty the Shweshwe print sits on the plate on the table and the matching flower by the side. You can recreate this for both your indoor and outdoor events.
Your decorator might need to raise the standard of the decor if you want something like this for your white wedding.
16.
Can you sight the Shweshwe fabric and how beautiful it looks on the table?. This particular decor exudes class and I absolutely love how beautiful the background design is. It is possible to set up this decor for a white wedding.
Whether you prefer an outdoor event to an indoor space or the other way round, this decor will give your event space a colorful and incredible look.
Ndebele Traditional Wedding Decor
17.
The sparkling white background and the amazing multi-color combo are what I see here and they are so beautiful. The floral pots and yellow candle stands are just beautiful and also complement the vibrant Ndebele colors.
You can never go wrong with this decor if you choose to recreate it on your big day – be it your traditional or white wedding. The beauty of this decor will be best appreciated indoors (you need amazing lights too), although it won't be a bad idea to have it in an outdoor space.
18.
Who wouldn't love this amazing Ndebele-inspired traditional wedding decor? I love the stylishness and the way the flowers and other items are put together to match and highlight the Ndebele colors.
Recreate this decor on both your white wedding and traditional weddings and watch how colorful your event space will look. I think with good lights and other beautiful decor items, you will get to love this decor the more indoors.