Michael Held is a German orthopaedic surgeon who gained public attention as the husband of Jo-Ann Strauss, a South African ex-beauty queen, in 2005.
In the world of showbiz, it is not a strange occurrence when one person's fame rubs off on another, just because of close association. For Michael Held, his claim to fame began right after he got entangled with Jo-Ann Strauss in 2005. Jo-Ann won the Miss South Africa pageant in 2000, and life as she knew it changed completely. Since then, the South African beauty has been working tirelessly and has successfully built a multi-dollar empire, all from nothing.
Anyways, it didn't take too long for Michael to realize that she was his missing rib, and it wasn't long before they got hitched. Even though they became a couple, only after Jo-Ann had become Miss South Africa, it hasn't stopped Michael from being a premium partner to his wife and a doting father to their four kids. So far, nineteen years later, they appear to still be going strong in their marriage, vacationing around the world, and raising their lovely kids together.

Summary of Michael Held's Biography
Full name: Michael Held
Gender: Male
Place of Birth: Germany
Ethnicity: Caucasian
Nationality: German
Languages Spoken: German, English, Afrikaans
Sexual Orientation: Straight
Marital Status: Married
Michael Held's Wife: Jo-Ann Strauss
Michael Held's Children: 4
Occupation: Orthopedic Surgeon
Hair Color: Light Brown
Eye Color: Green
Famous for: His marriage to Jo-Ann Strauss, a South African ex-beauty queen
What We Know About The Early Life Of Jo-Ann Straus's Husband, Michael Held
When one is close to someone in the spotlight, there is a tendency to want to steal some attention for oneself. Michael Held, however, appears to be an exception to this rule as he has made it a point of duty to keep his private life out of the media. As a result, there is little to no information about his background, childhood, education, and birth family. Personal details like his birthday, age, and educational pursuits have also been kept from the public. In fact, Michael is a practically ghost online and intends to continue to keep the spotlight solely on his wife.
It is an arrangement that seems to work perfectly well for them. We know that Michael Held has German parents but grew up in South Africa. Even though he was born in Bavaria in Germany, Michael had an uncanny love for African culture while growing up, and this curiosity led him to become a proficient speaker of the Afrikaans language, and this endeared him to many native South Africans.
Michael Held is a Professor of Orthopedic Surgery and He Practices in South Africa
The one information that Michael did agree to release to the public was the fact that he was a medical doctor. The handsome man that Jo-Ann married is a highly qualified orthopedic surgeon. An orthopedic surgeon is a qualified doctor with training in the diagnosis and both surgical and non-surgical treatment of diseases of the musculoskeletal system.
Although we do not know exactly where he works, his wife revealed in an interview that he has worked in various hospitals in Cape Town, South Africa.
Jo-Ann and Michael Have Been Together For The Better Part Of A Decade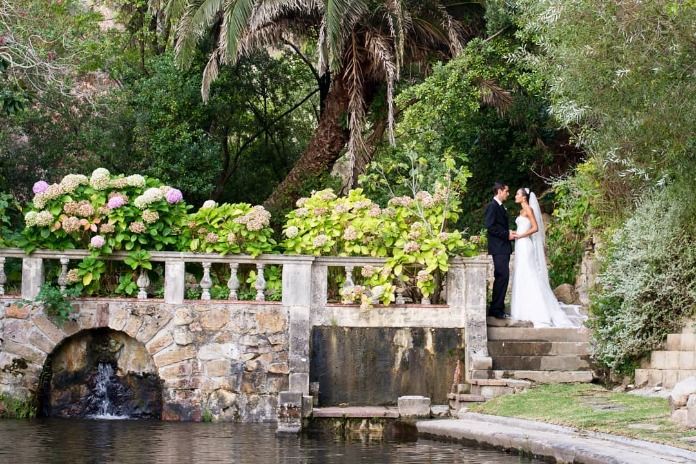 There are numerous schools of thought on the existence of love at first sight, and whatever side of the divide you find yourself on is usually a personal matter. Model Jo-Ann Strauss and orthopedic professor Michael Held, however, would waste no time in declaring their belief in a phenomenon that has proven true for them. Reports have it that the couple met in Camps Bay on August 28, 2005. The confident Jo-Ann walked up to him and complimented him in a well-crafted pick-up line. They became inseparable soon after that. However, they didn't tie the knot immediately.
Being a private couple, they never explained why it took so long for them to get hitched, but speculations suggest that it was because they both had very crazy work schedules. In 2012, they finally got married in an extremely private wedding ceremony that had only 31 guests at the Camps Bay Retreat Boutique Hotel. The stunning bride said her vows to her doctor-husband-to-be while decked in a stunning gown designed by South African stylist Gideon.
The Celebrity Couple Have Been Married for Over Nine Years and Have Four Children Together
Michael Held's marriage to Jo-Ann Strauss has been devoid of scandals or controversies ever since the two got together. One might say that their decision to keep their relationship off social media is paying off massively. Their marriage seems not only to be a happy one but a fruitful one as well, as they have four children together. In their tradition of keeping private things private, the names or faces of these kids haven't been revealed to the public, and it appears that we might not be getting this information anytime soon.
However, we know that the couple welcomed their first child (a boy) on March 20, 2014. Their second child, a girl this time, came almost two years after her big brother in 2016. Their second daughter was born in August 2018 after a lavish baby shower was thrown for her at the Belmond Mount Nelson Hotel in Cape Town. Their third daughter (and last child so far) was welcomed into the family in October 2020 on her father's birthday.
Jo-Ann Strauss Keeps Her Children's Faces Hidden from Social Media – And She Has A Good Reason 
The former model has successfully combined her work as a celebrity businesswoman with being a mother, and she juggles both effortlessly. As a mother who dotes on her kids, she sometimes feels the urge to show them off to the world but refrains from doing so for reasons she has expressed in her motherhood blog. She revealed that she didn't want to expose her children to the negativity of social media.
In her Modern Mommy blog, the 42-year-old mother-of-four ranted about the sad fact that people were taking advantage of the relative anonymity of social media to be callous to others and that sometimes even children were caught in the crossfire. Jo-Ann went further to say that every time she felt tempted to share pictures, she reminded herself of how harsh the online world could be.
However, if there is anything we know Jo-Ann for, it's her ingeniousness. Rather than deny fans the opportunity of seeing her little cuties, she uploads their pictures alright, but has devised smart ways of hiding their faces from the camera. That way, everybody is happy, and the kids' identities are protected. We stan a proactive Mommy.
The Early Life and Glamorous Career of Former Miss South Africa, Jo-Ann Strauss
Jo-Ann Cindy Strauss was born in Cape Town on February 3, 1981, to mixed South African parents. Her father, Johan, and mother, Ingrid, raised Jo-Ann and her little brother in the middle-class town of Blackheath. Because the 1980s were still rife with racism and apartheid, Jo-Ann couldn't go to the much better schools because colored children were not allowed there. Things changed in the late nineties, and she became one of the first children-of-color who could attend one of the most expensive, previously whites-only schools in Cape Town.
She excelled in her studies and was made the first colored head girl of her school, to the immense pride of her parents. When she graduated high school, she made an average of 93% and was accepted to study Medicine at Stellenbosch University. During her graduation ceremony, Koos Bekker, a media guru who worked at Media24, advised her to suspend her medical career and take up a media career instead. She did and ended up getting a degree in Communications Law.
Like we all know, Jo-Ann famously won the Miss South Africa beauty pageant in 2000 when she was just 19-years-old. She also represented South Africa at the Miss World and Miss Universe pageants in Sun City and Puerto Rico, respectively, the following year and came 6th place in the former. Moving on, she began her media career with the Afrikaans TV magazine program 'Pasella' and later anchored the English lifestyle magazine show 'Top Billing' where she interviewed the likes of George Clooney, Charlize Theron, and Antonio Banderas.
She appeared on the cover of countless South African magazines like Zen, YOU, Drum, Kuier, and Cosmopolitan. She also appeared on the first and only Celebrity Big Brother, where she finished as the first runner-up. In 2008, she launched the 'Princess Project,' an initiative designed to grant young ladies the opportunity to go to prom in designer dresses previously owned by South Africa's top celebrities. She also opened the 2010 FIFA World Cup in South Africa for ZDF TV alongside Thomas Gottschalk on June 10, 2010.
Jo-Ann is one of South Africa's most respected media personalities, one with over 20 years of experience, and has used her platform to push a lot of sustainable initiatives. In 2014, she was appointed a Celebrity Advocate for the international child rights organization, the United Nations Children's Fund (UNICEF) in South Africa.