Trevor Noah's siblings include his two younger brothers named Isaac Shingange and Andrew Shingange.
Trevor Noah may be the most famous person in his family and the most talked-about child of his mother, Mama Patricia, but he is not her only child. Although the famous South African comedian is her firstborn child and the child she started a major part of her struggle with, she gave birth to two other boys with her ex-husband Abel Shingange who maltreated her so badly.
Despite all the challenges Trevor Noah and his mother faced, including domestic violence, Trevor Noah still maintained a great relationship with his brothers and see them as his mother's sons rather than his stepfather's sons, making them his brothers. Through Trevor Noah, his brothers Andrew Shingange and Isaac Shingange have also become famous.
What We Know About Trevor Noah's Half-Siblings
Isaac Shingange
Currently, there is very little information about Isaac Shingange. He keeps a low profile, and as such, we do not know anything about his exact date of birth and what he is up to now. He is best known as the younger brother of Trevor Noah, the famous South African comedian who is making waves in the entertainment industry internationally.
Isaac attended Maryvale College, a Roman Catholic school in Johannesburg. We also know that he has a strong bond with his elder brother, Trevor Noah, and has risen to prominence because of him. Like many other things about Isaac Shingange, there is no available information about what he does for a living and his current relationship status.
Andrew Shingange
Andrew Shingange is one of the sons Mama Patrica shared with Abel Shingange, her ex-husband who was abusive to her, and just like his brother, Isaac Shingange, he is also best known for being the brother of Trevor Noah.
He was born and raised in Johannesburg, and except that and the fact that he had an abusive father, there is no other information about his childhood. Still, judging from the fact that his elder brother attended Maryvale College, there is speculation that he also schooled in his hometown, Johannesburg. Unlike his elder brother, Issac, we know that Andrew Shingange has already settled down with a woman as a wife, and their union is blessed with children.
But there is no information as regards the lady's identity and the number of children they have. Although we don't know what Andrew Shingange does for a living, reports suggest he is also successful – even though not as famous as his globally recognized half-brother, he is living a comfortable life, despite the poor background they came from.
Trevor Noah And His Brothers, Andrew and Isaac Shingange, Grew Up In A Toxic Home
In 1992, Trevor Noah's mum Patricia Nombuyiselo got married to Abel Shingange, hoping that she had found love; little did she know that her life was just about to take the wrong turn. As husband and wife, they had two sons together, Andrew Shingange and Issac   Shingange. However, having these children did not make him think twice when physically abusing their mother.
Trevor Noah and his brothers had to go through childhood watching their father mistreat them and their mother. Mama Patricia could not deal with that for so long, and to put an end to all of that, she divorced Abel Shingange in 1996, four years after their marriage. She would later get married to Sifso Khoza after divorcing Abel Shingange. But her ex-husband was not going to sit back and watch her have a happy life.
Abel Shingange Tried To Kill His Ex-Wife In 2009
Abel Shingange was not done with making Patricia Nombuyiselo's life miserable as the divorce probably disrupted all he probably wanted her and her sons to go through. So, in 2009, about 13 years after their divorce, he came back to finish what he started, and this time, he planned to finish it for good.
Andrew Shingange and Isaac Shingange's father shot at his ex-wife. Her spinal cord and blood vessels were not affected, and she was able to survive the minor injuries she sustained and is still alive and healthy.
When Trevor attempted to confront him about what he did, he threatened his life, which prompted the comedian to leave South Africa for the United States of America, Los Angeles, to be precise. In 2011, Abel was sentenced to three years of correctional supervision for attempted murder.
According to Trevor Noah, his mother had been calling on the police for years to report the gender-based violence she was going through, but all her cries fell on deaf ears. There was never a court case, at least not until she was almost shot to death, which is, unfortunately, the case with and after several women in South Africa. The comedian hoped that his mother's experience would bring attention to this menace and help put an end to it.
Trevor Noah's Birth Was A Crime
When Trevor Noah refers to his mother as his hero, he does that with the full consciousness of all the things she had to go through for and with him. In 1984, when Trevor Noah was born, South Africa was going through racial segregation, and it was a crime for a black to have anything to do with the white, talk more of having a sexual relationship and giving birth to a child who was neither going to be referred to as black or white.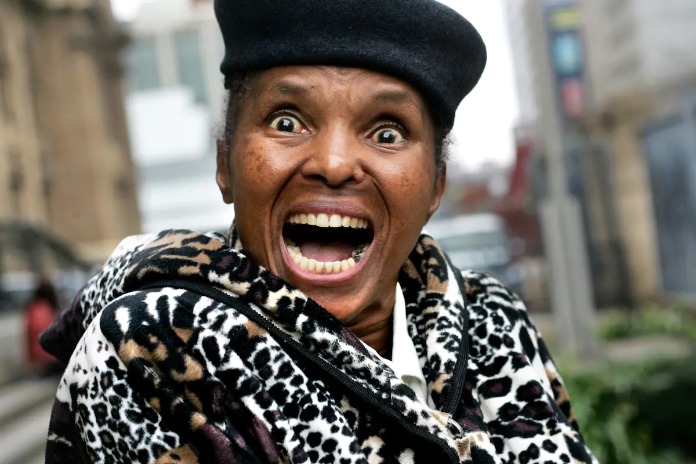 Trevor Noah's mother broke this unwritten law, and he was the result of the sexual relationship she had with a Swiss-German man named Robert Noah. He was the owner of an integrated restaurant in Johannesburg with a special license to serve black South Africans. Robert Noah hated racism, but his hate was not enough to pull Mama Patricia through.
Her forbidden affair with the restaurateur resulted in a conception, and she paid dearly for it. She was arrested and fined severally for giving birth to a colored child and could not walk freely on the street with him. However, when she thought she had found a black man to get married to, someone to who being married to was not a crime, she fell into the hands of her ex-husband, Abel Shingange.
Despite all the pain and challenges Trevor Noah and his brothers – who joined when he was already eight years old – had to go through, they have maintained a good relationship among themselves and did not let their hurtful childhood stop them from dreaming big dreams.