Kendall Chinsamy is a South African woman who is best known as the girlfriend of rapper Emtee and the mother of his two children, both sons.
Rap and hip-hop music in South Africa has grown in leaps and bounds but it is all thanks to the pioneering efforts of indigenous artists such as Tumi Molekane, Tuks Senganga, Hip Hop Pantsula (HHP), Pro Kid, Kuli Chana, ProVerb, etc. These South African hip-hop icons paid their dues and paved the way for the industry today which has produced globally recognized acts and has placed the South African hip-hop music industry on the world's map. Today, rappers such as AKA, Cassper Nyovest, Nasty C, Nadia Nakia, Tweezy, Emtee, etc have continued the culture with millions of fans alluring to every hit they make.
Emtee, as one of the flagbearers of the country's rap music industry today, has also endeared himself to a lot of fans. Interestingly, these fans are not only interested in the hits he churns out, but are also interested in other aspects of his life – his relationship, kids, net worth, and other endeavors. Questions have been asked about the woman in his life – Nicole Kendall Chinsamy – and even though their relationship is public, there is a lot to know about the mother of his two children.
Summary of Kendall Chinsamy's Profile and Biography
Full name: Nicole Kendall Chinsam
Gender: Female
Ethnicity: Mixed (Indian-South African)
Nationality: South Africa
Sexual Orientation: Straight
Marital Status: Unmarried
Relationship Status: Engaged
Fiancé: Mthembeni Ndevu, alias Emtee
Kendall Chinsamy's Children: 2
Kendall Chinsamy's Parents: Derek Chinsamy (father) and Roslyn Chinsamy (mother)
Education: Waverley Girls High School and Sew Africa College of Fashion
Kendall Chinsamy's Height in Centimetres: 172
Kendall Chinsamy's Weight: 149 lbs.
Hair Colour: Black
Eye Colour: Black
Famous for: 
Kendall Chinsamy's Instagram: kendallchinsamy
Who is Kendall Chinsamy and What We Know About Her Background?
Nicole Kendall Chinsamy only came to public consciousness through her relationship with the rapper Emtee. Prior to her relationship with the 'Roll Up' hitmaker, nothing was known of her. While it may be unfair to refer to her as 'unknown' and only famous because of her involvement with Emtee – because the rapper himself was a relatively unknown quantity when her first met Kendall – the fact remain that the rise to fame of the former is the major reason her name is making the rounds today in the media circles.
However, despite Emtee's popularity, a great deal of Kendall Chinsamy's personal family history remains a mystery (except the names of her parents – Derek and Roslyn Chinsamy – and the fact that her father is Indian while her mother is colored which makes Nicole Kendall of mixed ethnicity).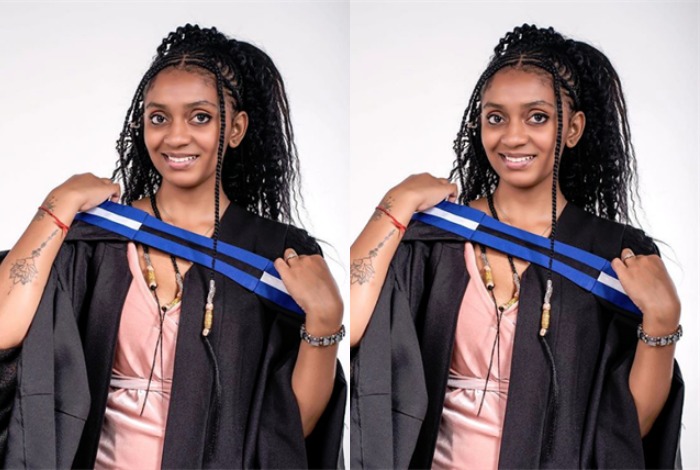 A lack of a public profile for Nicole Kendall Chinsamy has led to a dearth of information as far as she is concerned. Her place of birth, family information – such as siblings and parents' name and occupation – early life interests, and academic pursuits are not known. Regarding the latter, we know that she was once a student at Waverley Girls' High School in Johannesburg.
Going by suggestions by her partner, Emtee, who said in a tweet in 1998 that his girlfriend was 22 years, Nicole Chinsamy could be said to be born in 1996. But that fact was heavily disputed by his fans on the social media platform, who caused a storm while insisting that Kendall was way older than the age the rapper suggested.
The backlash never seemed to perturb Nicole or her boyfriend who has described their love story as 'love at first sight'. Nicole Kendall Chinsamy has been a pillar of support for Emtee, whom she stuck with while the latter was struggling with his career. She has been described as a friend by the rapper who also credited her for keeping him in check.
The mother of two is a fashion designer
For many celebrity spouses, the need to do anything on their own is almost none existent. This is because they are already in the spotlight and may not need to do anything to maintain the status they already enjoy. However, this is not the case with Nicole Kendall Chinsamy who is determined to start her own clothing line. The dearth of information about the mother of two has so far been established nevertheless, it is known that Chinsamy is passionate about fashion designing.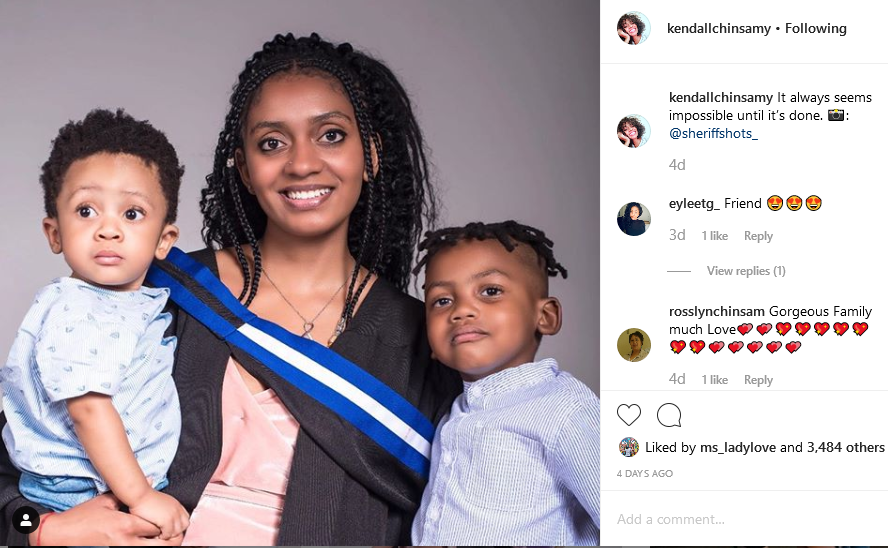 She studied fashion design at the famous South African fashion institution – Sew Africa Fashion College – from where she graduated in 2019. She is currently pursuing her passion in the creative arts industry where she hopes to make her mark by establishing her own clothing line while her superstar boyfriend continues his strides in the entertainment industry.
All You Need to Know About Her Relationship with Emtee
From the foregoing, it is obvious that Nicole Kendall Chinsamy is the longtime girlfriend and fiancee of We Up and Ghetto Hero crooner, Emtee. Their relationship began at a time when Emtee was still struggling with his music career. With faith and perseverance, Nicole stood by her man despite the odds, and together, they withered all the storms.
How did the lovebirds meet?
Nicole's love story with her superstar boyfriend, Emtee began in 2012. The couple met through her friend and she took a liking to the rapper at the time because, according to her, he was real and did not try to pretend to be who he was not. It is important to reiterate that Emtee was not the mega rap star he is today when they met but Nicole Kendall, who was a high school student at the time, however, fell in love with him and later described their encounter as 'love at first sight'.
Emtee also had his own share of butterflies in his stomach when he met Nicole as he was smitten by her beauty, cultural diversity, and reserved nature. Six years later, the couple got engaged in Ghana when they attended the 2018 AFRIMA Awards. Emtee popped the question while they were having a poolside dinner at their hotel and they took to their social media handles to show off the diamond ring on Nicole's finger.
Kendall Chinsamy is not yet married to Emtee but they have two kids
With the length of time their relationship has lasted, many fans have wondered if Nicole's status has changed from Miss to Mrs., however, the answer to that thought is in the negative as the couple is yet to tie the nuptial knots. A couple of reasons may be deduced as the reason for this including the fact that Nicole has stated in an interview that she never wanted to marry before she was done with her studies and started something for herself.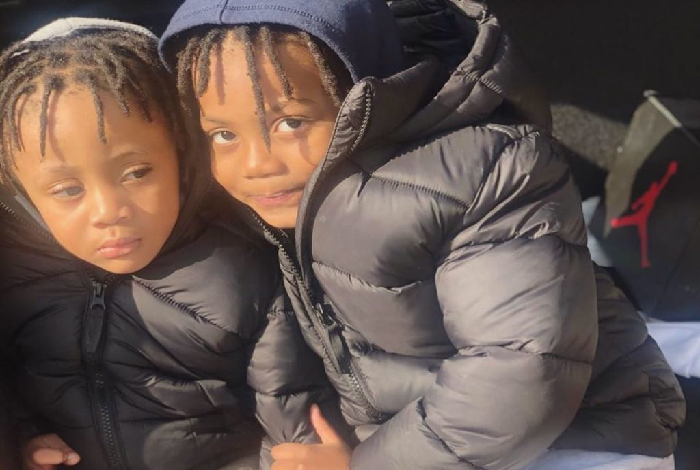 In the meantime, however, Nicole Kendall has two gorgeous boys with her fiance, Emtee. Their first son, Avery, was born in 2015, three years after they started dating while the second boy, Logan, was born in 2018. She took in for her first son when they were still struggling financially as a family. His birth, however, seems to have opened up the financial hallway for the family as Emtee named his first album (which was his breakthrough album)  after Avery – after their son. And even though Nicole was not expecting the second pregnancy at the time she took in (as she was in school at the time), the family was in a better place to welcome him.