Mbuyiseni Ndlozi may still be a very young man, but he has forced himself into becoming a politician to reckon with in South African politics. He is currently 38 years old, but he has been a member of the South African parliament since 2014, when he was 29 years old.
Interestingly, his political consciousness was something he had developed since the 1990s in the ending years of the apartheid regime. Even though his achievements have always been linked to the political sphere, he has also developed himself educationally and in other life aspects.
Quick Profile of Mbuyiseni Ndlozi
Full name: Mbuyiseni Quintin Ndlozi
Date of birth: 9 May 1985
Age: 38 Years Old
Political Party: Economic Freedom Fighters (EFF)
Office Held: Member of the National Assembly of South Africa since 2014
Highest educational qualification: Ph.D. in Political Studies
Mbuyiseni Ndlozi Spent His Childhood in Evaton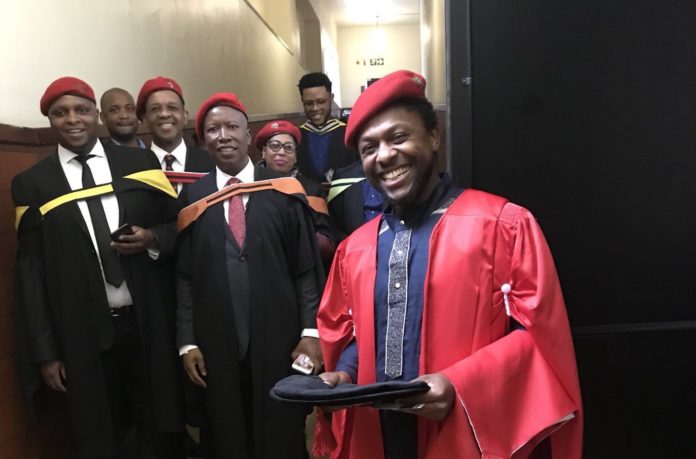 The People's Bae, as South Africans have come to refer to Mbuyiseni Ndlozi, was born on 9 May 1985 in the township of Evaton in Gauteng. It was also here that he spent his childhood and was brought up.
He was raised by a single mother who became pregnant with him when she was only 18 years old. When his grandmother attempted to get his father to take responsibility for the pregnancy by going to his family, she was chased away. Because of this, his teenage mother, with the help of her family, raised him.
Growing up in a country where the apartheid regime was still at a peak, he soon developed a political consciousness after his uncle got arrested and jailed in the struggle for the country's independence in 1992. He was only 7 years old at the time, but the event would later fashion out how his life turned.
His Father Did Not Feature In His Upbringing
As stated, the EFF spokesperson was raised by his mother as his father was completely absent since he was a child. He revealed that although his father came around at various points, the man was never there for him. The first time he met his father, he was sent as a little child on an errand to give something to a man in a car. When he returned, his mother told him that the man was, in fact, his father.
His mother promised that she would make arrangements so that the two of them could meet formally, but that never happened. A few more times, including when he passed his matric and was heading to the university, he met his father again, but the man did not still attempt to be a part of his life.
The politician revealed that he told his father that the only father he had was God during one of their brief meetings. The man said OK and left. As he grew up, he later found out that his father was a gang member who once terrorized Sebokeng back in the mid-80s and early '90s.
While he was working on his Ph.D., he interviewed his father, who is one of the anti-apartheid activists. The man told him his entire life story and why he did not feature in his life. In response, he told him his mother was enough all on her own.
Mbuyiseni Ndlozi revealed that he has siblings from his father's side. His father made efforts at persuading him to meet his siblings, but he was not interested because he had since made it clear that there was no place for his father in his life. More so, he wanted his father to explain to him why they were not family, but he was unable to.
He Got His Education In Political Science
Looking at the educational paths he followed, Ndlozi has always made a conscious effort to tow the path of politics. He has attained the height of a Ph.D. in his educational pursuit. Thanks to this, he is now considered one of the most educated politicians in the EFF.
The politician attended the University of the Witwatersrand, Johannesburg, from where he obtained his first degree. While continuing his career as a politician, he continued studying, and in 2017, he graduated as a Doctor of Philosophy in Politics. He also obtained his Ph.D. from the University of the Wits. Mbuyiseni Ndlozi's yearning for more education is not surprising, especially as the EFF has made it a priority to become a part of the young and vocal and attracts the country's educated population.
Although there has been no so much information regarding his much earlier education, he revealed that he attended Khutlo-Tharo Secondary School in Vaal. While he was here, he was awarded Mbuyiseni Ndlozi was awarded Young Communicators Award in 2002. He was awarded a ten thousand rand study grant.
Here's a rundown of his educational qualifications thus far:
Khutlo-Tharo Secondary School
University of the Witwatersrand, Johannesburg – Bachelor's degree
University of the Witwatersrand, Johannesburg – Ph.D. in Political Studies
How Mbuyiseni Ndlozi Got His Start In Politics And How He Continues To Grow
The political fire in Mbuyiseni Ndlozi was ignited with the aforementioned arrest of his uncle since he was a little kid. Still, he did not take a participatory move until he got to the University of the Witwatersrand. While there, he participated in youth movements.
Mbuyiseni joined the South African Students Congress as well as the ANC Youth League (ANCYL). He was also a member of the Young Communist League (YCL). As a young man, he became a part of various movements and campaigns both within and outside the country, such as the Palestinian and Cuban international solidarity movements.
In 2014 when he joined the EFF and became a member of the parliament, he was the party's youngest member and its National spokesperson. A very vocal and unapologetic individual, he has worked closely with the party's leader Julius Malema. On more than one occasion, he was thrown out of the parliament with other members of the EFF.
Despite his often controversial stance on issues, the EFF national spokesman has gained the love and admiration of many in the country thanks to his fearlessness. He has won several awards in the process, including the 'Most Influential Young South African' award for 2017. He collected the award from Trevor Noah, who took home the award in 2016.