Loyiso MacDonald and Luphiwo have always been thought by those who know them, to have the kind of marriage many celebrities would love to have; one that is private and away from the prying eyes of the public. The two have been married since 2012, but not many of the actor's fans know that he is married.
Of recent, they have found themselves in the eye of the storm after allegations that Loyiso has been cheating on his wife with fellow South African actress, Zandile Msutwana.
Loyiso MacDonald and Luphiwo Have Been Married For Close To 10 Years
https://www.instagram.com/p/B-sK8F6DyGo/
The famous Durban actor and Luphiwo have been married since 2012. They had their traditional wedding at the hometown of Luphiwo in Mpumalanga. The colorful event was attended by the family members of the duo, as well as their friends and associates in the creative environment. They first went to the registry for the marriage earlier in September, and by the 30th of the month, they had their traditional marriage.
Also known as Mathunzi, Luphiwo is a writer and creative individual who has a personal blog. She might not be an actress, but she revealed that she has found herself drawn to the theatres more than she is drawn to the screen.
Although not much is known about Mathunzi MacDonald on a personal level, she has described herself on her blog as someone who survives anxiety disorder one day at a time. She has also been described as a professional photographer and a poet.
They have remained married for close to eight years, but have managed to keep their private and family affairs away from the public for a long time, as such, it is not known if they have any kids together.
They Met Six Years Before They Tied The Knot
Although, as stated, it was in 2012 that Loyiso Macdonald and Luphiwo walked down the aisle, they dated for up to six years, which means that they first met and fell in love in 2006.
With a common interest in the creative arts, the couple met at a play, in which the actor was performing. To be precise, he was playing a role in Think Theatre's production of William Shakespeare's Othello. From then on, nothing about their love life has been made public until their marriage that was also kept under wraps.
Loyiso MacDonald's Affair With Zandile Msutwana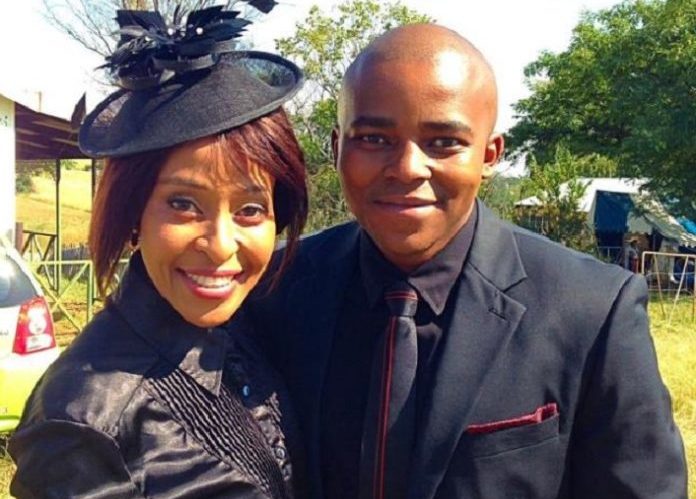 In 2020, it emerged that the marriage of Loyiso MacDonald and Luphiwo was not perfect as many would have believed it was. But more than just not being perfect, it was alleged that the actor has been cheating on his wife with none other than fellow South African actress, Zandile Msutwana.
The two actors are said to have started the relationship having appeared on screen as lovers in Mzansi's favorite soapie, Zabalaza, in which they played the roles of Ray and Lindiwe. They have had their own fair share of sharing passionate kisses on the set of the TV show, but not no one would have suspected things could extend beyond the screen, even though the chemistry between them is undeniable.
The first time it was alleged that the two had taken their on-screen relationship to real-life was not long after they joined Zabalaza when a source close to the actor's wife claimed that Loyiso and Zandile seemed to be too much in love that they couldn't get their hands off each other, even when the cameras are turned off.
Loyiso MacDonald and Luphiwo were not always together at the time; while he was working in Johannesburg, his wife was working in Witbank and only got to go to meet him in Jo'burg at weekends. Within the week, sources revealed that Loyiso and Zandile were allegedly helping themselves to each other.
The amoral affair was claimed to have started back in 2014. Loyiso MacDonald's wife had suspected it all the while, but she did not get any proof that anything was going on between them. It was reported that when he first joined the show, the actress would throw herself at him, but because of the love for his wife, he always turned her down, until he later allegedly gave in.
His Wife Now Wants A Divorce
According to reports, Luphiwo is now tired of Loyiso's behavior, and she wants out of the marriage. She went to his workplace where she yelled out her displeasure, making it clear that she was not going to continue with the marriage again.
In addition to that, she revealed that this was not the first time the actor was cheating on her. Hence, she was not going to continue to endure. It is not known, however, who the previous woman he cheated on his wife with is.
Before the explosive confrontation, their families were said to have tried to get the matter between them settled, but all efforts failed. She was said to have previously left their matrimonial home after the earlier case of cheating.
Loyiso was not the only one who got the rage of his wife, who also confronted Zandile. The latter was said to have been left humiliated and shocked after the incident, although like every other thing around the story, she has not made any statement about it in the open.
The Relationship Between Loyiso MacDonald and Zandile Msutwana Is Said To Be Serious
Loyiso and Zandile have not publicly come out to state that they are together, or even comment on the rumors going around, but sources have claimed that the two are now madly in love, having remained together after more than five years amidst all the media storm.
The relationship is one that is very interesting for many reasons, one of which is the fact that Loyiso is already a married man, and the two have continued to see each other even though he is still not yet divorced. More so, there is a significant age difference between the duo; while the actor was born in 1986, his alleged lover was born in 1979. This means that she is seven years older than him.
Before they became an item, the actress was once rumored to be in a relationship with Kabomo Vilakazi. It was after this that it was claimed that she decided to move on to Loyiso.
Professionally, they are currently on Mzansi Magic's The Queen together, after their aforementioned roles in Zabalaza. On the show, Loyiso and Zandile appeared as Kagiso Khoza and Vuyiswa Maake, respectively.