Lesedi Matsunyane (born 31 December 1992) is a South African actress, content creator, and casting director who won the hearts of many people with her performance in The Queen. The 30 years old is also known for being the daughter of filmmakers Connie and Shona Ferguson.
Being a child of famous and successful parents may be a blessing because of the opportunities that abound. Nevertheless, it might be a disservice because no matter how hard one works, one may still end up in the shadows of one's parents. This is the story of Lesedi Matsunyane.
Biography Summary of Lesedi Matsunyane
Full name: Lesedi Matsunyane-Ferguson
Gender: Female
Date of Birth: 31 December 1992
Lesedi Matsunyane's Age: 30 years old
Ethnicity: Black
Nationality: South African
Zodiac Sign: Capricorn
Sexual Orientation: Straight
Religion: Christianity
Marital Status: Single
Lesedi Matsunyane's Children: Rowena Malema
Lesedi Matsunyane's Parents: Connie Ferguson and Shona Ferguson
Biological Father: Neo Matsunyane
Siblings: Momo Matsunyane and Alicia Angel Ferguson
Lesedi Matsunyane's Height in Inches: 5 feet 5 inches
Lesedi Matsunyane's Height in Centimetres: 165 cm
Lesedi Matsunyane's Net worth: $200,000
Famous for: Her role in The Queen
Lesedi Matsunyane's Instagram: sediimatsunyane
Both Parents Of Lesedi Matsunyane Are Famous Individuals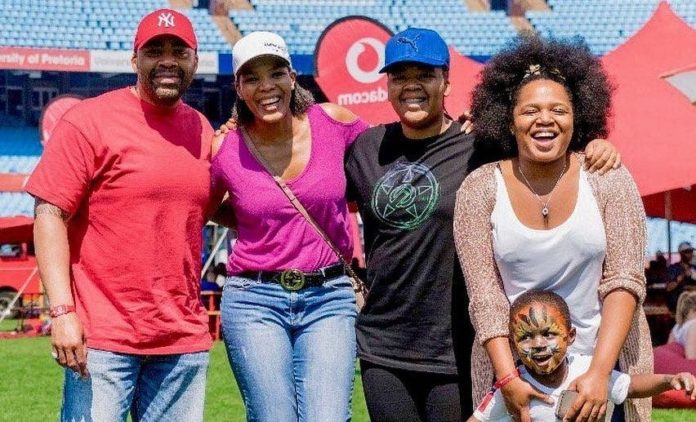 Born on 31 December 1992, Lesedi Matsunyane is the daughter of Connie Ferguson and multitalented actor and producer Neo Matsunyane. Also, she has always had Shona Ferguson who is also an actor and film producer, as a father after he took her as his biological daughter following his marriage to her mother. Because of this, she has found herself in the midst of very successful parents.
Before Connie met Shonna, she was previously married to Neo Matsunyane. Details of how they met and started dating remained a secret, but they walked down the aisle in 1993. The marriage lasted for five years before Connie and Neo got divorced in 1998 following allegations of infidelity.
During the marriage of Connie and Neo, they did not have any child between them. Still, in 1992, before they got married, Connie gave birth to their beautiful daughter, Lesedi Matsunyane, who remained the only child between them. Despite the circumstances of the divorce of her parents, they still maintained a good relationship for the sake of their daughter.
She Was Brought Up By Her Mother and Shona
Following the divorce between Connie and Neo, Connie later met and got married to Shona. Together, they raised Lesedi and the daughter the marriage produced, Alicia Angel Ferguson, born in 2002. Although her parents have influenced Lesedi's career path, she has always had a passion for acting since she was a little girl.
She went to Sacred Heart Marist Brother's College, where she was a drama student, and from there, she attended Aurora Private School for her high school education. She was also a drama student at Aurora. From 2011 to 2014, Lesedi went to AFDA, from where she graduated with a BA in Live Performance.
Lesedi Matsunyane Is An Actress
People mostly reduce her to just the daughter of Connie Ferguson, but as stated, she is more than that. The young woman is also an actress, which is not surprising because she has grown up surrounded by people in the show business.
Her acting career started in 2011 when she was 19 years old with an appearance on Soweto TV's Vuselela Series. While the show might not be top-rated, she was on it until 2013. In 2012, she appeared on one of Mzansi's biggest TV shows, Generations, where she portrayed young Ruby Dikobe.
Not done, the talented Lesedi was also on eTV's Rhythm City in 2020. She got her role of Davina Moore in the show after returning from taking a hiatus from the industry; hence, the role was a big deal for her. Her dream is to continue getting more roles and improve on her career. Still, ultimately, she reveals she was interested in appearing in an international production, which could be a Netflix series.
Here is a list of Lesedi Matsunyane's appearances as an actress:
Vuselela: 2011 – 2013
Generations: 2012
Rhythm City: 2020
Apart from being an actress, she has had many roles as a member of the production crew for various works, including Ferguson Films' The Queen, where she worked as a casting coordinator. She also works as a Production Coordinator and production assistant in the production company, which belongs to her parents. Lesedi was once on Lewis commercials in 2011, when she took part together with Connie and Shona Ferguson.
She Insists She Is Not In The Shadows Of Her Parents
Lesedi has made it very clear that she is aware that her career has been on a slow lane thus far. She revealed how she knew things had been going very slow for her but still maintained that she is trying to make it independently with all she has achieved thus far.
She said even with the calls of nepotism that might be going around, she built her craft, which speaks for itself. The actress said she is not in the shadows of her famous parents but rather works in her own light, following the same path simultaneously.
Interestingly, it is not only Lesedi that her parents have influenced to join the show business. Her sister, Alicia, is also in the entertainment business, but rather than trying to make it as an actress, she is interested in having a musical career. Shona and Connie Ferguson have always offered all the necessary support their kids need.
Lesedi Matsunyane Has A Child Of Her Own
Lesedi Matsunyane is a mother of a young son named Rowena Malema. She gave birth to the little one out of wedlock when she was still at AFD at the age of 22. Connie indicated that she had dreams for her daughter as a parent and wanted her to have her independence before having children, but life happens. She stated that she was not going to judge her daughter because she also had her when she was only 23.
Rowena has become a source of joy to his mother and also Connie as she is now a grandmother with his birth. She is enjoying the feeling and is slowly building her life around him. Shonna and Lesedi's sister Angel is also helping with raising the child.
The baby daddy of the actress is an international South African photographer, Austin Malema. The couple met while both of them were students of the institution. Although their relationship has since ended, the photographer has ensured that he is a part of his son's life. He maintains a good relationship with his son and Lesedi in an attempt to be there for the kid.