Lebo M has been married five times to three different women. He was first married to Viveca Gibson for half a decade before they decided to part ways, and he married Nandi Ndlovu. After 11 years with Nandi, he married Angela Ngani-Casara. The pair have made three trips down the aisle since first coming together in 2008.
From his marriages and another relationship, the South African producer and composer famous for his work on The Lion King soundtrack was welomed seven children. He, however, has a total of nine children that include those had by his third wife, Angela, from a previous relationship. They are Zakiya, Nthabiseng, Refilwe, Tshepiso, Thembalethu (late), Mthunzi, Ketso, Letti, and Lulonke.
Lebo M's Biography Summary
Birth name: Lebohang Morake
Date of birth:

 

11 July 1964

Age: 59 years old
Career: Producer and music composer
Wives: 3
Children: 9 (7 biological)
Viveca Gibson Was Lebo M's First Wife 
Viveca Gibson was the first woman to marry Lebo M when he was not as much of a big name as he is today. Details regarding their early journey together, including how they met, remain very sketchy. According to sources, the union lasted 5 years before the two decided to walk away in divorce.
Because he was not a big name at the time, the date of the marriage and divorce remain unknown. However, the belief is that they tied the knot in the late 1980s when Lebo was still in his 20s. Since the marriage came to an end, Viveca has continued to maintain a very private life. They had two daughters together.
Lebo M's Marriage To His Second Wife, Nandi Ndlovu, Lasted Longer Than All Others
The next marriage of the Lion King producer after the first one failed was to Nandi Ndlovu. How the two met is very interesting because Nandi used to be a local actress who was a cast member in the Sarafina musical drama. At the time, Lebo came to the country, and when he wanted to return, the creator of the film, Mbongeni Ngemna, who was also his friend, asked him to stay back a little and take part in the production as a cast member.
Through this, he met Nandi in 1990, and by 1992, they had already walked to the altar and got married in a glamorous event. Unlike his other marriages, this lasted for more than a decade. While some sources claim they were together as man and wife for 11 years, others claim Lebo M married Nandi in 1992, and they got divorced in 2007.  If the second assertion, which we cannot confirm, is true, it means they were married for up to 15 years.
At first, it seemed as though it was the one that would work for him, but a few years after the death of their son, the marriage came to an end in an acrimonious way. Nandi then left South Africa for the United States, where she later claimed there was an attempt to push her off the road in 2009. She alleged that her former husband was behind the incident, but Lebo maintained there was no truth to that.
Angela Ngani-Casara Became Lebo M's Third Wife in 2008
Not tired of the trip on the aisle, Lebo decided to give marriage another try, so he married Angela Ngani-Casara in 2008. The marriage did not last for more than 5 years, as they called it quits in 2013. The divorce was reported to be caused by an argument due to the ownership of their house in Johannesburg. Angela believed Lebo had already bought the property, but she later realized that it was leased. She allegedly confronted him, and it resulted in something that family members couldn't solve.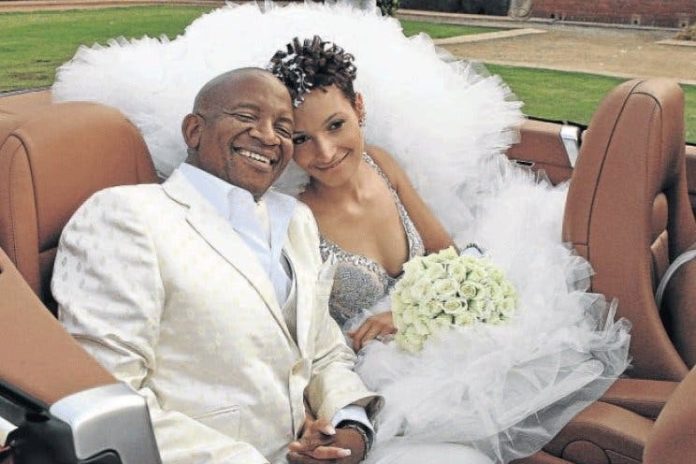 She allegedly was thrown out of the house by Lebo with nothing but her clothes in a plastic bag. Following their first divorce, Lebo got into other relationships and came close to settling down with Zoe before they parted ways, and he returned to Angela Morake, whom he married in 2016 in Egypt. This became his fourth marriage.
The ceremony was a small one that was organized for only close friends and family members. The family of Angela came from Italy to attend the event. It did not surprise many people that the marriage only lasted a year before coming to an end in 2017.
Lebo M's Fifth Marriage Was Again To Angela Ngani-Casara 
Three years after they parted ways, Angela and Lebo decided to give their love another try, so they married in 2020. This became the third time they would walk down the aisle together. Soon after they married, they moved into a new home with their children.
This marriage also went the same way as all others before it in 2021 when they announced that even after a third time, they could not get their union right, hence they decided to part ways.
Here is a list of all the women Lebo M has married 
Viveca Gibson (1980s)
Nandi Ndlovu (divorced in 2007)
Angela Ngani-Casara (2008 to 2013; 2015 to 2017; 2020 to 2021)
Lebo M Is A Father Of 9 Children
From his many trips to and from the altar and some of his relationships, Lebohang Morake has fathered up to 9 children. According to him, he actually wanted more than that; he wanted to be a father of 15 children. The biological children of the famous producer are 7 of the 9 children, while two belonged to his ex-wife Angela from a previous relationship she had. Back in 2020, Angela's two kids were said to be teenagers.
Zakiya Morake Is His First Child
Lebo M had his first child Zakiya from his first marriage to Viveca. She was born in 1987, and after the divorce of her parents, she mostly remained with her father. Mostly raised in the United States, she keeps a low profile, although there was the initial belief that she would follow the creative path of her father.
The Second Child of Lebo M is Nthabiseng Morake
Better known as Nthabi, she is the second daughter of the ace producer, and she was also birthed to him by his first wife. Nthabi was brought up alongside her older sister, Zakiya, in the United States, Los Angeles, to be precise. Born in 1989, she also maintains a very private life.
Refilwe Morake Is The Third Daughter Of The Lion King Producer
The next child to join the family is Refilwe Morake, his daughter with his second wife, Nandi. She was born between 1994 and 1995. She spent some part of her life in the United States, and she is less private than her other siblings. More so, she is the one who decided to follow in the footsteps of Lebo and is known professionally as Refi Sings.
She describes herself as a singer, songwriter, and reality star, and no doubt, she is very talented. When she was 23 years old in 2017, she joined her father on stage during the Hanszimmer Live 2017. She makes a strong show on the family's reality TV show, Lebo M – Coming Home. She is undoubtedly her father's favorite child.
Tshepiso Morake Is His Fourth Child, But They Are Not In The Best of Terms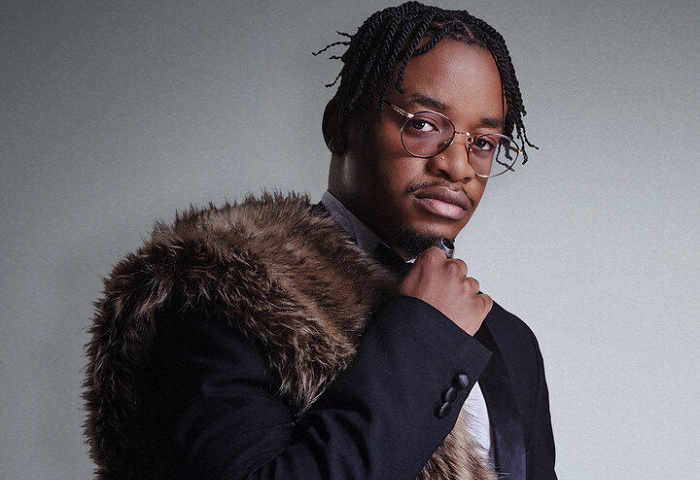 The next child of the composer, Tshepiso, was birthed to him from his second marriage to Nandi. He is the younger brother to Refilwe, born between 1997 and 1998. The young man does not have the best of relationships with his father, and even though his sister has tried to see that they mend fences, she has been unable to achieve that yet.
Because of their relationship, Tshepiso has gone as far as questioning the role of Lebo as a father, something that the producer is not too pleased with. To make matters worse for their relationship, Lebo M is not on good terms with the baby mama of his son, Ayanda, whom he described as being disrespectful. Tshepiso also brought the role of Lebo as the grandfather to his child to question.
According to Lebo, the reason why he doesn't have a good relationship with Ayanda, who is better known as Barbie, is that he doesn't trust her and her family since they wanted him to pay an outrageous R200,000 electricity bill they incurred as part of the payment for the inhlawulo (damages) caused by his son who impregnated Ayanda. Tshepiso Morake and Ayanda are parents of their child, King. Thanks to this, Lebo is a grandfather, even though his relationship with the pair is rusty.
He Lost One Of His Children; Thembalethu Morake
Among the seven children sired by the famous composer was Thembalethu, one of the two children he had with his second wife, Nandi. He died as a young boy in 2003 when he fell in a swimming pool in the family's Randburg home. His name was drawn to the news in 2020 when Nandi accused Lebohang of taking her name off the tombstone on their son's grave and replacing it with others, including referring to the son of his former wife, Angela.
According to her, she went to drop flowers at the grave of her son and realized that there was a change in the tombstone she picked for her son; instead of reading "Love you always, Your mom," she stated he changed to "Love from your dad, sisters, and brothers." She was not happy with her name being taken off and the reference of "brothers" since Lebo M only has a son unless he joined Angela's son. Amidst the entire saga, Lebo M refused to comment on the matter.
Mthunzi Is Lebo M's Stepson From His Marriage To Angela
The only biological son that the producer and composer have since the death of Thembalethu is Tshepiso. However, through his marriage to Angela, with whom he has a daughter, he now has a stepson, Mthunzi. Not much is known about him except that he was born from a previous relationship Angela had. Over 20 years of age, Mthunzi maintains a close relationship with Lebo, and he was on the family's show on Showmax.
Ketso Is Lebo M's Second Step-Child
Still from his union with Angela, Lebo became the stepfather of her daughter from another relationship before they met, Ketso. The young woman is also very close to Lebo, and she has a great interest in music, which is one of the things that has helped her relationship with her father. Since Lebo and her mother's relationship has come to an end, it is unknown if this has affected her relationship with the producer.
Lebo M's Two Youngest Kids Are From Zoe and Nandi
In 2011, his former wife, Ngani-Casara, gave him another daughter, Letti. He has a daughter named Lulonke Morake (Lulo), who was birthed to him from his relationship with former 'Generations: The Legacy' star Zoe Mthiyane. Lulo was born in 2015.
Here is a list of Lebo M's Children:
Zakiya Morake
Nthabiseng Morake
Refilwe Morake
Tshepiso Morake
Thembalethu Morake (Deceased, 2003)
Mthunzi (Step-son)
Ketso (Step-daughter)
Letti Morake
Lulonke Morake (Lulo)
He Has Also Had Two Unsuccessful Engagements
Beyond his five marriages, the composer came close to getting married for a fifth and even sixth time, after he engaged two different women before the engagement was called off. He was first engaged to Zoe Mthiyane after a much-publicized relationship, and then when it failed, he later got engaged to Mel Ntsala, but this did not go anywhere.
Lebo M and Zoe Didn't Marry Because Of The Prenup Agreement
Lebo and Zoe were first linked together in 2007, but it was on a professional basis that they were linked at this time. 7 years later, their paths crossed again at the opening of Lion King Melbourne, and it began a rather interesting romance.
By 2015, there were tales that Zoe, 18 years younger than the celebrated producer, was pregnant with their child. Their baby girl, Lulu, was born on July 24, 2015. In December of the same year, he decided that he wanted to spend the rest of his life with Zoe by proposing to her during a vacation in Cape Town.
Five months after their engagement, the couple issued a statement stating that they had called off the engagement. According to reports, Lebo confirmed that the engagement ended due to a disagreement relating to a prenuptial agreement.
Lebo M's Engagement To Mel Ntsala Failed After He Allegedly Cheated With His Ex-Wife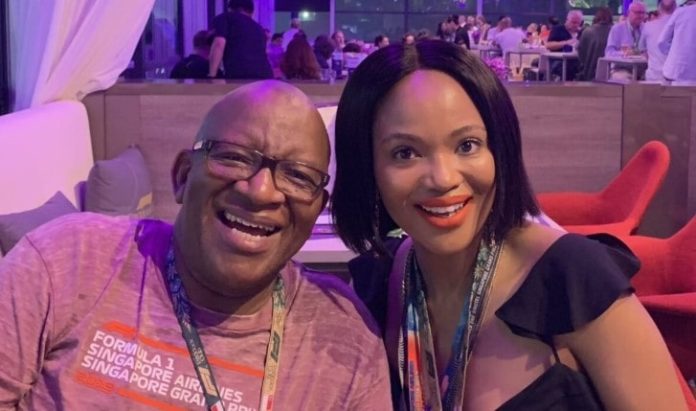 Lebo was reported to be head over heels in love with Malefu "Mel" Ntsala. It didn't take long before the announcement came that the two were now engaged, and Lebo was probably about to find the missing rib he has been tirelessly searching for. In a shocking twist that sent social media abuzz, it was later reported that the engagement was called off in early 2020 when many had expected that the wedding bells would soon ring for them.
According to some reports, Mel dumped him because he was cheating on her with his ex, Angela Ngani-Casara. However, when Mel was contacted, she indicated that the breakup was because they got tired of each other. She added that her ex was a good man and a good partner, but things didn't work out for them.
Matseke Naka is another woman that he was alleged to have come close to marrying. The composer was said to have paid lobola for the hand for the dentist in marriage. However, they did not push things through as the relationship later ended.
Lebo M Gave A Glimpse Into His Large Family Through His TV Show
In 2020, Lebohang Morake started his TV show, Lebo M – Coming Home, a 10-part Showmax Original production. The show featured all members of his family as he gave the audience to follow their daily lives. Although many people followed the show, it did not help the reputation of Lebo, who fans have described as many things, including rude. His handling of issues with his son and Ayande.
He described the family as money-hungry, and he doesn't refer to her as "that one." Because of this, it caused many South Africans to question his behavior. Followers on social media suggest he could be very manipulative, arrogant, and disrespectful. On his part, he said he had seen so much written about him on the media, and so it doesn't move him anymore.