King Goodwill Zwelithini was a polygamist which is the reason he married six wives in his lifetime. He married his first wife, Queen Sibongile Winifred Dlamini (MaDlamini), in 1969. His other wives, according to when they were married, are  Queen Buhle KaMathe, Queen Mantfombi Dlamini (The Great Wife), Queen Thandekile "Thandi" Jane Ndlovu, Queen Nompumelelo Mchiza, and Queen Zola Zelusiwe Mafu. The late king had a total of 28 children through his marriages.
King Goodwill Zwelithini was the most famous king in South Africa, which was not surprising, seeing as he sat in leadership over the Zulu nation, which is by far the most populous ethnic tribe in the country. While his reign was met with many criticisms for his affluent lifestyle, he also wielded a great influence over his people, playing many political roles even though the kingship title was thought to be largely ceremonial.
While he lived, Goodwill Zwelithini had certain opinions and ways of doing things that left many offended and drew controversies to his name and title. That notwithstanding, there is no denying that he was revered by his people for being in touch with modern ways of doing things while still keeping a firm grip on the Zulu culture and traditions. A good measure of the influence the Zulu nation wields in South Africa today is a direct result of King Goodwill's strategic positioning of himself within the country's political affairs and the people in power.
The beloved monarch of the Zulu nation was greatly mourned when he died, but he certainly lived a very fulfilling life as the longest-reigning of all Zulu kings on record. His rule lasted 53 years and had many good records of note.
Goodwill Zwelithini Become King of The Zulu Nation at 20 Years of Age
The history of the Zulu kingship dates far back to the founding father of the nation King Shaka who defeated other clans to become king in the 19th century. The mantle of leadership was then passed down his lineage until it got to a young Goodwill at the death of his father, King Cyprian Bhekuzulu. While he was legally recognized as king at the young age of 20, it took another three years for Goodwill to come to the full terms of his responsibility to his people.
First, he had to leave kingship in the hands of a regent who watched over the kingdom's affairs on his behalf while he left the Zulu land to take refuge elsewhere to avoid an assassination attempt. During this three-year gap, he also had to get married as it was not allowed for an unmarried male to be king.
Finally, at 23, a traditional ceremony was held to mark his ascension to the throne as the eighth monarch of the Zulu nation. The occasion, which was held at Nongoma on the 3rd of December 1971, saw as many as 20,000 come out to support the new king. His people loved him, and his reign lasted much longer than those of his predecessors ever did.
How Did King Goodwill Zwelithini Finance His Luxurious Lifestyle?
While he lived, one of the major talking points of the king's critics was the affluent lifestyle of the king himself, his rather large and how he could afford such luxury. If you have never seen or read about the Zulu royal family, you may not understand what his critics were going on about. Still, it takes just one look to see just how affluent King Zwelithini lived and provided for his family, who were spread out in 8 different palaces.
The late king's family comprised his six wives, who all lived in their own separate palaces, his twenty-eight children, and many other relatives. Besides his immediate family, there's also all of the staff it takes to maintain the palaces. Being that the South African Constitution recognizes the place of traditional rulers under its customary laws in chapter 12, King Goodwill Zwelithini received a monthly payment provided for in the KwaZulu-Natal yearly budget.
Before 2017, the king received an annual allocation of R58.8 million, which was bumped up by R7 million to make it 65.8 million in 2018. A new raise to the budget allocation was announced again in June of 2020. This time, it was increased by R4.5 million, making it R71.3 million. In essence, the KwaZulu-Natal provincial treasury through the Royal Household Trust, which is housed in the Premier's office, is responsible for the well-being of the royal family. For many, this meant that the late king paid for his luxurious lifestyle using taxpayers' money.
Although there are no specifics on how the money allocated to the royal family is used or disbursed, the responsibilities of the Premier's office have been clearly spelled out. From a speech given by the KwaZulu-Natal Premier Willies Mchunu, his office supports the royal household trust, which caters to payment of tuition for the king's children, health care for the entire royal family transportation, and upkeep of the king's eight palaces. In addition to the above, the office also oversees the king's farms. From all of the above, Forbes estimated the late monarch's net worth to be $20 million.
The Late King Propagated Polygamy
Considering that core African traditions propagate polygamy, it's not surprising that some of King Zwelithini's views concerning marriage and polygamy were received with a whole lot of reservations and caused an argument or two. In 2015, the king referred to the Recognition of Customary Marriages Act as a deliberate attempt to discourage the practice of marrying more than one wife. In better detail, the law stipulated that a man had to get written consent from his first wife to marry another wife. It also stipulates that the first wife has absolute power over her dead husband's property.
He said such a thing is unheard of for Zulu men and maintained that such a law should not have been passed without discussing it with the traditional leaders. In his view, the government was prioritizing the culture of the English over that of the indigenous people of South Africa. He then encouraged men to marry more wives. However, the Commission for Gender Equality responded to his comments with a detailed explanation of why the law had to be passed and how it protects married women.
Meet King Goodwill Zwelithini's Six Wives
True to his views on polygamy, Goodwill Zwelithini was married to six beautiful women. While many have questioned the possibility of not having a favorite wife in a polygamous situation, it is not often glaring. Some of the major markers of a favorite when there is more than one wife is either by the number of children she has, by how much time she spends with the husband, or how much more material gifts she receives. However, to his credit, there was never an issue regarding whether the king had a favorite wife because he provided for them equally.
Many have pointed to Queen Mantfombi Dlamini as the favorite, seeing as he chose her to rule in his stead and to appoint the next king. But as you will find out below, the king was only upholding his end of the agreement he had with the Swazi nation when he married her as a Swazi princess. These are the widows left to mourn King Goodwill Zwelithini.
1. Queen Sibongile Winifred Dlamini – MaDlamini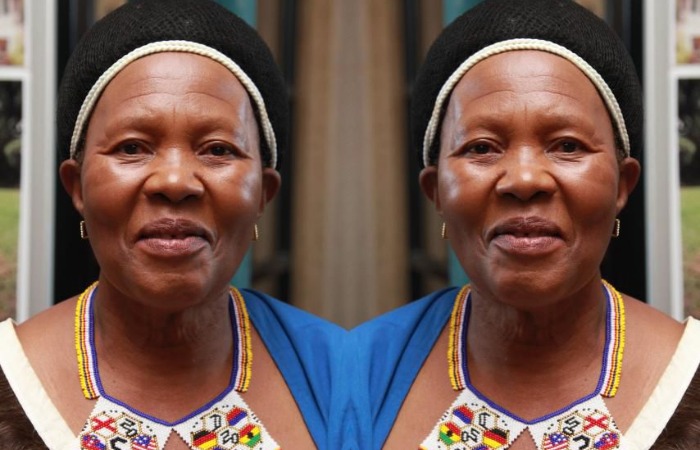 Popularly referred to as maDlamini, Sibongile is Goodwill Zwelithini's first wife, who he married at age 21 in 1969. There are no specifics for how old she is, and it is not known if they had a relationship before the union or if he married her because he needed to be married to step into his full capacity as King at the time.
Their marriage was conducted under civil law in the community of property, which in many ways, makes her the only legitimate wife of the king since civil law prohibits polygamy. At the time of the king's death, they have been married for a solid 45 years with five children between them. Being of the Royal family, maDlamini knew to keep any issues she had with the king away from the public. Hence, there is no record of discord.
It was not until the king's death that MaDlamini stepped up to challenge his marrying other wives even though civil law does not recognize polygamy. She lives at the Kwa-Khethomthandayo Royal House, Nongoma.
2. Queen Buhle KaMathe
Five years after he got married for the first time and three years after he ascended the throne, King Goodwill Zwelithini took Buhle KaMathe as his second wife in 1974. Now 72 years old, she leads a quiet life and is hardly heard of. Rumor has it that if there was a hierarchy for who the king's favorite wife is, she would be the second-favorite.
In 1996, the queen underwent surgery for a head injury after she sustained serious injuries in a politically incited assault against the royal family, which also took the life of one of her daughters. She resides at the Kwa-Dlamahlahla Royal House, Nongoma, and has seven children with the king.
3. Queen Mantfombi Dlamini – The Great Wife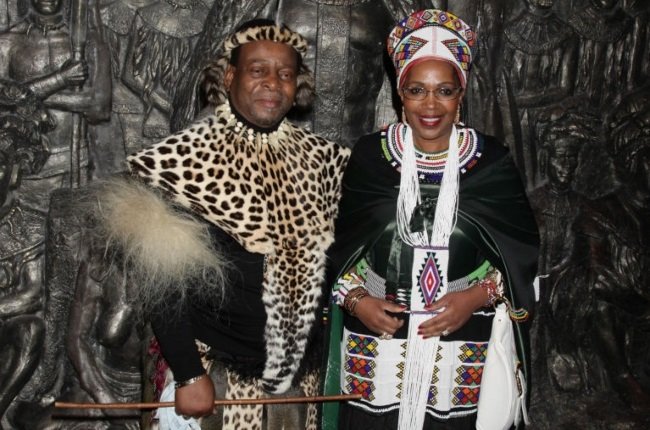 Of all the wives King Goodwill Zwelithini married in his lifetime, Mantfombi seemed to be the most influential. She was born into the royal family of Sobhuza II of Swaziland on 15 February 1953. She was the sister of King Mswati III of Eswatini and Queen consort of the Zulu Nation while King Goodwill lived.
She became betrothed to King Goodwill two years after he ascended the throne in 1973. At the time, their union was more of a political alliance as her family had laid down some conditions, which King Goodwill had agreed to. Notable among the conditions is that she, being a princess, was to become his Great Wife, to be favored in all things above all of his other wives. And second, that her position as the great wife would automatically make her children first in the line of succession to the throne of the Zulu Nation.
Having agreed to the conditions set by the Swazi dynasty, which at the time was senior in matters of government, King Goodwill married Princess Mantfombi Dlamini in 1977 as his third wife, and they went on to have eight children together before their respective deaths. She consequently became a bridge between the Zulu and Eswatini nations.
When King Goodwill Zwelithini died on the 12th of March 2021, his will specified that Queen Dlamini was to be appointed Queen regent to hold the nation's affairs together as an interim leader until the next king was crowned. In this position, she also had the power to choose who the next king will be. Barely one month after she was appointed Queen Regent, Queen Dlamini was hospitalized for an undisclosed ailment. She died two days later, on the 29th of April 2021.
Speculations were rife that she had been poisoned because the battle was still on for who would succeed the late King Goodwill. However, the royal family said that was not the case as the Queen had been battling a terminal illness known only to them. While she lived, Queen Dlamini resided at the Kwa-Khangelamankengane Royal House, Nongoma. This is also where she was planted in a ceremony presided over by the 7th-day Adventist church, where she worshipped. She was succeeded by her first son Misuzulu Zulu who is the current king of the Zulu Nation.
4. Queen Thandekile "Thandi" Jane Ndlovu
Thandi appears to be the most educationally accomplished of King Goodwill Zwelithini's wives. She got married to the king as his fourth wife in 1988. Although details about the schools she attended are not available, she has worked in the nursing sector for a very long time, in different capacities, at different times.
Queen Thandi worked as a matron and an educator at the Provincial Department of Health Head office in KwaZulu-Natal. She is also involved in several community upliftment projects in the Health and education fields. Unlike Queen Dlamini, she worships with the Anglican Chruch. She bore three children for the king and lives at the Linduzulu Royal House, Nongoma.
5. Queen Nompumelelo Mchiza
Nompumelelo became King Goodwill's fifth wife when she married him on the 25th day of July 1992. She was allegedly 19 at the time. The marriage allegedly had political undertones, especially because many Zulus were not happy that the king's new bride was from the Xhosa tribe.
Although she was Xhosa by tribe, Nompumelelo had spent her growing up years in Zululand with her father, who at the time, worked with the Department of Education at KwaZulu-Natal. She had also imbibed a good deal of the Zulu culture which led her to participate in the Reed dance. This was where she was selected to become the king's bride, after which Goodwill Zwelithini paid a lobola of 21 cows to her parents.
She resides at the Enyokeni Royal House, Nongoma, which is the King's traditional Palace, and the venue of the annual Umhlanga Reed Dance, which the king hosts. Queen Nompumelelo bore three children for the king before his demise.
6. Queen Zola Zelusiwe Mafu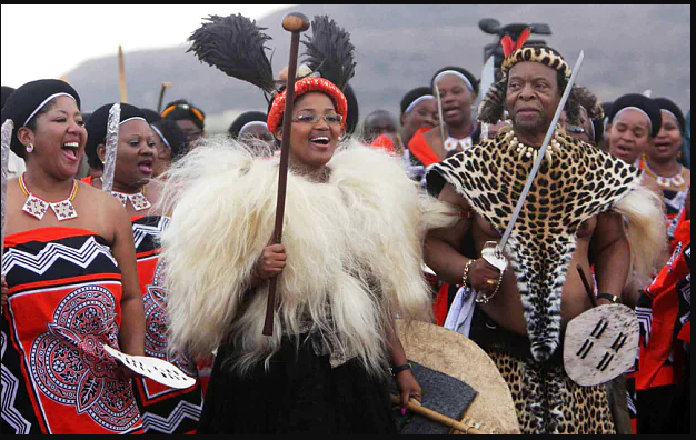 The last and youngest of the six wives of King Goodwill Zwelithini is Queen Zola. She had been spotted at the Reed dance by the king's third wife, who recommended her to the king. At the young age of 17, she became betrothed to the king in 2004 and was taken to the KwaKhangela Palace, where she lived with Queen Mantfombi Dlamini for seven years.
One year after she was officially betrothed to the king, Zola gave birth to the king's last child. They eventually got married in 2014 after several delays, including the mourning period for the death of Zola's father in 2007. She eventually got her own palace after many criticisms to the royal family when the king had requested a new palace for his sixth wife from the premier's office. She Resides at the Ondini Royal House, Ulundi.
Goodwill Zwelithini Has 28 Children From All His Marriages
Late Prince Lethukuthula Zulu – Born as the king's first son in 1970, the prince did not outlive his father as he was found dead at his home in Johannesburg. He died at the age of 50 in 2020, and five people were charged to court for his murder.
Princess Nombuso Zulu – She was born in 1973 and owns the Ilembe Catering Services, which operates in Durban.
Ntombizosuthu Ka Zwelithini Duma – The well-established businesswoman was born in 1979 and co-owns the Strategic Persuasions and Zamalwandle Transport Logistics company with her husband, who is also a businessman.
Princess Ntandoyenkosi Ka Zwelithini Ngcaweni – Ntandoyenkosi is manages assets at the Public Investment Corporation (PIC). Born in 1982, the princess is married to Busani Ngcaweni.
Princess Sinethemba Bati Zulu – She was born in 1989 and recently bagged a degree in International Relations from the University of Witwatersrand.
Late Princess Sibusile Zulu – Sibusile is the first child of Queen Buhle, and she was killed in the 1996 attack on the royal family in which her mother sustained a head injury.
Princess Nandi Zulu – Born in 1977, Princess Nandi married Chief Mfundo Bovulengwa Mtirara of the abaThembu royal household in 2002. The wedding ceremony was held at St John's Cathedral, Mthatha. Her marriage made headlines because the chief paid 150 heads of cattle as her lobola.
Prince Phumuzuzulu – Phumuza was named after his great grandfather King Phumuzululu kaDinuzulu.
Prince Shlobosenkosi Zulu – Shlobosenkosi was born in 1988 and schooled at Kearsney College in Botha's Hill, Durban.
Prince Nhlanganiso Zulu – He is married to a woman named Wandi.
Prince Buzabazi – He is the fourth son of Queen Buhle.
Late Prince Butho Zulu – ShakaDay 2018 was postponed due to the passing of Prince Butho, who had been battling an undisclosed ailment for a while. He was the youngest son of Queen Buhle.
King Misuzulu Zulu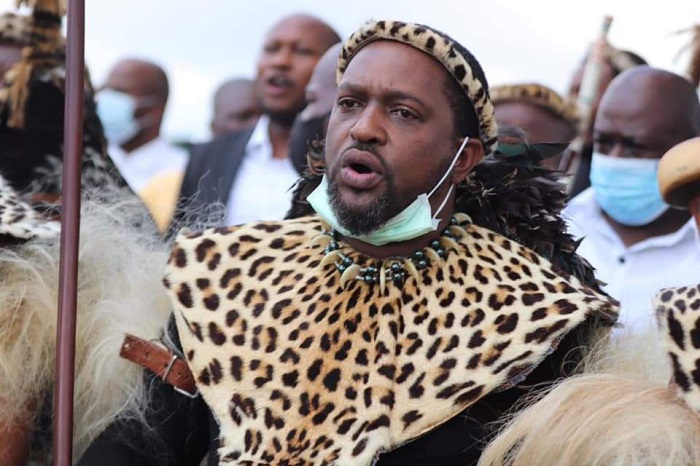 He is the eldest son of Queen Mantfombi Dlamini, the King's Great Wife. Born on 23 September 1974, he is the reigning king of the Zulu Nation after succeeding his late mother on 7 May 2021. King Misuzulu has a degree in International Studies from Jacksonville, Florida, and is married to Queen Ntokozo Mayisela. They have two children together.
Princess Ntandoyesizwe Zulu – Born in 1976, Ntandoyesizwe is the widow of late Prince Oupa Moilwa, Chief of the Bahurutshe BagaMoilwa, who she married in 2002.
Princess Nomkhosi – She was born in 1978 and is engaged to be married to Melusi Moyo.
Prince Bambindlovu – He was born in 1981 and is engaged in diverse business endeavors. He runs a farm, is an interior designer and an artist.
Princess Bukhosibemvelo – Born in 1985, Bukhosibemvelo is married to Sipho Nyawo, and their union made headlines because he paid 120 cows as part of her lobola.
Prince Lungelo – He was born in 1984 and is an alumna of the Michaelhouse boarding school in KwaZulu-Natal.
Prince Mandlesizwe – Born in 1990, the prince received military training with the Swaziland army and won an award as the most observant recruit. Many wondered why he joined the Swazi army but seeing as his mother is a Swazi princess, it is apparent the ties are still strong.
Prince Simangaye – He was born in 1991.
Prince Sihlangu Zulu – He is an artist and goes by the stage name Zulusoul
Princess Mukelile Zulu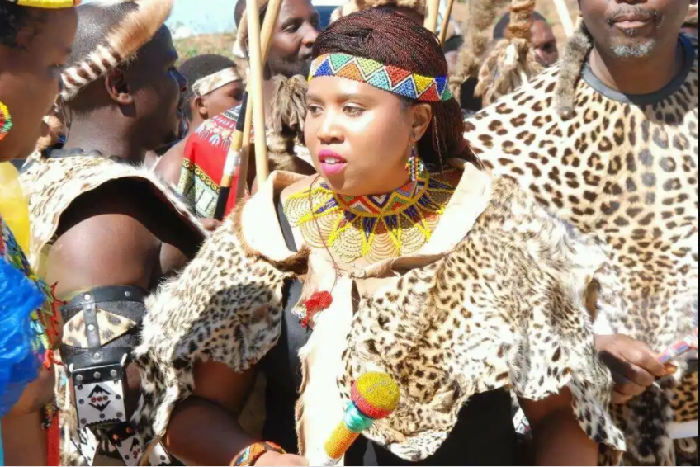 She is a project manager with the Queen Thandi Foundation Trust.
Princess Nqobangothando Zulu – Her birth date has not been specified, but she came under fire in 2018 when it was revealed that she was the beneficiary of a housing scheme the king had received R64-million for. The outrage was well understood at the time because the project was built to benefit the country's poorest citizens.
Prince Nhlangano Zulu – Nhlangano Zulu is the only son of Queen Nompumelelo.
Princess Cebo Zulu – She is Queen Nompumelelo's second daughter, and she led the 2020 Reed dance, which was attended by only 30 maidens because of the covid-19 restrictions.
Prince Nhlendlayenkosi Zulu – He is the last born child of the king and the only child of his mother, Queen Zola.
King Goodwill Zwelithini Died at 72 in 2021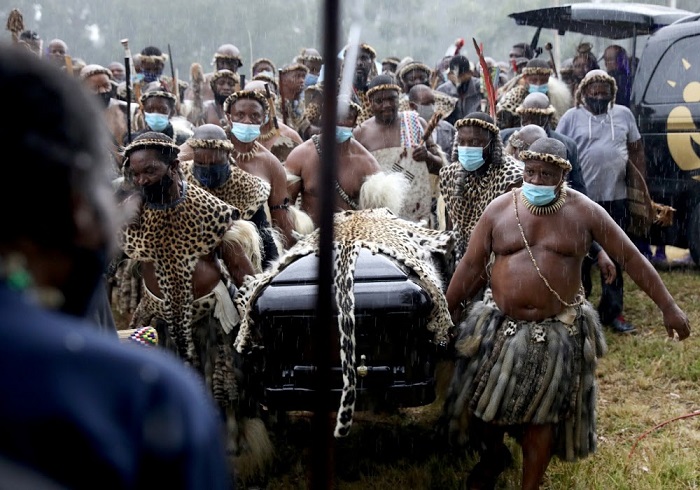 King Goodwill died at 72 on March 12, 2021. News at the time said he had been battling complications from diabetes which he had been lived with for a while. However, during a speech on the preparations for his planting ceremony, his traditional prime minister Mangosuthu Buthelezi said the king passed on from covid-19 related complications.
According to the culture and tradition of the Zulu nation, kings are not buried; they are planted. As such, five days after he passed, the late king was planted in a private ceremony held on the 17th of March 2021. Although it is common knowledge that he was planted in KwaKhethomthandayo, Nongoma, the specific location remains unknown. More so, due to reasons explained in the culture of the Zulu people, the planting ceremony happened at night.
At death, the king's will appointed his third wife, Queen Dlamini, to act as regent and interim head of the Zulu nation until the mourning period is over, after which his successor will be appointed. As one would expect, the will caused a whole lot of unrest amongst the wives when his first wife went to court to contest Queen Dlamini's place as regent. Things would escalate further when the queen regent died and appointed her first son Prince Misizulu Zulu as his father's successor.