Lalla Hirayama's parents are Itsuko Hirayam (mother) and Lance Cooper (father). While her mother is from Japan and has Asian roots, her father is a South African of White ethnicity. The couple gained public attention due to their association with Lalla who is a popular television host, actress, dancer, and model.
No matter how we want to look at it, our ethnic backgrounds and how we are raised have a way of shaping our lives, sometimes for the better and other times for just the opposite. For Lalla Hirayama whose parents come from mixed ethnic backgrounds, her story is not any different. The beautiful and multitalented television host has not dwelled so much on her ethnic background as she has gone on to build a name for herself based on her talent.
Meet Lalla's Parents
Her Mother Is Itsuko Hirayam
Described as a brave woman by her daughter, Itsuko Hiryam, as stated, is from Japan. She was born in a tiny Japanese town and was also brought up there until the age of 18 when she moved to Tokyo. In the town where she was raised, men had their roles just as women, and there was a hierarchy which she didn't like, this later fuelled her to move to Tokyo.
It was after this that she met Lance Cooper and her life changed after they fell in love and later got married. For Lalla, her mother is always a reminder for her to toughen up in all she does. Lalla is very close to her mother. In 2019, she bought her mother a car and describes her as the reason why she will never quit.
Lalla's Father Is Lance Cooper
Lalla's father is a white South African man identified as Lance Cooper who was born into the family of Dr. L Cooper. His family is known to be very much into the medical field and charity.
Although it has not been revealed where he was born, it is known that he spent a better part of his life in South Africa. He has a brother, Dr. Russell Cooper who was living in Australia as of 2018. Russell is said to have graduated from Wits before going on to work in different parts of the world. Unfortunately, information on the educational achievements of Lance is not known.
How Lalla Hirayama's Parents Met In Spite Of Their Background Differences
Lalla's parents met in Japan. At the time, Itsuko had moved to Tokyo from her town to find a way of starting a different life from the one she was raised in. Incidentally, Lance was in Japan on a backpacking trip at the time, and somehow, their paths crossed.
Although there was a language barrier between them, as well as cultural differences, Lance and Itsuko did not have any problem falling in love, neither did they find any issue with deciding to get married after dating for a while. The two lived in Japan for some time and started their family there before they moved to Australia and then to South Africa where they settled down.
The TV Host Was Raised In A Unique Way
Lalla was born on the 10th of February, 1988 in Hiratsuka, Japan, which is the home country of her mother. According to her, she was brought up in a typical old-fashion Japanese way which she likened to the Samurais and Zen.
Growing up as an only child in a multi-ethnic family, the TV presenter had a unique childhood from all others. This was a result of exposure to several religious practices such as Christianity, Shintoism, and Buddhism. She was also exposed to Judaism through her father who she revealed is Jewish.
Apart from religion, Lalla got the chance to grow up in different parts of the world. The earliest part of her life was spent in Japan before her family later moved to Australia. Next, she moved to South Africa when she was 6 years old. It was here that she was mostly raised and so, she refers to the country as her home.
Lalla Hirayama was an athletic child while growing up. One of the sports she loved was netball. During her time at Fairways Primary School in Sandton, Johannesburg, where she had her primary education, she competed in horse riding, and in 1997, she emerged as the Junior Horse Riding Champion. Athletics aside, she also had a knack for dancing and went on to learn the art. Lalla's early childhood memories were built around netball, horse riding, and dancing.
Before she started high school, she returned to Japan where she taught modern dance including Hip Hop and Tap at Kagoshima, Kagoshima Prefecture. She later returned to South Africa where she attended and graduated from the British International College in Johannesburg.
Her Childhood Also Had Many Difficulties
In all her disposition today, Lalla has always dwelled on positivity, although that was not so common in her early life. According to her, her childhood was not as easy as many would think. This is because she was never free from troubles whether she was at home or in school.
When she was in school, Lalla Hirayama revealed that she was always bullied by other kids who picked on her because she looked different. She said they would call her names and make unkind remarks about her eyes.
It was even worse for her at home because her father was not the most stable of men. He suffered from mental issues and also had some rough experiences as a child, all of which affected his behavior towards his family. Lance was almost always on drugs and would constantly disappear from home. More so, when he was around, he sometimes brought prostitutes home. Because of all these, there were times that Lalla went without food in a home that had no electricity.
Also, she stated that she had kept away many other traumatic experiences she suffered, revealing that she struggled to have a normal childhood but didn't.
The Former Vuzu Presenter Was Shaped By Her Mixed Ethnicity
For a while, it was rather hard for people to relate to her because of her looks. There were no Japanese in South Africa and because she was neither considered white nor black, she always felt a little out of place. However, the advantages that came with her kind of upbringing outweighed all the negatives because it contributed to who she is.
She started her career on TV as the host of the after-school show, Craz-E on eTV. In a very short time, her uniqueness was able to get her many followers and soon, she became a big face on TV. Lalla got a job with SABC 1 as a continuity presenter, as well as a brand ambassador. Her acting career got its start with her appearance on Rhythm City and Axe Dark Angels. She also appeared on the SABC 1 soapie Zone 14.
Over the years, her hard work has been able to help her in building an impressive resume. In 2004, she started the Clinch Dance Crew, a hip-hop dance group, and in 2006, she launched her events company, Clinch City Entertainment (ACC). She was on DStv's VUZU family, and then in 2016, her show, Lalla Land debuted. In 2019, the SuperSport host, went to Japan to cover the Rugby World Cup.
Most recently, she launched a new YouTube series called Sharing The Sun. The idea behind the series is to bring together both South Africa and Japan. The 13-part series which she began together with the Embassy of Japan also shows how the two countries have partnered in different things from economy to education, and many others. She revealed that being a South African and Japanese, she has realized that the two countries have many relationships that others do not know about.
The Hiratsuka-born beauty who was a South Africa's Got Talent judge was recognized with the 'Most Stylish' award at the G4 Sports Awards. Another recognition she got was the  'Best Innovative Style' award at the South African Style Awards.
Her Father Is A Sangoma
The father of Lalla Hirayama may be white, but there is more to his story. According to the TV host, her father has always been very individualistic and brave. When she was a little girl, she was always embarrassed by him and his ways of doing things. She indicated that he was the kind of weird person that others would stare at and wonder why they have not been institutionalized.
She revealed that when her father was a teenager, he got ill and was taken to the hospital but the medics were unable to diagnose what was wrong with him. He was, therefore, advised by the family's help to seek the assistance of a sangoma in unraveling what might be wrong.
It was during this time that he realized he was also a sangoma and so he agreed to be trained as a traditional healer. The apartheid regime was still in place at the time, and no one had ever heard of a white Sangoma, but it did not stop him. Years later, Lance Cooper trained some more in order for him to practice as a sangoma. He is also a herbalist; inyanga.
Lance Cooper And Itsuko Hirayama May Not Still Be Together
More than three decades after they got married, Lance Cooper and Itsuko Hirayama may not still be together. Although there is no case of divorce reported about them, it seems as though they are now separated because of the abuses that the TV personality and her mother suffered from her father.
While many people would find it very surprising that Lalla decided to go with the surname of her mother, instead of that of her father, as it is the norm, Hirayama revealed that it was only because she prefers using the name of her mother to that of her father, suggesting it was not because of the abuses. She claimed it doesn't mean she loved him less and what was important was that her father did not have a problem with that.
While she prefers the name of her mother, she revealed that she was closer to her father and at a point, she described herself as a daddy's girl. She also made it known that she always made sure that she spends as much time with her parents as possible in spite of her very busy schedule.
However, in 2020, there were reports that she filed for a restraining order against her father whom she described as abusive towards her, her mother, and even her grandfather. She revealed that he had verbally and physically abused them and even threatened to end her career. She claimed he once abused her 97-year-old grandfather and even went as far as extorting money and possessions from the elderly man.
According to her, she moved her mother to Japan on a holiday in order to protect her from her father whom she revealed is a psychopath and generally unstable. She begged the Randburg Magistrates Court to seize his weapons and also prevent him from coming anywhere near her family.
In a shocking revelation, she made it known that there was a pending criminal case against her father who she once claimed was a drug addict. Even though she has a fallout with her father, she still remains very close to his family, especially her paternal grandfather and her uncle.
How Lalla's Relationship With Her Father Affected Her Love Life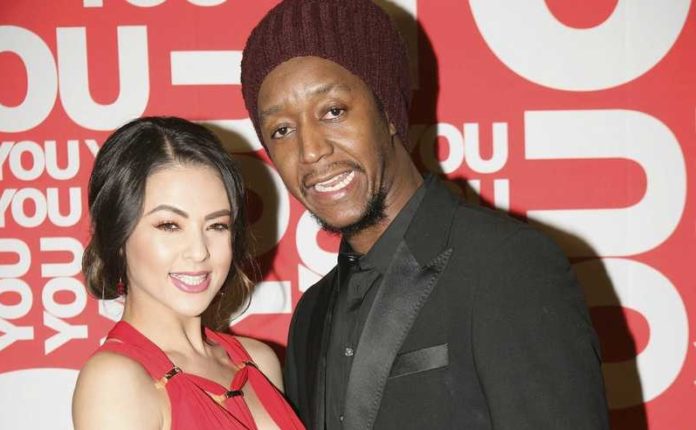 Because of all the things she suffered at the hands of her father as a child and the fact that she did not get the love she needed or even a man to look up to while growing up, the actress and dancer revealed that she was forced to look for love and a man to look up to in her future relationships.
During her relationship with Chris Nkosi which lasted for five years, she claimed she remained in the relationship because she was looking for love and someone to look up to. However, the relationship failed because of alleged cheating on the part of Nkosi.
When she was with the club promoter, she revealed that she was aware that a woman accused him of raping her and she even apologized to the alleged victim. In addition, she claimed that she was verbally and emotionally abused in the relationship by her former lover who was also very controlling and jealous. The dysfunctional relationship she had with her father, as well as being sexually harassed several times as a dancer, have all contributed to her difficulty in relationships.