Lady Du (Real Name: Duduzile Ngwenya, born on May 27th, 1991; Age: 32 years old) is a multi-award-winning singer, songwriter, and DJ who is famously known for her hit songs, "Dakiwe," "Woza," and "Gupta." She is one of the few ladies making groundbreaking waves in the male-dominated industry.
Also known as the Queen of Amapiano, Lady Du ranks as one of the top-ten leading amapiano artists in South Africa. This is no surprise as she hails from a musical family. Having been part of several collaborative hit singles in the country, including "Umsebenzi Wethu" by Busta 929 & Mpura, the music star has won many awards at her young age, including the Inaugural South African Amapiano Music Award in 2021.
Lady Du's Biography Summary
Full name: Duduzile Ngwenya
Nickname: Lady Du
Gender: Female
Date of birth: May 27th, 1991
Lady Du's Age: 32 years old
Ethnicity: Black
Nationality: South African
Zodiac Sign: Gemini
Sexual Orientation: Straight
Religion: Christian
Marital Status: Single
Lady Du's Ex-fiancé: Andile Mxakaza
Lady Du's Children: 1 daughter; Mia
Lady Du's Parents: DJ Choc (father)
Siblings: Sipho Ngwenya (brother)
Lady Du's Height in Inches: 5 feet 4 inches
Lady Du's Height in Centimetres: 162.5 cm
Lady Du's Net worth: R10 million+
Famous for: Releasing hit songs such as Woza and Umsebenzi Wethu
Lady Du's Instagram: @ladydu_sa
Twitter: @Ladydu_sa
Facebook: @djladydu
How Old is Lady Du?
The Queen of Amapiano, Lady Du, is 32 years old. She was born on May 27th, 1991, in Vosloorus, Ekurhuleni, Gauteng. She also grew up in the township, which is the largest township situated south of Boksburg in Ekurhuleni and 30 kilometers southeast of Johannesburg. In May 2022, Lady Du celebrated her 31st birthday celebration in a grand style with a series of live shows.
The live events, which got titled Lady Du Birthday Celebration, featured several South African artists. They include Pabi Cooper, Makhadzi, Young Stunna, Busta 929, DJ Sumbody, DJ Lamiez Holworthy, Mr. JazziQ, and Big Zulu, among many others. It was held on May 27th, 2022, in different cities in Pretoria. Lady Du sold over 400 tickets for the show as the ticket price ranges from R100 (for Early Bird) to R300 (for VIP).
What is Lady Du's Real Name?
Lady Du was born Duduzile Ngwenya to her music legend father and mother. However, she is widely recognized in the music world by her stage name, which she apparently coined from the first two letters of her name. The singer-songwriter sometimes is referred to as Dudu Ngwenya. Despite beginning her music career at a tender age, Lady Du emerged as a music phenomenon in her late 20s and has not slowed down since then.
Who is Lady Du's Father?
It's no secret that Duduzile Ngwenya was born into a musical family. Her father is DJ Choc, a veteran disc jockey and music producer. Her grandfather, Alias, on the other hand, was a legendary DJ who owned the first nightclub in Vosloorus. He also owned a Sound System rental company. Dudu's father was born in the early 70s and kickstarted his career in the late 1980s.
He followed in the footsteps of his father, who opened a popular nightclub, Dukes Place, in 1987. DJ Choc became quite popular in the '80s due to his numerous gigs at Dukes Place. He subsequently landed gigs at other clubs and radio stations such as Metro FM, Kaya FM, and YFM.
As a renowned DJ, Lady Du's dad has worked with a number of big names in the music industry. They include DJ Clock, Rihiwe Manayage, Skipper Shabalala, DJ Cleo, and Mthembu Mncedisi.
The 'Superstar' singer is also close to her mother. She is grateful for her sacrifices during her childhood years. As a result, she purchased an expensive Mercedes Benz car for her in May 2022. Her mum was overwhelmed with joy when she presented her with the car key. With Lady Du and her father being at loggerheads at the time, some people considered the gift as a slap in her dad's face.
Family Feud
Lady Du and her father trended in Mzansi in May 2022 after getting embroiled in a misunderstanding that quickly got escalated, putting a strain on their close relationship. The family controversy started with Lady Du sharing a post on Instagram on how she would like her daughter to grow up in a better environment and condition than she did.
This was quickly misconstrued to mean that the 'Dakiwe' singer grew up poor. Even though her father didn't have a social media presence, he managed to see the post. He misunderstood Lady Du's post and was angry that she was lying about her upbringing. DJ Choc made a video where he vented his anger at his baby girl, hurling insults at her.
He made it clear that he worked hard to provide the singer-songwriter with everything she needed as a child. And that she had a comfortable life growing up, which got him more confused about her post, implying that she grew up in poverty. He ended the video by calling her daughter a dog who spends her money on men.
After the video went viral, Lady Du got backlashed on Twitter by many tweeps who knew her when she was growing up as they attested that her father's claim was true. Many people even said that the 'Woza' hitmaker was a spoilt brat in her childhood years and lived a luxurious lifestyle. Lady Du eventually met with her father and ironed things out.
She explained that she was never referring to her childhood experiences when she made the post. Rather, she was hinting at her financial struggles in her late twenties, which got her depressed, and her father wasn't aware of it. DJ Choc, on the other hand, rendered a public apology to his daughter and condemned the manner in which he handled the family feud.
DJ Zan D is Lady Du's Uncle
Not only is Lady Du related to legendary DJ Choc, but she is also the niece of award-winning disc jockey Zandi Ngwenya, aka DJ Zan D. He is into outdoor advertising production and DJing. In the year 1998, Lady Du's uncle graduated from Christian Brothers College in Boksburg. He later acquired a certificate in Information Technology from New Horizon London in 2002.
DJ Zan D then worked in the operations department of Clear Channel Taxi Media for over two years before joining Comutanet & Campus Media in September 2007. After working in the outdoor production and operations unit for several years, he became a member of the staff of YFM in April 2012. He has been working as a mix DJ at the radio station since then.
The acclaimed DJ joined Club 808 in 2011 and then signed with the management company Dream Team SA in 2014. The agency is known to have managed some of the biggest artists in the country as well as A-list actors. They include Major League DJz, Thembi Seete, Mabalane, and Azania Mosaka, among others. Over the years, Zandi Ngwenya has proved to be one of the most versatile and sought-after DJs in South Africa.
He features as a mix DJ on YFM's YTKO show and on ETV's Club 808. He additionally performs live at events and parties. Little wonder, he was voted Best Hip Hop DJ on the 2011/2012 SA DJ Mag Poll. With his father serving as the owner of Vosloorus' first nightclub, Dukes Place, DJ Zan D began his disc jockeying career at the age of 12 under his elder brother's tutelage.
After completing his high school education, he solidified his place in the music industry by landing gigs on radio and TV at weddings, street bashes, clubs, and parties. He began his musical journey in 2015 by releasing a single titled "Runway." While residing in the United Kingdom, the skilled DJ performed in popular bars and clubs in town, including The Zoo Bar in Leicester Square, Club Roots in Tottenham, and The O Bar in Soho.
Is Mpura Related to Lady Du?
Since taking to center stage, Lady Du has been close friends with several SA artists. However, her relationship with the late amapiano singer, Mpura, was on a totally different level, as she often referred to him as her brother. Consequently, many people assumed that the two artists were related.
Following the sudden death of the 'Umsebenzi Wethu' hitmaker, Lady Du was crushed with grief and traumatized as they were best of friends. She immediately penned an emotional tribute for her brother and was seriously trolled on social media for announcing the sudden passing of the artist before his family could release a public statement about his demise.
Lady Du apologized for her actions, saying that she wasn't in the right frame of mind upon hearing the news. She deleted the post but later shared another tribute to Mpura. She disclosed that the late amapiano singer was not only her brother but her best friend. She was thankful to him for his incredible help in her musical journey and also for taking her and her daughter as his family.
The 'Uzuma Yi Star' singer even shared her last conversation with Mpura, which was quite heartwarming as the two were seen to share more of a sibling bond than a friendship bond.
A Look at Lady Du's 19 Qualifications
Dudu Ngwenya is no stranger to controversy. In September 2021, she raised several eyebrows when she shared on Facebook that she has 19 qualifications to her name. In her post, she projected herself as not just an ordinary musician but one with a difference, as she has attained nineteen qualifications in different fields.
She said that she has worked in logistics and equally as a teeth-whitening professional. She also has acquired qualifications in beauty fashion, firefighting, health and safety, anatomy, as well as in physiology. Following the revelation, the 53 years old faced public scrutiny as many began to question the validity of her age.
Some tweeps went to the extent of explaining to her the difference between qualifications and certificates. Duduzile later set the record straight that some of the qualifications she was referring to included six-month short courses, whereas some others were one-year Diploma courses.
She bagged most of the certificates during her time in Scotland when she was less busy and decided to acquire more knowledge by learning new courses. Even though it was unclear why Lady Du felt the urge to disclose her qualifications, it was purported to be in connection with her then-new role as a guest judge on Idols SA. She served as a replacement for Somzi Mhlongo in an episode for which some fans of the show criticized her performance.
The Queen of Amapiano Took to Disc Jockeying at the Age of 9
Having been raised by a legendary DJ, it's not surprising that the amapiano star started pursuing a career in music at the tender age of 9. At the time, she had won her first DJ competition. She was nudged in the right direction by her father and uncle. Nonetheless, she received sound educational training as she reportedly earned a bursary from Carnival City to study a Somatology course in London.
For several years, Lady Du combined her music career with working civil jobs. In order to save money to launch her career full-time, she worked as a Cosmetologist and Skin Therapist on a cruise ship that traveled to about 108 countries in a year. She later resigned from her job in the year 2012 and subsequently returned to her home country.
She Had Her Break Out in The Music Industry When She Was 29 Years Old
Upon her return to South Africa, Lady Du worked in her father's shop. She additionally organized events for a number of foundations, taking up DJing roles. Still struggling to earn a living from her musical endeavors, the talented vocalistic headed back to the co-operate world in the year 2016. She worked in logistics for three years and eventually quit her job when she went into depression.
In 2020, Lady Du started working with Mr. JazziQ as her father and his uncle were business partners. The acclaimed DJ introduced her to amapiano, and the two worked on a song penned by Lady Du titled "Superstar." The single was released in 2020, and Lady Du's sultry vocals in the songs got her noticed in the music scene. She eventually made a name for herself with her collaboration work with DBN Gogo titled "Dakiwe," which was also released in the same 2020.
The song has more than 2.6 million streams on Spotify. Interestingly, amapiano wasn't Duduzile Ngwenya's first choice music genre. She had tried out House, Kwaito, RnB, Gospel, and even Hip Hop and was on the verge of quitting her career when she got introduced to amapiano, which made her a music star. In the early stages of her career, Lady Du's songs weren't getting radio airplay.
Presently, the 32 years old is ecstatic that her songs are not only being played on several radio stations but now sit at number one on radio charts.
Lady Du is One of SA's Most Collaborated Artists
Lady Du emerged as one of the leading figures in South Africa's amapiano orbit following her collaborations with many artists. She increased her height of fame in 2021 when she worked together with Mr. JazziQ, Zuma, and Reece Madlisa on Mpura and Busta 929's smash song, "Umsebenzi Wethu." The collaborative single is certified Platinum by the Recording Industry of South Africa.
Also, it ranks as one of the most-streamed songs on many streaming platforms, including Shazam. Furthermore, the talented DJ was featured in Mr. JazziQ's single, "Woza," from the album, 'Party With The English' alongside Kabza De Small and Boohle. The song debuted on many music charts and spurred a dance challenge online. It also has accumulated over 6.9 streams on Spotify. More so, Lady Du collaborated with DJ Junior De Rocka to drop another hit song titled "Catalia."
Her collaborative work with DBN Gogo, 'Dakiwe' featuring Mr. JazziQ, Seekay, and Busta 929, is considered her breakout song by many. The song has gained over 3 million views on YouTube. Along with Mellow & Sleazy, Lady Du featured in a high-energy track, "Gupta," which is a collaborative single between Focalistic and Mr. JazziQ. She has also featured in a number of Cassper Nyovest's songs, such as "Angisho Guys," "Bhanoyi," and "Piano Prayer."
Hence, on Spotify alone, Duduzile Ngwenya has garnered more than 235K monthly listeners. It's worth noting that before having her career breakthrough in the year 2020, she worked with DJ Clock in 2013. The next year, she made a song with DJ Mshega and in 2018, she collaborated with DJ Maphorisa. Undoubtedly, the Vosloorus native has left an indelible mark in the music industry with her signature sultry voice, which sometimes resembles that of a baby.
In early 2021, she was featured in Spotify's African Heat Ad Campaign and appeared on a billboard in New York Times Square. Not only has Duduzile's collaborative success catapulted her to household status in South Africa but abroad too. For her collaborative efforts that have helped cross amapiano over to the international market, Lady Du was dubbed "The Queen of Amapiano" by DJ De Mthuda in 2021.
How Much Does Lady Du Charge for a Gig?
The trailblazing vocalist has become one of the most booked artists in the country. Thanks to her numerous collaborative works that have made the music industry pay attention to her. In March 2022, it was reported that Lady Du charges between R25k and R50k for a gig. She also made it public that she will not be going to studios to make music for free after celebrating 15 years career milestone.
Over the years, the famed DJ has performed in many countries and also organizes weekend gigs across South Africa. In September 2022, she was sponsored by Bulldog Gin to perform at Makubenjalo Pub and Restaurant in London. In the following month, she returned to the United Kingdom and performed at One Fusion Night Club in Leeds.
Then from December 2nd-4th, 2022, Lady Du had weekend shows in Polokwane, Cape Town, and Pretoria. Interestingly, the singer-songwriter doesn't only earn from her musical gigs but makes tremendous fortunes from the royalties she collects for her numerous collaborations and songwriting efforts. While advising new artists on how to make money in the industry without releasing a hit song, she once revealed that her publishing royalties could set her up for life.
Lady Du's Discography
Saturday – Ntando Note ft. Lady Du
2000 – Pabi Cooper ft. Lady Du and Yumbs
Enjoyment – Busta 929 ft. Lady Du and Zwesh SA
Freeway (Remix) – Lady Du, Tripsy, Davido, & Nektunez ft. DJ Pee Raven
I Did It (Bum Bum) – Niniola ft. Lady Du
Ozumba Mbadiwe (Remix) – Reekado Banks ft. Lady Du
Angisho Guys – Cassper Nyovest ft. Lady Du
Piano Prayer – Cassper Nyovest ft. Semi Tee, Abidoza, Ma Lemon, Lady Du, and Kammu Dee
Bhanoyi – Cassper Nyovest ft. Semi Tee, Lady Du, and Kammu Dee
Gupta – Focalistic and Mr. JazziQ ft. Mellow & Sleazy and Lady Du
Zuma Yi Star
Woza – Mr. JazziQ ft. Kabza De Small, Boohle, and Lady Du
Umsebenzi Wethu – Busta 929 & Mpura, ft. Reece Madlisa, Zuma, and Lady Du
Dakiwe – DBN Gogo and Lady Du ft. Busta 929, SeeKay, and Mr. JazziQ
Tchukutsha – Makhadzi ft. Lady Du
Visa – DJ Hlo, Lady Du & Tee Jay
Soba Dubula – Thabo Jama and Lady Du
Thiba – Mbuso De Mbazo & Lady Du
Amehlo – Lady Du, Rei Cinco & Ice50 ft. Bucy
The Singer's Fell Out With Her Manager
In February 2022, Duduzile Ngwenya took to social media to expose the exploitation and mismanagement she was experiencing at the hands of her manager, Thabiso Khati. In the post, she disclosed that she was fed up with her management agency and would look for a new manager to work with. The award-winning songstress even cursed the day she signed her management contract.
She posted a series of tweets explaining how her manager had been sabotaging her career. She narrated how Thabiso Khati, instead of finding and booking her gigs, was telling promoters that she was unavailable. He blocked her from clinching several gigs while she was available and was sitting at home waiting for bookings. In addition to exposing her manager for not always paying her on time, she also revealed to her fans that he told off promoters by claiming that he doesn't work on weekends.
Meanwhile, Lady Du works on weekends, and Thabiso gets paid for her bookings. The 'Catalia' crooner got to learn about the exploitation and mismanagement when promoters started sending her direct messages on her social media handles. They proved their claims with screenshots of their conversations with her manager, which made her realize he was collecting cash from promoters.
After reading all the direct messages and screenshots sent to her, Lady Du broke down in tears and cried for several days. She was heartbroken that she lost a substantial sum of money while sitting at home, hoping to be booked without knowing her manager was sabotaging her career growth. She was consoled by other artists, including DBN Gogo and Boohle.
What Happened to Lady Du?
To the fans that saw me pass out last night, I apologise, I tried soooo hard to be strong, I tried to keep it together. I thought I'd be able to handle that last gig, But I broke down, I don't know how I'll ever perform msebenzi wethu.
I'm taking some time off! Thank you ❤️💔

— Ladydu (@Ladydu_sa) August 10, 2021
Lady Du passed out on stage while performing her feature song with Busta 929 and Mpura, 'Umsebenzi Wethu'. This happened after hearing about the tragic passing of Killer Kau, Mpura, and four others in a fatal car accident that occurred in Rustenburg, North West, in August 2021. She described Kau and Mpura as her best friends, and their death was quite devastating.
The popular DJ took to Twitter the next day after passing out on stage and apologized for what happened during her performance. She thought that she could be strong to perform the song but was unable to handle the overwhelming emotions she felt during her last gig. Consequently, she took time off to heal and be strong to perform again. And she seems to have recovered fully from the shocking experience.
Aged 30, Lady Du Won The Best Female Amapiano Artist Award
While in her late twenties, Lady Du reached some incredible career heights as many of her collaborative works were instant hits. Then at the age of 30, she was recognized with the South African Amapiano Award for the Best Female at the inaugural event of the Award show held at Sandton Convention Centre on October 23rd, 2021.
She dedicated the award to all the young girls working hard to be successful in life. Additionally, in the next month, she emerged as the biggest winner at the 13th annual Feather Awards after bagging two awards. The Gauteng-born won Feather Award for the Best Musician, which she shared with Makhadzi and the Fag Hag of the Year Award.
She also performed at the star-studded ceremony along with the Mzansi Gay Choir, Holly Rey, and Tamara Dey. Lady Du, who seemed to be over the moon with her achievements, immediately announced on Instagram after clinching two Feather Awards that she is now a multi-award-winning music artist.
Lady Du's Award Wins:
2021 South African Amapiano Award for the Best Female
Feather Award for the Best Musician, 2021
Fag Hag of the Year Award, 2021
Lady Du Calls Out SAMA For Nepotism
Since gaining mainstream media attention, Lady Du has become well known for her outspoken nature, which often gets her involved in controversies. In August 2022, after Musa Keys won SAMA Award for the Record of The Year with his song, 'Vula Mlomo' featuring Sir Trill and Nobantu Vilkazi, Dudu Ngwenya could not contain her feelings of displeasure with the award organizers. Hence, she took to social media to accuse SAMA of nepotism.
Even though she agreed not to send her songs to the award organizers for a possible nomination, she stated categorically that Musa Keys didn't deserve to win the award as her song, 'Woza' had registered a total of over 19 million streams while Keys' song was only sitting on over 8 million streams. She also hinted that the record producer won the award following the influence of his manager, whom she claimed was working for SAMA and involved in organizing the award show.
I would like to ask if nepotism works also at award ceremonies????? How does a person get a tender for organising artists to perform on stage, then the artist he is managing gets the biggest award of the night??? I want to know because Nina niya thula e South Africa??? Mina ngeke

— Ladydu (@Ladydu_sa) August 29, 2022
She further called SAMA a joke as her work, 'Umsebenzi Wethu' was nominated, but none of its artists was invited. Soon after, SAMA's spokesperson, Lesley Mofokeng, replied Lady Du, setting the record straight. He explained that Song of the Year is shortlisted based on Radio Monitor and not by streaming figures. He also corrected the DJ by citing that Musa Keys' manager works for Clive Morris Productions, who are contractors to the show, and doesn't work for SAMA.
Furthermore, he slammed Lady Du's accusations which he considered to be irresponsible. With many complaining that the SAMA awards were bought by artists, Mr. Mofokeng stated that Musa Keys' SAMA Award win was genuine as his manager had nothing to do with the voting system. On the other hand, Musa Keys' manager didn't take Lady Du's accusations lightly. Thus, he sued her for half a million rands in compensation.
Musa Makamu's manager, Nhlanhla Ndimande, filed the lawsuit at the Joburg High Court. He questioned how nepotism works at award ceremonies. Even without Lady Du mentioning his name, he knew her nepotism posts were directed at him, and that's why he took the necessary actions to clear his name. He claimed that Lady Du showed him the middle finger after asking her to delete the defamatory posts, apologize to him publicly, and pay him R500K.
Does Lady Du Have a Husband or Boyfriend?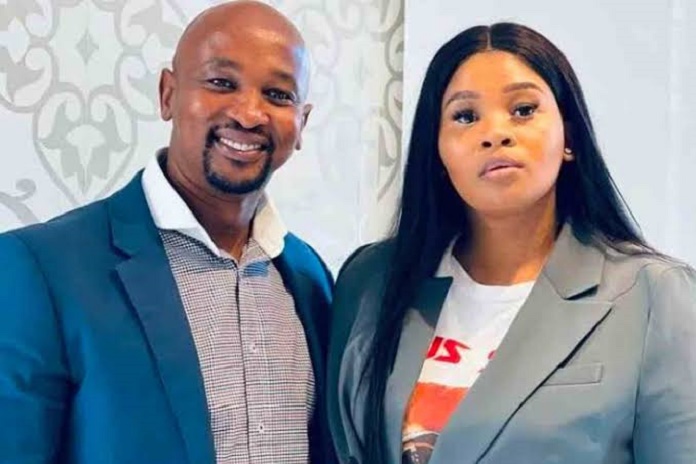 Lady Du is single at the moment and seems focused on her career. Even though some reports had it that she was once married to Isibaya actor Andile Mxakaza, the truth is that she was only engaged to him before they got separated. The Feather Award-winning singer met Andile when facing one of the darkest times of her life in March 2020. She went into depression in the previous year and wanted to take her life.
As a result, she got admitted to the hospital. Ironically, she wrote about Andile Mxakaza being a superstar in her song, 'Superstar' in 2019 without knowing that fate would bring them together in the next year. After meeting in March, Andile waited for Duduzile to be in a good space before making his intentions known. He counseled her and also prayed with her during those times.
After four months, the actor promised never to leave Lady Du. And thus, he proposed to her in August 2020. In the following year, a few months to celebrate their one-year engagement anniversary, Andile Mxakaza changed the singer's engagement ring with a Bellagio ring. Even though they seemed like a perfect match, often professing love for each other on social media, the lovebirds decided to call it quits in late 2021.
Why Lady Du and Andile Mxakaza Called Off Their Engagement
In January 2022, Lady Du and her ex-fiancé, Andile Mxakaza, shared posts about their breakup on their different Instagram handles. The 'Dakiwe' singer hinted that they just followed their hearts and didn't break up. She said it was the right thing to do before things go south as she was getting numerous attacks from people she didn't know as a result of her affair with the movie star.
Andile Mxakaza later apologized to Duduzile Ngwenya for not finding peace in their relationship. He wished her well and expressed that he was happy with her decision to walk away from the relationship. The two had a peaceful breakup as Lady Du requested, and they have remained close friends as Andile still shares posts about his former partner's music gigs on social media.
Who is Lady Du's Ex-fiancé, Andile Mxakaza?
Lady Du's former partner, Andile Mxakaza, is an actor and a model. He hails from Johannesburg and was born on May 11th, 1978. He is best recognized for his roles as Fezile in the Mzansi Magic series, Isibaya and Sgonondo in the SABC1 series, Zone 14. He also made guest appearances in the M-Net drama series Jacob's Cross.
Andile participated in a model search competition called Men's Health Look in 2008 and emerged as one of the finalists. With a keen interest in kickboxing, he further works as an exercise specialist.
Meet Lady Du's Daughter
Duduzile Ngwenya has a beautiful daughter called Mia. She gave birth to her baby girl in October 2016, at the age of 25. A strong bond of love exists between the duo who cherish spending time with one another. Lady Du's baby daddy is still unknown as she had her child from her previous relationship.
She is a very proud mother and often shares pictures and videos of her adorable daughter on her social media accounts. In October 2021, Mia celebrated her fifth birthday, and Lady Du organized a Frozen-themed birthday party for her at Creche with her friends. She treats her daughter as her best friend and also refers to her as the love of her life.