South African politician Khusela Dike (born 1979) is 44 years old. She got married to Nkosi Thandisizwe Diko in 2018, but their union sadly came to an end in 2021 following Nkosi's death. 
Khusela Diko is a South African politician who has seen the best and the worse episodes of what life could be. The quadragenarian has attained major political positions in the country, married a King, faced corruption allegations, and became a widow after burying her young husband. Her once happy, successful, and promising life now seems to be facing an unexpected downturn.
Coping with the death of a loved one is not a very easy thing to do, especially when the person in question is the husband of your youth. Diko lost her husband when she needed him more, a time when their company, Royal Bhaca, was under investigation, and her political career was facing a lot of uncertainties. His death at this point dealt a huge blow to her because she needed his support more than ever. All of these have not been easy for her. However, being a strong woman, she is managing to cope while getting back on her feet.
Summary of Khusela Diko's Biography
Full name: Khusela Diko (

néeSangoni

)
Gender: Female
Date of birth: 1979
Khusela Diko's Age: 44 years old
Ethnicity: African
Nationality: South Africa
Sexual Orientation: Straight
Marital Status: Widow
Khusela Diko's Late Husband: Nkosi Thandisizwe Diko (died in 2021)
Khusela Diko's Parents: Nkosikazi Nolwandle Sangoni
Khusela Diko's Instagram: khuselas
Twitter: @KhuselaS
Khusela Diko Is A Prominent South African Female Politician
Life begins at 40, they say, but for Khusela Diko, it began earlier than that. Khusela was born into a privileged home in 1979. Her father was a famous lawyer who owned a law firm that gets the credit for grooming some of the best lawyers we have today in the country, while her mother was a teacher.
After graduating from the University of South Africa (UNISA), where she studied Commerce for her first degree, she was inspired by her grandmother and mother to venture into politics – which she did. This decision turned out to be a blessing as it has seen her hold major political positions in the country, especially within the ruling African National Congress (ANC) like a member of the Provincial Executive Committee – ANC Gauteng, Chief Director of Communications – Gauteng Provincial Government, before rising to become the spokesperson of the President of South Africa.
The brilliant thing about the story of her political career is that Khusela Diko scored all of these points in the South African political field before the age of 40. And the fact that she is a woman in a political world dominated by men but has managed to thrive further buttresses the fact that success is achievable if you put in the work.
What is more beautiful is that before age 40, she became a queen, literally – having married into a royal family. This was something from the fairy tale movies. A perfectly crafted future was all before her eyes until life happened. In one swift blow, Diko went from being one of the leading women in South African politics to becoming a political outcast. She went from being a queen, married to a young king, to being a widow. How she has coped with these devastating and heart-rending situations is something for the Oscars.
According To Her, The Death Of Her Husband Tore Her Heart Into A Million Pieces
The news of the death of Khusela Diko's husband, Nkosi Thandisizwe Diko, came as a shock to everyone. He was just 42 years old at the time, and as such, nobody saw his death coming. As heartbroken and sad as anybody must have felt, his wife seemed to have been feeling the deepest pain.
In a tribute she wrote for him that was read at his funeral service by Rethabile Matolweni, she narrated how that was the hardest letter she has ever written in her entire life and that the news of his death had broken her heart into a million pieces. She said he promised never to leave her, and in her wildest imaginations, she could not have expected that he would leave her so soon.
She added that her husband lived his life as though it could come to an end the next day and that the seven years she knew him for were full of love. Aside from herself, other people also had good things to say about him. Since his death, Khusela Diko has remained inactive on Instagram and has not uploaded any picture the way she usually does. From the look of things, she is still trying to get herself together.
Khusela Diko Married Nkosi Traditionally At The Age Of 39
The beautiful Khusela Diko married her late husband in December 2018 in a traditional marriage ceremony that many referred to as the "Wedding of the Year." The two-day ceremony started on the 14th of December at AbaThembu, Khusela's hometown, and continued the next day at her husband's hometown at KwaBhaca.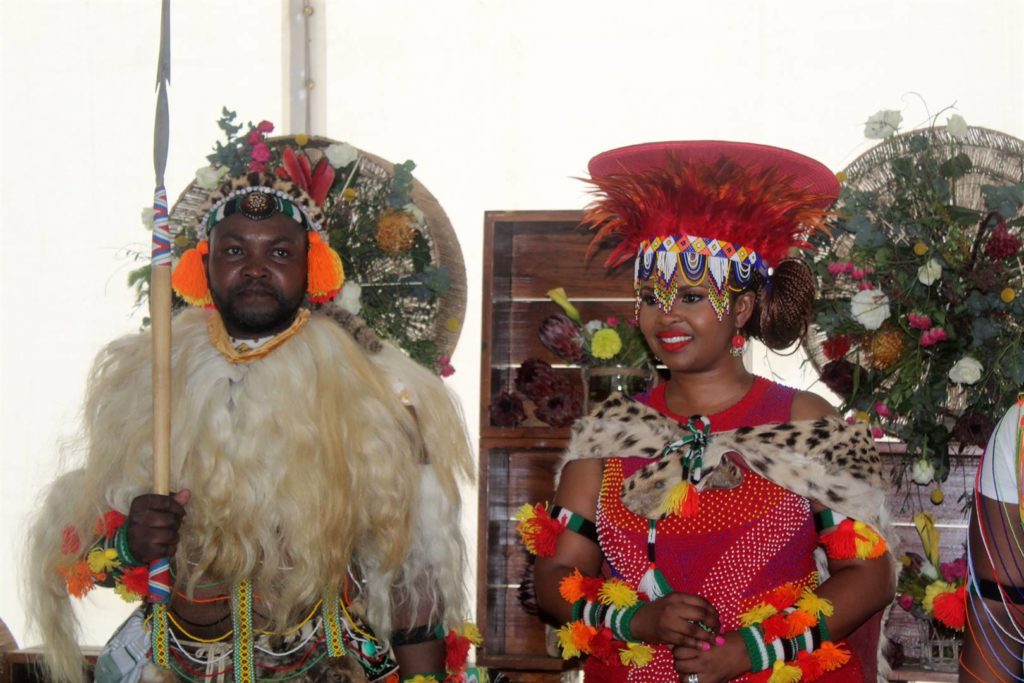 People of both kingdoms refer to their wedding as not just a union between two people, but a union between two kingdoms that formerly used to be at loggerheads. Both the bride, groom, and guests were dressed in full traditional attires.
The wedding was attended by major political elites like the then Deputy Minister of the Cooperative Governance and Traditional Affairs, Minister of Public Works, elite members of the ANC, and Royalties from different parts of the country. The exact amount her husband paid for her lobola was not open for public knowledge, but it included 24 cattle, which were stolen almost two weeks after the wedding, but the thieves were caught and arrested soon afterward.
We do not have information about how they met, but what we know is that they met three years before their traditional wedding and were married legally two years before they went on to seal their union traditionally. Also, there is no information regarding any child/children the couple has had since their wedding.
Khusela Diko's Husband Was A King, and She Became A Widow At 42
Many people know Nkosi Thandisizwe Diko as the husband of Khusela Diko but what most do not know is that before his death, Chief Thandisizwe Diko II was the reigning king of AmaBhaca who ascended the throne as the king of the Bhaca kingdom in April 2010.
He earned a bachelor's degree in law and sociology at the University of Natal and his master's degree in Development Communication at the University of Pretoria. At the time of his death, both he and his wife pursued their LLB at the University of South Africa (UNISA).
In 2020, Nkosi Thandisizwe Diko's company, Royal Bhaca, was slammed with corruption charges due to being one of the beneficiaries of a R2.2 billion COVID-19 PPE tender that was inflated. His company was said to have received R139 million from the Gauteng Department of Health as payment for hiked prices of PPEs. However, Thandisizwe Diko denied the allegations.
While investigations were still ongoing, the news of his death broke in February 2021. According to reports, he died after a brief illness at a hospital in East London. There is little or no information regarding the number of children he had with Khusela, but his son gave a speech at his funeral. We don't know if it is a child he shared with Khusela Diko or with another woman.
Khusela Diko Became The Spokesperson Of The President At The Age Of 39
In March 2018, Khusela Diko was announced as the spokesperson of President Cyril Ramaphosa, following his decision to reshuffle the cabinet after taking over from Jacob Zuma. Khusela Diko had prior experience in communication, despite studying commerce in the university, which had her in good stead for the position.
Khusela Diko's appointment can be credited to her loyal service to the ANC, the political party in which she had served as communication manager before moving to the Union Building as the president's spokesperson. Also, before joining the ANC, she served the Gauteng Provincial Government as Chief Director of Communications.
At the age of 39, she was already a member of the Provincial Executive Committee and the Provincial Working Committee of ANC Gauteng, which happens to be the highest decision-making structure of ANC in the province.
Unfortunately for her, due to her husband's involvement in the Gauteng Department of Health PPE tender, she was forced to go on a special leave due to allegations that she played a role in helping her husband's company get the contract. As of this writing, investigations are still ongoing to prove whether she is guilty or not while she's also dealing with her husband's demise.