Master KG is a South African musician and record producer who has an estimated net worth of $600,000 as of this writing. Thanks to his strong financial backbone, he has a fleet of cars, including Porsche 718 Boxster GTS, Ferrari FF, Mercedes Benz A-Class, BMW 3 Series, Audi A6 Avant, and Volkswagen Golf 7R.
With just six active years in the music industry, the master of Limpopo, Master KG, has become a household name in the South African music industry and across the globe, with several hit tracks that have gained international recognition and love.
With his major income source as music and a net worth of $600,000, Master KG is one of the richest South African musicians and the richest South African artist from Limpopo. Like other rich celebrities like Kabza De Small and King Monada, to mention a few, Master KG also spends his wealth on cool and fast cars, but also, the Master of Limpopo spends on his fans.
Master KG Has a Net Worth Of $600,000
Master KG has not been in the music industry for a long time as he came into the limelight in 2016. Nevertheless, he is already wealthier than most of the celebrities in his cadre. As the richest artist from Limpopo, Master KG has a net worth of $600,000. Although he has not been in the limelight for a long time, his fame and wealth result from how well his music has done in the market.
The 27 years old artist makes most of his money from his songs, endorsement deals, and royalties. His fame is spread across the world, and he has been invited to perform in countries like Zambia and Ethiopia. Building a net worth of $600,000 in less than five years is undeniably a big achievement, especially for someone as young as he is. Considering his vibe and how fast he became successful, you can obviously tell that in years to come, Master KG will be worth more than $600,000, so we should be expecting more from his stables.
Music Is The Major Source Of Master KG's Wealth
Master KG, whose real name is Kgaogelo Moagi, is a musician and a record producer. A major part of his $600,000 net worth is from his musical achievements. In 2016, Master KG released his first single, Situation. The track now has over 3 million YouTube views; however, that was the tip of the iceberg compared to the other tracks that came after it.
The wave of his debut single generated landed him a deal with Open Mic Productions, which is his current record label. In 2018, he released his debut album 'Skeleton Move' under the label. Of course, it did better than the first with over 10 million views. Most of the album tracks were hit tracks and earned him a lot of money from the streams from various platforms like YouTube.
In 2019, he released another album titled 'Jerusalema' featuring Nomcebo Zikode. The release of this album was the peak of his success. The album was released in 2019, but the title track, Jerusalema, went viral online in 2020 during the COVID-19 lockdown. At the time of this post, it had gotten over 300 million views on YouTube with millions of streams on other streaming platforms.
Many people from different countries took to social media platforms like Tiktok, YouTube, Twitter, Instagram to show their love for the song as Jerusalema went platinum and took Master KG's name worldwide. All these streams did not just come with fame alone, but money as well. With over 300 million views on YouTube, Master KG must have made over $10,000 from YouTube alone. In Italy, Jerusalema went 3x platinum.
Sadly, the hit track went viral at a time when gatherings and events were not allowed, so he had to miss out on the money he would have gotten from attending shows and events. With the relaxation of some of the COVID-19 lockdown measures in 2021, Master KG has been invited for shows in some African countries. With his increased fame, booking Master KG for an event is estimated to be more than R200,000, depending on the location and how long you will like him to perform.
For someone who is performing internationally, you can now imagine how much he is making. With the fame and success of Jerusalema, Master KG went ahead to release a remix featuring Nomcebo Zikode and Nigeria Afrobeat superstar Burna Boy. As expected, the remix also did well.
Master KG Also Makes Money From Royalties And Endorsement Deals
Master KG's $600,000 net worth was also built from royalties and endorsement deals. After Jerusalema went viral, many people got involved in the Jerusalema dance challenge. When Master KG was losing out on the money he should have been making from shows, companies were taking advantage of his fame and music to promote their brands without paying him for it.
When this got to his notice, his record label demanded that all companies who used the song to the advantage of their brand must pay. Open Mic Production's lawyer, Dumisani Motsamai, said any company that refused to pay would be taken to court. Even companies in Germany who used the song were fined.
The fame Master KG and Nomcebo Zikode, who he featured in the song got, opened doors for them to earn more money from endorsement deals. Master KG and Nomcebo Zikode were announced as South African ambassadors in July 2020 by the Arts and Culture Minister, Nathi Mthethwa. According to the minister, the two talented South African artists will be a part of South African's team touring different countries to showcase the country's talent.
Master KG Owns A Beautiful House And Fleet Of Expensive Cars
You may be wondering what Master KG does with all the money he has realized from his hit tracks, event performance, and endorsement deals. Well, Master KG is a lover of good cars, of which he has a good number.
In 2019, after his song Skeleton Move got 10 million views on YouTube, Master KG decided to buy himself a beautiful house in Midrand, Gauteng. The view he showed fans reveals that the house has a garage space and a veranda where its occupants can sit in to enjoy a good view. The property is worth R2.5 million. Master KG also has some expensive and fast cars, and they include the following:
Volkswagen Golf 7R – $23,000
Master KG bought the Volkswagen a few weeks before his 23rd birthday as an early birthday present to himself.
Volkswagen Golf 7R Specs:
150 Hp @ 3000-4000 rpm maximum horsepower
76.2 Hp/l Power per litre
320 Nm @ 1750-3000 rpm. 236.02 lb.-ft. @ 1750-3000 rpm torque
Front, Transverse engine location
Audi A6 Avant – R889,600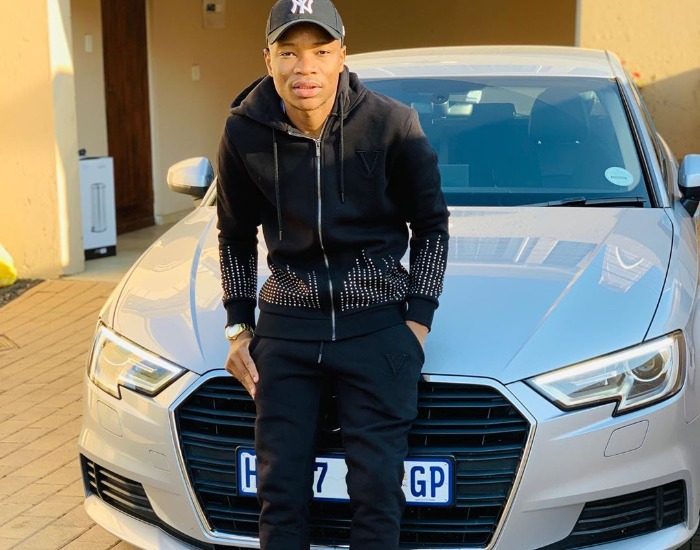 Specs:
Can accelerate from 0-100 km/h in 7.8 seconds
400 (295.0) / 1750 – 3000 Max. torque in Nm (lb-ft) / at rpm
150 (204) / 3750 – 4200 Max. power output in kW (hp) / at rpm
241 (149.8) Top speed in km/h (mph)
BMW 3 Series
The record producer decided to splash the cash on himself after his track Jerusalema reached 100 million views on YouTube. Guess what? He spoiled himself with a blue BMW 3 series, which he showed his fans on his social media handle.
Specs:
250 Top speed in km/h
Can accelerate from 0 to 100 km/h (62 mph) in 5.8 seconds
Twin-power turbo four-cylinder engine
Mercedes Benz A-Class – $33,650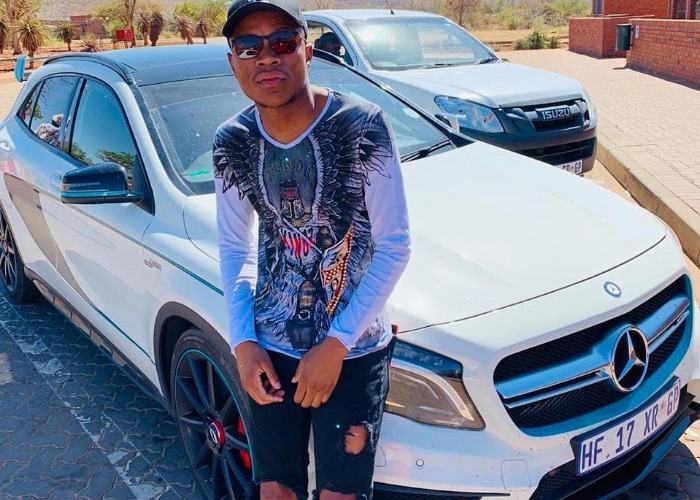 Specs:
1595 Engine displacement (cc)
122bhp@5000rpm maximum horsepower
200Nm@1250-4000rpm maximum torque
Ferrari FF – $370,000
In September 2020, Master KG took to Instagram to show his fans his newest ride after Jerusalema got 150 views on YouTube.
Specs:
Can accelerate from 0 to 100 km/h (62 mph) in 3.7 seconds
Maximum Speed of 208 mph
Naturally aspirated 6.3L V12 Engine
Porsche 718 Boxster GTS – R1.5 million
Two months after dazing fans with Ferrari's purchase, the master of Limpopo strolled into the car mart again and came out with a brand new Porsche ride.
From Tough Times To Good Times We Remain Together me And this brother of mine…We started this Journey Together And We Still Together…Chezzz To More Years 🍾 🙌 pic.twitter.com/3OufFAdvIX

— MASTER KG (@MasterKGsa) February 17, 2021