Junior De Rocka is a famous South African DJ who started making waves in the country as a talented disc jockey when he was in his teen years. Presently, the 31 years old ranks among the highest-paid DJs in Mzansi. He is famously known for performing in notable clubs in Durban and many other popular events.
Also, he has had gigs outside the country and has been presenting music shows on several radio stations in SA, including Ukhozi FM, the largest radio station in the country. Having been active in the music scene for over a decade, Junior De Rocka has gained a handful of award nominations and has taken home a few.
In addition to being famous for his DJ works, Junior is well-known for his love life which he has made an open book to his fans. His massive fanbase adores him, and his amazing disc jockey skills have made him quite popular with the young audience.

Junior De Rocka Biography and Profile Summary
Full Name: Mthembu Junior Mzizi
Nickname: Junior De Rocka
Gender: Male
Date of birth: May 16th, 1992
Junior De Rocka's Age: 31 years old
Nationality: South African
Zodiac Sign: Taurus
Sexual Orientation: Straight
Religion: Christian
Marital Status: Dating (Asanda Minaj)
Junior De Rocka's Children: 1 daughter; Sbahle Lisakhanya Mzizi
Junior De Rocka's Parents: Mrs. Mthembu (Mother)
Junior De Rocka's Net Worth: $1 million – $5 million
Famous for: Rocka Empire, Catalia, AmaDimoni, Kash
Junior De Rocka's Instagram: @juniorderocka
Twitter: @JuniorDeRocka
Facebook: Junior De Rocka DJ
Junior De Rocka Was Born 31 Years Ago
The award-winning DJ arrived into the world in the city of KwaMashu, in the coastal province of Kwa-Zulu Natal, South Africa. His birthdate is May 16th, 1992, making him 31 years old. He grew up in his place of birth – KwaMashu, a township that is 12 kilometers north of Durban.
Having been raised in Durban, Junior De Rocka has spent most of his life in the coastal city. He presently resides in Umhlanga in Durban and has carried out most of his disc jockey gigs in the city. As a result, he is often referred to as "the Durban DJ."
His Real Name is Mthembu Junior Mzizi
Since his teenage years, Junior De Rocka has been gaining strong admiration from music lovers across Mzansi. Of course, his stage name has made him stand out from the rest. Though it's not of public knowledge how the name came about, it's well known that the DJ is very fond of his stage name as he usually quotes, "If it ain't De Rocka, then it ain't Junior."
He was born Mthembu Junior Mzizi and has been in the limelight as DJ Junior De Rocka since the onset of his musical career. He often lights up venues by putting up zest performances. Little wonder he chose the unique stage name that perfectly compliments his disc jockey techniques and musical style.
Meet Junior Mzizi's Family Members
Junior De Rocka shares a very strong bond with his mum, whom he normally refers to as MaMthembu on Instagram. The two have an enviable mother-son relationship, and the DJ has never failed to shower her with lots of love during her birthday celebrations and mother's day celebrations as well.
He has stated that his mother contributed a lot to who he is today as she has always supported his career choice right from the onset, and her blessings have brought him thus far. He is thankful that she sacrificed her sleep and was accompanying him to clubs, showing so much belief in him.
Besides his mum, Junior De Rocka is yet to reveal the identities of his father and siblings (if any). He only shares posts about his super-supporting mother on social media platforms.
He Gifted His Mum a Brand New Car at Age 25
As one of the highest-paid South African DJs, Junior Mzizi has accumulated a huge wealth at a young age. Not only does he lead a luxurious lifestyle―showing off fleets of expensive cars and traveling to countries across the globe, but he also ensures that his loved ones have their share of luxury life.
In October 2017, when the DJ was just 25 years of age, he decided to surprise his mother with a gift of a brand new Mercedes Benz, which has been her dream car. It was an emotional moment for the two as his mother couldn't hold back tears of joy.
The brand new car was Junior's appreciation package to his sweet mum for the sacrifices she has made for him and for believing in him. Having known how much his mother desired the car, it became a burden to him to fulfill her dreams. He was happy to have done so and stated that he would forever cherish the moment.
Junior De Rocka Started Playing in Clubs When He Was 16 Years Old
The talented disc jokey reportedly started working as a club DJ when he was only sixteen. Over the years, he has been associated with many clubs and event centers. At the age of 24, in July 2016, he was one of the DJs featured in Experience D'Banj hosted at 47th Avenue in Durban.
In late 2016, he had over 30 DJ gigs during the festive season. He performed at Jobe's Night Life and F***ink Durban in November, and the following month, he was featured in Gagasi Beach Festival, Kwa Mashu Splash, Ndayi Home Coming, AMCOR Music Festival, Xmas Take Off, Midmar Music Festival, Summer on Smash, among many others.
Then from September 2017 to October 2017, he went on a music tour with Distruction Boyz. He performed with the music duo in several cities in Mzansi, including Cape Town, Newcastle, East London, Margate, and Durban. Later in December, he was featured at the launch of West Ink Banger at Taboo Popup.
In the same month, he had a disc jockey gig at the 6th Annual Richards Bay Imbizo. Then in 2018, he was also booked for several gigs that kept him busy throughout the year. He was featured in Run DBN Invades PMB in April, and later in August, he hosted Champagne Saturdays at Rich Durban, a Champagne & Cigar Lounge.
Junior De Rocka then ended the year with notable gigs, including performing alongside DJ Black Coffee, Nasty C, DJ Givic, and Stanky The DJ at F***ink Party during Rage Festival Ballito and at Sodwana Bay Bush Festival.
At The Age of 27, He Co-Founded Rocka Empire
Before forming the prestigious record label, Rocka Empire, Junior De Rocka had already gone international as he rocked it out at The Penthouse in Dubai in January 2019. His career reached a new height in late 2019 when he co-founded Rocka Empire alongside DJ Stanky, Famo X Ghost Gang, and JNR B and started working together with the Rocka Empire team.
Since its establishment, Rocka Empire has been organizing several shows, which mostly feature its artists. From September 27th to September 29th, 2019, Junior De Rocka had five shows. They include AMCOR Music Festival, Ivyson Tour, and Heritage Music Festival.
The Rocka Empire team further hosted Rocka Empire Invasion & Campmasters on December 7th, 2019. Also, Junior Mzizi had disc jockey gigs at Rockets and on Durban Braai Day 2019 in that same month. He was also featured in Durban's Lockdown House Party in August 2020.
In the following year, he hosted Social Saturdays at Capello in Midrand and Live Balcony Experience at Cloud 7 Lifestyle. Throughout his career, he has had performances at other clubs such as Rockets Menlyn, Saint Champagne Bar & Lounge, Rockets Bryanston, Escobar Lounge, and Notwane Lifestyle Club in Botswana.
While in His Late 20s, The Music Artist Turned into a Radio Personality 
Undoubtedly, Junior De Rocka is a multi-talented young man who has achieved great milestones at his age. Besides working as a disc jockey and music artist, he has served as the host of a handful of music shows on different radio stations, including Africa's largest radio station, Ukhozi FM.
In September 2019, when he was 27, the DJ began co-hosting a music show, Sisonke Drive Mix, alongside Mroza and Mzokoloko on Ukhozi FM every Thursday. Later in April 2020, he had another radio music mix show, The UltiMix, which he presented on 5FM. He has continued to showcase his talent across TV stations in recent years, having served as the presenter of KZN Coast2Coast Mix on Channel O in 2021.
The DJ's Catalia is an International Hit Song
Throughout his musical career, Junior De Rocka has released several hit songs. In 2015, he collaborated with several artists to release a smash song titled 'Ufunan.' Later, on December 13th, 2016, his single 'Been Thinking' was launched at 47th Avenue, Durban.
He further released another single titled 'Ngiyam'thandalona' featuring Xceen in 2018. In the following year, he dropped 'On the Road.' The young DJ then emerged as a hitmaker following the release of his collaboration single 'Catalia' with DJ Lady Du in early 2021.
The two featured many artists, including Mr. JazziQ, Mellow & Sleazy in the song, which was commercially successful. It topped different music charts in several countries and became a top 10 charting song in South Africa, Botswana, and Swaziland. It also clinched a top 40 spot in Zimbabwe.
Catalia was further ranked among the best 15 SA songs of the month by African Music Promotion in February 2021, and the next month, it debuted at No.1 on Ukhozi FM's top 20 songs. Some other singles released by DJ Junior De Rocka include the 'Izinto Zakhona' feat. Beats and Kid X, 'Kash' – a collaboration with DBN Gogo, and 'Indawenhle.'
List of Junior De Rocka's Songs
Been Thinking (2016)
AmaDimoni (2018)
Ngiyam'thandalona (2018)
On The Road (2019)
Izinto Zakhona (2020)
Indaw'enhle (2021)
Kash (2021)
Catalia (2021)
Junior De Rocka Emerged as the King of KZN When He Was 24 Years Old
At 24, the radio personality clinched the King of Kwa-Zulu Natal Award at the 2016 SA Hip Hop Awards. He has also been nominated for other awards in the last few years. In 2017, he was nominated for SA Hip Hop Award for Best Remix, and in 2021, he gained a nomination for Amapiano Music Award.
It's worth noting that the KwaMashu-born is a two-time Platinum-selling DJ. In 2021, Junior De Rocka's songs had 1.5 million streams on Spotify, with over 343 listeners in 158 countries. No wonder he is one of South Africa's most popular DJs.
Highlights of Junior Mzizi's Awards And Nominations
King of Kwa-Zulu Natal Award from SA Hip Hop Awards.
SA Hip Hop Award Nomination for Best Remix
Amapiano Music Award Nomination.
Two-time Platinum-selling DJ.
Who is Junior De Rocka Dating Now?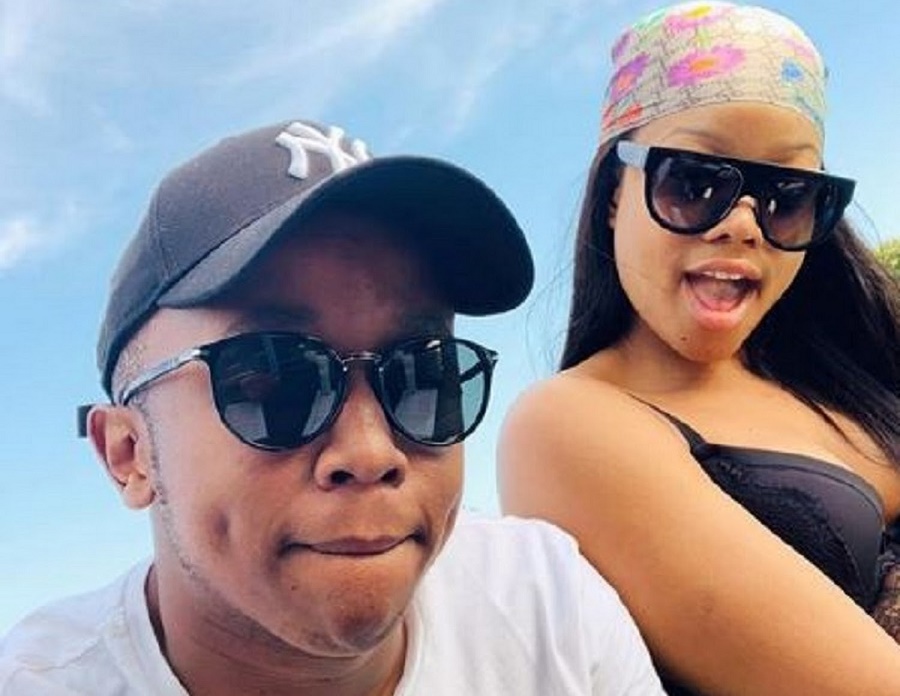 Junior Mzizi began dating Asanda Minaj in January 2018, and the lovebirds often celebrate their anniversary on January 22nd. In 2019, they traveled to Thailand to celebrate their anniversary and the music star didn't hesitate to share an Instagram post, professing his love for his bae.
While celebrating their third dating anniversary in January 2021, he shared another romantic post, wishing Asanda a happy anniversary. The pair seem to be happily in love and are enjoying a blissful romantic relationship. At the moment, there is a trifle of information regarding what Junior De Rocka's girlfriend does for a living.
The DJ Welcomed His First Child at The Age of 25
Before becoming an item with Asanda, Junior was in a public relationship with Ntando Duma. The two were among the favorite celebrity couples in South Africa at the time, and their relationship was admired by their army of followers. The pair were used to sharing pictures of themselves enjoying special moments with their fans.
They dated for a while before announcing about expecting a child together in 2017, which got their fans elated. Their baby girl, Sbahle Lisakhanya Mzizi, was born on June 28th, 2017, making Junior De Rocka a father at the age of 25.
Though the relationship between Junior and Ntando Duma went soar while Ntando was pregnant, the two eventually broke up in 2018. Nonetheless, they have been co-parenting their daughter since then. In 2019, the former couple had an issue with child support payment but later settled their differences and are now best friends.
Junior De Rocka is a doting father who loves spending time with his daughter. Despite having a tight schedule due to his DJ gigs, he still makes out time to be with Sbahle and often shares pictures of himself with his lovely girl on his Instagram handle.
What Caused The Former Couple's Break Up?
Ntando Duma and Junior De Rocka looked inseparable while they were dating. They were really into each other and normally flood their social media accounts with lovely pictures of themselves. Sometime in 2017, their fans began to notice that they hardly share pictures of themselves again and thus, began speculating about a possible break-up.
After announcing their separation in 2018, Ntando later revealed that they decided to break up because they were tired of fighting constantly. She further disclosed that Junior cheated on her with another woman while they were dating and abused her physically when she was two months pregnant.
Junior De Rocka's Baby Mama is a Renowned Actress
Junior De Rocka's former girlfriend and baby mama, Ntando Duma, is a well-known South African actress. She also has carried out some works in the capacity of a TV presenter. She began serving as the host of Craz-e on e.tv in 2014 and has had roles in soap operas such as Rythm City and Queen.
Duma has additionally worked as a model. She participated in the Soweto fashion week runway in the year 2015. Furthermore, she is the founder of Inspire A Teen SA Foundation. The TV presenter was born on August 29th, 1995, in Orange Farm, Johannesburg, South Africa.