It is almost impossible to talk about Johannesburg time without mentioning the South Africa Standard Time (SAST); the South African Standard Time is also used all year in two other African countries, Lesotho and Swaziland.
Before we go any further, I think it's best to ask ourselves the question; what is time?
The general overview of time today is that which is measured by the tick of a clock. It came about mostly as a result of industrialization when workers were monitored and measured by the time they put into their work.
As time went on, the concept of time began to evolve. Most began to see time not just as a measure of work put in, but as an asset which needed to be saved, used, made, wasted and even invested.
Today we all see time as of greater importance and that's why they say "Time is Money", use it wisely and it will take you to greater heights.
The time in Johannesburg now, which is the South African Standard Time (SAST) is two hours ahead of the Coordinated Universal Time (UTC), which is the standard time used across the world. There are other time zones with the exact time of the SAST, such time zones are:
1. Bravo Time Zone (B): Used by the military and in aviation.
2. Central Africa Time (CAT): Used by countries such as Botswana, Burundi, Congo Dem. Republic – Eastern region, Malawi, Mozambique, Rwanda, Zambia and Zimbabwe.
3. Central European Summer Time (CEST): This time zone is a Daylight Saving Time used in Europe and Antarctica during summer. The countries using CEST in summer include: Albania, Andorra, Austria, Belgium, Bosnia-Herzegovina, Croatia, Czech Republic, Denmark, France, Germany, Gibraltar, Hungary, Italy, Kosovo, Liechtenstein, Macedonia, Malta, Monaco, Montenegro, Netherlands, Norway, Poland, Serbia, Slovenia, Sweden, Switzerland and most part of Spain.
4. Eastern European Time (EET): This time zone is used in Europe, Asia and Africa. It is also affected in summer as most countries observe the Daylight Saving Time during this time. Countries that use the EET include Bulgaria, Estonia, Finland, Greece, Latvia, Lithuania, Moldova, Romania, Turkey, Ukraine, Cyprus, Lebanon, Syria, Egypt and Libya.
5. Israel Standard Time (IST): This is the time zone used in Israel.
4. West Africa Summer Time (WAST): This is a daylight saving time zone used in Namibia.
Daylight Saving Time (DST)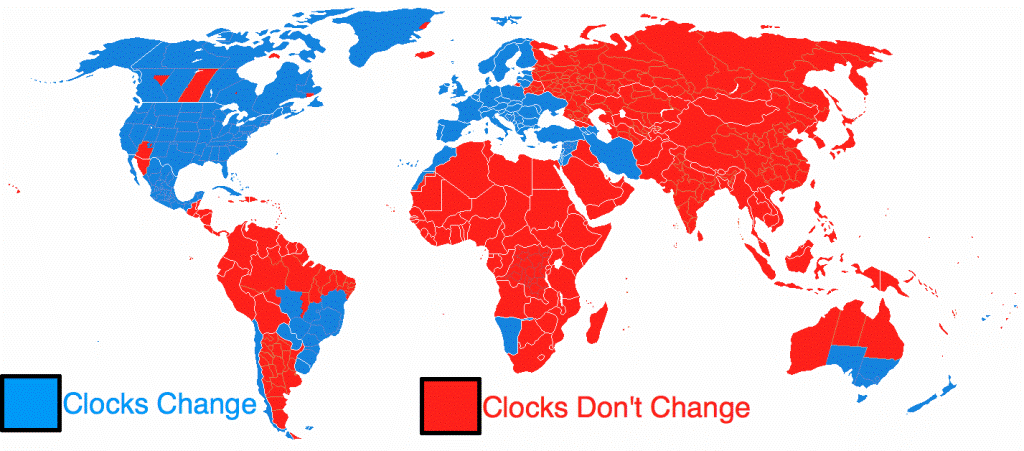 Daylight Saving Time is the process whereby various countries move the time forward by an hour, this is usually done during summer to take advantage of the natural daylight the summer brings. The time is eventually brought back to normal in fall.
DST in the northern hemisphere (USA, Central America, Canada, Europe, Asia and northern Africa) is usually observed between March and April. It is later switched back between September and November, depending on when the light is lost.
See Also: South African Time: How Much Do You Know?
While in the southern hemisphere (Australia, New Zealand, South America and Southern Africa), DST starts between September – November and ends between March – April.
Though South Africa observed a daylight saving time in 1942, 1943 and 1944, Johannesburg time currently does not observe the DST, and therefore will not be affected by the Daylight Saving Time this year.
Major Cities With The Same Time As Johannesburg
Amsterdam, Andorra La Vella, Barcelona, Belgrade, Berlin, Bern, Bratislava, Brussels, Budapest, Bujumbura, Cairo, Copenhagen, Frankfurt, Gaborone, Geneva, Gibraltar, Harare, Kaliningrad, Kigali, Lilongwe, Ljubljana, Longyearbyen, Lubumbashi, Lusaka, Luxembourg, Madrid, Maputo, Maseru, Mbabane, Milan, Monaco, Oslo, Palma, Paris, Podgorica, Prague, Pristina, Rome, San Marino, Sarajevo, Skopje, Stockholm, Tirana, Tripoli, Tromso, Vaduz, Valletta, Vatican City, Vienna, Warsaw, Windhoek, Zagreb and Zurich.
The above list may vary during the year, as countries observe DST (Daylight Saving Time) during different periods.
Time Orientation In Johannesburg
Although the time orientation of people who live and visit Johannesburg may vary from one person to another, the general time orientation for most living in Johannesburg is that of the present time. Meaning living in the present is more important to them, as opposed to focusing much on the past or future.
In addition to the above, most people in Johannesburg would say "I'll see you later" as opposed to "I'll see you tomorrow". Both statements are talking about the future, but only one is specific.
Same applies to other areas when talking about time. As such, you will find that there is most likely going to be a delay when meetings and appointments are scheduled in these areas.