Similar to all emerging economies in the world, South Africa has a large population of unemployed folks seeking to land a good job or what most people call the dream job. With this in mind, numerous job websites in South Africa have sprung up in an attempt to bridge the gap between the employer and the massive pool of unemployed people.
Employers can visit these websites to list freely the vacancies that they have to offer while job hunters visit them in search of job opportunities. This has gone a long way in improving the economy and making people's lives better as finding that dream job is only just a click away.
Currently, there are numerous job websites in South Africa. Some have proven to be phony while others do indeed offer genuine vacancies. Below is a look at the 20 most popular job websites in South Africa.
1. Robert Walters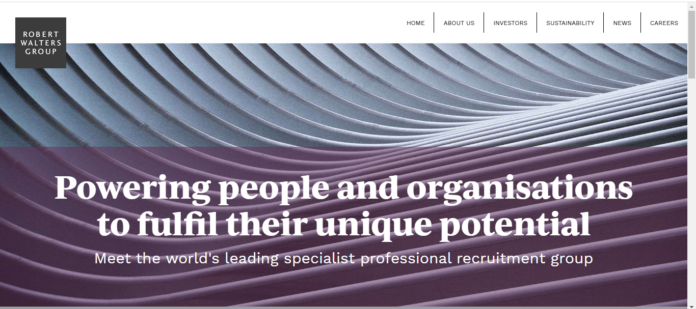 In South Africa, Robert Walters' office is to be found in Sandton, Johannesburg. The agency has dedicated its operations particularly to the recruiting of financial, banking, and accounting professionals. In addition, it recruits the administration plus support staff on behalf of various financial institutions in addition to Commercial Corporations all over South Africa.
On their job website, the company states that it recruits mainly for permanent contract positions on behalf of its client companies. Robert Walter has offers scattered in over 20 countries throughout the continent. The agency can be regarded without fear as a global agency. Because of the highly specialized and professional service they provide, Robert Walters South Africa has established relationships with businesses of various sizes, ranging from SMEs to the world's leading institutions
Address: 15th Floor Green Park Corner Cnr West Road South and, Lower Rd, Sandton, 2196
2. Careerjet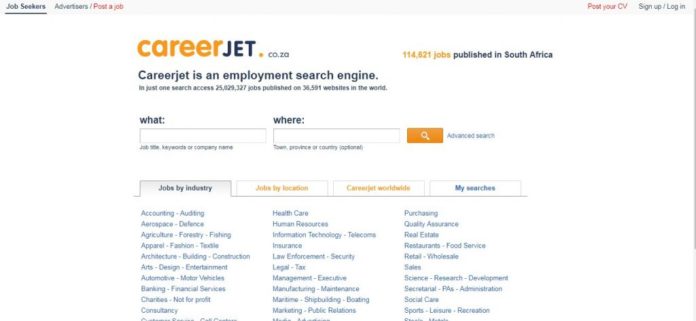 Careerjet is a job search engine for South Africa. The search engine searches all the available jobs from all over South Africa from tens of thousands of websites. A simple search for a certain job on the Careerjet website produces numerous results thereby increasing the chances of getting the appropriate job that they so desperately need.
3. JobMail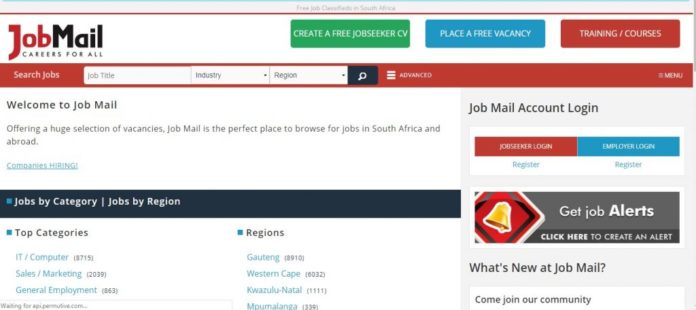 JobMail boasts of having over 10,000 jobs listed in over 50 categories on its portal at any particular time. The job portal goes further to subdivide the available jobs according to the regions the companies' hiring operates from. This way, job seekers can search for a job from the regions they really want to work in.
What's even more amazing about JobMail is that the portal lists the companies that they list the vacancies for. Job seekers can alternatively click on any of the listed companies to see the sneak preview of all the vacancies in that particular company. JobMail goes a step further to give job seekers advice through well-crafted articles that inform job seekers how to write their CVs as well as how to conduct themselves during interviews.
Address: 1312 Pretorius St, Hatfield, Pretoria, 0028
4. BestJobs

In addition to being able to search for any jobs on the website, BestJobs also lets users open an account. Armed with an identity, users can then search for the job of their choice while employers can go ahead to list the job vacancy that they want to be listed on the portal. The job seekers get a job alert, modify that job alert as well as remove the job alert at the opportune moment that they feel that they no longer need to be receiving the job alerts.
5. Career24

Career24 boasts of having fresh new jobs uploaded to the portal daily. Career seekers can use the portal to seek the job of their choices. Career seekers can search the portal through thousands of job ads for the job of their choice. Additionally, job seekers are required to upload their CVs to increase their chances of landing the job that they are so desperately looking for. The portal also gives the job seekers the opening to apply for the jobs of their choice online.
6. Pnet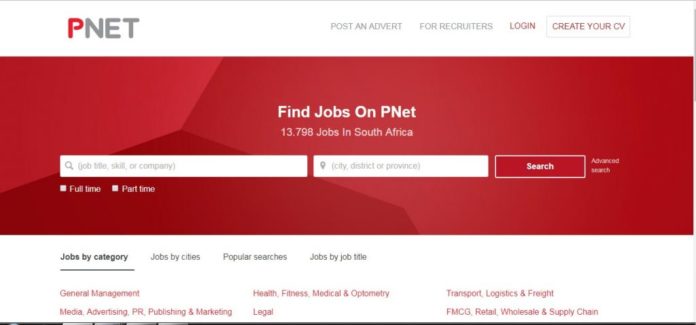 Pnet is arguably South Africa's number 1 job site. Career seekers can search for jobs across South Africa on the platform. In addition to providing a minefield to find work, the portal also provided employers with the opportunity to recruit the ideal candidates from a pool of numerous applicants from all over South Africa.
7. Recruit Direct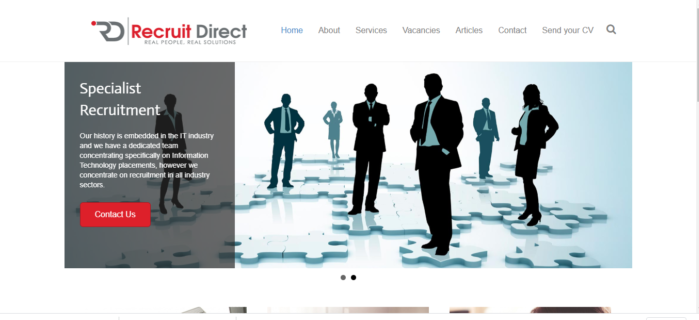 All recruitment agencies, as well as job seekers, agree that the current job market and recruitment industry in South Africa is both competitive and diverse. With this in mind, job seekers should, therefore, make sure that their CVs get the maximum exposure there is. That way, they can easily score a job opportunity that many other qualified candidates are looking for.
Jobs websites in South Africa such as Recruit Direct provide online recruitment services to both job seekers as well as HR departments of various industries thereby bridging the gap between the job seeker and the potential employer. The recruitment agency provides a mix of conventional job seeker and employer/recruitment agency contact together with the up-to-the-minute method of dealing straightforwardly with probable employers. The Agency usually makes certain that the jobseeker's CV receives the possible maximum exposure to potential recruiters. Through recruit direct, a potential employer can send the specifications of the required employee directly to job seekers or to recruitment agencies that later send the specifications to the potential candidates.
8. Indeed South Africa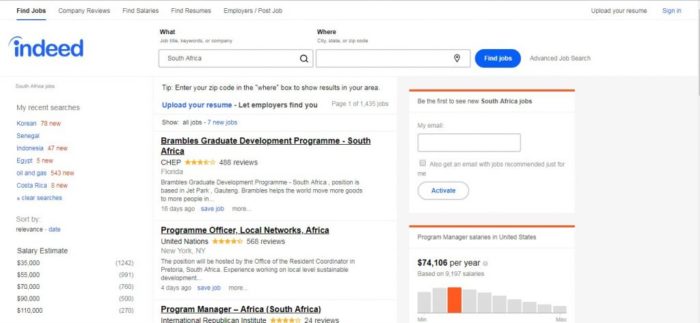 Job seekers can search for jobs on indeed. The portal searches all the websites of all the companies in South Africa to give the job hunter the best results of all the available jobs in the country. Job seekers can upload their CV to the portal for free to increase their exposure in the job market
9. Allsouthafricajobs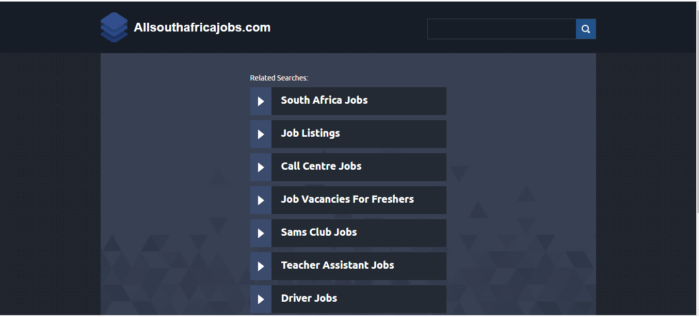 Allsouthafricajobs.com is a free recruitment job website that job seekers can search for the job of their choice. Potential employers can also list the vacancies available in their organization for free. Jobs are listed in the portal mainly in location categories thus helping the job hunter to easily choose the job that is located in the region that they can work in hassle-free.
10. JobSpace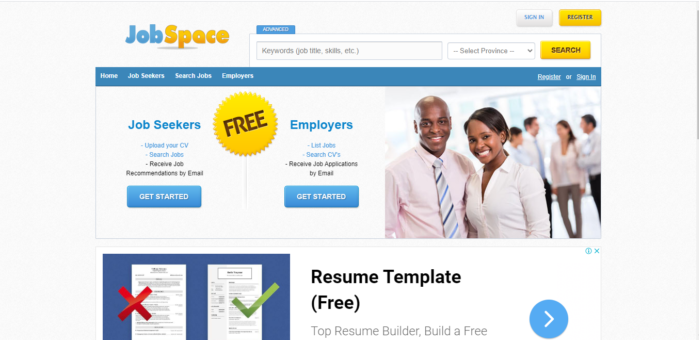 JobSpace is a more user-friendly website. To aid the user navigation, the website has categorized the different users i.e. the job seekers in one hand, and employers on the other. This way, the user can navigate freely and choose the link that he needs to follow.
Under the job seekers category, the user is required to post their current CV. The user can also search for currently available jobs. In addition, the job seeker is able to receive job recommendations via email. The employers' link directs the users to a portal where the user can list the available job, search for the fitting CVs. The employer is also able to receive the job application via email. Alternatively, users can just search the available jobs directly without following either the job seeker's link or the employer's link.
11. Career Junction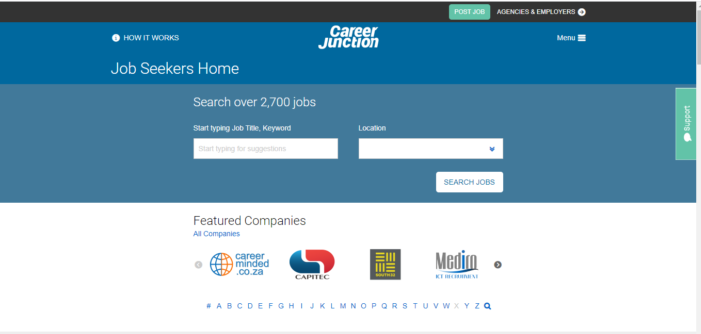 With more than 6,000 job offers, opportunities, and vacancies, CareerJunction advertises itself as South Africa's #1 quality candidate provider. Since its launch in 1997, it boasts of having empowered job seekers and recruiters to find each other using their locally developed but world-class recruitment solutions based in the cloud.
CareerJunction also has Android and iOS apps. This makes it very easy to find jobs on the platform and you can apply for anything right away as you surf or save them as 'Favorites' to apply later.
12. Jobs.co.za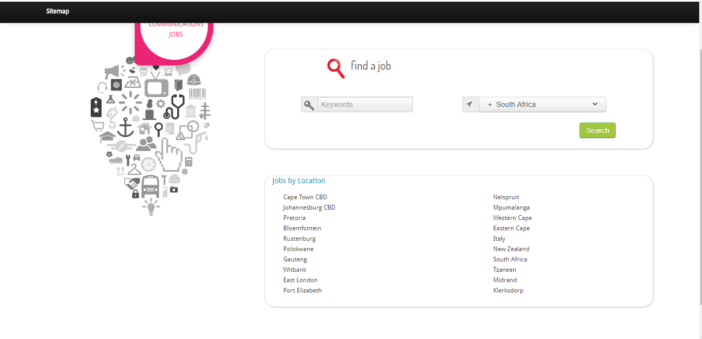 As the name Jobs.co.za implies, this job website is regarded as the official job website of South Africa because it carries the South African Top Level Domain Name Extension (TLD) for the Job Domain. The website arranges jobs based on categories although it mostly focuses on manufacturing jobs in the country. You can search for jobs by location or with keywords in its find a job search bar.
13. Job Vine South Africa
Jobvine South Africa is a recruitment based website and a partner of the global job network website, Jobvine.com, which has subsidiaries everywhere across the world and whose goal is to help you make the most of the time you have on earth by connecting you with real-world opportunities that can change your life.
Jobvine offers human resource (HR) facilities for both employers and recruiters. Job seekers can scan through a selection of employment opportunities placed through recruitment agencies or individual companies. You can search for jobs either by location or by industry. There are also options for internships and freelance jobs and there is an option for you to place your CV on the site to let recruiters and possible employers surfing the site view your profile and e-mail you either through the website or directly.
14. The Jobs Portal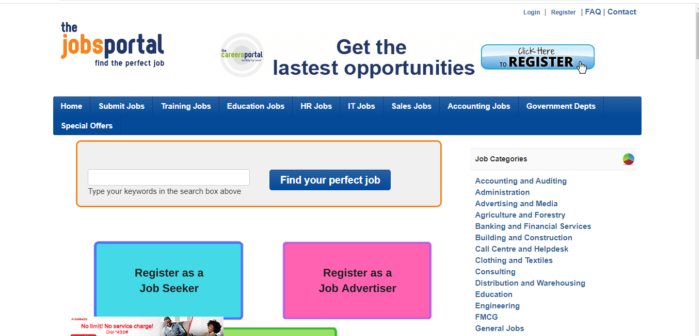 The Job Portal South Africa is one of the sites that you can register on as either a contractor/freelancer, an employer, or a job seeker. Employment seekers, even those with disabilities, are free to search for job opportunities via the website. There are greater chances of you finding the perfect job on this website as it lists out popular searches, popular locations, and countries.
15. Glassdoor South Africa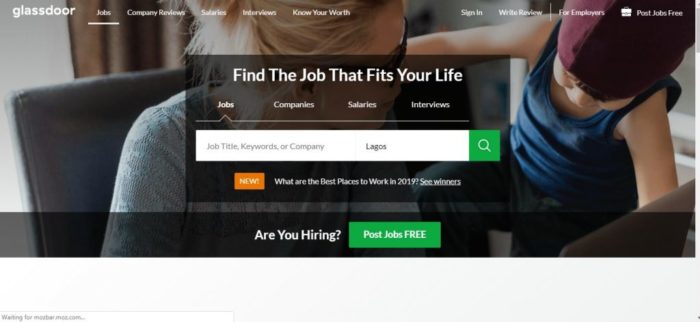 Glassdoor is one of the world's largest job and recruiting sites as thousands of employers across all industries turn to them to help recruit and hire quality candidates. As a result of this, the popular job search website offers millions of the latest job listings and allows job seekers to view its growing database of company reviews, CEO approval ratings, salary reports, interview reviews and questions, and much more.
16. Jora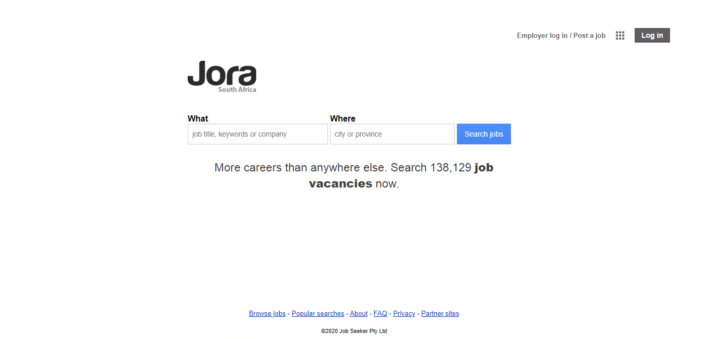 Jora describes itself as a search engine for jobs. The job board allows employers to post their job offers free of charge as job seekers in South Africa go through the hundreds of thousands of jobs listed on the platform. Unlike traditional job boards, users can search through thousands of career opportunities that are all sourced from the many job sites from around South Africa.
Read Also: 10 Things South African Bosses Do To Piss-off Their Employees
17. Hotel Jobs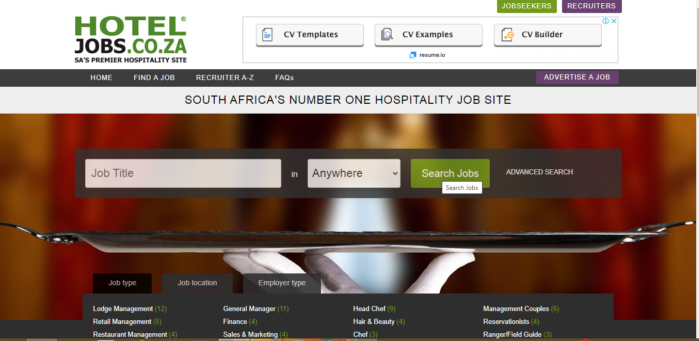 Hotel Jobs is the number one job site for the hotel, hospitality, and catering industry in South Africa. The platform sets itself apart from others as it only advertises reputable vacancies that install trust in job seekers and employers/recruiters alike.
Jobs on the platform incorporate all sectors of the industry, including conference/business centers, contract catering, cruise ships, leisure/spas, bars/nightclubs, restaurants/franchises, game lodges, beach/island/golf resorts, wine estates, tour operators/travel agents, casinos, and many more.
18. SimplyHired South Africa
SimplyHired helps millions of people find great jobs by aggregating jobs from hundreds of other job sites which makes it easier for job seekers to search for jobs in one location. The website also has a salary estimator tool that allows compare job offers or plot your current salary against local and national averages while you search by job title or location. The types of jobs that you can find on SimplyHired include teaching jobs, manufacturing jobs, part-time jobs, marketing jobs, accounting jobs, security jobs, etc.
19. CompuJobs
CompuJobs is a locally based job portal that caters to the South Africa employment market. The job site services all job sectors in the country, however, computer-related jobs for all job seekers in the IT field are more frequently featured. Those looking to advertise are not left out as CompuJobs also caters to their needs. Employers and recruiters seeking to hire new staff are able to get their ideal candidate as the site offers a wide range of job posting and recruiter services.
Both Job seekers and recruiters are, however, required to register so that they can submit their CVs and apply to jobs.
20. Job Nexus South Africa
Job Nexus South Africa helps job seekers connect with recruitment and placement agencies with minimal effort and in a format that makes it easy for them to target and reach you. All you need to do is register on the website and submit your CV or Resume along with a few details about you. You would then have to wait to get matched with recruiters and headhunters as your profile is also delivered to targeted recruitment companies. After this, you would able to view who your profile was sent to so that you can easily follow up with them.