Jackson Mthembu was married twice in his lifetime. His first marriage was to Pinkie Selolo while his second was to Thembi Mthembu who he married following Pinkie's death. He had a total of six children- four sons and two daughters- from his two marriages and some of their names are Nokhwezi Mthembu, Nokuthula Mthembu, and Thuli Mthembu
Jackson Mthembu was an iconic South African politician who served the country in various capacities before his shocking death in 2021. He had a long and distinguished political career and was respected for his roles in government, starting from the time of the white minority government. Jackson Mthembu's family is yet to come to terms with his sudden demise at the age of 63. The late politician meant so much to his family. He was a caring father to his kids and an adorable husband to his wife of many years.
Jackson Mthembu's Family Was His Greatest Gift
Jackson Mthembu left behind a beautiful family that comprises his wife Thembi Mthembu and many children. Prior to his death, he was loved and cherished by his wife and kids for being a wonderful husband and father. The politician was known for putting his family first in everything he did.
The celebration of my 60th birthday continued at #Marcos restaurant @CapeTown mother city . My daughters treated me to a fabulous dinner . Thank you girls for a superb night out !! pic.twitter.com/7NxwuQGvps

— Minister Jackson Mthembu (@JacksonMthembu_) June 5, 2018
On several occasions, he shared beautiful pictures of his family and each of them was nothing short of amazing. As disclosed by his daughter during his funeral, Mthembu was his children's teacher, mentor, and confidant. He taught them to love themselves, pray for one another, and also work hard if they must achieve success in their endeavors.
Jackson was also his wife's best friend. They made several public appearances together and were considered one of the country's most adorable couples.
Though Married To A Public Figure, Thembi Mthembu Keeps A Low Profile
Jackson Mthembu and his beautiful wife Thembi Mthembu spent so many years together before his demise. Though the latter was married to a well-known political figure, she kept a far distance from the spotlight for the number of years she spent with her husband. She loves her privacy, which is the reason she is highly respected by many people.
For the records, Jackson's widow was born and raised in South Africa. But information about her personal life, family background, education, early life, and profession is still under the radar because she hasn't shared any aspect of her life with the media or public.
Regardless of her reclusiveness, Thembi was her husband's biggest support system. She stood by him during most of his political outings and also made several public appearances with him, including during SONA2020.
Yesterday my wife , Thembi Mthembu and I , joined many South Africans in attending #SONA2020 which was eloquently delivered by our President @CyrilRamaphosa . pic.twitter.com/603Pp6vs2e

— Minister Jackson Mthembu (@JacksonMthembu_) February 14, 2020
It is not known exactly when and where the late politician and his widow met. The particular year they wedded and the location of their wedding is also missing from the picture. However, we do know that Mthembu married Thembi after the death of his first wife, Pinkie Selolo. Unfortunately, information about his first marriage is scarce as well.
While their marriage lasted, Jackson and Thembi inspired a lot of couples, especially the younger ones. They lived peacefully and never made the headlines for the wrong reasons.
Where Are Jackson Mthembu's Children Now?
Jackson and Thembi's kids are currently in South Africa. They are still devastated by the death of their father but are consoled by the fact he lived a fulfilled life and also made commendable achievements while serving the country.
The late politician had four sons and two daughters, who came from his two marriages. Get to know more about them in the paragraphs below.
Nokhwezi Mthembu
Nokhwezi Mthembu was the eldest daughter of Jackson Mthembu. She had her with his first wife before their divorce in early 1990. Then 25-year-old Nokhwezi Mthembu committed suicide by hanging herself in her room at their Pelican Park parliamentary village home in Cape Town in 2019.
At the time of her death, she was working for a graphic design and marketing company in Cape Town. Khwezi holds a diploma in graphic design from the Vaal University of Technology.
You will always be in our hearts , Khwezi , you will always be loved . #RIPKhwezi . pic.twitter.com/aDeDfJYJOt

— Minister Jackson Mthembu (@JacksonMthembu_) September 15, 2019
Her father described her as a bright and obedient child who inspired her younger ones. He also shared how heartbroken he was when he came home and saw her body hanging from the curtain rails.
Khwezi 's funeral service took place at KaNyamazane Stadium at Mbombela in Mpumalanga, after which she was laid to rest.
Nokuthula Mthembu
Nokuthula Mthembu is the younger sister of Kwhezi. She was among those that attended the burial of her elder sister. She described her as a great and caring sister. Unfortunately, Nokuthula's birth details are not known publicly.
No one knows her whereabouts, where she is schooling, and what she is up to currently. It's not clear if Pinkie is her biological mother as well.
Thuli Mthembu
Not much is know about Jackson Mthembu's daughter, Thuli. The only time she had the public's eyes on her was when she spoke on behalf of her siblings during their father's funeral. Her date of birth, profession, educational background, and personal life is not open to public scrutiny. Again, it's not publicly known if she is Pinkie or Thembi's biological daughter.
#RIPJacksonMthembu Thuli Mthembu, the daughter of Minister Mthembu says she speaks on behalf of her siblings and those who saw him as a father figure. pic.twitter.com/ZTbcDpvdfj

— South African Government (@GovernmentZA) January 24, 2021
Mthembu's Oldest Son Is Battling Drug Addiction
Further information about Jackson's other children is quite scarce. However, we can establish that his oldest son has been in the news severally for his addiction to drugs. The late minister first opened up about his son in the year 2011, when he revealed during a radio interview that his son is addicted to local drug nyaope and that he had sent him to several rehabilitation centers but that he couldn't get better.
In 2017, while speaking at the funeral of ANC parliamentary caucus chief of staff, Tumisang Bojabotsheha, Mthembu emotionally shared how disappointed he was with his then-32-year-old son for his addiction. He disclosed that his son was arrested and that he once told him that he has tried all sorts of drugs.
Sometime in February 2014, a young man who was arrested in a drug den told eThekwini officials that he was Jackson's son. After making the claim, he went ahead to ask them to help him reunite with his father.
The identity of his son, his whereabouts, and his personal life are yet to be publicized.
The Politician Died In 2021 From Covid-19 Related Complications
Jackson Mthembu, who was appointed the Minister in Presidency in 2019 by president Cyril Ramaphosa, succumbed to covid-19 related complications on the 21st day of January 2021. The presidency had on 11th January 2021, issued a statement notifying the public that the late minister in the presidency had tested positive to covid-19.
As contained in the statement, the Mpumalanga-born politician was the fourth member of the executive to have tested positive at the time. The presidency added that he was in high spirit and had urged South Africans to obey all covid-19 rules.
I want to thank the many South Africans who have wished me a speedy recovery . As a people we must overcome Covid 19 .

— Minister Jackson Mthembu (@JacksonMthembu_) January 11, 2021
Unfortunately, the minister died a couple of days after showing symptoms of the deadly disease. He passed away at Netcare Milpark Hospital in Johannesburg and was buried on 24th January at the Pretoria Memorial Park cemetery in his hometown of Emalahleni, Mpumalanga.
#RIPJacksonMthembu 🕊 President @CyrilRamaphosa with Mrs Thembi Mthembu, wife to the late Minister Jackson Mthembu at the church for the #JacksonMthembuFuneral Service pic.twitter.com/HoAl5J4fYZ

— Presidency | South Africa 🇿🇦 (@PresidencyZA) January 24, 2021
He was honored with a category 1 official funeral reserved for serving ministers. The national flag was also flown at half-mast at every flag station in the country from Saturday 23rd morning until Sunday 24th evening.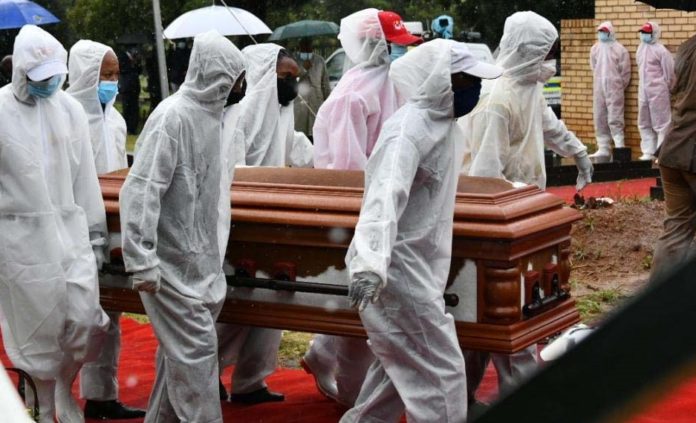 Jackson also served as Mpumalanga public works, roads, and transport MEC, ANC's national spokesperson (1995 to 1997, 2009 to 2014), and held the office of the chief whip of the ANC in the National Assembly from 2016 up to the end of the fifth term of parliament in 2019 before his death.
There Are No Dry Eyes Yet In Jackson Mthembu's Family Following His Passing
Life has not been the same for Jackson Mthembu's family since his demise. No one knows exactly what his wife and kids are up to at the moment as they are still in shock and devastated as well.
The politician's family members are hardly seen in public spaces and have never spoken to the media since their father was laid to rest. They are still trying to pull themselves together and focus on living their own lives.
Thuli read out a touching tribute to her father during his funeral. She also thanked him for all his achievements, for molding them into great personalities, and for teaching them to love. The late minister in the presidency will be greatly missed.