Kaizer Chiefs legend Doctor Khumalo, famously known as "16 Valve," has accrued a net worth estimated at $5 million (R70 million). The former midfielder played for almost two decades for the Naturena side, during which he became a force to reckon with in the Premier Soccer League. Throughout his football playing career, which he mostly spent at Kaizer Chiefs, Khumalo found the back of the net on multiple occasions, scoring over 210 goals before hanging his boots. His amazing football skills ensured that he pocketed impressive salaries that contributed to his present financial status.
Also, he had endorsement deals with notable companies, including Puma. After his retirement, the legendary player tried his hands on other career paths. Not only did he work as a commentator and presenter, but he also ventured into coaching and then moved on to technical directing gigs. Although he is presently leading a modest lifestyle, Doctor Khumalo's earnings have ensured that he ranks among the wealthiest South African ex-footballers.
How Doctor Khumalo's Net Worth of $5 Million Came About
Following in his father's footsteps, Eliakim Khumalo, a legendary football player who was also associated with Kaizer Chiefs as a player and coach, Doctor Khumalo began his professional career at the age of 17. He played in the Swallows Reserves between 1984 and 1987 before joining Kaizer Chiefs. Khumalo spent 17 years with the Naturena side, and there, he ended his professional playing career. He was part of the team that brought glory to the club in the '90s, as his team clinched three South African league cups together with five knockout trophies in the 1990s.
As a result, Doctor Khumalo earned hefty salaries at the peak of his career and increased his net worth with brand ambassadorial deals. Presently, he is said to be worth $5 million (R70 million). Thanks to his exploits in the PSL and also with the South African national team. He made his first appearance for Bafana Bafana in 1992. Before hanging his boots on July 1st, 2002, he scored 9 goals in the 50 appearances he made for the team and must have augmented his earnings with the stipend he received for representing his home country. In 1996, Khumalo led the team to the Africa Cup of Nations (AFCON) victory.
More so, the South African football legend now owns a soccer academy called DK15. He increases his annual earnings with the academy's registration fee, which is R1000. The monthly fees are R450 for U7-10 and R750 for U13-19.
Doctor Khumalo Salaries at Kaizer Chiefs Also Contributed to His Net Worth
Having spent most of his pro career with Kaizer Chiefs, Khumalo must have pocketed millions of rand in salaries. Unfortunately, details of his contract with the club and his transfer fees and salaries are unavailable in the media. However, at the early stages of his career with the club, when he was still playing with the junior team, the former athlete reportedly earned a salary of R8,000 monthly. Besides that, nothing else is known about his salaries and transfer fees. On two occasions, in the mid-'90s, 16V left the Naturena side to join overseas clubs on loan.
He was first sent on a loan by the franchise to Argentinian club Ferro Carril Oeste in 1995. There, he had a six-month spell and scored one goal in the four appearances he made for the club. In 1996, he moved to the United States, joining the Major League Soccer franchise, Columbus Crew. He played for the team between 1996 and 1997, scoring 5 goals in the 43 games played. At the end of his career with Kaizer Chiefs, Khumalo played 397 games and scored 207 goals.
He Ranks Among The Best South African Midfielders in History
In 1984, Doctor Khumalo joined Moroka Swallows and played with the reserves team for one year. He then joined Kaizer Chiefs' junior team in 1986, and following his great performances on the field, the ace midfielder was promoted to the senior team by then Kaizer Chiefs coach, Ted Dumitru. Soon after, he emerged as one of the elite players of the franchise as he was hugely involved in the Kaizer Chiefs' league title victories in the '90s. As a result, he bagged the South African Footballer of the Year Award in 1992.
That same year, he was selected to the Bafana Bafana senior team, and in his debut match for the national team, Doctor Khumalo scored the only winning goal of the game through a penalty kick. He also represented his country in the 1996 Africa Cup of Nations (AFCON), which the team won, and the 1998 FIFA World Cup. He ended his career as the 13th most capped South African footballer following his appearances in 50 games. Besides scoring in his debut match for the team, Doctor Khumalo scored two goals against Ghana in the Simba Cup in 1994 and a goal against Zaire in the 1998 FIFA World Cup qualification match in 1997.
At the time of his retirement in 2002, 16V ranked 62nd on the list of the Top 100 Great South Africans that year. His exploits at Kaizer Chiefs helped cement the club's ranking among the best teams in the Premier Soccer League. Consequently, Khumalo's jersey number 15 was retired by the club's executive chairman, Kaizer Motaung, at the end of his playing career.
Teams Doctor Khumalo Played For During His Active Career
Moroka Swallows (1984-1985)
Kaizer Chiefs (1986-2002)
Ferro Carril Oeste (six months loan spell in 1995)
Columbus Crew (Loan spell from 1996-1997)
South Africa National Team (1992-2001)
A Look at Other Interests That Account For Doctor Khumalo's Net Worth
Apart from playing football, Doctor Khumalo additionally jacked up his net worth with earnings from his work in media. Upon his retirement in 2002, he began working as a TV presenter and, equally, a football commentator. He afterward made a return to the football arena and left an indelible mark as the coach and assistant coach of Kaizer Chiefs.
Khumalo's Coaching Career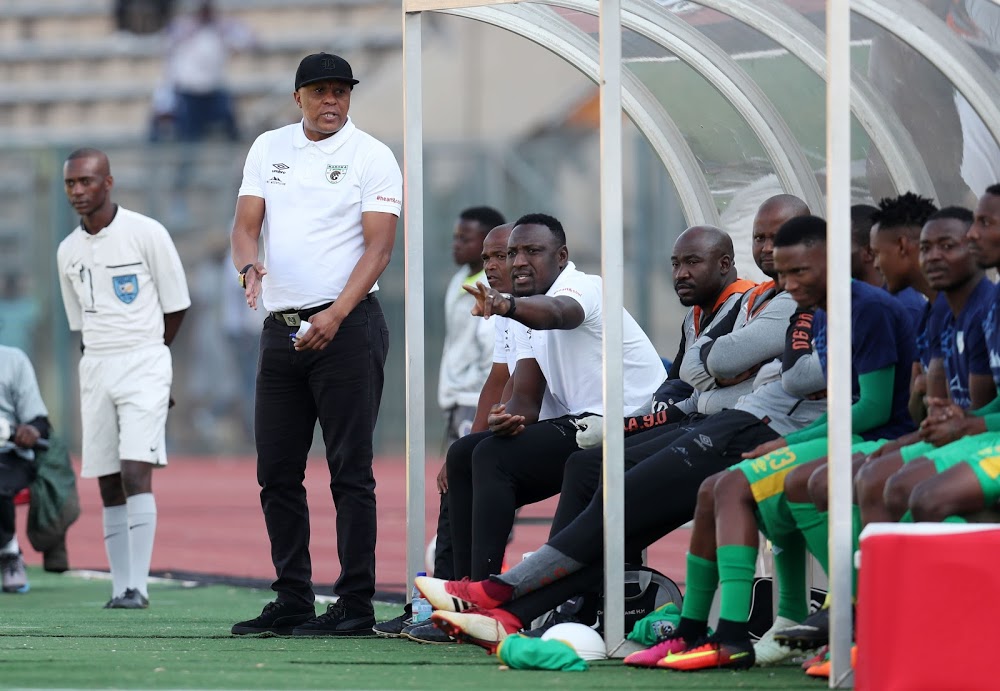 Doctor Khumalo first kicked off his coaching career as a player coach and retired in 2004. He subsequently coached Kaizer Chiefs' under-17 team together with Donald "Ace" Khuse during the 2002/2003 season. The two led the team to a 12 game unbeaten record and in the process, won a joint Coach of the Month PSL Award. From July 1st, 2003 to June 30th, 2005, he served as the assistant coach of Ted Dumitru at Kaizer Chiefs. He equally worked as Kaizer Chiefs' youth team coach from July 1st, 2005, to June 30th, 2012.
Still, at the Naturena side, Khumalo moved on to work as the assistant coach of Stuart Baxter for 110 games and Steve Komphela for 78 games between 2012 and 2017. Later, in August 2017, he left the club to join Baroka FC as a technical director. From April 27th, 2018, to June 14th, 2018, he served as an interim coach of Baroka FC before departing from the club on June 28th, 2018. Before taking up coaching roles, 16V acquired many coaching licenses such as English Football Association license, UEFA B license, and SAFA Level 1, Level 2, and Level 3 licenses.
Acting Gig
Although he is famous for his achievements in football, the retired player also made waves in the entertainment industry. Doctor Khumalo further increased his net worth with earnings he pocketed from playing the role of a coach in the 2010 German/South African movie, Themba. The drama film, which was based on Lutz van Dijk's novel, follows a young footballer named Themba, who was eventually selected to the South African national team after facing severe life challenges.
Endorsement deals
From his playing career to his coaching career, Doctor Khumalo has signed lucrative endorsement deals with top companies. Since 1987, he has worked as a brand ambassador for Puma despite retiring from playing football in 2002. Later, in September 2017, he became a brand ambassador for Ford Company after signing a deal with the automobile company. As one of the best footballers to ever grace the fields of Mzansi, Ford has moved on to form a partnership with the former midfielder following the brand ambassadorial deal.
Hence, the company's CSI projects across Sub-Saharan Africa region now link up with Khumalo's football development initiatives. More so, 16 Valve penned sponsorship deals with other top-notch companies in the past years. Although the exact amount he earned from the endorsement deals is still under wraps, the former Kaizer Chiefs' assistant coach must have increased his total wealth with the earnings he pocketed from the endorsement deals.
Summary of Doctor Khumalo's Net Worth Sources
Football career
Coaching career
Acting gig
Endorsement deals
Media works
DK15 Football Academy
16V Has a Befitting House and an Exotic Car Collection
Like other successful footballers, Doctor Khumalo spends his net worth on luxury homes and expensive cars. He is said to own a palatial home in one of South Africa's major cities, but details of the mansion and its location have been kept away from the prying eyes of the media. On the contrary, the retired footballer has, on multiple occasions, shared pictures of his luxury cars with his Instagram fans. He owns expensive rides, including Ford Mustang GT Cabriolet and Audi A7 Sportback. Check them out below.
Ford Mustang GT Cabriolet (est. R800,000)
After becoming Ford ambassador in 2017, DK launched a Ford Mustang GT Cabriolet in the following year. Afterward, the South African football legend showed off the posh ride, worth more than R800,000, on his Instagram handle.
Features:
306KW 5.0-liter V8 engine
Speed: 0km/hr-100km/hr in 4.8 seconds
Power steering
Multi-function steering wheel
Alloy wheels
Passenger airbag
Audi A7 Sportback (est. R1 million)
Additionally, 16V is said to own another expensive car, Audi A7 Sportback, valued at over R1 million. It's unknown when he purchased the car, but the beast has been the favorite choice of cars of many football players. No wonder Doctor Khumalo added it to his car collection.
Features:
Speed: 0mph-60mph in 5.2 seconds
335-horsepower 3.0-liter turbocharged V6 engine
Standard Audi's Quattro all-wheel system
Power steering
Seven-speed dual-clutch automatic transmission
Anti-lock braking system
List of Doctor Khumalo's Cars and Their Worth
Ford Mustang GT Cabriolet (over R800,000)
Audi A7 Sportback (over R1 million)