Nonhle Thema is a 41 year-old South African actress, TV presenter, producer, and Cynthia Shange's daughter, born on the 15th of October, 1981. She became famous for hosting two popular music shows on Channel O – O-Boma and O=Access. She was married to Arthur Bolton with whom she shares a daughter but all seems not to be well between the two again as they are reportedly separated. These and many more below are some of the woes that have bedevilled Cynthia Shange's daughter in her career and personal life.
Summary of Nonhle Thema's Biography
Full name: Nonhle Thema
Date of birth: 15th October 1981
Age: 41 years old
Occupation: Presenter, TV host, actress, producer
Parents: Derrick and Cynthia Shange
Spouse: Arthur Bolton (married 2013, separated 2014)
Children: Star Ivy Phoenix Zime
Who Is Nonhle Thema, Cynthia Shange's Daughter?
Nonhle is the last of four children born to journalist and writer Derrick Thema and Cynthia Shange, a former beauty queen, and veteran actress. She was born on the 15th of October 1981 and has her siblings identified as Sihle, Archie, and Banele. Nonhle's parents however separated three years after she was born.
Growing up, Nonhle Thema attended Sundown High School in Sandton, Johannesburg. She later moved out of the family house after her high school graduation in 1999 and thereafter obtained a university degree in Marketing.
Nonhle Thema Became Famous As A TV Host
Nonhle first began to work as an events coordinator. In July 2009, she became a co-host on a daily entertainment news show on Vuzu, a DStv Channel, together with Siyabonga Ngwekazi. In 2010, she began working on her reality television show Nonhle Goes To Hollywood. The same show was co-produced by her and aired in 2011. Two years later, she was featured in a 2013 television series titled Reality Check.
Her acting debut was in a television soap titled Zabalaza, where she replaced another actress in playing the role of Kgomotso. She had the opportunity to work with her mother, Cynthia Shange, on that set. Thema later described it as a "very overwhelming experience", stating that she had always looked up to her mother while growing up and wanted to make her proud. Since then, she has starred in several other television dramas, including Imposter and Gomorrah.
Nonhle soon became a familiar face on South African television. In the course of her job as a music show host, She had the opportunity of meeting and interviewing quite a number of high-profile international musicians, including Chris Brown and Rihanna. She became a brand ambassador for several multinational companies and signed several endorsement deals. She was arguably one of the most popular celebrities in the South African entertainment industry.
Fame Ultimately Caused Her Downfall
Nonhle Thema's fame, however, soon started to plummet as she began to take an undue interest in social media trolls and clap-backs. She popularized the term "sit down" as an obscene way of dismissing other celebrities whom she disliked. She bragged endlessly about her wealth and her plans to work with Oprah Winfrey, saying that she had grown past being a mere television presenter. Eventually, she went from being one of the most followed South African celebrities on social media to having barely 700 followers at some point.
She was dragged on Twitter for being uncouth, arrogant, and rude. Soon, almost as quickly as she had risen, Nonhle faded from the entertainment scene completely as she lost several endorsement and ambassadorial deals, and soon announced her retirement. She thereafter, dabbled into real estate and perfume retailing, but with little success.
A few years later, in 2017, she shook social media again, this time with a heart-rending apology for her ill-mannered ways, saying that fame had driven her to a place of self-indulgence, but she had learned that her true purpose in life was to serve. Her apology seems to have been well received as she is gradually regaining prominence as one of the nation's brightest stars. She is poised for a major comeback as she plans her next on-screen project.
Who is Nonhle Thema's Husband – Arthur Bolton?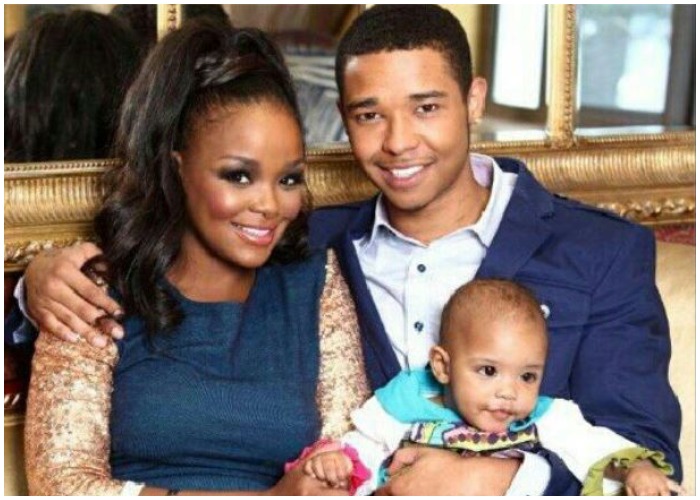 Nonhle's husband, Arthur Bolton is a British-born musician and entrepreneur. He is one of sixteen children born to an English father and a Zimbabwean mother. Nonhle Thema and Arthur Bolton met in Los Angeles while the former was working on her reality TV show Nonhle Goes To Hollywood. Arthur, on the other hand, had come to cheer on his brother who was performing at an event. He described it as love at first sight and their friendship lasted for a while before it bloomed into a romance.
The relationship between the couple, however, has been all but rosy. Nonhle admitted that there were times when she felt neglected as a result of his absence, mainly during her pregnancy and early post-partum days. This loneliness caused her to rekindle a latent relationship with a local rapper Young Nucho. Rumors even spread at one time that Nucho was the father of her child, Star Ivy Phoenix Zime. This happened when an online photo surfaced with the rapper holding the newborn Ivy, but Nonhle debunked them, saying the photo was nothing more than a friendly one.
They Got Married In 2013 and Started Having Problems In 2014
When the strains began to tell on their relationship, Arthur decided it was time to move to South Africa, so he could be closer to Nonhle and their daughter. Upon his return, he proposed to his girlfriend and she accepted. They were married in 2013 after completing traditional formalities.
In 2014, about a year after their wedding, there was a feud between Nonhle and Arthur which went public, and each took to the media to castigate the other. Arthur accused Nonhle of being controlling and an excessive drinker, with uncontrollable fits of temper, and that she once connived with a traditional healer to mess up his mind and kill him. Nonhle denied all of these, calling him a "lazy, wannabe rapper" who was using her to gain fame.
Nonhle took to Twitter to announce the split with Arthur, declaring that she had moved on. She later uploaded a photo of another man named Mario whom she said she was blessed to have. Arthur, on the other hand, returned to London after the bitter altercation.
Arthur Bolton and Nonhle Thema are currently separated, even though the marriage has not been legally annulled. Nonhle has custody of their daughter.