Divorce, breakup, infidelity, and new relationships are the regular news we hear from the celebrity world, and when a politician gets involved, the gist becomes way more interesting. This is why the love story and controversy surrounding Economic Freedom Fighter's (EFF) Floyd Shivambu and celebrity chef, Lorna Maseko, has captured South African's attention.
Both Floyd Shivambu and Lorna Maseko were happily married to different persons (Siphesihle Pezi and Gcina Lukhele, respectively). However, shortly after their divorce from their respective partners, rumors started spreading like wildfire that they are an item. This made fans suspect that they were cheating on their former spouses, and the infidelity led to their divorce, but how true is that?
Since we are all interested in the lives of celebrities, it is necessary to confirm news before spreading, so to get an inside scoop on what really happened between Floyd Shivambu and Lorna Maseko, keep reading to the end.
Floyd Shivambu and Lorna Maseko Are Allegedly Dating Each Other
Floyd Shivambu has been reported to be in an affair with Lorna Maseko. According to Sunday World, who claims to have gotten information from those close to the duo, the affair has been secret. Lorna Maseko was tired of being Floyd's hidden girlfriend and wanted to be introduced to everyone as the "new woman."
They also revealed that one of the sources which let them in on the situation between Lorna and Floyd said they had been together for two years – since 2018. However, neither Lorna Maseko nor Floyd Shivambu confirmed or denied this news.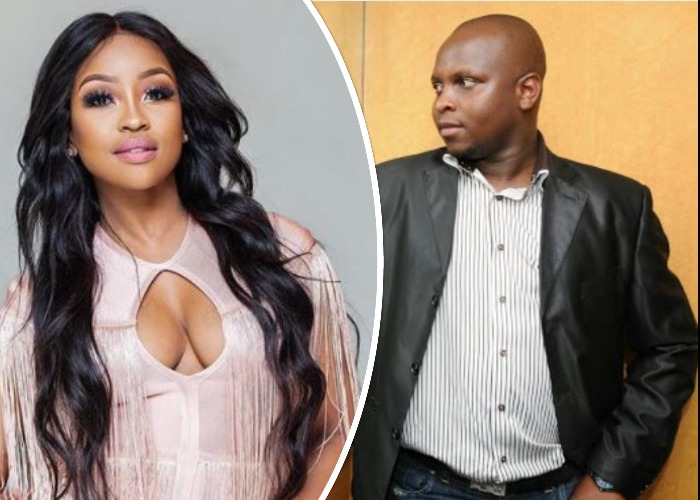 The news about their relationship sparked up controversies on social media; while some were totally happy for the new partners and saw Lorna as someone who knew how to take fast advantage of opportunities, others saw the affair as nothing other than an entanglement.
With all of the social media noise – posts and comments – neither Floyd Shivambu nor Lorna Maseko responded. This has made the whole thing more difficult for fans who really wanted to know what was really going on.
Although they both did not come out to clear the air, they have given us no reason to believe that they are not an item, as the duo have been spotted at several events together. In the report by Sunday World, the alleged lovebirds were spotted for the first time at Melrose Arch, and then at DStv Delicious festival, and then again at Durban July Handicap. This time they were actually looking like an item.
Lorna Maseko Has Been Rumored To Be Pregnant For Floyd Shivambu 
Aside from blaming Lorna Maseko for being the reason for Floyd's divorce from his wife, Sunday World reported that Lorna Maseko was pregnant for the politician. While Floyd Shivambu remained silent about the allegations, Lorna Maseko did not.
She said nothing about being in a relationship or affair with EFF deputy president, but she snapped back regarding the allegation that she was pregnant. This seemed to have gotten to her more than everything Sunday Sun reported in their publications.
She has come out to deny the rumors of the pregnancy – but not the relationship
In response through a now-deleted tweet, the media personality referred to the Sunday Sun report as being 'disgusting' and 'evil.' While insisting that she was not pregnant, she revealed that she was going through health challenges, which was the reason for the stomach bump that must have been mistaken for a pregnancy bump. Maseko further clarified that she was battling with fibroid, a health condition capable of making her unable to have her own children if something was not done about it.
Let me nip this in the butt real quick! I'm NOT pregnant; it's truly disgusting that people can go on to create unreal stories – it's actually EVIL!! Women suffer from many issues, fibroids (which I have), endometriosis & many others. You don't know people's stories-STOP IT!!
She said women go through many things, and most times, no one knows what may be happening to them. To end her tweet, she said, "Stop it." This would be about either Sunday Sun (who released the report) or fans (who have helped spread the rumors) or both.
Floyd Shivambu Was Formerly Married To Siphesihle Pezi
Floyd Shivambu is a South African politician and formerly a member of the African National Congress (ANC) from 1990 to 2012 before crossing over to the Economic Freedom Fighters (EFF) in 2013. He has remained with EFF to date, currently serving as a member of the EFF Parliament and the deputy president and lieutenant commander-in-chief of the Economic Freedom Fighters. He is also a member of the Pan African Parliament.
In 2017, Floyd Shivambu got married to Siphesihle Pezi, who had just been employed in the ANC Parliament. This was a twist because they both had their loyalty to different political parties.
So while some saw it as a love that sentiments wouldn't hinder, others saw it as an act of disloyalty to their political party. Julius Malema, leader of the EFF's absence from the wedding, made people talk louder. Floyd Shivambu and his ex-wife, Siphesihle Pezi, had a grand wedding. The whole of South Africa was aware that the vice president of the Economic Freedom Fighters was getting married.
Having a big and famous wedding was not enough to make their marriage last. Siphesihle Pezi moved out of their home to a private location in Johannesburg. A few months later, the couple got divorced – even though they tried to keep their divorce a secret due to the upcoming general elections at the time.
After his wife moved out of the house, he employed celebrity chef, Lorna Maseko, to cater to his kitchen needs. However,  things moved from the kitchen to other intimate parts of the house. The exact reason he and his wife got separated is unknown. There have been talks of infidelity especially surrounding Maseko, but it is known that the celebrity chef only got into the picture after they had separated. Many people believe that Floyd left his wife for Lorna, but that information is not confirmed.
Lorna Maseko Was Married To Gcina Lukhele For Six Years And Got Divorced In 2016
Lorna Maseko is a beautiful lady who wears so many hats; she is a celebrity chef, ballet dancer, TV presenter, and a media personality. To get into the house of Floyd Shivambu, she wore the hat of a chef. She is also the author of a South African award-winning cookbook, Celebrate With Lorna Maseko.
Lorna Maseko was married to Gcina Lukhele, but after six years, their marriage came to an end, their divorce was announced most unexpectedly. While co-hosting the YOU Spectacular Awards in 2016 with comedian Ann Hirsch, celebrity chef Lorna Maseko surprised everyone when she revealed that she was newly divorced and maybe open for a same-sex relationship with Hirsch while presenting an award to rapper Emtee.
Drums Magazine revealed that she was intoxicated when she said that, but subsequent revelations have proven that she was truthful about what she was saying even if she was intoxicated. Lorna Maseko did not come out to say why they got divorced. Still, it is an open secret that infidelity (her entanglement with Katlego Maboe just one year after her marriage) was the reason her six-year-old marriage ended.