Nathi Mthethwa is happily married to Mrs. Philisiwe Buthelezi and they are blessed with three adorable children named Zola Mthethwa, Jacob Mthethwa, and Nanjabulo Mthethwa.
Although Nathi's kids are all grownups, they still find time for family bonding and also get to spend a lot of time with their parents. The former minister and his wife are pictures of perfect parents.
Nathi Mthethwa and Philisiwe Buthelezi Met at a Political Party Event
Nathi Mthethwa and his wife Philisiwe's paths crossed for the first time at an ANC conference. The duo met and connected with each other at first sight which led to the start of a great friendship. From being distant friends, things got serious between them and the two started a serious relationship.
The couple dated for a while and decided to take the next step which was getting married. Nathi and Philisiwe tied the nuptial knot on February 16th, 2013 at Alle Blueue Wine Estate in Franschhoek, Western Cape.
The power couple had gotten married in a glamorous wedding which was the talk of the town as it was all over the media and papers.  Their wedding was French-themed and this has been speculated by many to have been inspired by Philisiwe's time spent in France. The grand wedding was attended by top political dignitaries, their close friends, family members, and top business colleagues.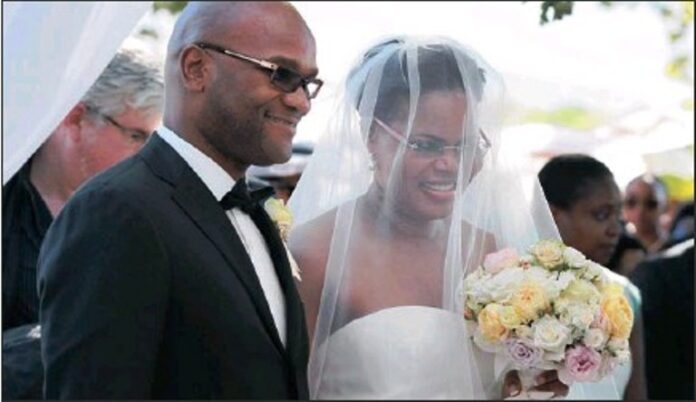 According to sources, the lovebirds had a one-year gap in age between them as Philisiwe is a year older than her husband. Nathi Mthethwa was born on January 23, 1967, however, his wife's exact date of birth is yet to be revealed. However, the age difference has never been a hindrance in their relationship as the pair has shown great love and respect for each other over the years.
The couple has been married for 10 years, and there has been no rumor of divorce or controversies surrounding their union. The two are indeed lucky to have found each other.
Nathi Mthethwa Shares Three Kids With His Wife Philisiwe Buthelez
Nathi Mthethwa has three children with his wife, Philisiwe Buthelezi. They are named Zolo Mthethwa, Jacob Mthethwa, and Nanjabulo Mthethwa.
Both parents played vital roles in the upbringing of their children including raising them outside of the spotlight until they became of age and were ready to face the challenges of being in the limelight.
They don't share their kids on social media like most people of their caliber. However, they prioritize their kids in every sense of it. Meet Nathi's children who, we believe, are successful in their own rights.
Zola Mthethwa
Nathi and Philisiwe welcomed their first child, a son named Zola Mthethwa on April 16, 1990. Besides his date of birth, not much is known about the celebrity kid as he was raised outside the public eye. However, it is believed that Zola is pursuing his career interest and living the best moments of his life.
Jacob Mthethwa
The couple welcomed their second kid, a son  Jacob Mthethwa on November 5, 1994, four years after Zola's arrival. Like his elder brother, not much is known of Jacob because information about his personal life is difficult to come by.
Nanjabulo Mthethwa
Nanjabulo Mthethwa is the third child and son born to Nathi Mthethwa and Philisiwe. He was born to his parents five years after the birth of his immediate elder brother Jacob, precisely on May 14th, 1999. There is no further information about him as he prefers to keep a low profile on his life and endeavors.
The Mother of Nathi's Kids is a Financial and Economic Professional
Being married to a celebrity often overshadows one's career accomplishments but in the case of Philisiwe Buthelezi, she is not only recognized for her husband's fame but also for her relevance in her career field.
Nathi's wife Philisiwe by profession is an economic professional as anticipated considering her academic qualification. As a financial expert, Philisiwe has immensely contributed to the capital markets, foreign investment, and banking sector of South Africa.
With her vast knowledge and having worked in both the public and commercial sectors, she has been able to also contribute to the development of the NEF (National Empowerment Fund) as the Chief Executive Officer and Director taking from what it was and turning it into a high-performing company.
She has also worked in London for a French investment bank and was in charge of the South African Reserve Bank's risk management control. She is also on the board of Mvelaphanda Resources Pvt. Ltd. and Industrial Development Corporation of South Africa.
More on her career achievements, Nathi's wife has worked together with diverse Boards and is a Non-Executive Director of the Industrial Development Corporation. Philisiwe is a very hardworking career woman who has won many honors, including African Business Woman of the Year 2011, the Top South African Women's Award 2013, and some more.
She also worked as the Minister of Safety and Security in February 2013.
Nathi Mthethwa's Wife was Born and Raised in a Well-to-do Family
Philisiwe Buthelez is a South African businesswoman who is widely recognized as the wife of Nathi Mthethwa a South African politician who was Minister of Police from 2009 to 2014.
The exact date of birth of Philisiwe Buthelez is not available in the media as she has not disclosed pertinent details about herself such as her date of birth, ethnicity, religion, family background, identities of her parents, and their current whereabouts.
She hasn't also disclosed any information about her childhood as per the neighborhood where she grew up, if she has any siblings whom she grew up alongside, and other relevant childhood information.
From her academic records, however, one could tell that Philisiwe Buthelezi was born into a comfortable home as her parents were able to provide her with the quality of education she required to achieve her goals in life.
Philisiwe is well-read. Upon completing her primary and secondary school education, she went further in her academic pursuit to get enrolled at the University of Paris where she graduated with an MSc in Economics. She also attended the University of Sheffield where she also bagged an MBA in Corporate Finance.