Minnie Dlamini's house is a stunning, elegant apartment in a lovely neighborhood in Johannesburg. The actress has about six known cars, including two Jeeps, a Jaguar I-PACE, a Jaguar F-PACE, a BMW i8, and a BMW 3 Series. 
Dlamini obviously enjoys high-performance vehicles, as seen by the millions of rands in value of her posh cars. She has a lockup garage and carport for her exotic automobiles.
Minnie Dlamini's House is in Johannesburg
Minnie Dlamini lives in one of South Africa's most exquisite homes. The media figure, like numerous A-list celebs before her, has, however, kept the location a secret. She has frequently posted pictures of her home and its heaven on earth, even though she won't reveal where it is.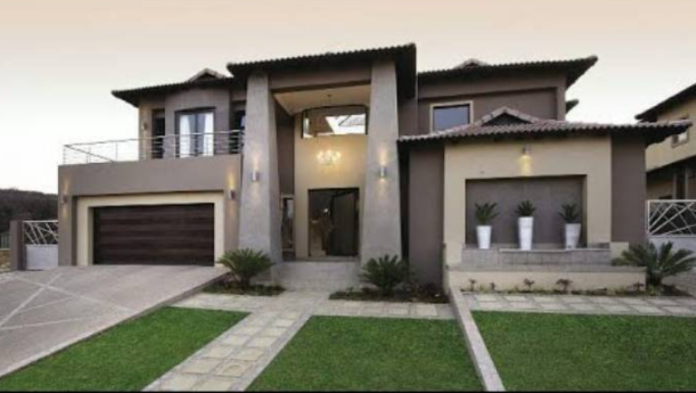 She was reportedly sent out of their marital home following her divorce from Quinton Jones. She shocked many people when she later announced on social media that she was making some changes to her house. According to the vivacious media personality, she decided to remodel her house as a part of redefining who she was.
Minnie Dlamini's House Features
Sitting and Dining
Following her divorce, she recently uploaded a popular video that allows Mzansi a peek inside her home. The home offers a number of dining and living spaces. Large leather couches with sleeping pads can be found in some living rooms. To go in with the decor of each space, she has matching rugs.
When you enter in through the main entrance door, you'll find couches in shades of blue and brown. A carpet from Versace completes the look. Because she has a teak center table that evokes an African feel, the space also has an African fusion feel. As the cultures in her home are merged, African drums are also incorporated into the mix.
It's interesting how the home has high ceilings and high walls, which are complemented by chandeliers that hang dead-pan from the high ceiling. Also, the house is embellished with a number of African artifacts on the walls. She typically performs some of her business in the comfort of her home. Therefore, according to Up stars stories, there is a private home office.
Bedrooms
The number of rooms that the property boasts is unknown. She has, however, used Instagram posts to let Mzansi a sneak peek into her bedroom. She has a walk-through closet and an ensuite in her bedroom.
In the master bedroom, she also has a couch. Her furniture is distinctively designed. More than just a bedroom, it has enormous mirrors and dangling chandeliers.
Open-Plan Kitchen
Dlamini also has the bling and the plug. Her kitchen has some of the most costly kitchen appliances in the world, including Double Fridges and Smeg models with cutting-edge technology. Bar chairs complement the granite and marble fittings in the space. The kitchen overlooks the sitting and dining rooms adjacent to each other.
Unfortunately, the worth of the actress's sprawling apartment is not public knowledge and it's not known if she has any other real estate investments.
Only Six of Minnie Dlamini's Cars are Publicly Known
There are a few things Minnie Dlamini loves in this world, and one of them is buying nice and fast cars. Jaguar is one of the top luxury car brands in the world, and the PACE models in Dlamini's garage are some of its priciest vehicles.
The actress has a garage fit for royalty. Some of the other wheels the celebrity actress drives around in include a BMW i8, a BMW 3 series, and two Jeeps. Let's get to know more about the actress's exotic cars.
Jaguar F-PACE
Minnie Dlamini owns a white Jaguar F-PACE 2.0 AWD, which she purchased in 2019. Prices for the F-PACE start at R1.12 million in South Africa.
A powerful and svelte luxury SUV, the Jaguar F-PACE 2.0 AWD blends high performance, comfort, and technology for the best driving experience.
A 2.0-liter turbocharged four-cylinder engine with an eight-speed automated transmission with outputs of 247 horsepower and 269 lb-ft powers the vehicle. From 0 to 100 km/h, the automobile can accelerate in 8.2 seconds.
Unique features of the Jaquar F-PACE
Tank capacity (litres approx.): 62
WLTP CO₂ Emissions (from) g/km: 166
WLTP Fuel Consumption (up to) mpg: 44.6
Maximum speed mph (km/h): 130 (210)
Acceleration (secs) 0-60mph ( 0-100 km/h): 7.8 (8.2)
FUEL CONSUMPTION: 176.6(1.6) †† Up to mpg (From l/100km)
Jaguar I-PACE
Minnie Dlamini also has a stunning Jaguar I-PACE. The Jaguar I-PACE's starting price in 2019 was $70,495. The car is a practical electric vehicle that blends design, remarkable performance, and luxurious features.
It has two electric motors, one on each axle, that combine to create 394 horsepower and 512 lb-ft of torque, and a 90 kWh battery pack that can power it for up to 470 kilometers on a single charge. The automobile can go from 0 to 100 kph in just 4.8 seconds, making it fairly quick.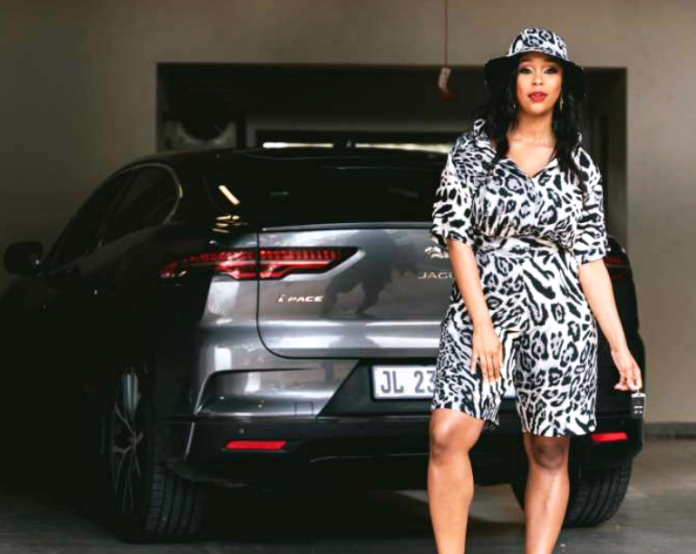 Jaguar pairs the I-fashionable Pace's interior with its trendy appearance, which features a showy dashboard and lots of passenger space. Also, there are several appealing alternatives and practical interior cubby storage.
Automated emergency braking and lane-keeping assistance are included in the standard driver-assistance technology suite, but optional features like adaptive cruise control and blind-spot monitoring are also offered.
Unique features of the Jaguar I-PACE
All-wheel drive – thanks to its two electric motors
A standard DC fast-charging port that allows 80 percent of its battery to be replenished in as little as 40 minutes.
Every edition of the I-Pace comes standard with a touchscreen infotainment system with a mobile hotspot and navigation, in addition to a number of opulent amenities including a panoramic sunroof and an infrared windshield that helps prevent heat buildup on hot days.
BMW i8
The BMW i8 can only be powered from the front axle when the eDrive button is depressed, allowing for fully electric drive. The clever fusion of two motor types that consistently offer the best traction is made possible by the hybrid mode.
While a high-performance 3-cylinder engine powers the back axle, the front axle is home to the electric drive. The simultaneous use of two engines can thereby power all four wheels. This uses the benefits of either front-wheel drive or all-wheel drive, depending on the driving conditions.
The BMW i8's fully functional all-wheel drive reveals its true power at speeds up to 250 km/h outside the city.
BMW i8 features/specifications
Engine Type: Intercooled Turbo Gas/Electric I-3
Displacement (Cc):1499 CC
Engine Power: 228 hp @ 5,800 rpm (170 kW)
Torque320 bhp@3700 rpm
No. Of Cylinders: 3
Fuel System: Gasoline
Maximum Speed: 250 km/h
Acceleration Time: (0-100 Kmph)4.4s
Transmission Type: Automatic
Drive Type: 4WD
Gear Box:6
BMW 4 Series Convertible 
Nobody knows for sure when Minnie purchased this automobile. The automobile started at R715,4000 in South Africa in 2017, the year it was introduced. The range of available engines for the BMW 4 series convertible is excellent. In addition to the 187 horsepower 420d diesel, there are two four-cylinder turbocharged gasoline engines with 181 or 254 horsepower.
The 4 Series has a lower center of gravity than the 3 Series (Coupe -40mm, Gran Coupe -30mm, Convertible -20mm), a wider track at the front (+14mm), and the rear (+22mm).
BMW 4 Series convertible features/specifications
All-wheel drive, good for 280bhp and 335bhp, respectively. These both enjoy 11bhp of 48-volt hybrid boost charged on the overrun and when braking. This system is also plumbed into the petrol M440i, which develops a meaty 369bhp.
The drive is sent to all four wheels (with a rearward bias)
An eight-speed automatic gearbox.
The car comes with the ConnectedDrive navigation package, including inductive mobile-phone charging and a start menu featuring display graphics with large, configurable tiles.
Loads of space and a decent boot.
2008 Jeep Liberty 
Minnie Dlaini also has a jeep Liberty in her car collection. This car is one of her old cars and the particular year she bought it is not known publicly. She is believed to have bought the car in the late 2000s.
The 2008 Jeep Liberty's appearance is far more in line with its impressive off-road capabilities, which the last generation's somewhat girly design concealed. The vehicle comes with a long variety of options, including removable fenders for serious off-roaders.
2008 Jeep Liberty quick features
Gas Mileage: 15 mpg City/21 mpg Hwy
Engine Gas: V6, 3.7L
EPA Class: 4WD Sport Utility Vehicle
Style Name: 4WD 4dr Limited
Drivetrain: Four-Wheel Drive
Passenger Capacity: 5
Passenger Doors: 4
Body Style: Sport Utility
Transmission: 4-speed automatic transmission
Jeep Cherokee
The Celebrity posted a picture of herself sitting on her Jeep Cherokee back then. Not much is known about this car, including the price and year she bought it.
Some unique features that are strongly displayed on the Cherokee car are large headlamps, a boxy shape, and substantial wheel arches. The Jeep only comes with four airbags. The cost of the additional traction that its four-wheel drive technology offers is offset at the gas stations. Averaging 31.4 mpg and emitting 242 g/km of CO2 is, however, not particularly impressive.
Unique features of the Jeep Cherokee
419-liters of carrying capacity
One engine
Two transmissions
A single trim level to choose from