Rapper Emtee, originally born Mthembeni Ndevu, broke into mainstream success with the song "In It To Win It," which he collaboratively did with South African rapper Maraza in 2010. Since then, his popularity surge has continued to grow both in South Africa and beyond the shores of the country. Musicians have the reputation of showing off their wealth and sometimes bringing in lines about their flashy lifestyle and assets into their songs, and Ndevu is no exception. Emtee's house and car collection are some of the interesting aspects of his financial life that have caught the public's attention over the years. Find out about his assets and their cost.
The Rapper Lived In A Luxurious Four-Bedroom Apartment In Midrand
Before Emtee became a sensation with the record label Ambitiouz Entertainment Record Label, he was previously one of the members of the music rap group, African Trap Movement. He left the group to go solo and was subsequently signed to Ambitiouz Entertainment. Upon joining the record label, his music career began receiving all forms of sponsorship from the label. They were footing the bills of his apartment and the cars he used then.
At that time, Emtee's house is a sprawling four-bedroom apartment, which he shared with his family – the mother of his child and his son. As mentioned earlier, the rapper's former apartment, which was situated in Midrand, has some standard features, including a pool and a home studio. However, in 2019, it was reported that Emtee had parked out of the house without informing the record label or the house owner.
Initial reports were that Ambitiouz Entertainment repossessed the apartment and took Emtee's cars after the rapper left the record label. In subsequent reports, however, it was revealed that the record label did no such thing but that the rapper parked out because he was owing house rent and caused some damage to the house.
The rapper told the local tabloid TshisaLIVE in June 2019 that he lost his home and car and has been moving between different houses. He also revealed that his family moved in with his in-laws but that he was doing his best to bounce back.
He also affirmed that his financial woes, including losing his home and cars, had nothing to do with the record label but between him and the agents. No one knows how much the apartment was being rented and its features apart from the backyard pool and home studio.
Emtee Has Dismissed Claims He Recently Bought A New Multi-Million House
Emtee may not have made the kind of money he wants to buy himself another sprawling mansion, but he was so honest enough to put to rest claims that he bought a new apartment. Speculations about the hip-hop rapper buying a mansion for himself began making the rounds sometime in March 2021.
It was triggered by a photo Emtee shared on social media that month, where he was seen standing in front of a luxurious mansion alone. His fans quickly took to his wall, forwarding congratulatory messages to him for being a real hustler.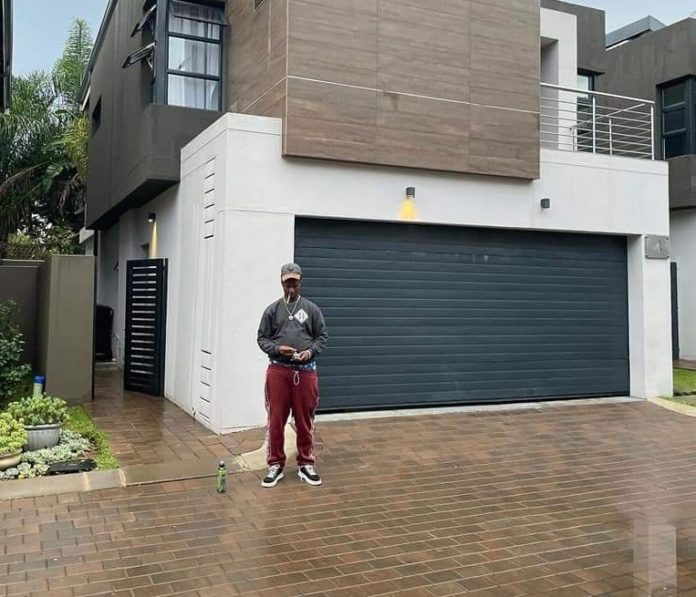 One of them mentioned that the "Roll Up" is a real hustler but that the media only report the bad side of him. Shortly after the news went viral, the rapper went on social media to set records straight. Rapper Emtee posted "Nah" in response to the claim that the magnificent crib belongs to him.
After Losing His Fortunes, It's Been Difficult To Keep Tab On The Rapper's Assets, Including His Cars
Things have not been the same for Emtee ever since he lost his house and cars. However, he hasn't stopped grinding since after the incident. For instance, he eventually launched his record label – Emtee Records – after leaving Ambitiouz Entertainment, but many still see him as a struggling rapper.
Right now, it is difficult to talk about his assets because he hasn't been seen flaunting them like in the past. Information on the particular place he lives now and the cars he moves around with is difficult to come by.
Before his financial woes, he is believed to have had at least two cars in his garage. The rapper reportedly bought himself a Mercedes-AMG A45 at a whopping cost of R800,000 then. It's unclear whether his family members are back or still with his in-laws.
The rapper hasn't spoken about the state of things in his life for a long time now, but his fans are hopeful he will get back to his feet again.
Rapper Emtee's Net Worth is Estimated at $300,000
The "Roll Up" crooner's net worth is currently estimated to be about $300,000. Emtee makes money through music, brand endorsements, concerts, local and international shows, ambassadorial deals, and record sales. He has toured so many places in the African continent and performed at big shows such as AFRIMA (All Africa Music Awards) in Lagos, Nigeria, in 2017.
Emtee has impressed before large audiences in his home country, starting from his early days in the music industry. His songs and albums are well-loved by most people in the country, and his collaborative works with heavyweights such Wizkid, Tiwa Savage, Nasty C, and A-Reece also increased his bank account figures.
The rapper's debut album "Avery" was certified Platinum by RiSA months after its release. He is said to have made so much money from its streams and from other projects of his that also received such certification. "Mama," "Pearl Thusi," and "We Up" are some of the works that raked in so much money for him.
Now available in KZN 🔥 pic.twitter.com/ElXHmH0aik

— Hektic Paperz CEO. (@JayHektic) January 6, 2022
Emtee's Assets Aren't The Only Thing He Brags About; He Is Also Proud Of The Number Of Awards He Has Won So Far
Born on the 15th of September in 1992 at Matatiele in the Eastern Cape, Emtee has come a long way in the South African music industry. From 2010, when he launched his professional career to date, he has won an impressive number of covetous awards.
Here's a list of all the awards he has won for his songs
Best New International Act during the 2016 BET Awards Viewers' Choice (2016)
Song of the year 'Roll Up' during the South African Hip Hop Awards (2015)
Best Hip Hop Album 'Avery' at Metro FM Music Awards (2015)
Amstel Record of the year' Roll Up' during the 22nd South African Music Awards (2016)
Best Remix 'Roll Up' during the South African Hip Hop Awards (2015)
Best Male Artist in South Africa – AFRIMA (2017)
Best Rap Album 'Avery' during the 22nd South African Music Awards (2016)
Listeners Choice award during the Metro FM Music Awards (2015)