DuduZile Zuma (born 20 May 1982) is a 41-year-old South African businesswoman, politician and the daughter of former South African president, Jacob Zuma.
Duduzile Zuma is a South African businesswoman and politician. She is the daughter of former president Jacob Zuma, the fourth president of South Africa. Duduzile is known to be her father's supporter and defender. On countless occasions, she has proved that nothing beats her love for her father, whose reign was clouded with overwhelming controversies and scandals.
Duduzile doesn't hold back when it comes to protecting her family's name, but the same cannot be said about her personal life. She is naturally calm in nature and prefers withholding information about her endeavors from the public.
Summary of Duduzile Zuma's Biography
Full Name: Duduzile Zuma
Nickname: Dudu
Gender: Female
Date of birth: May 20, 1982
Duduzile Zuma Age: 41 Years Old
Ethnicity: Zulu
Nationality: South African
Sexual Orientation: Straight
Marital Status: Divorced
Duduzile Zuma Husband: Lonwabo Sambudla (m. 2011-)
Duduzile Zuma Parents: Jacob Zuma and Kate
Siblings: Mziwoxolo Edward Zuma, Mxolisi (Saady) Zuma, Msholozi Zuma, Duduzane (Zane) Zuma, Gugulethu Zuma-Ncube, Nokuthula Nomaqhawe Zuma, Ththukile Xolile Nomonde Zuma, Phumzile Zuma, and Nhlakanipho Vusi Zuma
Occupation: Politician, philanthropist, businesswoman
Famous for: Being the daughter of former South African president Jacob Zuma
Duduzile Zuma Is Best Known As Jacob Zuma's Daughter
Duduzile Zuma is the daughter of former South African president Jacob Zuma and his late second wife, Kate Mantsho. She is the twin sister of Duduzane Zuma, and both of them were born on 20th May 1984 in Maputo, Mozambique. Not much is known about their childhood, considering that her family was not well-known to people at that time.
However, as the daughter of a very active ANC politician, it is safe to assume that her childhood wasn't totally bad. When Duduzile and Duduzane were born, their father was deeply involved in the struggle for a better South Africa. Jacob Zuma was appointed as Chief Representative of the ANC in Mozambique immediately after the Nkomati Accord between the Mozambican and South African governments was signed in 1984 (the same year his twins were born).
Duduzile was raised in different countries in the Southern Africa region. She and her parents left Mozambique (her place of birth) for Lusaka, Zambia, in January 1987, after the South African government pressurized the Mozambique authorities to expel her father and five other senior ANC members. Her family eventually returned to South Africa after the ANC was banned in February 1990. It was in South Africa that she completed her basic education levels and also started life as a young girl.
She Lost Her Mother At The Age Of 16
Tragedy struck the Zuma's family on the 8th of December 2000 when Duduzile's beloved mother Kate Mantsho passed away after taking an overdose of sleeping pills and malaria drugs. Jacob Zuma met Kate while in exile in Mozambique, and the pair got married in 1976. She was 44 years old when she passed away and had lived with Zuma for 18 years.
Duduzile hasn't recovered from her loss to date, as her mother's suicide deeply touched her. In a bid to honor her late mother, she decided to establish the Dudu Zuma Foundation, a charity organization for underprivileged women and children. The organization specifically assists those at risk of suicide.
DuduZile Zuma's Educational Background Is Currently Under The Radar 
Jacob Zuma's daughter's educational background is one aspect of her personal life that is yet to be publicized. The schools she attended and the course she studied are not open to public scrutiny. It is believed that she completed her high school education in South Africa, and she attended one of the elite universities in the country.
However, it is difficult to tell if the course she studied influenced her decision to become a politician or businesswoman. Nevertheless, what matters most is that she is doing great and has been able to win the attention of most high-profile politicians in the country.
She Is Currently A Member Of SA's Ruling Party – ANC
Duduzile may have other endeavors that generate income for her, but she is mostly known for being a member of the African National Congress (ANC), the same political party her family has been actively part of for years. It is not known when her career started and the positions she has occupied in the past – both in the political community and elsewhere. She is yet to personally publish her career profile, and it appears she is not ready to do so anytime soon.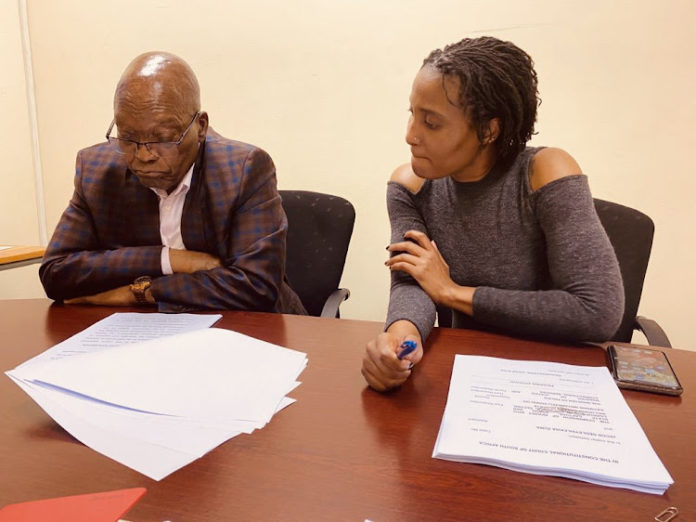 Duduzile is also said to be a businesswoman, but the nature of her business is not clear yet. Being the daughter of a national political figure, there are certain juicy privileges she must have maximized and benefitted from. Some reports have it that she has been on the board of numerous investment companies, and she is the founder of the PR and events company, African Star Communications. That notwithstanding, Duduzile currently focuses on ensuring her embattled father is not locked behind bars following an intense court battle with the State.
Duduzile Zuma And Her Father Share A Special Bond
Talking about the kind of public image she has as Zuma's daughter, it is fair enough to say that the public sees Duduzile as her father's biggest supporter and defender. On several occasions, she stuck her neck out for him and also spoke boldly and fearless against the manner the public judge her father, his reign, and her family.
The father-daughter duo apparently shares a special bond. Duduzile, in a post she uploaded sometime, asserted that she would forever remain a 'daddy's girl' because of the love she has for her father. She doesn't hide her love for her father and seizes every opportunity to show him off everywhere, including on social media platforms, and doesn't hesitate to 'fight back' his critics and attackers.
Zuma's Daughter Is Well-Known For Her Bling Lifestyle
Duduzile Zuma has never hidden her privileged upbringing and the luxuries her wealthy background afforded her. Though she is not the type that basically shows off her wealth on social media platforms like Instagram, Facebook, or Twitter, it is easy to tell that she lives a luxurious life. She has been in the news severally for her flashy lifestyle right before the time she got married. In 2009, Duduzile became the talk of the town after she hosted her birthday party with a guest list of 600 names, an open bar, and luxury champagne.
Also, during her wedding in 2011 to businessman Lonwabo Sambudla, she wore a custom-made diamond necklace worth R1.5 million, while the occasion was graced by many high-profile individuals, including celebrities and politicians. Unfortunately, Duduzile and Lonwabo divorced six years later. They had two kids together. The latter is alleged to have cheated on the former president's daughter while they were still married.
Some time ago, Duduzile's ex-husband headed to the court to get an order that would allow him to spend some time with his kids. This was after president Jacob Zuma's daughter reportedly frustrated her ex-husband's numerous efforts to spend time with their kids. Sambudla admitted to also having a child outside their marriage, whom he intended to introduce to Dudu's kids, but she wouldn't want her kids to be close to the child. Zuma's daughter currently lives with her two children, while her ex-husband's whereabouts are currently unknown.
Duduzile Zuma Has Been Involved In A Slew Of Scandals
Duduzile doesn't hold back each time she goes all out for her family. Though her boldness often earns her more enemies and public backlashes, they do not in any way deter her from always sticking out her neck for her family. She speaks highly of her family all the time; they mean a lot to her, and she really loves each and every one of them. That said, let's look at some of the controversies she has been involved in below.
Her Two-Day Rant On Twitter
On May 6, 2020, she took to Twitter to defend her brother and father after they were publicly criticized following their tell-all interview, where they talked about sensitive issues such as state capture, Deputy President David Mabuza's alleged poisoning plot, and South Africa's decisions on Covid-19 outbreak. An unimpressed Duduzile claimed that some individuals and the media always target her family in a bid to stop them from saying their experiences and truth.
She also added that her family has gone through a lot and remained silent, but they are going to start speaking up. While some people supported her views, others reminded her of her father's tenure and alleged involvements with the controversial embattled Gupta family and his other misconducts that worsened the standard of living of the poor masses.
Inciting Protest Following Her Father's Arrest
There have been several calls for Duduzile Zuma to be arrested and prosecuted for her roles in the protests and lootings that followed after the arrest of her father. Former president Jacob Zuma was sentenced to 15 months in jail on 29 June 2021 for contempt of court after he failed to honor the invitation of a government-appointed commission investigating alleged corruption during his reign as South Africa's president for nine years.
He was charged to hand himself over to the police on or before the end of 4th July 2021, as failure to do so would lead to the South African Police Service arresting him on 7th July unfailingly. The former president later handed himself over to the police on 7 July, despite the presence of his supporters in his home. They were armed and ready to resist his arrest by all means.
After turning himself in, he was locked up at the Estcourt Correctional Center. On July 9, he challenged his detention in the Pietermaritzburg High Court on the grounds of health, but it was thrown out. This led to massive protests and looting in major areas like KwaZulu-Natal and Gauteng, and other parts of the province.
Duduzile has been accused of inciting the protests through her Twitter posts. Though some people claim she couldn't have possibly done that, others wondered why she didn't come out to clear her name since the Instagram account bears her name.
Duduzile also seemed to have applauded South African music star Jub Jub after he shared his thoughts on the ongoing looting of business outlets. In a clip that was widely circulated, the music star was heard slamming the government while justifying the behavior of the looters. Jub Jub stated that enough is enough. He said people should be allowed to steal if they have to steal.
"People that think they're smart and that think they've arrived, and that think they want to go out there and talk about it's wrong, nobody's condoning looting. I'm f**king disgusted about the blacks who think they have arrived," he boldly added.
In response to Jub Jub's video clip, the mother of two commended him for his views, adding that the government did not send the army "when 500 billion was looted." However, many people found her comment offensive and inciting, while other onliners simply ignored her. The African National Congres (ANC) later distanced itself from Duduzile's numerous posts, revealing that she would be held accountable for her speeches. The country's main opposition party Democratic Alliance (DA), is already pressing for her to be arrested.
In one of the said posts, Duduzile alleged that there is no war going on, adding that people are hungry and things are not working as they should in the country. She wants the government to better the lives of people and stop all forms of racism in the country, a call many said was ignored during her father's tenure. However, no fewer than 72 people lost their lives in the unrest, while 12 people suspected to have provoked the riots were arrested by the police. More than that, over 1000 people were also arrested for various offenses.
Born on 12th April 1942, Jaco Zuma was elected as the 4th president of South Africa in 2009. He assumed office on 9th May and left office on 14 February 2018. Two ANC members served as his deputy during his reign – Kgalema Motlanthe and Cyril Ramaphosa, who is currently the president.
Does DuduZile Zuma Have Other Siblings?
Jacob Zuma reportedly has over 20 children from numerous women. Apart from Dudu's twin, Duduzane, her other grown-up half-siblings include but are not limited to Edward Zuma, Thuthukile Zuma, Gugulethu Zuma, Thuli Zuma, Thandisiwe Zuma, Msholozi Zuma, Phumzile Zuma, Mxolisi Zuma, Sinqobile Zuma. Most of Duduzile's siblings have been following in their father's footsteps. They are actively involved in politics and are members of the ruling party, the ANC.