DonnaLee Roberts is the wife of Ivan Botha. Aside from being the wife of the South African actor, she is also an actress, writer, model, and filmmaker. Together with her husband, she wrote movie scripts for productions like Vir Atyd. Before getting married to Ivan Botha, she already had some level of fame, but becoming his wife brought more attention her way.
Ivan Botha is not DonnaLee Roberts' first husband. There are rumors that the reason why things didn't work out for her and her first husband was her relationship with Ivan Botha. Notwithstanding, she is now happily married to Botha, and their union seems to be made in heaven, as the two are building a home and career together.

DonnaLee Roberts' Profile Summary
Full Name: DonnaLee Roberts
Gender: Female
Date of Birth: August 28, 1984
Age: 38 years old
Ethnicity: Afrikaans
Nationality: South African
Zodiac Sign:  Virgo
Sexual Orientation: Straight
Marital Status: Divorced/Married
Ex-husband: 
Current Husband: Ivan Botha
Children: Cameron
Famous for: Featuring in Vir Altyd and being Ivan Botha's wife
Instagram: @donnalee_r
DonnaLee Roberts Met Ivan Botha On Set
DonnaLee Roberts and Ivan Botha met in 2009 while they were both working on the production of 7de Laan. While working together for five years, they discovered that they shared a similar passion for storytelling. Aside from paving the way for both of them to discover their shared passion, working together also creates mutual love between them.
Unfortunately, there is no information as regards when they started dating. However, it probably was not love at first sight for them because a year after they met, she got married to her first husband, and it was not Ivan Botha.
They Eventually Got Married In 2019
After being friends with Ivan for 10 years and getting married to another man, DonnaLee Roberts finally exchanged marital vows with Ivan Botha on the 17th of May 2019 in the Netherlands. Before their wedding, they were engaged for two years. Their marriage was an outdoor event, attended by only close friends and family. Ivan was dressed in a maroon suit and black shirt, looking like a perfect gentleman. DonnaLee, on the other hand, wore a simple netlike white dress and had a beaded band made of flowers beautifully placed on her hair.
Although it was a small event compared to most celebrity weddings, it was a memorable one for DonnaLee Roberts and Ivan Botha, as they both took to IG days after the event to express how grateful and grateful they were. Ivan shared a picture of himself kissing his newly wedded bride, while DonnaLee shared pictures of both of them looking loved up on their wedding day. The captions on both posts were very heartwarming.
Their Marriage Is Blessed With A Son
Three years after their wedding, DonnaLee Roberts gave birth to a baby boy called 'Cameron.' The birth of Cameron was her introduction to motherhood, which brought so much joy to her heart. Her husband, Ivan, was so excited that he took to social media to share pictures of his son, who looked so much like him.
It is noteworthy that Cameroon was not Ivan Botha's first child. He also has a daughter called 'Amelie' who is a product of his first marriage to a fellow actor, Ciske Kruger. However, judging from the family pictures of Ivan Botha's Instagram handle, Amelie and DonnaLee have a good relationship.
Ivan Botha Is Not DonnaLee Roberts' First Husband
As mentioned earlier in this article, Ivan Botha is not the first man DonnaLee Roberts has been married to. One year after she met Botha, it was reported that the actress exchanged marital vows with a businessman named Gerber Strydom, but her marriage did not last. Three years after their wedding, November 2013 to be precise, Gerber and DonnaLee released a joint statement to announce their divorce.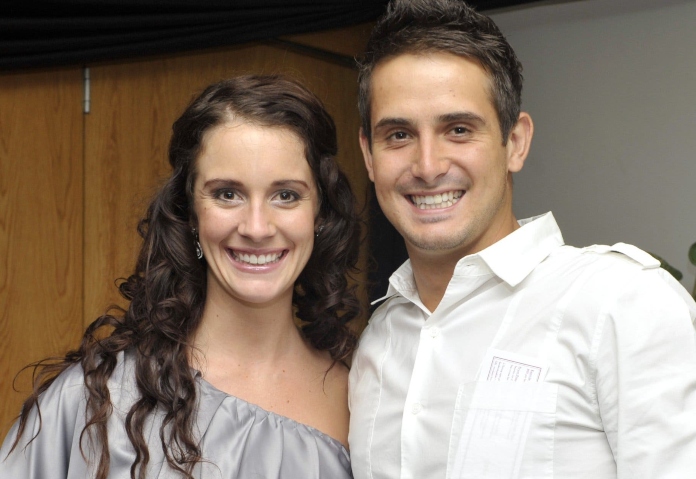 According to DonnaLee, she and Gerber got married young, and they grew apart. If this interests you to know her age when she got married to him, here you have it. She got married at the age of 26. You may think she may not have been too young but be reminded that feeling young and youthful has nothing to do with age.
Ivan Botha was also married to Ciske Kruger, the mother of his first child. But like DonnaLee Roberts' first marriage, his did not work out.
There were Rumours That DonnaLee Roberts' First Marriage Crumbled Due to Her Friendship With Ivan Botha
In 2013, when DonnaLee and her ex-husband announced their divorce, there were rumors speculating that the relationship between DonnaLee and Ivan Botha was not casual. It was insinuated that she was having something more romantic than casual with Ivan. However, they both denied any claim that they were in a romantic relationship while she was married.
Gerber has not said anything about these claims. According to DonnaLee, their divorce was peaceful and did not affect their relationship as friends. But from the looks of things, Gerber could not wait for their marriage to be publicly annulled before moving on to another woman.
On the 8th of November 2014, his new beau, Minette Scheepers, took to social media to celebrate their first relationship anniversary. Because his divorce from Roberts was announced on the 14th of November 2013, it means he has started seeing Scheepers while he was still with Roberts.
DonnaLee Roberts Is A Graduate Of The University of Pretoria
DonnaLee Roberts was born on the 28th of August 1984 in Pretoria, South Africa, where she was most likely raised. There is no information about her parents and siblings online. Neither do we know the primary and high school she attended. Notwithstanding, it is a known fact that she graduated from the University of Pretoria, where she bagged a bachelor's degree in drama. In 2012, she became a part of the New York Film Academy, where she earned a diploma in Acting for Film.
She has featured in several movies and TV series like 7de Laan, Egoli: Place of Gold, Klein Karoo. She has also co-written and co-produced several movies with Ivan Botha. Some of their works include: Stroomop, Vir Altyd and Beurtkrag.
Although her first attempt at marriage was not successful, with Ivan Botha, DonnaLee Roberts seems to have found her better half. They both serve couple goals on social media with the type of pictures and captions they share. They are also co-producers. Working in the same industry also helps them understand each other's schedules. And being a good stepmother to Amelie is also one of the applaudable things she is doing.