The South African celebrity circle is one of the best spots to find beautiful couples, people like Bernard Parker and his wife, Wendy Cherry. The two have enjoyed a great love story and marriage that has spanned close to a decade. More than just lovers, they are also business partners.
Even though they always portray couple goals, their marriage has not been the smoothest as it has seen a number of scandals along the way, including some that many thought would lead to the end of the union. Somehow, Bernard and Parker always come out just fine. Their union is blessed with two kids.
Bernard Parker and Wife Wendy Cherry Met In 2005
The love story of the Kaizer Chiefs star and his wife has been on for more than 15 years. Although there has been limited information as regards how they met, some sources claim they started dating in 2005.
Initially, Wendy was not a fan of football, but because of the involvement of her man, she came to be an ardent follower of the sport. When football took Parker out of the country, Wendy came to visit him and he encouraged her to stay some more. That was how they started sharing a home together.
In the years that followed, their relationship became even stronger and they were inseparable.
Their Wedding Was Not Large But Glamorous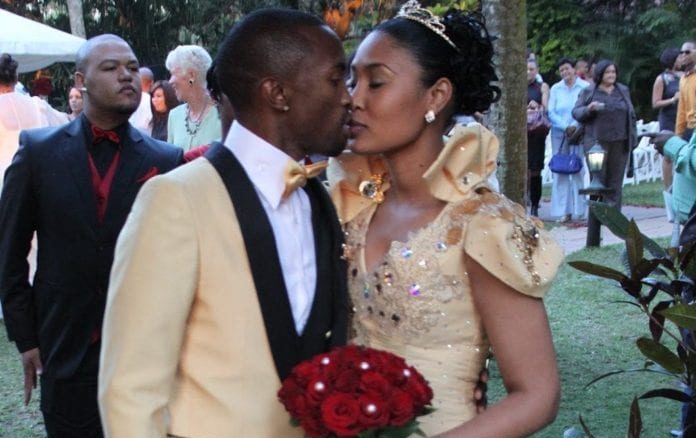 After dating for many years and being blessed with two kids, Parker and Cherry decided to finally settle down as man and wife on June 16, 2012. They got married in an event attended by 170 guests, including family members, close friends, and some of Parker's teammates from Kaizer.
The ceremony was held in Ballito, Kwa-Zulu Natal with both Bernard and Wendy looking outstanding in their cream suit and wedding gown respectively. The bride was dressed by top celebrity designer, Jeff Seleka and the couple drove in an old 1962 Jaguar.
Other guests who graced the ceremony include the kids of the couple who rocked black suits, and football stars including Mthokozisi Tender, Abia Nale, Tsepo Masilela, and many others.
Age Is Just A Number For Them
For Bernard and Wendy, age is the least of the things they are worried about; it is nothing but numbers. This is very true as Wendy is two years older than her husband. There are many who may likely have an issue with this, but not this beautiful duo.
Parker was born in 1986 while his wife was born in 1984, which places him currently at 37 years old while his wife is 39 years old. Because they do not consider their age difference to be something of importance, they hardly talk about it.
Although there is hardly any information about Wendy, her childhood, and education in the public domain, it is known that she came to the limelight following her relationship with Parker and their subsequent marriage. She is from Newlands, Kwazulu-Natal. Career-wise, she is mostly seen as a housewife, but her appearance in the hit television reality show Diski Divas has since turned her into a reality TV star and a recognized face and celebrity in Mzansi.
She lost her place on the show after an altercation with Nonhle Ndala. The debacle that almost went physical led to her immediate exit from the show. Since then, she has not made any attempt to come back to the screen.
Bernard Parker and Wendy Cherry Are Blessed With Two Sons
"Never doubt that a small group of thoughtful committed citizens can change the world. Indeed, it is the only thing that ever has."
–Margaret Mead #ViolenceAgainstWomen #ENDviolence pic.twitter.com/lDlDQzdfm7

— Bernard Parker (@BernardParker) September 6, 2019
Close to a decade into their marriage, Benard and Wendy are parents to two kids. Their first son, Skye was born around 2005 while the couple's second son, Storm was born in 2011.
While Wendy is a full-time mom for their kids, Parker also shares a lot of time with his kids. His wife revealed that her husband is more than what she would have prayed for as a father for the kids. She revealed that he makes sacrifices for the boys, picks them from school, and spends a lot of time with them.
For now, it is still not known if the boys are going to follow in the footsteps of their father by becoming football players. The family lives happily in Johannesburg.
The Couple's Marriage Has Seen A Handful Of Scandals Thus Far
https://www.instagram.com/p/COHdOItja2C/
Benard and his wife have faced various challenges in their marriage, most of which have been linked to alleged infidelity. Here are some of the troubles the marriage has survived:
Allegations That Bernard Parker Impregnated A Student
Only a couple of years into their marriage, there emerged a claim that the footballer had gone into an amorous relationship with a young student of Wits University in 2014. According to the reports, the Kaizer Cheifs player impregnated the teenager who was his girlfriend.
It was reported that according to the said girlfriend who leaked the report, the footballer stopped picking her call and started ignoring her when he got to know she was pregnant with his child. When he was contacted, Parker reportedly said he was going to give out the entire story, but he had a game at hand and didn't want any distraction.
In a twist of events, Zinhle who was a second-year forensic student said even though she was in a relationship with the footballer, she was never pregnant for him. Of course, the entire report attracted the attention of South Africans and backlash ensued against the footballer, but his wife who maintained her silence all through the drama forgave him.
The Footballer Sneaked Into The DM Of Another Girl
Bernard Parker drew a very negative attraction in 2020 when his message to another woman was leaked. The married footballer slipped into the DM of the woman where he dropped her a simple message, "Hey." The woman who wanted nothing to do with it screen grabbed the message and shared it on social media.
For yet another time, Parker got dragged on social media by many who felt he had no business as a married man, sliding into the DM of another woman. However, his wife did not take the matter to heart.
In spite of the major challenges that they have faced thus far, the couple has never openly contemplated divorce as they seem to be very much into each other.
Their Marriage Has Continued To Survive Because They Take Their Vows Serious
In a time when marriages end before they even begin, that of Bernard Parker and Wendy has continued to remain very strong, even with all the challenges they have faced and the scandals that plagued the union.
According to Wendy, they weathered the negative publicity and remained married because they have both made it a duty to never give up on their vows. Because of this, they continue to find alternatives to settling their differences rather than going for a divorce.
More so, they have great love, as well as respect and support for each other. Wendy revealed that she greatly loves her husband and he also loves her. More so, she believes that the challenges they continue to face as a couple contribute to making their love stronger. Wendy noted that even though it is not easy getting married to a footballer, she remains grounded and always remember where she is coming from. This is yet another thing that has kept their marriage strong and in one piece.
Parker, on the other hand, believes that what makes their love stronger is the way they always complement each other and are eager to help each other.