Powerball is one of the biggest lottery games in the world. The gaming platform is famed for allowing players to win huge jackpot prizes and producing many lucky millionaires. Powerball in South Africa has continued to put smiles on people's faces, with lots of them cashing out an outrageous sum of money.
If you are interested in playing Powerball, we have listed all the facts you need to know before putting in your money. This article also contains various ways you can comfortably play the lottery game and more.
How Powerball Began In South Africa
Powerball first started in America on April 2, 1992, when it replaced Lotto America. It is present in countries like Australia, South Africa, the District of Columbia, the U.S. Virgin Islands, and Puerto Rico. The South Africa Powerball was launched on October 23, 2009. Since then, it has risen to become the most popular lottery in South Africa due to its rollovers and consequent huge payouts.
Every week, tens of thousands of South Africans cash out from Powerball and the supplementary game Powerball Plus, which was introduced on November 28, 2015. Powerball is organized by ITHUBA Holdings (RF) Proprietary Limited, which got the license to organize the lottery on June 1, 2015. Earlier, it was being organized by the national lottery operator Gidani consortium.
The biggest Powerball jackpot record was set on February 19, 2019, when a man in his fifties from Capetown matched all five main numbers and the Powerball to win R232 million after 24 rollovers. The highest win so far in 2021 is R158 million, which was won using R15. The winner from North West used an Absa banking app to buy his ticket. To be eligible to play Powerball South Africa, you must be 18 years and above. However, you mustn't reside in South Africa.
How to Play Powerball In South Africa
Although the chances of winning a lottery can be very slim, there is no denying that a substantial number of people have had their lives changed for the better through lottery wins. Playing the lottery is like any other risk-taking adventure, with the probability of wins and losses; the crux of the matter is to be deliberate about how much to bet, what numbers to bet on, studying patterns, and of course, luck.
Powerball is one out of many lotteries with high chances of getting a win. The odds of getting a win in Powerball is one in thirty-five. As Powerball South Africa is becoming increasingly popular, let's look at what the buzz is all about.
How Does Powerball Work and How Much Is A Powerball Ticket? 
Players have to choose five main numbers from 1 to 50 along with an additional Powerball number from 1 to 20. In total, there should be six numbers selected. If the Powerball number and one or more of the main numbers chosen are drawn for the day the player indicated, the player wins a prize.
The prize divisions are:
9th prize division for matching just the Powerball (R10)
8th prize division for matching a number plus the Powerball (R15)
7th prize division for matching two numbers plus the Powerball (3.9 of the prize pool)
6th prize division for matching three numbers (5.19% of the prize pool)
5th prize division for matching three numbers plus the Powerball (6.23% of the prize pool)
4th prize division for matching four numbers (5.51% of the prize pool)
3rd prize division for matching four numbers plus the Powerball (3.25% of the prize pool)
2nd prize division for matching five numbers (5.19% of the prize pool)
Ist prize division for matching five numbers plus the Powerball (70.73% of the prize pool)
The first prize division is the Jackpot, where a player matches all numbers drawn in the lottery. The prizes for the eighth and ninth divisions are fixed at R15 and R10, respectively. After the fixed prizes are paid from 50% of total ticket sales, the remaining prize pool is shared amongst the other divisions at a fixed percentage. That means the prizes to be won for each division are constantly changing depending on the volume of tickets sold.
In addition, if the jackpot prize isn't won for a draw, the prize is rolled over to the next draw, increasing the prize money. Powerball jackpots keep rolling over until there is a winner or multiple winners. Of course, the total prize money for each division is divided by the number of players in each division that won in that lottery draw.
A Powerball ticket costs R5 per board, with the supplementary Powerball Plus costing an additional R2.5. That means that to play the Powerball Plus, you must have purchased the Powerball ticket. The Powerball Plus increases the chance of winning, though the prizes are smaller.
Can You Play Powerball Online and How Do You Play on Your Phone? 
There are many options available to purchase and play Powerball. Included in these options are online options you can access with just your phone. Whatsmore, with these online options, you don't have to worry about losing your ticket, and there is no chance you will forget to check if you win any prize because your online platform will notify you in case of a win. Let's look at the various options available and how to use them;
1. In stores
Go to any licensed retailer and pick up a bet slip.
Choose five numbers between 1- 50, plus one Powerball number from 1-20. You can also mark the Quick Pick box on your bet slip to have your numbers generated randomly by the system.
Play as many boards as you like on the bet slip. Each board costs R5.
Select how many draws you would like to enter, with the minimum being 2 and the maximum being 10. Leave blank if you wish to play a single draw.
Indicate if you want to add Powerball Plus to your ticket for an extra R2.50 per line.
Buy your ticket from the retailer and keep it safe until the draw. You will also receive a receipt from the teller with all your chosen numbers.
Check the winning numbers to see if you won a prize.
2. Playing through the lottery website
Create an online account.
Pick your numbers or opt for a Quick Pick.
Choose how many lines you want to play and how many draws you wish to enter.
Confirm your purchase and wait for the draw to take place.
3. Play via SMS/USSD
Using USSD for FNB
Dial *130*321# on your mobile. Follow the prompts and select option 3 (LOTTO and More)
Select Powerball
Select Choose numbers
Select the account to buy from
Select number of boards
Select Yes for Powerball Plus or No
Select Yes for multiple draws or No.
If you selected Yes for multiple draws, enter the number of draws between 2 (min) and 10 (max).
Enter six unique numbers for each consecutive board. Use space to separate the numbers.
Select Continue
Review the confirmation screen and then select Confirm.
If your transaction were successful, a confirmation page would be displayed.
Select the option for your next action.
Using USSD for Nedbank
Dial *120*001#
On the SMS banking menu, Choose option (5) for lotto
Read all the terms and conditions and enter (1) if you accept them
Choose your preferred lotto product between SA Lotto (1) and Powerball (2)
Select how you would like to play your numbers; if you want Quick Pick, enter (1)
Select the bank account you are making the payment from.
Select how many boards you would like to play
Select if you want to play multiple draws by replying yes/no
Select how you would like to be notified of the results (Email, SMS, Fax)
Enter (1) to confirm your bet
4. Via websites and apps of some major banks
For First National Bank (you should have an account with the bank)
Log in to choose your game, select 'play now,' pick your numbers and buy your entry.
When Is Powerball Playing and What Time Is It Drawn in South Africa?
The Powerball draws take place every Tuesday and Friday at 9 pm South Africa Standard Time throughout the year. Tickets can be purchased between 6 am and 11 pm SAST on non-draw days, but sales close at 8:30 on Tuesdays and Fridays – 30 minutes before the draw takes place.
How Many Numbers Are In Powerball?
There are six numbers in Powerball; five main numbers (chosen from 1-50) and one Powerball number (selected from 1-20).
How Many Numbers Do You Need To Win?
Matching with just one number is enough for a win in Powerball. However, this number must be the Powerball. Matching the Powerball plus any main numbers increases the prize money.
Winning Tips To Help With Playing Powerball
Play smart. Although buying more tickets increases your chances of winning, it doesn't guarantee you will win. In essence, use the money you don't need to play and be disciplined.
Pick your numbers. It is better to pick your numbers yourself instead of using a quick pick. Not only are some numbers special, but there might also be your lucky number.
When picking numbers, keep in mind the hot numbers and the cold numbers. Hot numbers appear more frequently than cold numbers. The possibility that they might recur is pretty high.
Always check your tickets. Many players have missed out on their winnings just because they failed to check their tickets or were careless in checking them. Playing via online platforms reduces this as you would get a notification if you do win.
Mix different size numbers. Every lottery has two halves of numbers – the low and the high. For Powerball, the low is 1-25, and the high is 26-50. So when choosing the number, pick numbers from both ranges. 70% of winning numbers are a combination of the high and the low numbers.
Sum up your numbers. The sum of all numbers picked should fall between 110 and 180. About 70 % of all lottery jackpots won had the sum in this range.
Avoid Picking the Same Numbers as Previous Winners. The possibility of winning with the same number as previous winners are pretty low.
Stick to your numbers. Sometimes sticking to one particular set of numbers might pay off in the long run.
Form syndicates, where you can pull money together as a group and purchase sufficient entries to guarantee the possibility of a huge win.
Avoid using birthdays, anniversaries numbers as this limits your choices. You can't choose a number above 31. Meanwhile, the range goes up to 50.
Does 2 Numbers in Powerball Win Anything In South Africa?
Yes, matching the Powerball and any main number gets you the fixed 8th prize division prize money of R15.
What Are Your Odds of Winning a Prize in Powerball?
The odds of winning a Jackpot in Powerball South Africa is 1 in 42,375,200. But don't worry, the odds for winning different divisions are significantly less. The odds for a 2nd division prize is 1 in 2,230,274. While for 3rd and 4th division prizes, it is 1 in 188,334 and 1 in 9,912 respectively.
For 5th and 6th division prizes, it is 1 in 4,280 and 1 in 225. And for 7th and 8th division prizes, it is 1 in 299 and 1 in 57. The odds of winning the 9th division prize is 1 in 35.
How To Claim Prizes Won on Powerball
Where you claim your prize depends on the amount won and the method used to purchase the ticket. For tickets purchased from licensed retailers in stores with prize money of up to R2,000, you can walk into the store and claim your prize from the retailer.
Prizes from R2000 to R49,000 will be transferred electronically or via cheque in authorized payment centers. For R50,000 and above, go to one of Ithuba's regional offices, where it would be transferred electronically. You can also claim your prizes through the mail. A valid means of identification and valid proof of entry into the draws will be required to redeem rewards.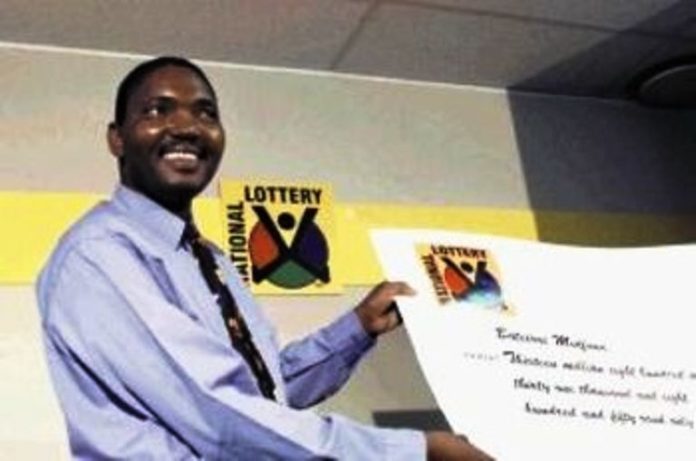 Also, prizes must be claimed within 365 days of the draw taking place, and unclaimed prizes at the end of the 365 days will be transferred to the National Lottery Distribution Trust Fund and used for a good cause.
Rules and Regulations to Keep in Mind 
A. You must be up to 18 years and above to play Powerball in South Africa.
B. Powerball tickets can be canceled and money refunded if:
The ticket is returned at least three minutes after the purchase was made.
The ticket is returned to the terminal it was printed from.
The ticket is returned within two hours of purchase or the close of ticket sales.
The ticket's barcode can be scanned.
C. It is the player's responsibility to make sure that the details on the ticket are correct and correspond with the selections they made on the bet slip.
D. If the bet slip is rejected by the terminal or the data is not recorded on the central computer system; then, the entries will be invalid.
E. There must be a confirmation SMS and a ticket/receipt number for any online method used.
F. The board of directors of Ithuba and the National Lotteries Commission, and their immediate family members, are not eligible to play.
G. The maximum that can be spent on a bet is R2,000 per ticket.
H. Only those players that have purchased a valid entry to Powerball can have access to Powerball Plus on the same draw date.
FAQs About Powerball South Africa
Question1: Do quick picks win the Powerball? 
Yes. However, the chances of winning with quick picks are lesser than when you pick the numbers yourself.
Question 2: When do the South African Powerball draws take place?
Powerball is drawn every Tuesday and Friday evening at 9 SAST. If the draw falls on a bank holiday, such as Christmas Day, it will be rescheduled.
Question 3: Where can I watch drawings?
You can watch the Powerball drawings live on e.tv.
Question 4: What is Powerball Plus?
Powerball Plus is a supplementary game that offers you additional chances to win for an extra fee of R2.50 per line.
Question 5: What is the difference between Powerball and Powerball Plus?
The cost of playing and the prizes are different. Powerball Plus has a  separate draw of its own. If you choose to play Powerball Plus, your numbers from the main game are entered again into the Powerball Plus draw, so it is possible to win prizes in one game and not the other.
In a case where you win prizes in both, the one with the highest amount will do to you while you forfeit the one with the lower price.
Question 6: Can I play Powerball Plus on its own?
No. You must play Powerball to be able to play Powerball Plus.
Question 7: When do the Powerball Plus draws take place?
The Powerball Plus draws occur shortly after the main Powerball draw every Tuesday and Friday at 9 pm SAST.
Question 8: Where can I find the latest Powerball Plus results?
You can find the most recent results on the Powerball Plus Results page.
Question 9: What do I do if my ticket is lost, damaged, or stolen?
With sufficient evidence to support claims of theft or loss, prizes can be redeemed. Tickets that are damaged but with the serial number still intact can also be validated. You are advised to put your signature and identification number on the back of your ticket to prevent anyone else from claiming it.
Question 10: Can I play in a syndicate?
Yes. You can team up with family members, colleagues, or friends to buy tickets. However, prizes can only be paid to one person, so the group has to appoint one person to collect the winnings.
Question 11. Can I stay anonymous if I win?
Yes. You have the right to remain anonymous when you win.