In South Africa, just as in other parts of the world, one's criminal status is very important for many reasons, including getting a job, applying for a visa, and employment in other countries, among other things. That is where the Police Clearance Certificate comes in as a legal document to confirm whether or not one has been convicted for any crime in the past.
The overall aim of the document is to serve one's clean bill of character and proof that one will not be an undesirable element in the environment.
What Is Police Clearance Certificate?
As stated, the Police Clearance Certificate in South Africa, also known as PCC, is a crucial document one would need to show as a statement of one's criminal status. It becomes even more important when you are looking for employment in certain organizations, or even when you want to seek a visa to other countries; for emigration purposes.
The certificate also comes to play when you have certain dealings either with individuals or organizations, both in South Africa and other countries abroad to serve as your security declaration. Certain certification programs will request for it such as the SACE (South African Council for Educators).
The issuance of this document is the responsibility of the Criminal Record and Crime Scene Management in Pretoria, although one can request for and get it whether one is in any other part of the country or abroad.
What The PCC Shows and What It Is Needed For 
The overall essence of the Police Clearance Certificate is to show whether one has been involved in any criminal activity in the past or not. As a result of this, most organizations that request for it may specify the validity of the PCC you have.
Generally, the clearance certificate is only valid for 6 months, but if the institution that is requesting the certificate does not specify the validity, then one may not need to worry much. Importantly, the certificate does not contain any information about validity as it only comes with a date stamp.
The document is needed for the following reasons:
SACE certificates
Immigration Application
Permanent residency
Foreign work permit and application
Visa applications
Application to work and study abroad
Can I Get A Police Clearance Certificate From The Local Police?
The process of getting the Police Clearance Certificate can start from the local police station, but it has to be sent to the Criminal Record and Crime Scene Management in Pretoria to be processed.
If the stages are completed and your certificate is ready, it will be sent back to your local police station, from which you can retrieve it in person or through someone you appoint. However, whether you are getting it yourself or through someone else, there will be a need for your identification for verification.
If you are in any country outside of South Africa, you can also start the process from any police station near you, although after the process, you will be required to make arrangements for it to be delivered to you, as it will not be sent back.
Police Clearance Price/How Much It Costs
At the moment, it may cost you R150.00 to get a Police clearance in SA. The non-refundable payment can be made through different means, based on one's convenience, including cash or electronically.
If you prefer to pay in cash, that can be done in the nearest police station to you, but if you prefer to have it electronically, that can be done through the South Africa Police Service's bank account against the National Commissioner of the South African Police Service using the following details:
ABSA cheque account number: 4054522787
Branch code: 632005
Swift code: ABSAZAJJXXX.
Note: It is needed to have the letters "PCC" followed by the applicant's initials and surname as reference when the payment is electronic.
Steps To Take Before Getting The Police Clearance Form
For those in South Africa
If you are living in the country, you can obtain the form following these steps:
Have your fingerprint taken by the South African Police Service; A full set of your fingerprints must be taken on a SAPS 91(a)
Fill the application form
Include a certified copy of your identity document/passport (the identity document or passport will be presented as proof at the police station).
Other documents that may include a marriage certificate to show a change in the name might be required as the case may be.
Finally, have your proof of payment ready.
Applications can be forwarded to CR & CSM in Pretoria either by an individual or one can request for it to be forwarded by the police station at no additional fee. Also, you can decide to use the postal or courier service although that is at one's cost.
Those living abroad
For those living in other countries around the world, the process is slightly different. Here are the steps to take.
You can visit the police station or the South African Embassy in the country where you live
Have your full fingerprint taken on the official forms of the applicable country. However, where the SAPS 91(a) fingerprint inquiry form is available, that can also be used.
All other documents relating to the application, including change of name where necessary, proof of payment, and forward it to CR & CSM for processing.
The Police clearance application can be sent via: 
POSTAL ADDRESS
The Head: Criminal Record and Crime Scene Management (For attention: Police Clearance Certificates)
South African Police Service
Private Bag X308
PRETORIA
South Africa
0001
PHYSICAL ADDRESS
The Head: Criminal Record and Crime Scene Management (For attention: Police Clearance Certificates)
South African Police Service
Bothongo Plaza West
CRC Client Service Centre
1st Floor, Room 14
271 Francis Baard Street
PRETORIA
Tracking Your Application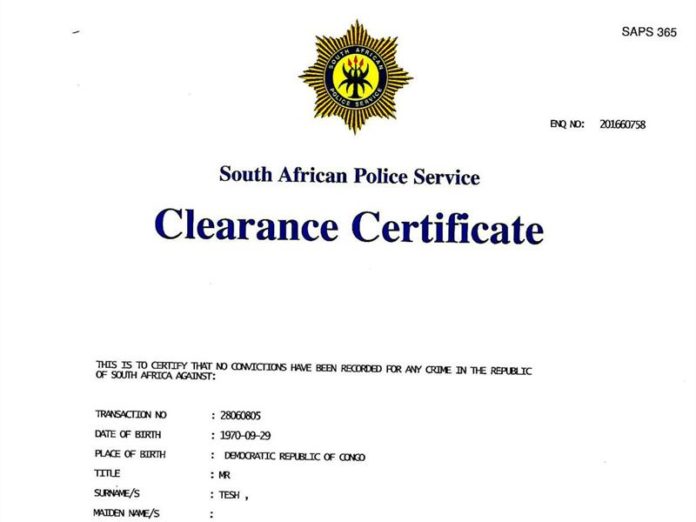 When your certificate is finally processed, it is not sent back to individuals automatically (for those in South Africa), and it is expected that one monitors the progress, most especially if you are not in the country.
Before anything else, if you provide your South African number with your registration, an SMS will be sent to you once the application has been received, as well as the reference number allocated to your certificate. Apart from this, you can go on the website of SAPS to track your application.
One interesting thing with the process is that whether you follow it or not, once the process is completed, you will receive an SMS notification. Also, you will receive a scanned copy of the document. If, however, there is a problem with the application, and it cannot be processed, you will also receive an SMS.
How Can I Check My Police Clearance Certificate Status?
It is important to follow and collect your certificate once it is ready because if after three months a certificate is still not collected, it is destroyed. While the application is still being processed, you can check and know the status via SAPS's website. You will be expected to input the inquiry number that was allocated to your Police Clearance Certificate application and also your South African identity number if you are a citizen. For non-citizens, you will be requested to put in your date of birth, and after this, you will know the status of the certificate.
If you experience any problem or you are unable to trace your application and know the status, you can contact SAPS via:
How Long Does Police Clearance Take
Right from the day that the complete application form reaches and is received at the Pretoria Criminal Record Centre (SAPS), it usually takes a minimum of between 5 to 15 days for it to be finalized and issued. Before now, one might have to wait for an average of between 6 to 8 weeks for your Police Clearance Certificate to be issued.
If you are applying from another country, it is sure to take even a much longer period of time that may stretch into months. For individuals who have been identified as "Wanted," the certificate will not be issued. Also, if you fail to send complete documents or your fingerprint is not captured and sent, such an application will not be processed.
Are urgent/express services available?
On its portal, SAPS does not provide an avenue for express service, but some other independent bodies and companies have been known to assist with such tasks both within and outside of the country for people who want to have it urgently; hence, the process may differ a little.
Note: Although most of the companies will be able to deliver as promised if everything goes as expected, the charges may be quite high depending on the accompanying documents and how soon one needs the PCC.