Sbu Mpisane and his wife, Shauwn Mkhize, are South Africa's power couple famed for their business practices and luxurious lifestyle. The two were not known to most people in the country until sometime in the early 2000s when they hogged the headline for becoming millionaires overnight through a government contract they won.
Mr. Sbu and his now ex-wife spent fifteen years of their lives together as husband and wife. Their union produced a son who is much closer to his mother and also finds pleasure in exhibiting his family's wealth. The couple may have since ended their marital relationship, but their riches have continued to grow in leaps and bounds. They have never stopped showing off their assets and how influential they are.
Sbu Mpisane's Personal Wealth Is Quite Impressive
Before Mr. Sbu became a household name in the business community and beyond, he was a metro police constable who went home with just R15,000 at the end of every month. He was the central topic of discussion for his colleagues at that time due to his flashy lifestyle – he drove to work every day in an exotic Lamborghini and was living in a mansion valued at R17 million.
The businessman owes most of his big spending and lavish lifestyle to his highly connected wife. Through her, he was employed at Shauwn's company, Zikhulise Group, after retiring from his police job. He also became a co-owner of the Royal Eagles Football Club until 2019 when he became the sole owner of the club after his wife lost the battle of the ownership of the club. The club was originally founded by the couple in 2014.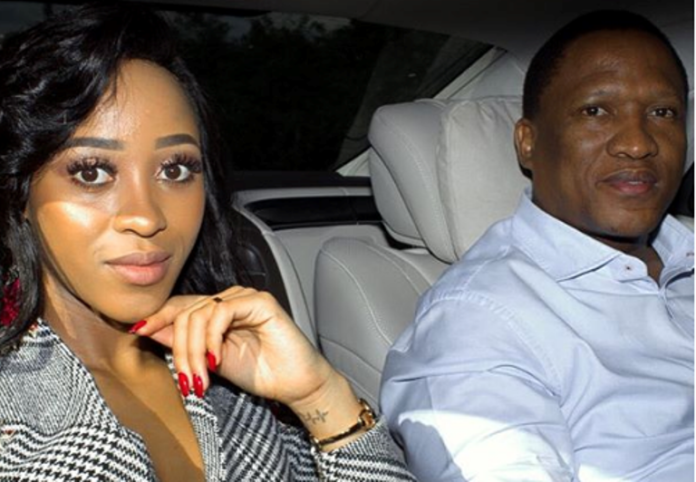 According to reports, Mr. Mpisane earns an estimated R759,000 monthly – R559,000 as salary and R200,000 as his monthly maintenance from his divorce from Shauwn. He had asked his ex-wife for the monthly allowance during their divorce proceeding and luckily for him, he got exactly what he wanted through the help of the prominent Durban lawyer, Mxolisi Nxasana.
It's not clear if Sbu Mpisane has other sources of income aside from the ones mentioned above. However, one clear thing is that his assets are massive. His net worth is still being calculated, but it is believed to be in millions of rands.
Shauwn Mkhize's Net Worth Is Greater Than It's Ever Been 
Shauwn Mkhize began her journey to greatness at a young age. She took the leadership of Zikhulise Group after the death of her mother in 1999 and slowly moved it to a billion-rand-asset. Her mother, who was a member of the African National Congress and anti-apartheid fighter, is reportedly the founder of the company.
Sbu's ex-wife has made so much money through her company and other business channels. She is arguably one of the richest women in South Africa. She is not just good at business, but she is politically connected, which makes it easy for her to win contracts. Shauwn is believed to worth more than R300 million.
Are The Couple Billionaires?
Sbu and Shauwn are unarguably extremely wealthy, but it's difficult to tell if they are actually billionaires since their joint net worth is not publicly known. The pair obviously made millions from their streams of income during their time together, but a whole lot must have changed since they parted ways and shifted their interest to their individual business pursuits.
The couple's lifestyle is a reflection of enormous wealth. They have assets worth millions, which they made through their huge investments in the country. What is evident, however, is that the couple did make the most of their lives by living large off their hard-earned accumulated millions.
A Look At Their Income Streams
Sbu Mpisane and his ex-wife made their wealth through numerous income streams. Before their divorce, the couple invested their time, expertise, and money on several businesses, through which they fund their stylish lifestyle. Below are the sources through which they became extremely wealthy.
Zikhulise Group
A huge part of their riches came through their company Zikhulise Group in the early 2000s from building low-budget RDP houses on about 4500 sites in Umlazi Infill, KwaMgaga, and Umlazi B10 in eThekwini municipality. The couple is said to have also made millions through another multi-million contract from the KwaZulu-Natal government.
The Zikhulise Group umbrella corporation also has a slew of companies under it, including Inyanga Security Services (a professional security company) and the Zikhulise Auto Restorers (a 100% BEE registered company established to employ and empower individuals, especially historically disadvantaged people).
Soccer Ownership Stake
The Durban-based couple used to co-manage the Royal Eagles Football club until 2019 when Sbu won the battle of ownership of the club. The couple began having issues about the club in the course of their divorce proceeding.
The Mpisanes is believed to have benefitted financially from the club, even though the financial record of the team is yet to be publicized as it's being managed by Sbu. Shauwn and her husband bought the club in 2014 and moved it to KwaZulu-Natal. The businesswoman is now in charge of another club, which is just like the Royal Eagles as well.
Kwa Ma'Mkhize Reality Television Show
The Durban-based tycoon's popularity has been on the upward side ever since her critically acclaimed reality television show, Kwa Mam'Mkhize, hit the screens. She features in the fast-growing program alongside her son, Andile Mpisane, and daughter, Sbahle Mpisane. The show chronicles their everyday lives, family affairs, their journey to greatness, challenges, as well as their spending habits.
Mkhize's husband has never been part of the show since it began airing. Reports have it that he initially kicked against the show because he claimed Shauwn didn't consult him before starting the show. However, Sbu Mpisane later changed his mind saying that his ex-wife can go ahead with the show if it will make her happy and help her regain her identity as she has always wanted. The show was recently nominated for a Hollywood award alongside Shauwn and her son Andile.
.@kwa_mammkhize Reality Show nominated for prestigious Hollywood award.

Shauwn Mkhize will be on the #AMReport405 at 08:15.

Don't miss it! @MichelleL_Craig @N_Ayanda @Benji_Sports
#MamMkhizeAndAndileHollyWood pic.twitter.com/9eLHion4qU

— SITHOLEEXPRESS (@SthembisoMedia) September 11, 2020
The couple built their wealth through:
Zikhulise Group
Soccer business
Kwa Ma'mkhize reality show
Sbu Mpisane And Mkhize's Legal Battles Have Cost Them A Fortune
Wealth doesn't in any way equate to happiness. Shauwn Mkhize and Sbu Mpisane may have parted ways amicably, but their divorce remains of the most-talked-about divorces in South Africa. The couple ended their marriage after 15 years together, leading to a huge divorce expense on the side of the couple.
Although the exact amount they spent on hiring their individual lawyers and taking care of other financial responsibilities is yet to be publicized, it is believed that the process cost them a fortune. Sbu receives a monthly fee of R200,000 from his ex-wife following their divorce.
In 2016, the couple was forced to head to the law court after the South Africa Revenue Service (Sars) successfully made two court applications to preserve the couple's assets for allegedly owing the taxman R141m. We gathered that the power couple forked out millions to hire top-notch legal practitioners to take up the fight.
News making the rounds have it that SARS recently raided their mansion as part of its investigation into their company, Zikhulise Group.
Their Flashy Lifestyle Earned Them Media Attention 
The Mpisanes are known for their love for luxury and everything flashy. The businesswoman loves the spotlight and enjoys every bit of it to the fullest. She often wears matching clothes with her son and also tours around the world with him. The mother-and-son duo mostly flaunts their luxurious lifestyle on their social media pages.
Before their divorce, Shauwn and Sbu made headlines on several occasions for their spending habits. Apart from living the high life during his active days in the police, Sbu made sure he showed off his family's wealth to the world. During their son's 16th birthday, the couple gifted him a Mercedes Benz AMG G63 SUV valued at an estimated R2.3 million.
The queen of highlight equally has a great taste. She wears the best of clothes, shoes, bags, jewelry, and whatnot. On one occasion, Shauwn recounted dedicating a part of their house into a showroom for their fleet of cars, which includes a Maserati Pininfarina, an Aston Martin, a Porsche Turbo, and a Ferrari, among others.
Shauwn, like her ex-husband, is so influential in the country that she is mostly found in the midst and gatherings of high-profile politicians and celebrities.
The Couple Has Lost Money Through
Their legal battle with SARS
Divorce
Some of their cars include:
Maserati Pininfarina
Aston Martin
Porsche Turbo
Ferrari
Rolls Royce
What Have They Been Up to Lately?
Sbu Mpisane and Shauwn may have ended their marital relationship, but the two are still very much around in the country. According to reports, the former metro policeman is living a lonely life at one end of their Durban-based multi-million rand mansion while Shauwn and their kids live at the other end. His business line hasn't changed either, at least, there haven't been reports that he has been relieved of his duty at Zikhulise Group, neither has his position as the sole owner of Real Kings Football Club changed.
Mkhize herself is still in business, making millions from her company and other sources of income. She often appears unperturbed by her failed marriage. Whenever she pops up on social media or other platforms, she always looks excited and fulfilled – something she has always wanted.
Life, no doubt, has never remained the same for the South African power couple since they divorced, but they've managed to carry on with their lives. Sbu now keeps a low profile on his personal life while his ex-wife is making the most of her life, especially with her son Andile Mpisane. They are mostly seen together on social media.