When the name of Riky Rick is mentioned, many people will link him to rap music while others will associate him with entrepreneurship, fashion, acting, and music production, among other things. Amid all these, he is also a loving husband to his wife, Bianca Naidoo, and a dedicated father to their two adorable kids.
He may not be from the most stable homes, but the rapper is set on maintaining a stable home with his wife for their kids. At the moment, he has one of the most enviable marriages of celebrities in South Africa, getting the light to shine more on his love story with Bianca and how they have been able to hold things down for this long.
Quick Profile of Riky Rick
Real name:

 

Rikhado Makhado

Date of birth: 

20 July 1987 

Wife: Bianca Naidoo
Children: 2 (Jordan Makhado and Maik Daniel Makhado)
Riky Rick And Bianca Naidoo First Met in 2010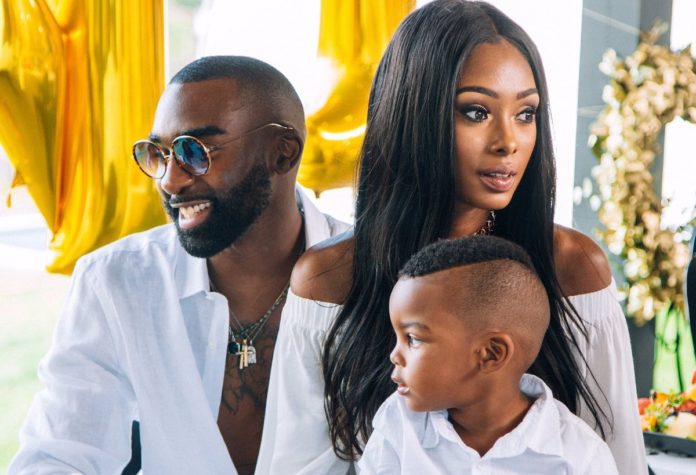 The marriage between the rapper and his wife has many special things, but their meeting was nothing out of the ordinary. They met in the early 2010s in a restaurant in Sandton. One aspect of the story that they both agree with is that there was a connection that was almost instant for the pair.
They got into a conversation which then led to a date and some more dates. They soon became friends before a romantic cord was established between them. Before long, they both realized that they wanted to always be in each other's lives.
Considering that Riky gained fame in 2014 after the release of his album, Family Values, it can be stated that he met his wife while he was still struggling to make a name for himself in the music scene.
They Got Married In 2013
The Cotton Fest boss and his beautiful better half got married on 26 May 2013. They are believed to have had the ceremony in a secret event as there are no photos or other details available. However, in 2017, he took to his social media to celebrate their 7th year together.
When they got married, Riky was 26 years old, but nothing much is known about his KwaZulu-Natal born wife except that she is a strong and independent woman. According to her LinkedIn account, she is not only a stay-at-home mum as many would believe; she once worked as a Traffic and On-Air Production Co-ordinator at Fox International Channels.
At the moment, she has kept personal details away from the public domain, so it is not known if, aside from being his wife and the mother of their kids, there is anything else that she does in the way of a career.
The Couple Is Blessed With Two Beautiful Kids
Riky Rick and Bianca's marriage has been blessed with two kids, with the first being a daughter born by the rapper's wife from a previous relationship before they met. Their second child is a son, Maik Daniel Makhado, born on 19 March 2014. Their children have five years age difference between them. This means that their daughter, Jordan Makhado, was born in 2010.
The rapper grew up in a broken home as one of seven children between his parents. His parents had him and his brother, and then their marriage came to an end in divorce. His mother went on to have two more kids while his father had three kids, the first being a set of twins.
Growing up in such a family made Riky and his wife want to do the right thing and give their children a stable and loving family. He revealed that they did not know the right way, but they have learned along the way, and they are still learning. Riky emphasizes that he is teaching his children to start working early in life, and he is teaching them not to grow up in beautiful circumstances all the time because a little pain is also important.
Love And Understanding Has Kept Them Going
One of the ways that the couple has managed to keep their relationship this long is by allowing each other some space. According to Bianca, she prefers to allow her husband to do his work except when he invites her to certain events. The mother of two reveals that not being exposed to his gigs helps them to avoid some fights as a couple. More so, she prefers being at home with the kids.
Also, they have continued to work together as a team for many years. This is revealed in a post by the rapper while appreciating his wife, that she was always looking at long-term goals of the family, which is one thing that has made him appreciate her.
Unlike many other celebrities who post every aspect of their family life out on social media, these two keep that aspect of their life private, except for the few times, on special occasions where the rapper celebrates his wife. Keeping the marriage very private is yet another way that they have been able to sustain the union for this long, even as celebrity marriages are not known to last long.
Riky Rick Got Dragged On Social Media in 2019
In 2019, when he celebrated the seventh anniversary of his marriage on social media, during which he advised men and women to find partners that really cared about them and who doesn't value life based on world possession, he got dragged by followers who claimed he is being controlled by his wife and forced to stay at home.
He was made fun of as an adult who could not decide for himself how to spend or have fun without his wife doing that for him. This came after revealing in the post that when he wanted to buy a car, watch, or even visit the club, she would tell him to relax and use the money for something better or relax as he has done that 10 years ago. The idea that his beautiful wife was controlling him was further heightened by the claim in the post that whenever he wanted to go and hang out with his friends, she would tell him it was not like the guys even liked him.
Interestingly, he kept his cool without engaging in any unnecessary banter with trolls.  Even with all the attacks, he has been getting on social media with his various posts concerning his wife. The couple has continued to have a healthy marriage and a happy home.