Quinton Jones' marriage to South Africa's sweetheart, Minnie Dlamini was one of the biggest events of 2017. The news also broke so many hearts all over the country – both gents and ladies alike. Jones, who was a former football cornerback, completed his football career in the National Football League (NFL) and Canadian Football League (CFL), with the San Diego Chargers and the Saskatchewan Roughriders, respectively. Minnie Dlamini, on the other hand, is a well-known actress, model, radio, and television personality, and so a marriage between the two was bound to send tongues wagging.
The duo had served us some couple goals since walking down the aisle in what has since gone down as a fanfare wedding, with a docu-series that had a history-making viewership. They welcomed their baby boy in November 2020, and family life just seems to be growing on them. But where did it all begin for the celebrity duo?
Quinton Jones and Minnie Dlamini Started As Friends After they Met At Urban Brew Studios
Quinton Jones began his work life as an athlete. He played as a cornerback in the National Football League (NFL) for the San Diego Chargers, and in the Canadian Football League (CFL) for the Saskatchewan Roughriders between 2007 and 2008. Truth be told, his adventure with football was not a very successful one, and so he retired as an athlete to pick up a job in showbiz.
He joined Urban Brew Studios and that was where he met his wife, Minnie Dlamini, in 2010. They worked at the firm together, and even though Minnie was a junior colleague, they became friends. So close was their friendship that they would hang out together; at the time, both parties never thought their friendship would go beyond what it was. More so, Quinton and Minnie were dating other people at the time, and it helped in keeping their emotions at bay and also strengthen their bond as friends.
Their friendship grew and they became so close to each other that when they became single in 2015, having left their respective partners, Quinton quickly suggested they should start a relationship. Minnie, however, would have none of it as she thought it was weird, being colleagues. When she eventually yielded to his proposal, they continued in an unofficial capacity for a year before the relationship became official.
Their Traditional and White Wedding Ceremonies Was A Fanfare
The couple would go on to tie the nuptial nuts, first traditionally – on July 8, 2017 – and then the white wedding held two months later, on September 16. Those events will be forever etched into the folklore of South African entertainment history as the biggest event of 2017. Both ceremonies were purely fun fair! The traditional wedding was held at the bride's home at Glenn Hills in Northern Durban, KwaZulu Natal, and it was attended by the crème de la crème of SA's entertainment industry.
The wedding ceremony was a grander occasion with an ambiance of a fairytale wedding. The event took place at the Lourensford Wine Estate in Somerset West, and even though the HomeGround presenter insists that her nuptials were attended by 'friends', it was indeed a gathering of celebrities. In attendance were Criselda Dudumashe, Jimmy Tau, Jessica Nkosi, Unathi Msengana, Zakes Bantwini, Nandi Madida, Anele Mdoda, and Basetsana Kumalo, to mention just a few.
Quinton Jones and Minnie Dlamini's Wedding was one of the Hottest Events in SA for 2017
Quinton Jones' marriage to Minnie Dlamini created an entertainment buzz in 2017. Not only was the event an opulent one, but it also attracted notable names in the glamor industry from all over South Africa and beyond. A look at the photos from both ceremonies depicts exactly why it was the most talked-about event in South Africa – going into the year 2018.
Her official wedding gown was breath-taking. It took three months and twelve seamstresses to design the wedding dress, which was made of Chantilly lace and tulle with Swarovski diamonds encrusted at the helm. It was designed by South African designer, Gert-Johan Coetzee.
From her choice of costume to the decoration of the venues, the tales from the events ensured that everyone waited eagerly for the release of the docu-series from the events – Minnie Dlamini: Becoming Mrs. Jones. Upon release on October 13, 2017, one month after the wedding, the first episode shattered the rating records.
The three-part docu-series covering the couples' pre-marriage plans (including the catering and make-up), the traditional marriage, and the white wedding was produced by their own production company – Beautiful Day Productions – and was filmed exclusively by Multichoice in a deal worth R6 million. It was aired on the VuzuAmp channel, and six days after its release, the show recorded the highest ratings ever for the premium satellite TV channel.
The Couple Have Remained Together Since They Said 'I Do'
After every wedding, comes the real marriage and Quinton Jones and Minnie Dlamini-Jones have taken their marriage in its strides. As fans waited for the announcement of a child, the couple continued to cement their bond as they prepared for parenthood. They have celebrated each anniversary together, sharing loved-up photos of each other on social media.
Jones, being a private person, has his social media accounts in private mode. However, his wife, Minnie, whose life and fame centers around her public image, remains active and very visible on social media. Through her posts, fans can see that there is so much love in the Jones empire as the model never fails to talk up the love she has for her hubby. When asked by fans about the delay in having a child, the TV personality insisted it was a private issue between herself and her husband and that fans should let them be.
There have been rumors of a fight between the lovebirds. During the 21 days lockdown in the country as a result of the COVID-19 pandemic, Minnie Dlamini tweeted a couple of cryptic messages, which left fans suggesting there was trouble in paradise. First, she suggested in her tweet that she wanted to be alone – and not with her husband, Quinton Jones – during the lockdown.
Nothing like a global pandemic to qinisa your relationship…

— Minnie Dlamini Jones (@MinnieDlamini) March 24, 2020
I could do with 21 days alone.. hayi kabi…

— Minnie Dlamini Jones (@MinnieDlamini) March 24, 2020
I REALLY need to talk to you but I can't… 💔 Today was a difficult day..

— Minnie Dlamini Jones (@MinnieDlamini) March 24, 2020
The above tweets generated so much buzz on Twitter as fans wanted more answers than she was willing to give. Some even cautioned her for dragging family issues to the public and desisted from throwing jabs at Mr. Jones. It turned out to be a case of the fans misinterpreting her tweet, and all seem to be well with the couple, especially the birth of their son.
Although social media rumors may be ignored until it's confirmed by the parties involved, a particular incident about a fight was published in a national tabloid – Sunday Sun. The report stated that Minnie was seen shouting at her husband at the Cape Town International Airport – in the full view of the public. However, she came on Twitter to quash the report.
Quinton Jones and Minnie Dlamini Welcomed Their First Child in November 2020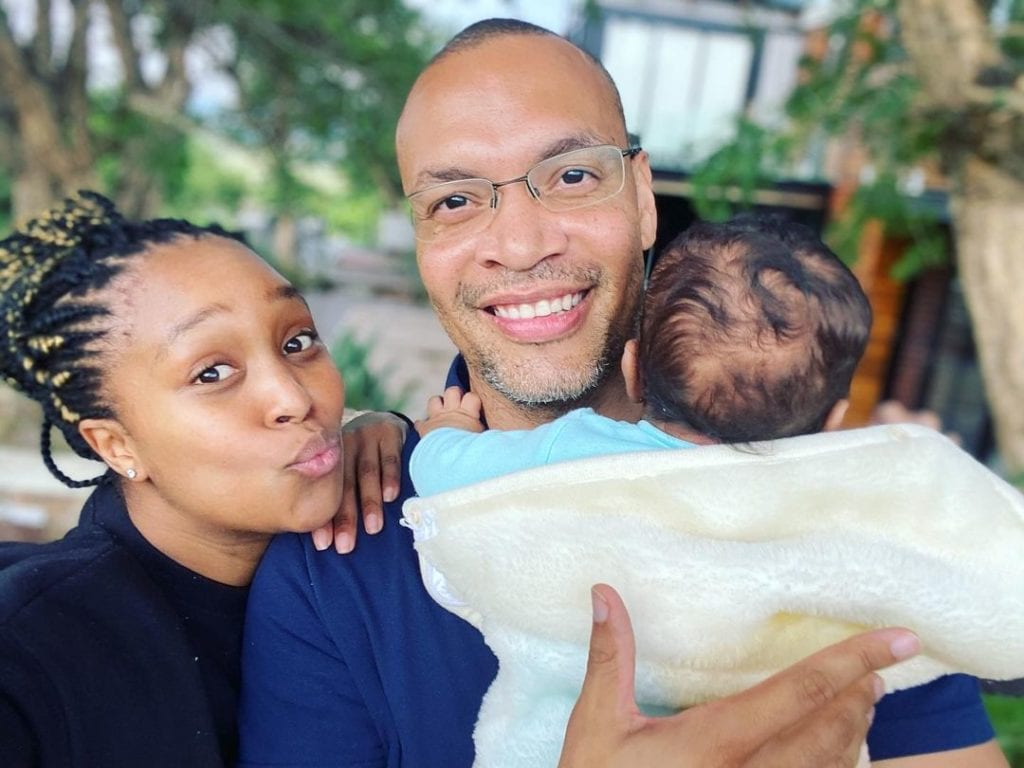 After a long wait, fans finally got the news that most of them have been waiting for. Minnie Dlamini took to Twitter in September 2020 – Quinton's birthday – to announce that their family is finally going to have a new addition. And as expected, the news sent the social media on a frenzy with felicitations pouring in from all walks of life.
Two months later, their son – Netha Makhosini Jones – was born on November 16, 2020. The Jones family announced the joyous news on Twitter and Instagram with the post 'Our King has arrived 👑 Welcome Netha Makhosini Jones 💎#TheJoneses ❤️'.