Fans of the SABC1 soap opera, Skeem Saam, already know who Lerato Marabe is. Playing the role of Pretty Seakamela, a young woman who is struggling with self-discovery, the beautiful actress grew up in front of South African TV lovers. Although it is known as her most popular TV role to date, Skeem Saam is not the only TV show Marabe has featured in, having started her acting career at a very young age. However, she has endeared herself to fans of the show with her exceptional interpretation of her character.
She is also very quick to point out the supportive role her family played in making her the actress she has become, especially her mother. Lerato Marabe will ever be grateful to her mother for spotting her talent as a child and further encouraging her by getting her an agent, a move which was instrumental in her landing a role on Skeem Saam.
Quick Profile of Lerato Marabe
Full Name: Lerato Marabe
Date of Birth: June 28, 1999
Age: 24 Years Old
Place of Birth: Vosloorus, Gauteng, South Africa
Occupation: Actress, Disc Jockey
Most Notable as: Pretty Seakamela in Skeem Saam
How Did Lerato Marabe Get The Role Of Pretty on Skeem Saam?
Lerato Marabe caught the acting bug at a very tender age. She knew she was cut out for television and ventured into her craft without looking back. According to the Skeem Saam star, she grew up on TV and knows acting is what she is meant to do. At the age of four, little Lerato would mimic every character on the screen – from newscasters and movie characters to advert promoters. She could imitate whatever they did, and she did so to a great degree of success.
Boosted by the encouragement she received from her family at that young age, she started going for acting auditions to be featured on TV production. At the time Marabe was eight years old, she landed her first appearance on television with a role on the South African version of Sesame Street dubbed Takalani Sesame.
Her role on Skeem Saam began when she was eleven years old in 2011. She is also a pioneer member of the show, which was first aired on October 13, 2011 – this means Boksburg High alumnus grew up in front of the TV. Reflecting on how she got the role, Marabe said she was called by her agent about the show's auditions and then she attended and landed the role of Pretty Seakamela, a young woman who is a presumptuous gossip and never in want of something to say. Lerato Marabe has done her job of interpreting the role so well – so much that she has continued to appear on the show since the first season.
And having spent almost nine years on the show so far, the intelligent delivery of her character has seen people relate to her as 'Pretty' and not 'Lerato'. Discussing her character in the SABC1 TV drama, the 24-year-old actress, claims she is the opposite of Pretty. She says while the character Pretty gossips a lot and is also naive, she insists she is nothing like that.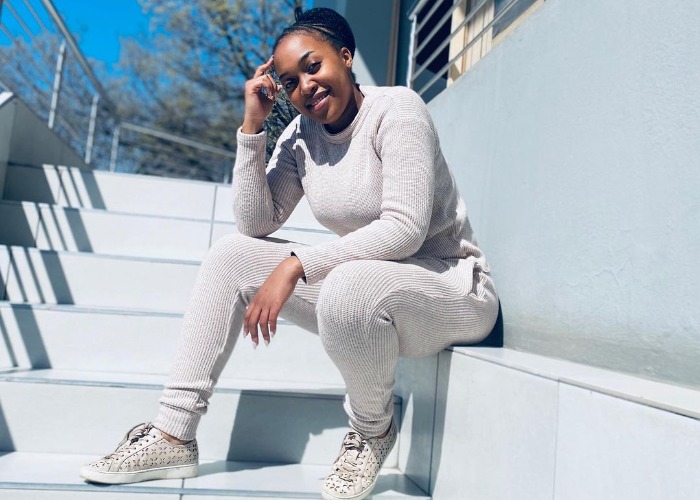 She recalled incidences where people have been mean to her (even slapped her) because of the attitude of her character in the show. Marabe never stops telling people around her who mistake her to be cheeky that 'it's just TV.'
Aside from Skeem Saam, the Actress Has Landed Roles in Other TV Shows
Following the success of the TV drama Skeem Saam and the accompanied stardom she has achieved through the show, Lerato Marabe has appeared in other shows as well. The actress sees her long-term future in filmmaking – but would love to work behind the scenes as a film editor. Below are some other shows in which Lerato Marabe has made an appearance.
Skeem Saam (as Pretty) – S1-8
Isibaya (as Nelisa) – S1
Mzansi Love (as Babalwa) – S3
Intersexions (as Mpho) – S2
End Game (as Precious) – S1
She Has a Very Supportive Family
To Lerato, "family is everything," as she comes from a caring and supportive family. The actress was born on June 28, 1999, in Vosloorus (located to the south of Boksburg and the east of Katlehong), Gauteng, South Africa. Her parent split when she was just four years old, and so she and her brother had to go and live with her grandmother. She reunited with her mother at age six. Nothing is known of her father, however, her mother's name is Matshidiso, a school teacher, who she has described as her biggest fan and endless source of encouragement. Lerato is the second of two children and her elder brother, Thabo, also works in the film industry as a film editor.
Marabe obtained her primary education at Parkdene Primary School before proceeding to Boksburg High school for her secondary education. She also attended the Regent Business School, where she obtained a BA in Business Management. To gain more skills, the TV star studied editing at the award-winning South African School for the Creative Economy, AFDA Cape Town.
As mentioned before, Lerato Marabe attributes her success to her mother who she says was very strict with her concerning her job as an actress. Having joined the Skeem Saam cast when she was young, there was the issue of balancing between her education and her work on the set of the show. She credits her mother, Matshidiso, for being a firm handler and for being strict with her – telling her what to do and ensuring she maintained a good balance between her schooling and her young TV career.
It was her mother that hired her agent to get her film auditions, having seen the talent she possessed – little wonder she adores her mom.
Lerato Marabe's Exploits Outside Acting
Although she has her whole life wrapped around her acting at the moment, the Skeem Saam actress has other things going for her. In an interview for TVSA, Lerato Marabe revealed her love for cars and car shows. She admitted that she has a passion for cars, especially old school BMW cars. She said as a young girl, she would join her uncles to work on the cars and also attend car shows.
The 24-year-old TV star is also a lover of music, especially hip hop music, and has worked as a House Music disc jockey (DJ). Other pastimes she indulges in are netball and hockey.