Evodia Mogase has come a very long way having had to build her fortune independently after her divorce from her first husband. Although she was forced to leave the marriage with nothing except the clothes she was wearing, Mogase now has a net worth that is estimated at close to $2 million. She made her fortune from her career as a reality TV star and a businesswoman.
As seen on her reality TV show, Madam and Mercy, she enjoys a luxurious lifestyle and the best of things money has to offer. Madam, as she is fondly called, is a lover of good wears, luxurious cars, and beautiful homes, but that has not always been her story.
Quick Profile of Evodia Mogase
Date of birth: November 17
Career: Reality TV personality
Net Worth: $2 million
Other Sources of income: Business and career with Eskom
Marital Status: Divorced
Kids: Mercy and Princess Mogase
Evodia Mogase Was Once Homeless and Had Nothing
To all the ladies that feel like they are not pretty enough, work for that money and all will change #MadamAndMercy pic.twitter.com/tSc4tPnfiX

— Diski Fanatik (@DiskiFanatik) May 6, 2020
Before her hard work forced the gates of good fortunes to open for her, Mogase had passed through a very difficult phase in her life. She was married to a man, whose name was never released, as far back as the 1990s. When they got married, her husband was not financially stable, and so she helped him in starting up a panel beating company in Limpopo.
Unfortunately for her, when the tides turned in favor of her then-husband, he started cheating on her with various girls. She caught him several times in the process, and she soon got tired of everything. It was at this point that she decided to throw away the marriage. Hence, Evodia Mogase filed for divorce in 2009 after 15 years of marriage.
When the divorce process was completed, she found herself poor and homeless. She left her husband's home with nothing but the clothes she was wearing and no place to go. Her parents had no problem having her back home, but she was not willing to return. The reality star started afresh and lived in the caravans for two years before her hard work started to pay and a new path formed for her.
Her Various Business Ventures Contributed to Her $2 Million Net Worth
As stated, the $2 million net worth of Evodia Mogase was not something she built in a single day. She took on many jobs before she founded her business and then made an entry into the world of showbiz before she made her wealth.
The former Real Housewives of Johannesburg (RHOJ) cast member had her education from the University of Limpopo, from where she got her BA degree. After she was through with her education, she decided to follow the teaching line, but after only a year, she decided to quit and follow other ventures.
Her first business was a catering service, in which she poured out all her might. Her mother assisted her in starting the business with start-up capital and 75 plates. It only took her five months in the business before things started changing for the good for her when she got a five-year contract with Eskom. This opened doors for even more contracts.
Shortly after she started recording success in her first business, she realized there was money to be made in the cleaning business. She soon joined in, and again found out that there was a huge gap in vegetation management. A goal-getter that she has always been, Madam decided to go and study environmental management. It equipped her with the skills to join men in working in the field.
She has continued working with Eskom more than three decades later. Evodia Mogase said it is Eskom that has made her. Back in 2018, she revealed that she had her eyes set on starting her own panel beating company, something she had once helped her former husband to start in Limpopo. She is interested in starting the business because she is in love with cars.
Her Successful Career As A Reality TV Star Has Also Added To Her Fortune
Evodia Mogase became a big name in South Africa in 2018 after she made an appearance on the 1Magic reality TV show, Real Housewives of Johannesburg (RHOJ) alongside her daughter, Mercy Mogase. Although she was one of the most beloved characters on the show, she only lasted a season before she left, refusing to sign for the second season.
The Queen of Versace as she is fondly called by followers of the show because of how she always flaunts the brand, announced that she was leaving the show to pursue other endeavors. She also left along with her daughter. Evodia and Mercy teamed up to start their own reality TV show, Madam & Mercy, which launched on ShowMax in 2020.
The show highlights the relationship between the duo, as well as their achievements and story, among other things. According to Madam, she was inspired by the Kardashians to start the reality TV show. Her show is not the biggest, but it's relatively successful, and it has gained fair reception. Nonetheless, what she made from the show, as well as on RHOJ, was never revealed.
A Quick Breakdown Of How Evodia Mogase Made Her Wealth
Catering services that offered her many contracts
Cleaning business
Environmental worker career with Eskom
Appearance on Real Housewives of Johannesburg (RHOJ)
Her TV show, Madam & Mercy
How Luxurious Is Evodia Mogase's House And Cars?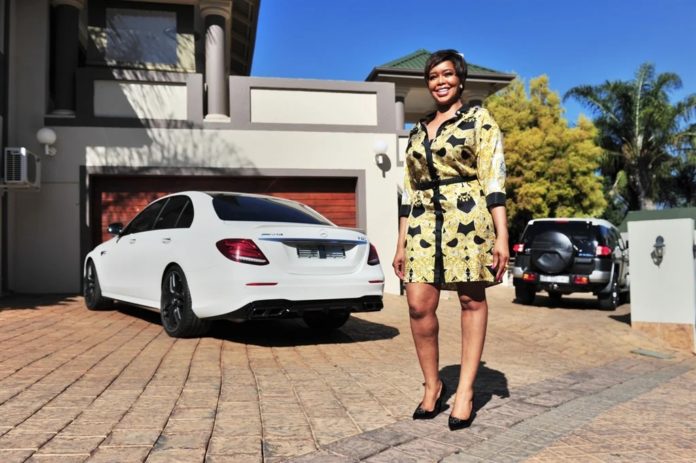 Evodia lives in a double-story home together with her family. The property is on one of Hartbeespoort's opulent golf estates. The amount she spent on the property is not known, but it is beyond a dream come true for anyone who has once slept in a trailer and lived for a couple of years in a caravan.
The house is well designed with enough space and garages for her cars, as well as a garden. With that said, she has not so much let fans into the property, hence other details, including the number of bedrooms, guestrooms, bathrooms, kitchen, have all not been revealed.
A lover of cars that she is, she has spent big bucks in acquiring some classy and luxurious cars. In her garage are some amazing cars, including a Mercedes-AMG E 63 S, which has been valued at over R2 million, and that's her favorite car. Others are Mercedes-Benz A 250, which is over R700,000, and the Porsche Cayenne priced at over R1.7 million.
Evodia Mogase Spends Her Money On Luxury And Other Good Things Of Life
Evodia Mogase doesn't just make money, she also takes the time out to enjoy all her hard work. She spends big money on designer wears both for herself and her little princess. She loves Versace, as stated, and always flaunts the brand, which is also what her little daughter wears.
Madam has taken time out to vacation with her family in different parts of the world, including Mauritius, which she visited in 2019. There are many other vacation and shopping sprees that she continues to enjoy.
Yes, Evodia Mogase has also spent big money to look beautiful. The TV personality has sunk in thousands of rand in enhancing her body through plastic surgery. She has had jobs done on her breasts and other parts of her body. She is comfortable with this and doesn't mind telling anyone who wants to hear.