Themba Ntuli (born March 7, 1991) is a South African filmmaker, actor, and comedian. Perhaps, one reason he has gained so much attention in the South African media is his height. The 31-year-old actor looks like a 12-year-old child by appearance, a situation which has endeared him to many fans who love to see his movies.
Ntuli, who was born in Zimbabwe to able-bodied parents – Kenneth and Nokuthula Ntuli – alongside two brothers, has risen on the wings of his petite body to achieve feats most able-bodied individuals of his age are yet to dream of – including getting married to one of the most beautiful women around. Having begun at a young age, he has become a model to the younger generation with a voice, which according to him, 'is bigger than his height.'
Summary of Themba Ntuli's Biography
Full name: Thembalethu Brian Ntuli
Nickname: Themba
Gender: Female
Date of birth: March 7, 1991
Themba Ntuli's Age: 32 Years Old

Ethnicity: African
Nationality: Zimbabwean, South African
Zodiac Sign: Pisces
Sexual Orientation: Straight
Marital Status: Married
Themba Ntuli's Wife: Hope Ntuli (15 March 2019 – present)
Education: African Film and Drama Academy
Occupation: Actor, Comedian, Filmmaker
Themba Ntuli's Height in Centimetres: 120 cm
Famous for: Pule from the soapie Rhythm City
He Probably Caught the Acting Bug in Primary School
Unknown to many, it all began for the petite Themba Ntuli back in primary school when he decided to play a role in a school play. He attended Primrose Primary School in Germiston, and although many details of his time there are unavailable, the most significant detail at this time is the fact that his interest in becoming an actor was seen after he participated in a play production in his school. The play, Shrek, saw him play the character of Lord Farquaad – which became his first attempt at acting.
At age 18, Ntuli secured a role in one of South Africa's most-watched soap operas, Rhythm City. The e.tv soapie, which has been airing since 2007, provided him with his biggest platform to date. He made his appearance in the first season of the sitcom, playing the character of Pule, a young street kid who was adopted by Suffocate, the owner of Kilowatt Club (played by Mduduzi Mabaso).
In an event he has since described as 'being at the right place at the right time', he went to a workshop where he became acquainted with the creative director of Rhythm City, Rolie Nikiwe. After he made an impression on the former, he got an invite to come to the set of Rhythm City in 2008. Though his time on the show was short-lived – lasting from May to June 2008 – it afforded Themba Ntuli the exposure and skills set he needed to push on and become popular in the industry.
After his high school education at Dawnview High School, Primrose, Germiston, where he did drama from Grade 8 to Grade 10, Ntuli would go on to enroll at the African Film and Drama Academy (AFDA), where he studied and subsequently obtained a Bachelor of Arts (B.A) degree in directing, writing, and television production. This has aided his development as a freelance actor and scriptwriter.
Themba Ntuli's 'Childlike' Stature Contributed to his Fame
While growing up, the petite actor was bullied for his height and body stature. It was not a nice experience, but it has turned out for good. Since appearing on e.tv's Rhythm City in 2008, the audience has taken a liking to the adult who played the role of an 11-year-old, thus making him a fan favorite. He has since become a popular comedian, actor, and filmmaker and has also become a director at Moonyeenn Lee & Associates (MLA) SA owned by late legendary South African agent and casting director, Moonyeenn Lee.
His resilience and confidence, despite his seeming disability, has paved way for the emergence of a role model for many others, and what he has lacked in height, the 1.2-meters-tall actor has more than made up for with his growing list of accomplishments. His career as a filmmaker kicked off in 2011 (the same year he lost his father) when he worked with Bomb Shelter Production. He served as a script supervisor for two months before he made his directional debut with the 2012 movie Hoek-Line.
He went on to serve on the Vusmo Media team as editor and cinematographer in 2014 before he co-produced the short film Njengo'Thando, which would later earn him his first awards(s) in the industry – as the movie scooped awards at the 2014 Mpumalanga Short Film Festival.
What Are His Most Famous Roles to Date?
Themba Ntuli burst into the South African public consciousness with his role in the sitcom, Rhythm City. His short-lived appearance made such an impact as it triggered him to becoming a household name in South Africa's entertainment industry. He played the role of Pule, a street kid and car keeper who would later be adopted by a nightclub owner known as Suffocate – portrayed by Mduduzi Mabaso.
Stepping onto that set in 2008 was his turning point with regards to his film career. The show, which was in its first season at the time (having aired its first episode on July 9, 2007) has continued very successfully onto its 13th season (as of 2021). Being a pioneering member of the soap opera which has won a plethora of awards, the petite filmmaker feels nothing but gratitude for being a part of it.
In 2018, Ntuli collaborated with South Africa's veteran comic actor, Leon Schuster (Mr Bones) in another comic blockbuster as they featured together in the comedy-drama Frank & Fearless. The movie, which was released in November 2018, saw Themba Ntuli play the role of Fearless, a young African boy who became friends with a baby rhino (Reini), whose parents had been poached.
In an attempt to stop rhino poaching altogether, he partners Sonny Frank (Leon Schuster) as they set out to achieve their goal, leaving the audience reeling with laughter at their exceptional comical display. Themba delivered on his character interpretation and the chemistry between himself and his friend – the baby rhino – was there to be seen. He held up the 'emotional depth of the narrative' according to a review done by Ethan van Diemen.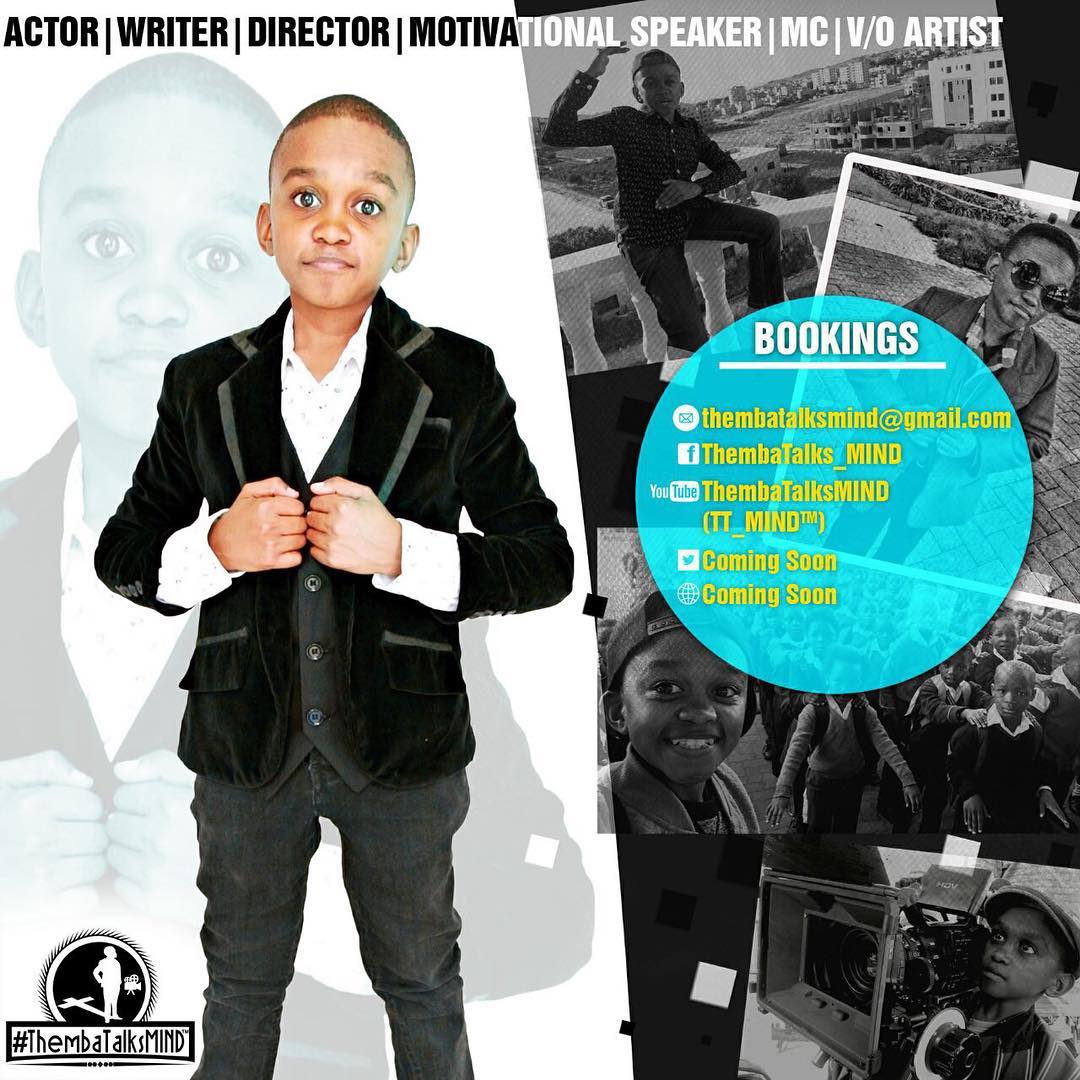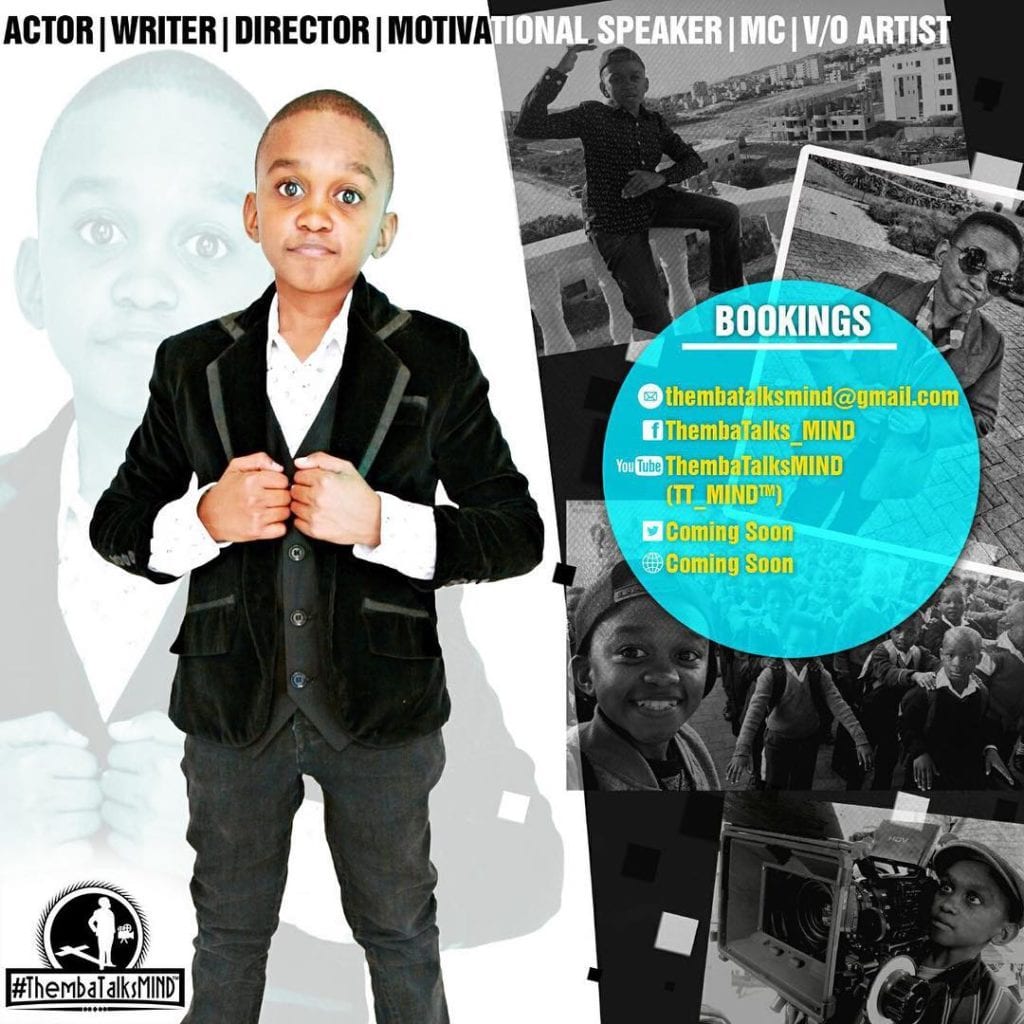 The actor is not only popular for his filmmaking and acting skills, but he also gained huge fame for featuring in several commercials, including a brand campaign for Sunlight and SABC2 in 2008 and Vodacom in 2011. Below are highlights of his filmography and awards:
State of Violence (Film) – 2010
Leonardo (TV series) – 2011-2012
Kanye Kanye (Short film) – 2013
Mad Dogs (TV series) – 2013
Kalushi: The Story of Solomon Mahlangu – 2016
Meerkat Maantuig (Film) – 2017
Frank & Fearless (Film) – 2018
Black Snake: La légende du serpent noir (Film) – 2019
Shadow (TV series) – 2019
Poppie Nongena (Film) – 2019
Vagrant Queen (TV series) – 2020
Sitcoms
B&B – S1, as Cuba
Him, Her & the Guys – S1, as Lesedi
Rhythm City – S1, as Pule
Soul Buddyz – S5, as Brains
Task Force – S1, Boy
Those Who Can't – S2, as James
Zaziwa – S1, as Himself
Awards
Best Director at the Mpumalanga Short Film Festival
Best Writer at the Mpumalanga Short Film Festival
How Many Cars Does Themba Ntuli Have?
The number of cars the Frank & Fearless star has cannot be ascertained. However, a look at his Instagram page shows a particular blue Jeep, one too many times. He is seen posing behind the vehicle with his wife, Hope Masilo, and another picture sees his mom posing beside the same vehicle.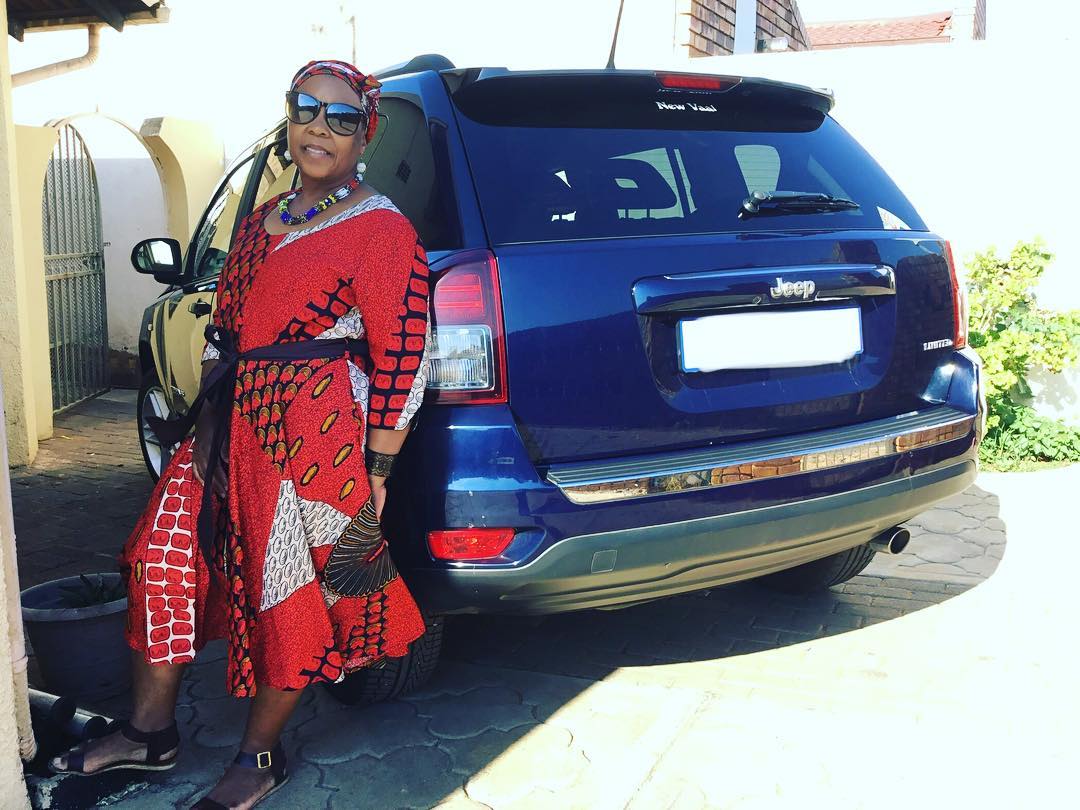 His job is one that demands frequent movement between movie sets and locations, so a car for the filmmaker is rather a necessity. We hope to provide an update soon in this regard.
Does Themba Ntuli Drive Himself?
The question surrounding Themba Ntuli's ability to drive stems from an obvious fact – his height. Fans have wondered – and rightfully so – if he is able to stay behind the wheels as a result of his body stature or if, on the other hand, he hires a driver to take him wherever he wants to go. Although there is no way of knowing for sure if he drives himself or is been driven by a chauffeur – as such information is not yet available in the public space – it is safe to assume he doesn't.
Every time he has posted a video or picture of him in a vehicle, he is either in the passenger's seat or back seat – but never in the driver's seat or driving. This brings us to conclude that he doesn't drive himself. However, there is a possibility he can. An Instagram video post from August 2020 shows him in a vehicle with his wife, Hope Masilo, and although she was in the driving seat, his elevation on the passenger's seat shows that his height of 120 cm is not a hindrance as it could be seen from the video post that he had a good view of the road before him. And with the aid of technology and pre-ordered adjustments in vehicles, nothing says Themba Ntuli cannot drive himself.