Thabong Gigaba was happily married to Malusi Gigaba, a South African politician who was the Minister of Home Affairs under President Cyril Ramaphosa, as his first wife. After so many years of being together, what looked like a perfect union soon started making headlines for the wrong reasons. Things got so bad between them that they ended the union in a very scandalous divorce. Even though Malusi Gigaba got married to the woman who played a role in their divorce, karma did its thing as Thabong must have been a fulfilled woman to watch her former husband and his new wife wash each other's dirty linen in public.
Thabong Gigaba Is Best Known As Malusi Gigaba's Ex-wife
Very little is known about Thabong Gigaba which is why she is mostly referred to as the first wife of Malusi Gigaba. Some sources claim that she is a fitness enthusiast, but there is really no evidence to prove that fact. So, rather than running with errors, it is safer for us to just see Thabong Gigaba as the ex-wife of the South African former minister. Also, the exact time she got married to her ex-husband is not known, however, from records, we understand that they were married for several years.
While their union lasted, it looked like a perfect match. In 2007, Malusi bought Thabong flowers worth over R1,000 on Valentine's Day. While this may have looked like a very romantic gesture by the former South African Minister of Home Affairs, it turned around to be a huge mistake.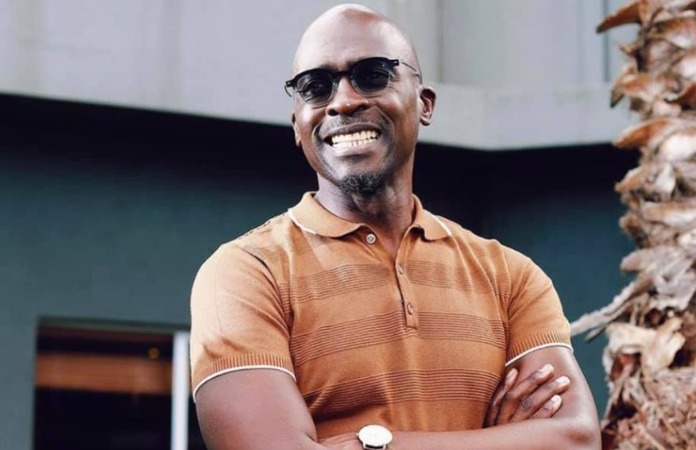 When he was internally probed by the government, it was revealed that each bouquet cost R547 and in total, the flowers were worth R1,020. He gifted this to his wife at the expense of the Department of Home Affairs when he was the deputy minister. Malusi Gigaba was made to refund the money he used to buy flowers for his dear wife.
Their Marriage Went Sour As A Result Of Cheating Allegations
What seemed like a happy union between the couple soon turned into a nightmare that their marriage could not wake up from. Things got so bad for them that in 2010, Thabong Gigaba applied for a protection order against her husband. According to her, Malusi Gigaba had abused her financially, emotionally, and psychologically.
While the former couple was still appearing in court for their case, Thabong Gigaba had already moved out of their matrimonial home in Cape Town and settled in a rented apartment. Sources had it that at the time, their home in Johannesburg was already occupied by one of Malusi Gigaba's side chics.
Their divorce process which started in 2010 was finalized in 2014, and just a month after that, Malusi Gigaba was already tying the knot with his main side chic, Noma Mngoma, who is allegedly one of the side chics that ruined his marriage to Thabong Gigaba.
Malusi And Thabong Gigaba Had A Daughter Together
The marriage between Thabong Gigaba and her ex-husband was blessed with a beautiful daughter, Lerato, who is now in her 20s but had to grow up accepting the fact that her parents are now separated. Reports have it that before Thabong requested a protection order against her husband, he had failed to take care of his daughter. For six months, sources claimed he hadn't paid her school fees or purchased any grocery for her upkeep.
In 2010, while the divorce process between Thabong Gigaba and Malusi Gigaba was still on, Thabong requested that a court hearing should be postponed because she had to travel to Cuba. Before going on her trip, she left her daughter, Lerato, who was 10 years old at that time, under the care of her cousin, Lwazi Ngidi.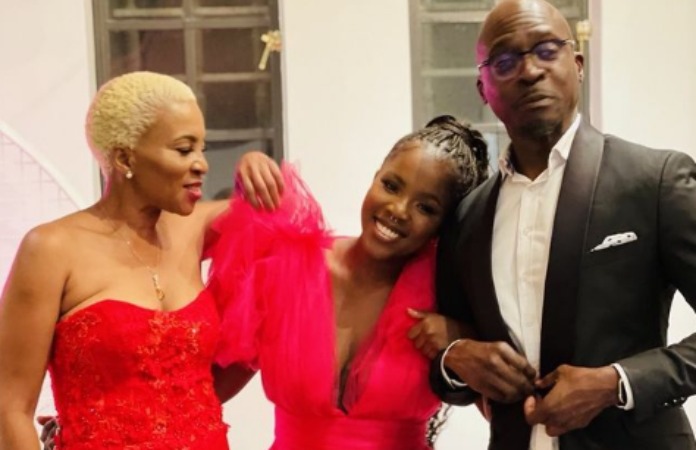 Thabong had permitted her cousin to take her daughter to east London for the holidays but when Malusi Gigaba found out, he was furious and went as far as arresting Lwazi Ngidi and charging her for kidnap. When she was released, she expressed her disappointment at Malusi's actions.
On Lerato's 21st birthday, her father took out time to spend the day with his daughter and ex-wife. From social media pictures, you can tell that both mother and daughter seemed to be at peace with Malusi Gigaba, despite everything that transpired between them years ago.
The picture of Malusi Gigaba and his former family on their daughter's 21st birthday has sparked up rumors that he is probably considering going back to his ex-wife after his second marriage hit the rocks. Neither of them has confirmed this, but what is clear is that Thabong Gigaba has moved on happily with her life since their divorce.
How Thabong Gigaba Threw Shades At Malusi Gigaba And His Embattled Wife, Noma Mngoma
Malusi Gigaba's cheating habit did not stop after he divorced Thabong, neither was marrying his side chic enough to keep his eyes on one woman. A year after Malusi Gigaba got married to Noma Mngoma, their union started facing challenges and the scandal in his second marriage was even bigger than the first. From open social media quarrel with his side chic, Buhle Mkhize, to Malusi Gigaba's sex tape leak, and their expensive lifestyle being scrutinized by the government.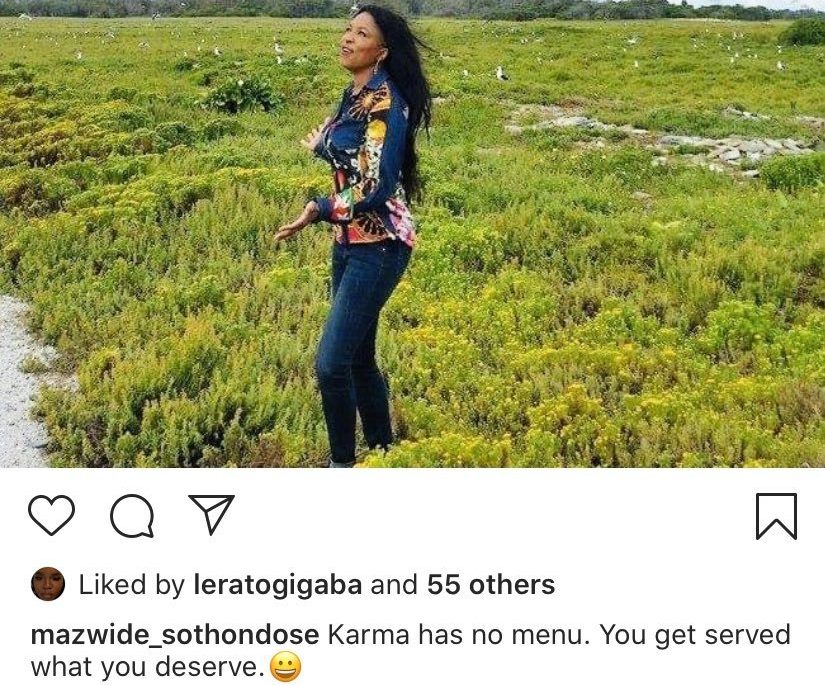 However, what finally broke the camel's back was when Noma Mngoma allegedly ruined a Mercedes-Benz G-Wagon that belonged to Malusi Gigaba's friend in anger and that was as a result of Malusi's infidelity.
Before the Mercedes Benz G Wagon saga, Noma always stood behind her husband through his scandals. Even when one of his side chics blackmailed him, she still supported him publicly, however, her patience must have come to its breaking point.
Amid all of these incidents, Thabong Gigaba did not air her opinion until mid-2020 when she posted a picture of herself on Instagram having a nice time by the side of a river with a caption, "Karma has no menu. You get served what you deserve." And although she did not direct the caption to Noma Mngoma and her ex-husband, Malusi Gigaba, fans quickly deduced that they must have been the ones she had in mind – which was obvious in the comment section.
Are Malusi Gigaba and Thabong Gigaba Back Together?
Since Thabong Gigaba's divorce from Malusi, she has been living nothing but her best life. In 2015, she had a splendid 40th birthday celebration at the Orange Hotel. Her party was attended by Barnabas Xulu – a renowned lawyer, DJ Amaza of Umhlobo Wenene FM, ANC MP Thandile Sunduza, among other notable personalities.
It is quite obvious that Thabong has moved on since her first marriage crashed and though rumors of her getting back together with Malusi abound, there is no confirmation yet. For now, she is just living her best life away from public scrutiny and there is no indication that she is in any relationship.