There was a time when Nhlanhla Nciza and her former husband, Thembinkosi Nciza, would appear on any list of celebrities with the longest marriage in Mzansi. Unfortunately, after close to 15 years and four kids, the two announced in 2015 that they were going their separate ways as they did not believe they could continue their journey as a couple.
The split was a disappointment for many who used them as a yardstick to claim that celebrity marriages still worked in the country. More than a couple of years after they parted ways, their names and their failed marriage have not been left off the lips of many who are still trying to understand why they called it quits.
Nhlanhla Nciza And Thembinkosi Nciza Met In The 1990s
While Nhlanhla rose to fame as a member of the duo group, Mafikizolo, Thembinkosi, better known as TK, is a music producer and co-founder of TS Music Recording and Production Company. He is recently reported to be making his way into politics.
Thanks to their individual status, their love story generated so much interest since they were once considered a power couple. The year they started dating is unknown, but it is believed to be in the late 1990s. At the time, Mafikizolo, made of Theo Kgosinkwe and Nhlanhla, the lead singer, was one of the biggest in the country's music industry.
At first, TK was head over heels in love with Nhlanhla, but she clearly had no interest in dating him. He was not someone who would back down, so he continued to follow her gig after gig until she finally gave him an audience, and they soon started dating.
They walked down the aisle in July 2004 in an elaborate ceremony attended by their friends, family members, and colleagues. Unfortunately, there has been no so much information about their big day in the public domain.
Nhlanhla Announced Their Divorce Two Years After They Renewed Their Vows
In 2017, having passed through many difficult moments in their lives together as a couple, they decided to renew their vows in a simple yet elegant private event that had the presence of their close friends, family, and industry members, including DJ Sbu, who has been the couple's friend for a long time.
Photos and videos from the event showed a happy couple, and after the ceremony, Nhanhla took to her social media to celebrate her husband. Unfortunately, the renewal of vows was not enough to hold the marriage from ending in 2019. The singer took to her Instagram to announce that they had come to the difficult decision of ending their marriage after almost 15 years of being married. She added that they were going to maintain a good relationship to serve as examples for their kids.
Infidelity Was Claimed To Be The Real Reason Behind The Divorce Between Nhlanhla Nciza and TK
While announcing on Twitter that their marriage had finally reached its end, Nhlanhla Nciza did not state any reason why they were divorcing. Yet, Mzansi did not waste time pointing fingers at TK's alleged infidelity, as he was reported to be cheating on his wife.
Even though no evidence was given at the time, South Africans claimed that a lady known as Lebo Phasha was behind the failed marriage. Allegations leveled were that Lebo and TK had been having an affair for many years before the union came to an end. Some claimed they had been together since 2015.
Interestingly, 2015 was reported to be the year that Lebo dumped her footballer boyfriend with whom she had a child for TK. Apart from the Lebo Phasha factor, some speculated that the couple had probably been having issues since 2013, which had affected Nhlanhla.
The Couple Was Blessed With Four Kids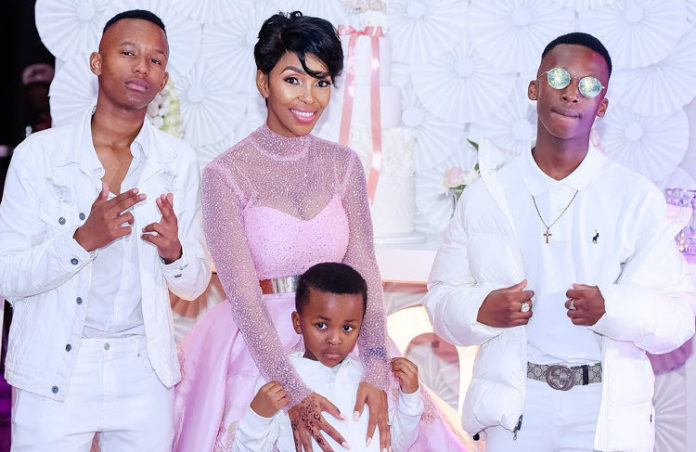 If children are what make for a fulfilling marriage, then Nhlanhla Nciza's marriage with her former husband could be described as fulfilling, even though it failed. The couple was blessed with four beautiful kids; 1 girl and 3 boys.
Nkule Nciza is the first child of the couple, and he was born in 2001. He has been in the headlines for many good reasons, including a massive party thrown for him by his parents in 2017 to celebrate his 16th birthday. The party, which happened in Johannesburg at the Marion on Nicol in Sandton, had many big names in the entertainment industry in attendance, including Reggie Nkabinde and DJ Shimza.
He matriculated from high school in 2019 and broke the internet with his arrival at the event in a Rolls-Royce, kitted in Louis V shoes and designer suit. With both parents in the music business, it is not surprising that Nkule has also followed in the same path as a musician. He started making music at the age of 15, and in 2019, when he was still 18, he released a few tracks under the name Ciza. He is a management student at Varsity College.
The second child of the former couple is Thamsanqa. Unlike his older brother, nothing much is known about Thamsanqa except that he was born a year after his older brother. The last of their three sons is Luvuyo Nciza, who was born in June 2012. While celebrating his birthday in 2019, Nhlanhla revealed that following the loss of her daughter and the subsequent end of her marriage, she never believed she could survive one more day, but Luvuyo has continued to be her source of strength.
She lost her daughter, Zinathi, in a car crash in 2009.
They Survived More Than A Tragedy While They Were Together
The marriage of the afro-pop star and her husband was not one that did not face various challenges before it finally ended. Back in 2004, a tragedy struck when Nhlanhla Nciza got into a car crash. At the time, she was pregnant with two kids, and following the impact of the crash, she lost one of the children.
The family was able to pick through the ruins of the loss until 2009, when the other child that survived the crash, Zinathi Nciza, lost her life in another car crash after she suffered head injuries. She was in a car with her grandmother, Nhlanhla's mother-in-law, to pick up her cousins in a nursery school nearby when the car lost control and hit a tree.
Although TK's mother Nomafu Nciza suffered minor injuries, the little girl had head injuries and a crushed neck that later led to her death on December 24, 2009. The death of Zinathi was devastating to the family as while TK's mom continued to blame herself, everyone else took the whole incident painfully. This led the singer to lose a lot of weight.
Nhlanhla Nciza and Her Former Husband Have Since Moved On With their Separate Lives
While the breakup was not easy for the award-winning singer, she has since got her life together and moved on. There have been rumors that she probably has a new man in her life, but there has been nothing to back up this claim.
On his part, TK also moved on with a new woman that many did not find surprising when it emerged that the woman turned out to be Lebo Phasha. There have been reports that she moved into his home in 2020, and they have been living together since then.
Lebo and TK have also taken to social media to profess their love for each other on various occasions. On one occasion, TK made it clear that he was happy and didn't care what anyone thought. Lebo also made it known that she was with the man she loved, and that was how she wanted her love life to be.