Gwede Mantashe (born 21 June 1955) is a 28-year-old South African politician and trade unionist. He is married to business executive Nolwandle Mantashe and their union has lasted for more than three decades.
Astute, cunning, and strategic, these are some of the words that are readily used to describe Gwede Mantashe and are equally traits that have helped the 68-year-old become one of the most influential figures in the South African political landscape. Once a lowly officer in a mining company, Gwede Mantashe rose through the ranks to become one of the arrowheads of the National Mining Union in his country.
He would hold several high-ranking positions in the organization before transitioning from a unionist to a government official. Despite this transition, Mantashe remains committed to pushing the agenda of the miners. He is also a committed family man and shares four children with his wife of many years, Nolwandle Mantashe. The minister and his wife enjoy a solid union but it has been rocked by some unsavory allegations in the past.
Summary of Gwede Mantashe's Biography
Full name: Samson Gwede Mantashe
Nickname: Gwede Mantashe
Gender: Male
Date of birth: 21 June 1955
Place of Birth: Cala, South Africa
Gwede Mantashe's Age: 28 Years Old
Ethnicity: Black
Nationality: South African
Zodiac Sign: Cancer
Sexual Orientation: Straight
Marital Status: Married
Gwede Mantashe's Husband Wife:

Nolwandle Mantashe

Gwede Mantashe's Children: Buyambo Mantashe, Chuma Mantashe, Kamva Mphathisi Mantashe, Mbasa Mantashe
Occupation: Politician
Party

:

 

South African Communist Party

Famous for: His political career
Gwede Mantashe's Twitter: @GwedeMantashe1
Gwede Mantashe's Journey To Becoming the Minister of Energy and Mineral Resources and Chairman of the Ruling ANC Party
Prior to becoming one of the most influential figures in South Africa today, Gwede Mantashe was just a young boy who was born in the village of Cala in present-day Eastern Cape in June 1955. He spent his early years in the village and was able to complete some basic education. He then joined the mining industry to make a living. Mantashe's first foray into the mining industry saw him serve as a recreation officer and a welfare officer at Western Deep Level Mines and Prieska Copper Mines respectively.
From there, he moved out to Witbank where he joined yet another mine, Malta Colliery, and proved pivotal in setting up a local branch of The National Union of Mineworkers (NUM). This marked Mantashe's first serious engagement with unionism and he never looked back. He went on to hold several positions in the NUM, including regional secretary, national organizer, regional coordinator, and ultimately worked as the national secretary. Whilst doing this, he still made time to complete a bachelor of commerce degree from the University of South Africa.
That combination of experience and knowledge enabled Gwede Mantashe to smoothly transition into politics. He previously held the position of the Secretary-General of the ANC before being appointed chairperson in 2017. The next year, he was appointed the energy and mineral resources minister of the country. Mantashe's reign as the mining minister has been largely uneventful but he has been drawn into some controversies in which his family members have been fingered.
The Minister Has Been Married To Business Executive, Nolwandle Mantashe, For About Three Decades
The mining minister has been married for several years to business executive, Nolwandle Mantashe. Nolwandle holds a degree from the Wits Business School and has held executive positions at several companies. She served as a unit manager at Goldfields Driefontein Mine from March 2005 to January 2008. She then held the position of executive transformation at Pretoria Portland Cement Company for the next six years and eight months (February 2008 – September 2014).
Nolwandle Mantashe now serves as the executive chairman, director, and founder of Siphamba Mining and Construction located in Johannesburg. She also chairs the board of trustees of Siphamba Property Trust. A businesswoman extraordinaire, Mantashe's wife is also the chief operating officer of Cornlands Piggery located in her husband's hometown of Cala. Details remain sketchy on how Gwede Mantashe and his wife first met each other or when they tied the knot. It is however possible that they met in the course of working in the mining industry or union activities. Whichever it is, the couple has been together for about three decades now and their union has been rock solid.
The Secret To the Couple's Long Union
Gwede Mantashe and his wife are very private about their marriage and have yet to dish on the secret to their long-lasting union. It is, however, safe to assume that they have an unshakable bond that has helped them withstand several challenges, including allegations of infidelity.
In November 2019, a Pretoria-based student named Lerato Makgatho came out to allege that she was having an affair with not just one but two serving ministers – Mantashe and the minister of finance, Tito Moboweni. According to her, she first began dating Moboweni in 2017 before leaving him for Mantashe in 2018. Lerato alleged that Mantashe gave her a regular girlfriend allowance and was more readily available than her past lover.
Such a weighty scandal rattled Mantashe and he was embroiled in accusations of paying two newspaper reporters to make the story go away. He later said that he had done no such thing. The whole matter was reported to parliament but Mantashe was able to weather the storm. On the home front, his marriage also survived as his wife never made an issue out of it, at least not publicly.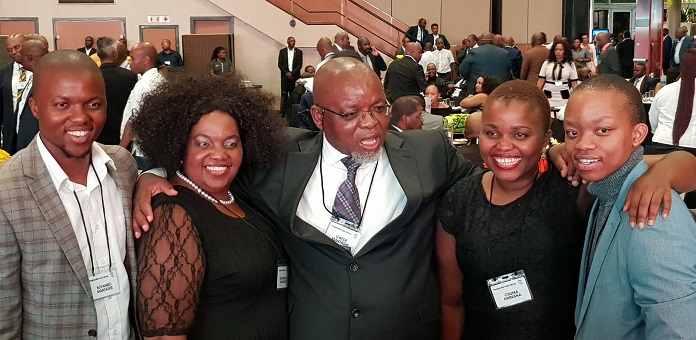 Gwede Mantashe and His Wife Have Four Children
Gwede Mantashe and his wife have four children together – sons, Buyambo and Kamva, and daughters, Chuma and Nombasa Mawela.
Buyambo Mantashe
Date of birth – 1990
Occupation – agripreneur
Gwede Mantashe and his wife have two sons and the eldest amongst them is Buyambo. He inherited his parents' passion for agriculture and went on to obtain a B.Sc. in agricultural economics from the University of Fort Hare. He also holds an MSc in agricultural economics from China Agricultural University and has undergone an applied financial management program at Wits Business School. Beyond his degrees, Buyambo previously ran his parents' dryland farm in the Eastern Cape which had over 129 cattle, 800 sheep, as well as acres of oats, turnips, and maize.
He now serves as the executive director of Red Farms Agripark Property Ltd. Buyambo's ultimate dream remains to become an agriculture magnate and inspire other black youths into the field. On a personal note, Buyambo tied the knot with his girlfriend, Dr. Shoki Rampedi, in December 2020. The two-day lavish ceremony attracted criticism for breaking the country's lockdown rules but his father insisted they had done nothing wrong but had informed law enforcement of their actions.
Nombasa Mawela
Date of birth – N/A
Occupation – Engineer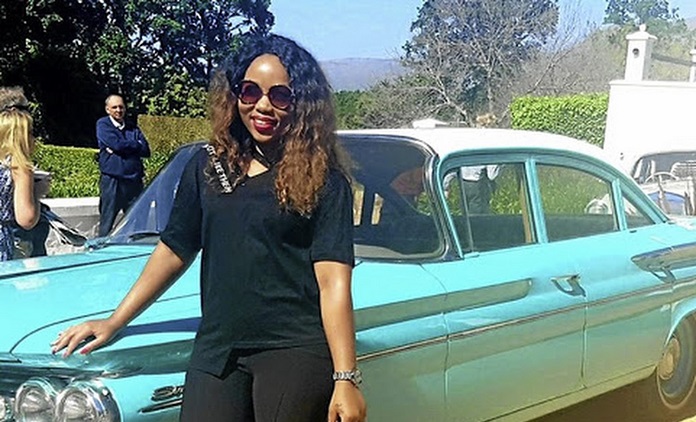 Gwede Mantashe and his wife have two daughters one of whom is Nombasa Mawela. Nombasa has worked for several companies, including Hlakudi Translation and Interpretation. She has also worked for the South African public utility electricity company, Eskom. Her time at Eskom proved to be quite controversial as the former embattled CEO of the company, Matshela Koko, came out to accuse her of receiving the sum of R9780000 as a bribe during her time as a cost engineering officer at the company. The young lady did not find these allegations funny and filed a R500000 defamation lawsuit against Koko at the high court. He would later apologize for any harm that her reputation suffered as a result of the allegations.
Chuma Mantashe
Date of birth – N/A
Occupation – N/A
Gwede Mantashe also has another daughter named Chuma Kwinana nee Mantashe. Chuma holds a Bachelor of Commerce (BCom) in Human Resources Management and Services from the University of South Africa. She also has a postgraduate Diploma in Business Studies from Henley Business School. The young lady has since established herself as an experienced Director with a demonstrated history of working in the farming industry. She is also skilled in Mineral Exploration, HR Consulting, Mining, Management, and Minerals. Chuma presently serves as a director at consulting services company, Aluberry Consulting.
Kamva Mphathisi Mantashe
Date of birth – 1998
Occupation – lawyer
Gwede Mantashe's youngest child is another son named Kamva who studied Law at the University of Western Cape from 2016 to 2021. He has now set his eyes on a career in the business world, undergoing a Bcom degree at the University of South Africa. He is also the CFO of Tikoma Property Ltd. Kamva made the headlines back in 2016 when he participated in an initiation ceremony in his village of lower Cala.
The initiation ceremony, which marks his entry into adulthood, saw him receive all manner of gifts, including several goats, cows, and sheep. His proud father was in attendance and admonished him to understand that he was now a man and must keep his home and community safe. Kamva on his own part praised his dad for being down to earth and present. He also described his mom as stern and caring.