Gomora teasers for February 2022 are loaded with so much suspense and drama. The show's writers have continued to captivate viewers with a compelling storyline that leaves them glued to their screen. The series, which is an M-Net original production, brought our way action-packed episodes last month.
In January episodes, we saw how Zodwa's empire started crumbling gradually, with Teddy and Sibongile trying to get her out of the messy situation she puts herself in. Also, Phumlani and Thati's wedding plans encountered some challenges as Melusi was trying his best to make sure that his former love interest didn't take the bold step.
Will he succeed in dissuading Thati from marrying Phumlani, wrecking his home in the process, or will the marriage go on? All this we will find out in these new Gomora episodes for February 2022.
Gomora Teasers For February 2022
View this post on Instagram
Episode 202: Tuesday, February 1st, 2022
Teddy seeks advice from Stompie. Thati and Melusi share a smooch.
Episode 203: Wednesday, February 2nd, 2022
Sonton's plan to get rid of Sdumo starts to materialize. Melusi finds it hard to accept an inevitable separation from Thati. Teddy struggles to get eight gorillas for Zodwa.
Episode 204: Thursday, February 3rd, 2022
Thati gives Melusi a cold shoulder. Zodwa refuses to accept the alcohol. Teddy seems not to believe Zodwa.
Episode 205: Friday, February 4th, 2022
Trying to end his problems, Phumlani puts across a phone call to someone who might be of help to him. Gladys sacks an employee who is bent on changing her life.
Episode 206: Monday, February 7th, 2022
In this intriguing February episode of Gomora, one of the teasers is that Zodwa tells her truth as a parting shot to the Dlamini's. Melusi goes head-on with the source of his troubles.
Episode 207: Tuesday, February 8th, 2022
Sonto suspects that a powerful individual is behind the harassment of Gomora girls. Gladys questions Melusi to find out if he is still in love with Thati.
Episode 208: Wednesday, February 9th, 2022
Mazet discovers a bewildering truth about who stole the money. Zodwa makes an effort to get her job back after being sacked by Gladys. Phumlani moves ahead with the lobola negotiations.
Episode 209: Thursday, February 10th, 2022
Teddy bears the tragic burden of his accusations as he discovers the truth about the stolen R1,000. Phumlani's uncles try to find out who killed Mbongeni, and they question the right person.
Episode 210: Friday, February 11th, 2022
Zodwa refuses to forgive Teddy. The lobola negotiations encounter difficulties and don't seem to go as planned.
Episode 211: Monday, February 14th, 2022
Thati is worried about Mazet staying at Phumlani's place. Sibongile receives silent treatment from Zodwa.
Episode 212: Tuesday, February 15th, 2022
Phumlani's parents show up at his place, and the visit escalates Thati's problems with her in-laws. Teddy's employment prayers seem to be answered as he gets a job at the tavern.
Episode 213: Wednesday, February 16th, 2022
Gladys makes an existential discovery about her marriage to Melusi. MaChonco fights against Phumlani and Thatis's marriage and refuses to give her blessing.
Episode 214: Thursday, February 17th, 2022
The teasers for this February Gomora episode are quite enthralling as Thati and Phumlani's wedding is back on track. Melusi, on the other hand, gets divorce threats from Gladys.
Episode 215: Friday, February 18th, 2022
Teddy catches Qhoqhoqho searching for the person that killed Don. Phumlani's newest involvement in Gomora High gets Melusi annoyed.
Episode 216: Monday, February 21st, 2022
Machono still maintains her stand that she doesn't feel like talking to Sonto. Matric results are out, and Teddy and Ntokozo have to deal with their fate.
Episode 217: Tuesday, February 22nd, 2022
Qhoqhoqho seems unstoppable in his rabid hunt for Don's killer. For one last time, Melusi goes all out to dissuade Thati from marrying Phumlani.
Episode 218: Wednesday, February 23rd, 2022
Thati confesses to Mam'Sonto that Melusi may actually love her. Ntokozo gets himself at the tail-end of Qhoqhoqho's hunt for Don's killer.
Episode 219: Thursday, February 24th, 2022
Buhle receives an ultimatum from Pretty regarding her mother's wedding day. Meanwhile, Gladys informs Melusi of the decision she has taken concerning their marriage.
Episode 220: Friday, February 25th, 2022
Ntokozo struggles to find a way out of the unbearable demands made by Qhoqhoqho. Thati discovers that Phumlani has been hiding a deep secret from her. Will she go on with the wedding plans?
Episode 221: Monday, February 28th, 2022
The teasers for this February episode of Gomora are yet unavailable.
Who are The Producers of The Gomora TV Series?
Filmed in Alexandra township, Gomora serves as a replacement for Isithembiso, which was canceled by Mzansi Magic after three seasons. The M-Net original production series is produced by Seriti Films and boasts an experienced team of executive producers. They include Leanne Kumalo, Thabang Moleya, and Kutlwano Ditsele. Besides the executive producers, Lulu Hela works as a producer of Gomora. 
The soap opera ranks among South Africa's most popular soapies. It is currently in its second season, and the storyline is written by Geydion Beynon, Chris Q Radebe, and Phathutshedzo Makwarela. The soap opera is additionally created by almost the same team that penned it. They include Amanda Lane, Phathutshedzo Makwarela, Geydion Beynon, and Kutlwano Ditsele.
Interestingly, among the cast of Gomora are a handful of famously known South African actors. They include Zolisa Xaluva, Connie Chiume, Ama Qamata, Katlego Danke, Leera Mthethwa, Thembi Seete, Nandipha Khubone, Sicelo Buthelezi, Thulani Mtsweni, Israel Matseke-Zulu, Sanah Mchunu, and Lerato Mokoka.
Meet The Cast Members of Gomora and The Characters They Portray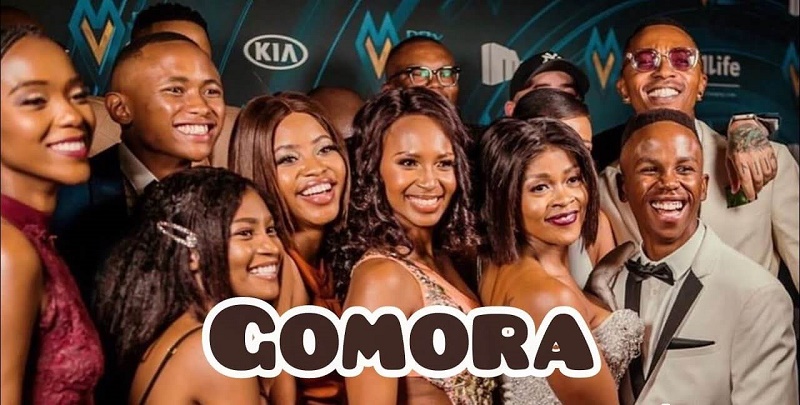 Katlego Danke – Portrays the character of Onthatile "Thati" Molefe-Ndaba
Zolisa Xaluva – Portrays the character of Melusi Dlamini
Connie Chiume – Portrays the character of Mam'Sonto Molefe
Thembi Seete – Portrays the character of Gladys Dlamini
Ama Qamata – Portrays the character of Buhle Ndaba
Ntobeko Sishi – Portrays the character of Ntokozo Dlamini
Sicelo Buthelezi – Portrays the character of Sibusiso "Teddy" Zondo
Siyabonga Xaba – Portrays the character of Langa Dlamini
Siphesihle Ndaba – Portrays the character of Mazet
Sanah Mchunu – Portrays the character of Zodwa Zondo
Lerato Mokora – Portrays the character of Tshiamo Molefe
Khaya Mthembu – Portrays the character of Sbonga
Israel Matseke-Zulu – Portrays the character of Don Buthelezi
Thulani Mtseni – Portrays the character of Bongani
Leera Mthethwa – Portrays the character of Jackie Hlungwani
Nandipha Khubone – Portrays the character of Sibongile Buthelezi
Siyasanga Papu – Portrays the character of Pretty Molefe
Which TV Stations Air Gomora TV Series? 
You can always watch your favorite TV series on Mzansi Magic (DStv channel 116) from Monday to Friday at 19h30. You can also catch up on missed episodes of Gomora on CatchUp on DStv or Showmax. Each episode of Gomora runs for 24 minutes at most, and the series is filmed in two original languages―Zulu and Tswana.